Please read part I & part II to this part III: Spending some time on watch enthusiast forums I get generally two diametrically opposed opinions on Steinhart watches from two different types of watch collectors.

There are some that collect watches, especially luxury watches, because of their image. For those watches and watch collections are status symbols. This group tends to look down on Steinhart. After all, they are NOT original Rolex or IWCs. For them, people who don't buy the originals must be poor wannabees. Those collectors are often offended by homage watches because they make them feel cheated. They think it is not right that somebody should enjoy a watch that looks more or less exactly like their cherished status symbol but was bought for the 20th of the price. To them it seems unfair.

And then you have enthusiasts who admire watches for all that has been said in this essay so far. Those who appreciate that Steinhart's quality is on par with where Rolex, Tudor, Omega, IWC or Breitling were only a few short years ago. They marvel at the fact that Steinharts' cases are made by a company that use to make cases for Rolex, that they have (among others) high quality ETA movements of the exact same kind as used in millions of Tudors and other major watch brands and that they are Swiss made and have depth ratings equal to any modern Submariner (300m/1000ft). They understand it as a tremendous achievement that Günter Steinhart, the founder, is somehow able to offer these incredible watches for just around $500 instead of $4,000 or $9,000.  This serves a lot of people that love the style, the quality and the dependability of these classics that can be worn all the time, everywhere, without worry. Go on the "Rolexforum" where truly knowledgeable and significant collectors talk to each other.
They pretty much all love Steinhart.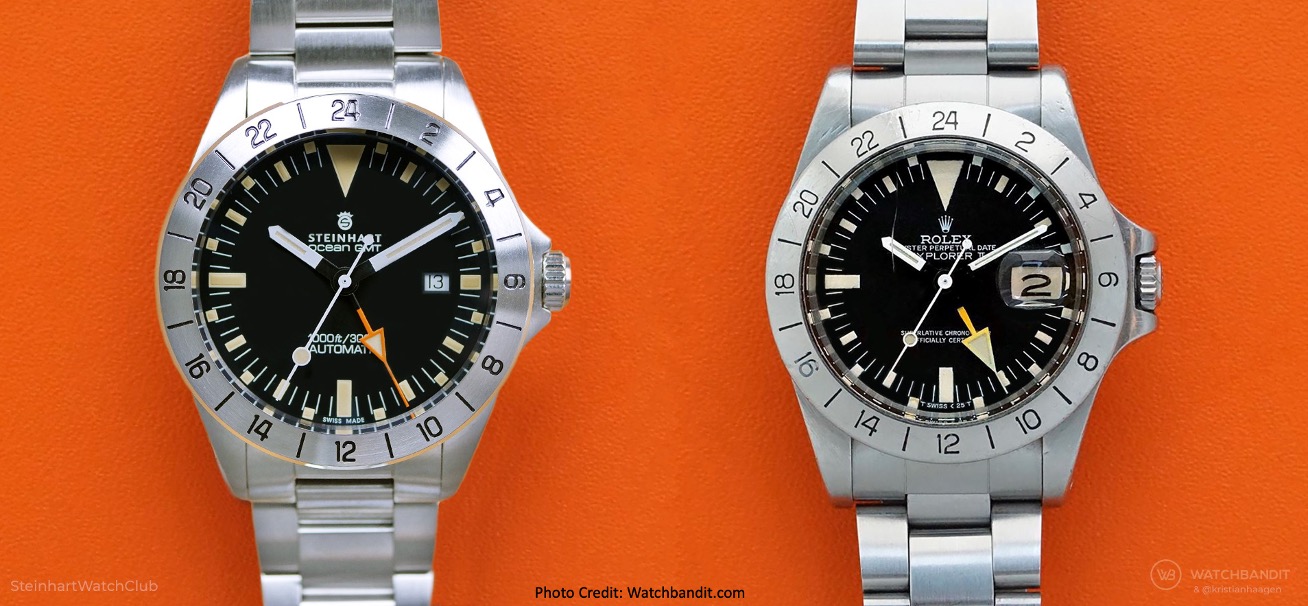 Just to be clear, there is nothing wrong with genuine high-profile pieces from the big brands, but they are not "tool" watches anymore. While they are fantastically engineered and perfectly capable to take a beating you are just hesitant to risk it once you spent five figures.  Neither is there anything wrong with original beautiful vintage pieces, worth that much or more. But those watches being now many decades old makes the concern regarding accidental damage only greater.  I cannot (or would not want to) use them as daily beater tool watches anymore.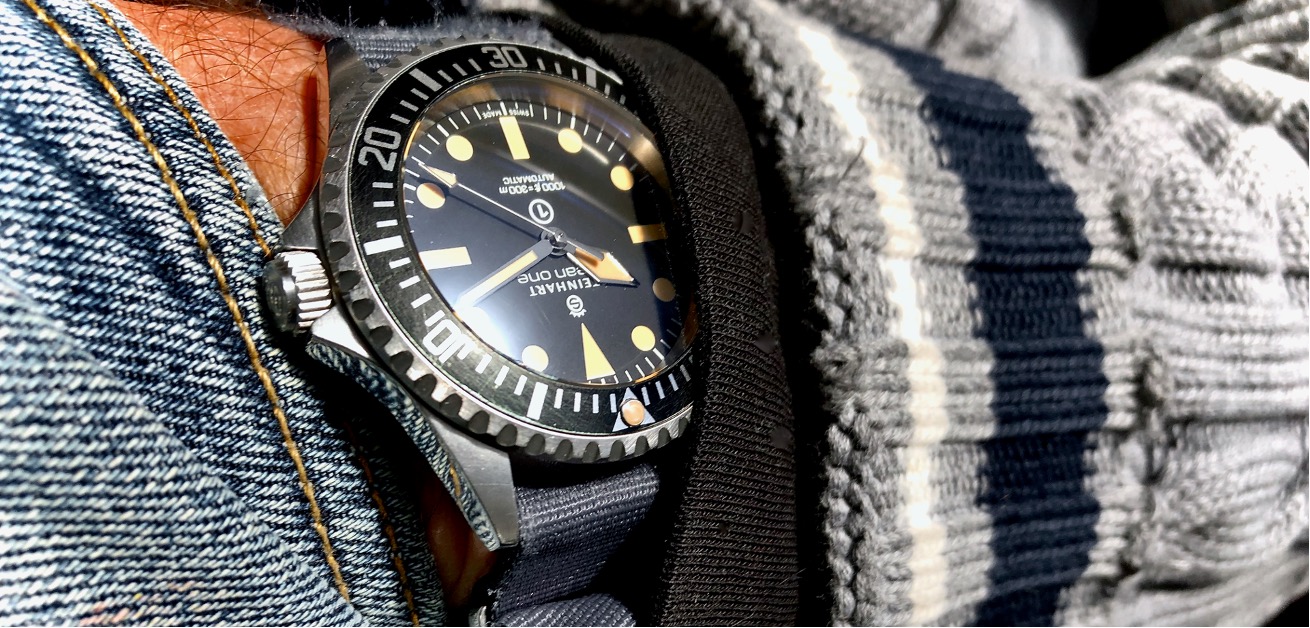 The Steinhart Ocean Vintage Military Mk III, (ABOVE) is only 3 figures and has been on my wrist 24/7 for about a year now. At the time of this writing the watch has be been running around +1 second per day over the last several months. I don't need a Rolex-style COSC certification (Contrôle officiel suisse des Chronomètres), which attests the watche runs between -4 and +6 seconds/day, nor do I need a recently hyped up Tudor-style METAS Master Chronometer certification, attesting accuracy withing a 5-second range of daily variation. Because the performance of my Steinhart's ETA 2824-2 Elaboré-Grade movement can currently not be improved upon.  Apart from many Tudors, including my original Black Bay Mk I, one can find this movement in watches from Tissot, Hamilton, Laco, Doxa, Sinn, Rado, Certina, Longines and Formex. A tried and reliable work-horse that can be regulated and fixed by any reputable watchmaker. It too can last half a century or longer, given proper service.
And while the "OVM" (Steinhart Ocean Vintage Military) is a good homage to the most iconic of all Rolex Submariners, the reference 5513 "MilSub" (BELOW LEFT), military-only issued, never sold to civilian public and later labeled 5517, differentiating itself visually from regular Subs by having a fully graduated bezel (minute marks circling all the way around), having sword-shaped hands for better readability at night and under water, and featuring a "T" inside a little circle on the dial, above the 6-hour mark, indicating that the hour markers and hands are illuminated by Tritium rather than radioactive Radium as used in Subs in the beginning, the "OVM" has a couple of great design details of its own.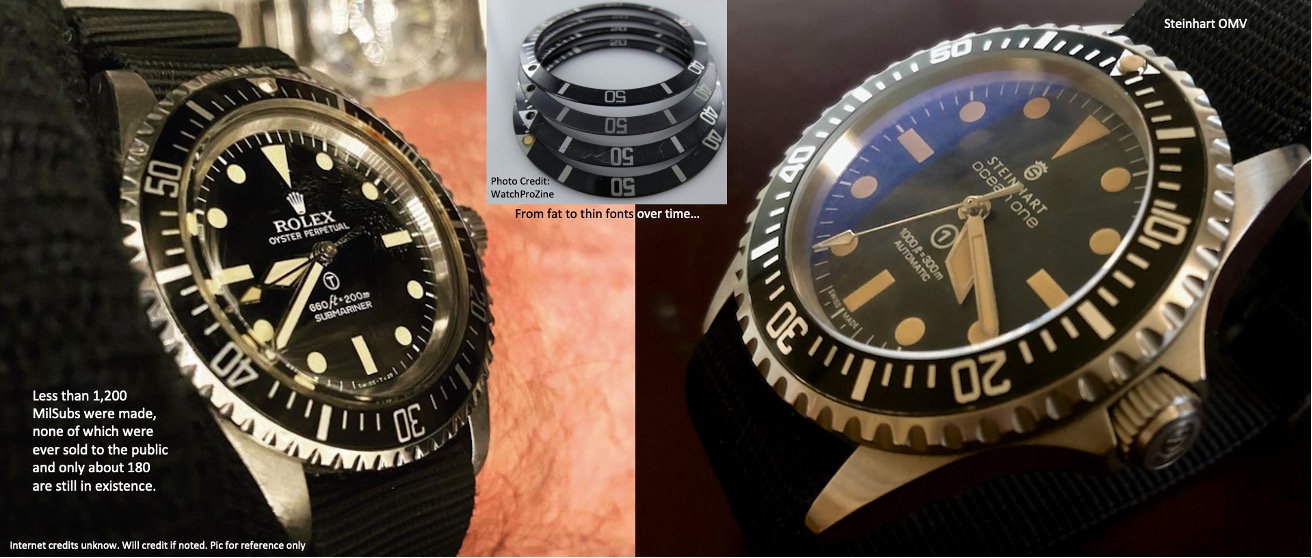 The circled "T" is substituted by a circled "1" that stands for "Ocean One" (ABOVE RIGHT) which is the diver-line from Steinhart. But beyond that the OVM also features other little gems that are usually much appreciated among those that collect vintage Rolex and Tudor divers. For example, the OVM has a "maxi-dial," where the hour markers are slightly enlarged (something Rolex introduced for regular Subs around the time the 5517-MilSub production-run came to its end, in the late seventies). The OVM has also a "fat font" bezel. As bezel-printing technology improved, the Rolex font on the bezel got thinner and thinner (see SMALL INSERT PICTURE ABOVE). "Fat fonts" are found in early models of the late 50s and 60s and are therefore thought after.

ABOVE LEFT, a late Rolex Ref. 5517 MilSub from the late seventies that actually features a "Maxi Dial" that had only just appeared on "civilian" 5513 reference Submariners. Considering how few genuine MilSubs have survived, one can speculate that there are only a handful Maxi Dial MilSubs in existence all together.
The Rolex MilSubs also had welded-in spring-bars (ABOVE IN THE MIDDLE), to make sure they couldn't break in battle, which could result in losing the watch.  That's why you never see a genuine MilSub on a steel bracelet. It is also the reason the Rolex case has no lug-holes, just like Steinhart's OVM has none.  And while the Steinhart (ABOVE RIGHT) comes with a (very nice and well made) steel bracelet, I have never ever worn it once. Instead, keeping faithful to the homage-spirit, I installed shoulder-less stainless steel spring-bars that now, because of the missing lug-holes, can't be removed either (except with bolt-cutters).

All these details – apart from amusing my nerdy WIS-mind – make the OVM super legible in all circumstance, which means it makes the piece really utilitarian and tool-like. At 42mm, the watch is a bit bigger than the original Rolex MilSub with its 40mm diameter.  For me that works fine. Many watches are a bit larger nowadays (see comparison to my 41mm Tudor Black Bay Mk I from 2012, ABOVE LEFT) and the size works perfect on my large 7.5-inch wrists.
As the Steinhart cases are manufactured by a company that used to make cases for Rolex in the past, there was attention paid to giving Steinharts their own specific shape. Making them too similar to Rolex could have gotten the case maker possibly into trouble with their previous client. And the results came out great.
The cases have a thin profile and hard edges at the very end of the lugs, making the watch lying flat on the wrist. This is not everybody's cup of tea, but it suits my flat wrist and I find it to be very much in sync with the wearing experience of vintage Rolex or, in particular, my Tudor Submariner Snowflake, ref. 94010 (BOTTOM RIGHT).  As a matter of fact, the slab-sidedness of contemporary Tudor sport watches (high tallness of the case) that started with the 2009 Tudor Heritage Chrono and then continued with the 2012 Black Bay and all subsequent Black Bays and Chronos, always bothered me a great deal. In that respect, I like the Steinhart case shape and how it sits on my wrist actually much better.
Naturally, Steinhart divers today have domed Safire crystals with anti-reflective coating from the inside and unidirectional rotating bezels with 120 very satisfying and precise clicks. Just by the feel and sound of them one can tell the quality of this watch.

And finally let's not forget about the "squared-off crown guards." Another super nerdy detail that is often appreciated by Rolex collectors.  This design is from the time when Rolex first introduced the crown guards to protect the crown on the Rolex ref. 5512, the predecessor of the 5513 that then became the first MilSub. It is estimated that only around 100 pieces of the "Square Crown Guard Submariner" were made. Compare the original Rolex design drawing from the late 50s (BELOW RIGHT) with the shape of the OVM of today, more than 60 years later (BELOW LEFT).

To sum it up: The OVM ticks a long list of boxes while the original Rolex MilSub is unobtainable. If you do find one of the circa 180 for sale, be prepared to part with up to 300,000 dollars.
Cheap knockoffs of expensive watches that currently are in production; I am NOT a fan. But a proper, well-built, quality homage watch that faithfully pays tribute to an iconic design and/or certain historical details, referencing iconic watches that are long out of production – I'm in. And keep in mind: Anything the original MilSub could do back in the day, the OVM can do today – but better.
Admittedly, Steinhart does produces some pieces that are straight copies of contemporary luxury watches (while all being of excellent quality). That is not my thing.  But in the department of serious homage watches, as I have just described them, they have some spectacular offerings.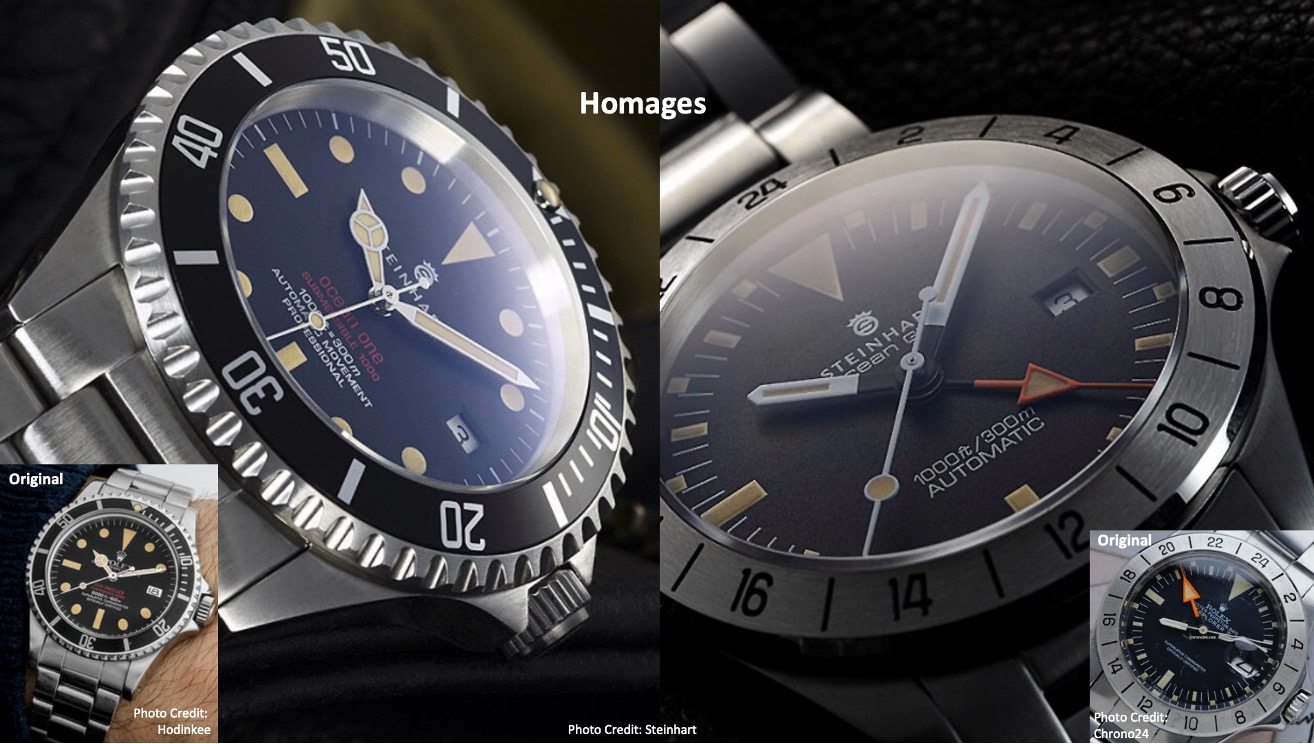 Two more examples are the Ocean One Vintage RED (TOP LEFT), homage to the super iconic early 1970s Rolex Double-Red Sea Dweller, Ref. 1665 worth around $60k these days (INSERT BOTTOM LEFT), and the Ocean One Vintage GMT (TOP RIGHT), homage to the  glamours and eccentric 1970s Rolex Explored II, Ref. 1655 with its funky 70s dial, worth around $30k in 2023 (INSERT BOTTOM RIGHT).
Wrapping up the story, I do want to answer the one big burning question:
Does my Ocean Vintage Military scratch that Rolex MilSub-itch?
Yes, it does.
And that actually surprised me.  This is why I felt compelled to write this essay. Each time I look at this watch I enjoy it. Each time I see it on my arm or in a mirror, it makes me happy. And plenty of times I look at it without reading the time. Naturally, the design is so iconic because it was perfect from the get go. But still, even with all the subtle changes and technological upgrades (i.e. domed Safire crystal) it looks great from all angles, at any lighting, with any wardrobe, at the track or in the ocean, on production or at dinner. They just nailed it. I do enjoy the OVM as much as any of my previous original  and much more prestigious horological possessions. That's the test right there.
As certain objects (cars, watches, art, antiques, etc.) become extremely thought after, collectible and subsequently tremendously valuable in a monetary sense, many true enthusiast end up being pushed out of the market and replace by people that have other motives than pure passion (capital gain, image, prestige, fame, bragging rights). I appreciate that Mr. Steinhart found a way to democratize the experience, making it accessible to so many.  The same way I appreciate what the guys at Backdraft Racing do with Cobras. For me it is about the experience. And from my very first Timex Diver to the Ocean Vintage Military today, it is this concept that always worked for me.

I look at the Originals of these rugged tool watches as master-pieces of considerable historical and cultural significance and therefore wouldn't mind owning one. But today, I consider them as art, which is what they have become over time. And I am perfectly content with admiring art and not own it. Even more so since I CAN experience a great recreation (as you would call it in the vintage car world). I owned a few great pieces over the years and that may happen again, but it was and will always be about the enjoyment of the tool watch experience (as opposed to the fine jewelry experience).  Back in 1970, when the British Military bought the custom specked Submariners from Rolex they paid around $250. An OVM today is $450. That is the crux of the story. It's still a tool.
The Steinhart  is on my arm every day and does get banged around. It already has plenty of scratches and will get more in years to come, and that is fine because they are my scratches, from my life. It will make this watch also valuable someday – to me, anyway.
All the enjoyable experience with none of the worries or pressures (of potentially, accidently destroying great, historical value) carrying the icon's proverbial torch for years to come. What's not to like? Thanks, Günter, from a humble lifelong watch enthusiasts.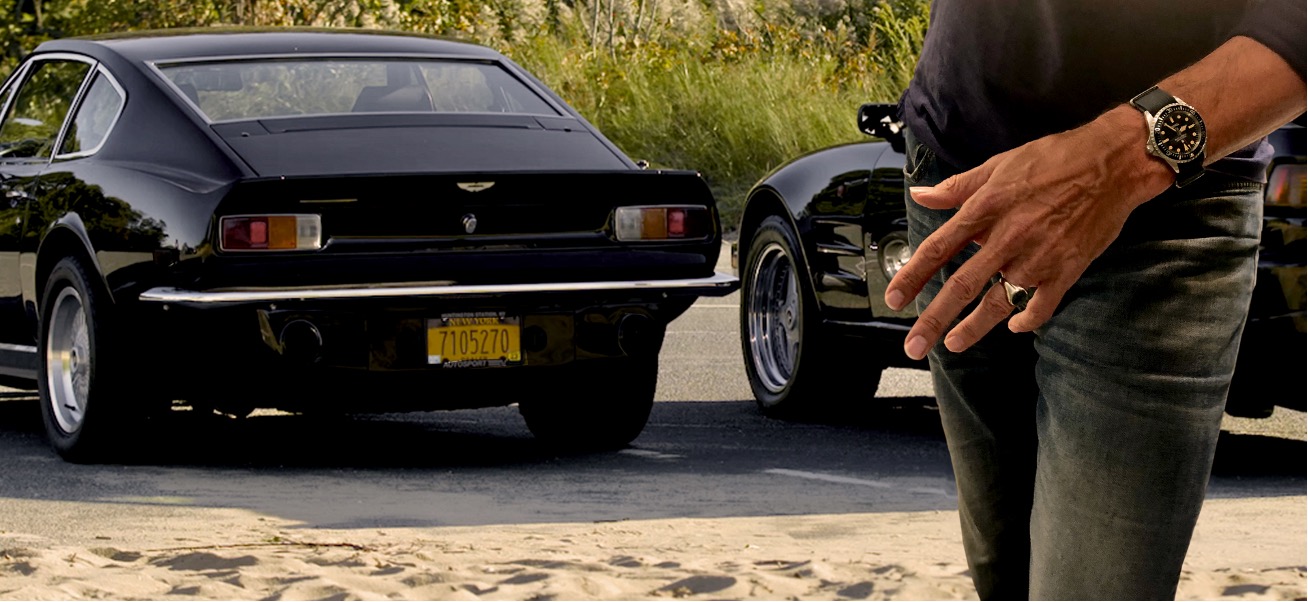 All unmarked pictures (such as the one above) are copyright of DAVIDIS FILMS, INC. aka DF MEDIA, all rights reserved 2023 ©
Disclaimer: I have no association whatsoever with neither Steinhart nor any other watch brand discussed here. This essay is just an expression of my pure enthusiasm for these type of watches and serves no economic gain.