My experience as a watch enthusiast started as a boy with a Timex Diver in the 1970s (BELOW LEFT).  Back then, with my limited knowledge, I believed the advertising: Timex were supposed to be indestructible.

That's all a kid running wild in the early 70s needed to know. …And its no-nonsense iconic diver-layout cemented my preference for those tool watch aesthetics deep into my subconscious right there and then.  But it was the seventies and all design was in flux and radically changing as new approaches were tried out left and right. This included watch design, naturally.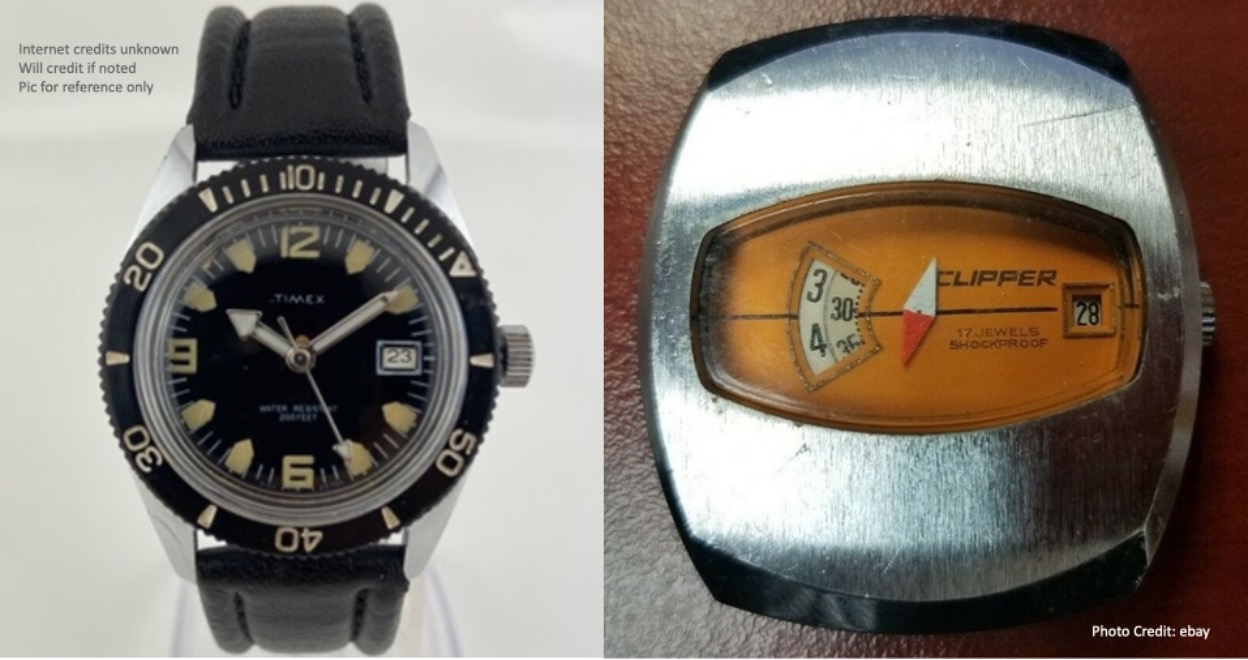 The second watch I remember, though short lived, was a watch that showed the time in numbers, on mechanically moving discs. I don't recall the brand, but it was along the lines of a Clipper Digital Analog Watch (ABOVE RIGHT). These watches came and disappeared fast because of the subsequent advent of quartz technology and much cooler brand-new and futuristic looking red glowing LED-displays, which in turn were followed shortly after by the more functional and always visible LCD-displays.

So, when the quartz era fully commenced and everybody wore rather ugly Casios (ABOVE RIGHT) or semi cool Pulsars (ABOVE LEFT), I had at least a very cool and Swiss-made Texas Instruments 101 with an Oyster-style steel case and bracelet (BELOW).  Unfortunately, despite being Swiss-made, TI 101 never worked. This simplest of all computers would just crash all the time and I had the watch replaced on warranty at least twice, each time waiting for a replacement for many weeks, until I finally gave up on it altogether. The art director in me (that I would become much later in life) adored the perfect simplicity of the design. Naturally, the fact that this beautiful watch would just never work frustrated me endlessly. It seems, this watch existed just a tad too early in the game, before the technology was solid, and subsequently I never had an interest to returning to digital display watches of any kind again.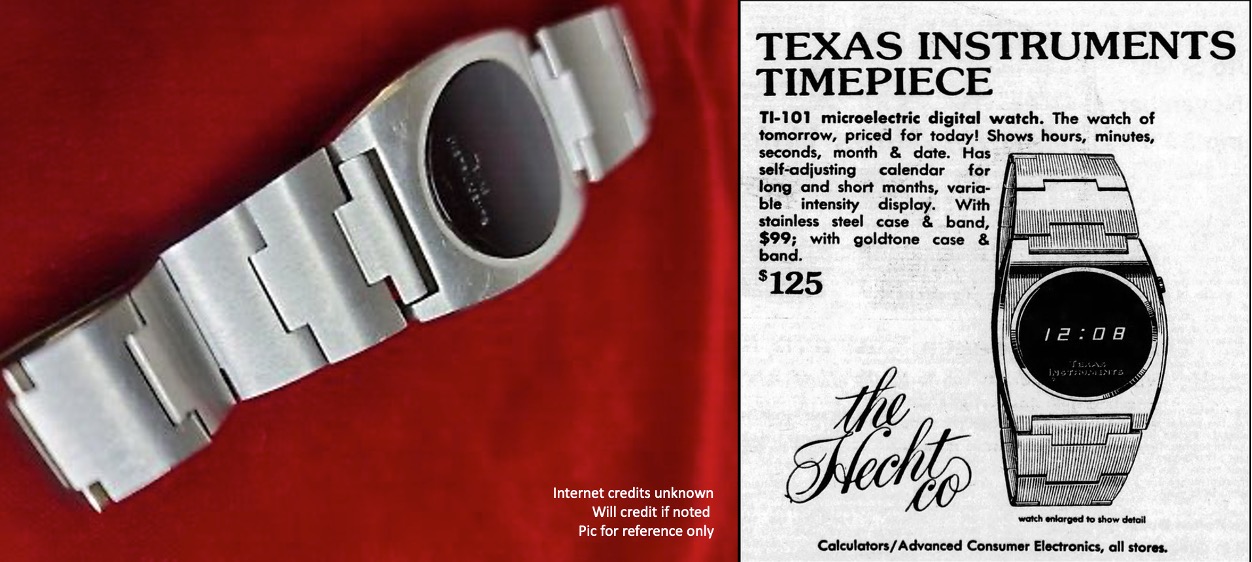 The years that followed (my late teens to early twenties) saw several different quartz-powered watches, albeit with traditional layouts.  I learned that different watches could match different attire, so at some point I wore a Seiko in the style of a Cartier Tank watch (LEFT) but most of the times my plain stainless steel Junghans on a Jubilee strap. It was my go-to watch (RIGHT).

Finally, in my late 20s, when I had relocated to New York City in the early 1990s, I bought my first proper vintage watch, and it was a very lucky buy indeed. On the 26th St. / 6th Ave Saturday-morning fleet-marked I discovered a rather early Rolex Submariner that I was able to snatch up for just $400.  This was long before the arrival of the internet and other watch enthusiast weren't accessible to me and therefore, I must admit, this purchase was poor beginner's luck. As an aspiring filmmaker I did have a movie library at the office and right away I double checked with the early James Bond "Dr. No" movie and could confirm that I had indeed been fortunate enough to find a model that resembled OO7's watch almost exactly: A "James Bond" as they are called today in collectors circles.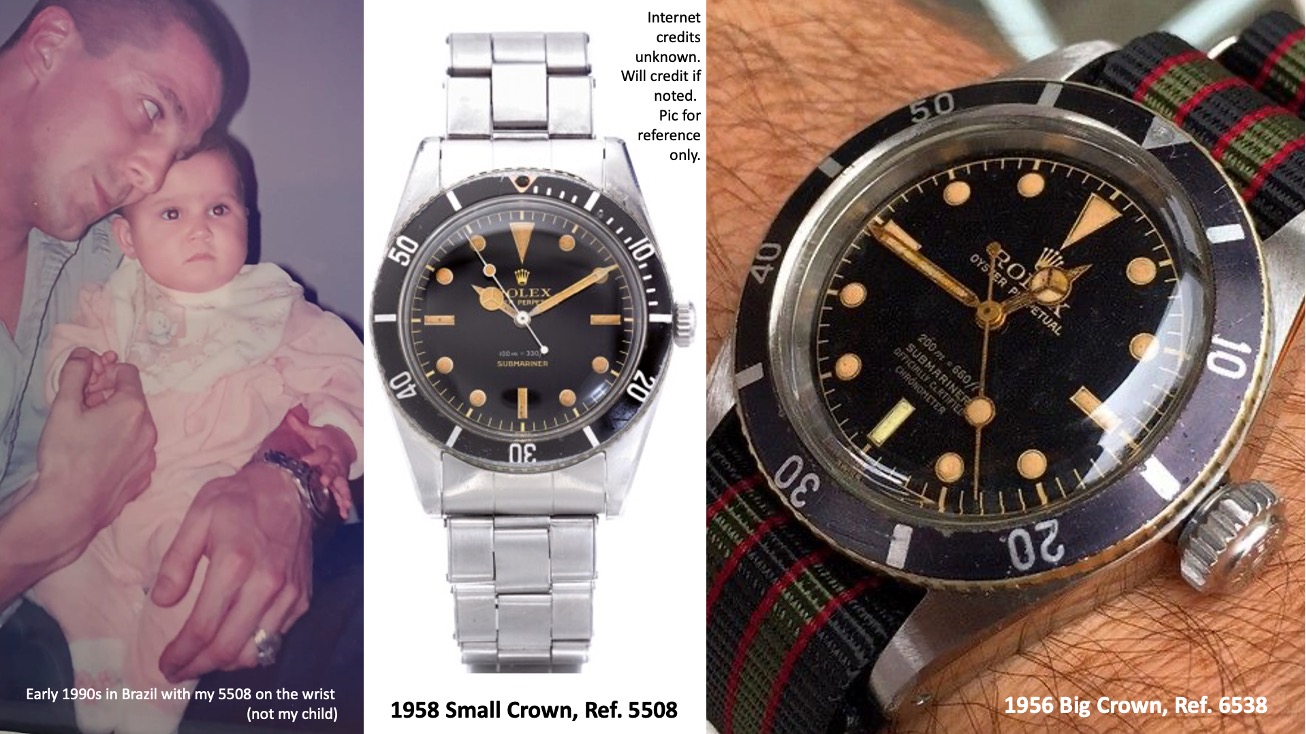 Except, back then, my watch was just known as a 1958 100 Meters Submariner Ref. 5508 (ABOVE LEFT & MIDDLE). Today you would add "Small Crown" to the "James Bond" moniker,  to distinguish it from Sean Connery's exact model, which was a UK military issued 1956 Rolex Submariner Ref. 6538 "Big Crown," (ABOVE RIGHT) indicating a much bigger crown size that could be more easily operated wearing combat gear such as gloves. Also, Bond's version had a higher depth rating of 200 meters and no hashmarks on the bezel between 0 and 15 (just like the newly released Tudor Black Bay 54 that we will discuss in Part II).  My watch was rather rugged and somewhat beaten up! These days you'd say it had patina. The Radium had blown up to a point that the hour markers had become three dimensional and some of the lettering as well as the bezel had faded. Further it had the original hallow, riveted steel bracelet.  This old Sub was on my arm forever and went around the world with me.
Since it was the 1990s the bigger size new Rolex Submariners, Ref. 16610, with the more bling-ish bezels, big crown guards, white-gold surrounded hour markers and 'cyclopesed' date windows, were everywhere. So, my old, small, faded, 37mm vintage Sub flew well under the radar, only to be acknowledged once in a blue moon by a proper 'WIS'. Back in the days, long before watch enthusiasm was mainstream, 'WIS' was a half sarcastic, half appreciative term for someone obsessed with watches, having considerable knowledge – a 'Watch Idiot Savant'.

A couple of years later I became aware and interested in the Omega Speedmaster Professional (ABOVE). At this point I was much more into watches and knew of a few vintage-watch-dealers around the city. I loved browsing their stores and enjoyed conversations with the owners who knew all the beautiful stories that went with the horological art pieces in their vitrines. Sure enough it was only a matter of time until one of them would have a proper 1969 Omega "Moon Watch" for me – with all the bells and whistles: The commemorative case back as well as the Velcro NASA strap. That watch, too, was glued to my wrist for years.
I started to become fascinated by the idea that these type of watches had been built for specific purposes. They were high-precision tools that were able to take a beating, used by adventurous hero-like men that would dive to the bottom of the ocean, fly into space or go into battle – literally. There is the subject on 'Mil-Spec' watches (as in 'Military Specification') given out to the armed forces, that we will touch on in Part II.
I was never interested in the status symbol part of watch owning, which is so prevalent today. And it is important to make this distinction because it is the main point of this 3-part article.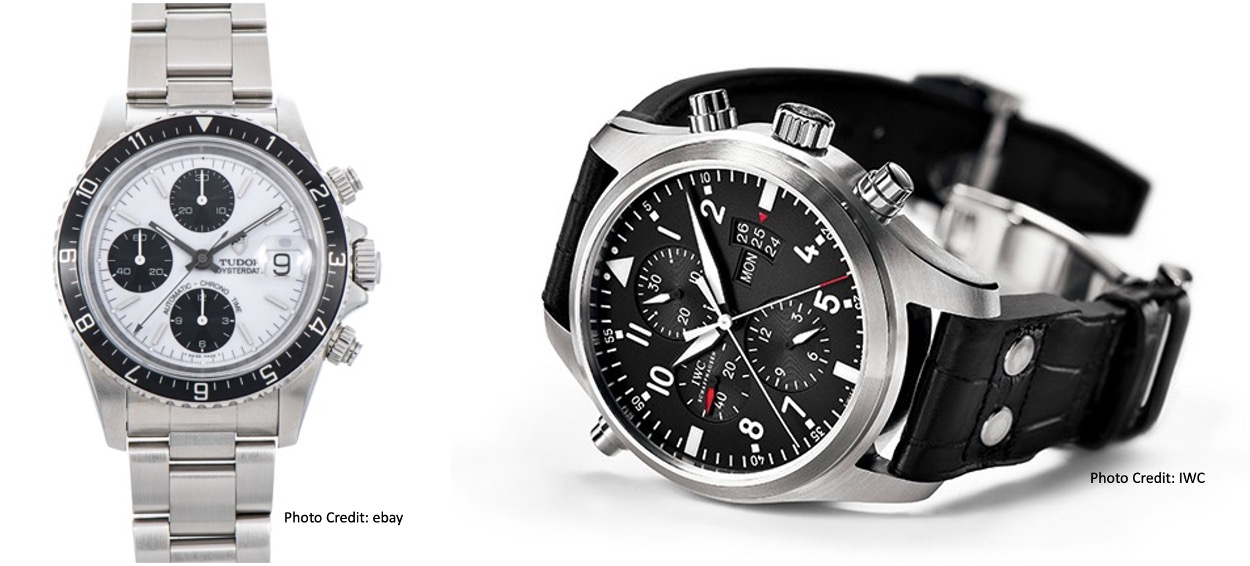 Back home in Germany I had a friend that traded in vintage time pieces and shared my passion for tool watches. He had me report back from NYC. If a special item would catch my eye, I would let him know and he would then – from time to time – offer to buy it from me. This way a Tudor Oysterdate (Panda) Chrono Big Block ref. 94210 over here (ABOVE LEFT) or a IWC Split Second Pilot Double Chronograph over there (ABOVE RIGHT) would pass through my hands on their way to Germany.
These type of deals made me aware of more brands and different types of watches and hence – after the Submariner and the Speedmaster ­– I found another great watch on a fleet market, buried among a pile of insignificant pieces. This was my first proper dress-watch, a 1950s IWC (International Watch Company). Years later, when I knew I would pass through Zurich, Switzerland, I dropped the watch off at IWC-headquarters to have it serviced.
When I picked up the watch a few weeks later, the people at IWC told me that while all major parts of the watch were genuine (movement, crown, face etc.) the solid rosé-gold case however was custom made – and not by them. They figured, back in the days, a client must have required a waterproof case for a watch of this type, which IWC did not offer at the time (1950s) and so he had one made. Nevertheless, IWC was so impressed by the goldsmith's work, which they described as being fully up to IWC standards if not beyond, that they gave me a IWC-authentication certificate for the entire watch. Another important time piece I never photographed. But it looked pretty much, if not exactly, like the one shown ABOVE.
Another design I started to adore was that of the vintage Rolex Daytona Cosmograph (Rolex-Speak for Chronograph), especially the early "reverse pandas," meaning black dials with white sub-dials. At the time they were financially out of my reach.  So I was very excited to find Tudor's less expensive counterpart, a "reverse panda" Prince Date Automatic Chrono Time, Ref. 79260 (BELOW) at a jewelry store in St. Moritz, Switzerland. Tudors were being built by Rolex, of course, and used to share many parts, especially cases, crowns and bracelets.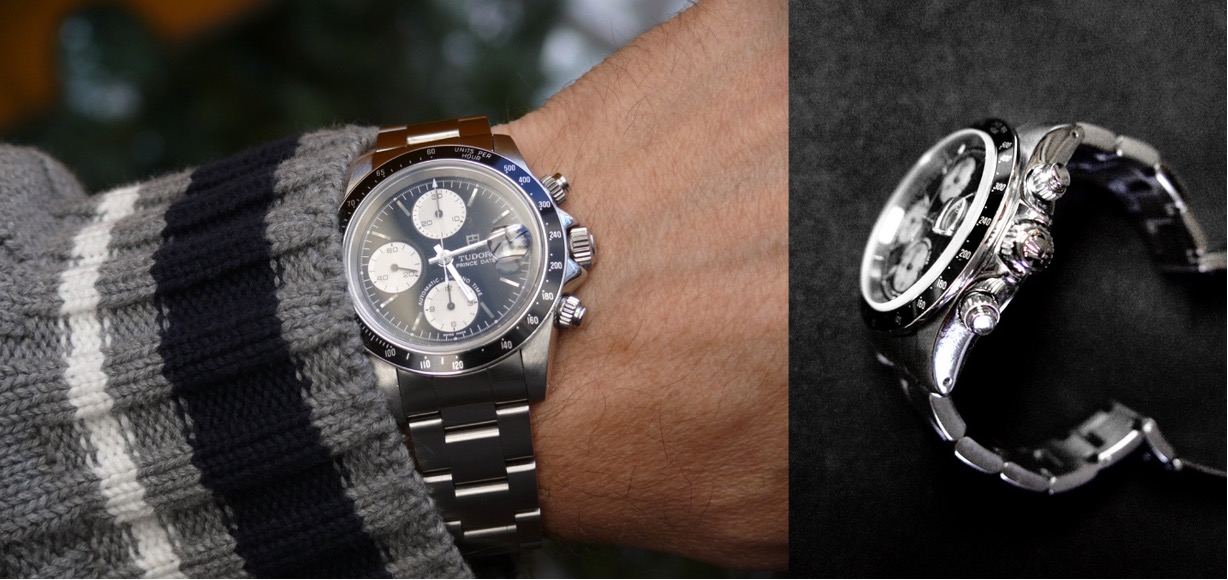 It was Christmas 1999, so this "Tudor Daytona" became my Christmas gift to myself. I purchased it then for 1,400 Swiss Francs. Little geek-nugget: The Prince Date Chrono received an automatic movement before the Daytona, which was still hand-wound. It also had an additional date complication. So one could argue that the Tudor was superior to the corresponding Rolex at the time the Prince Date came out.
By now, I was well on my way down the WIS rabbit whole. Needless to say, it got only worse from there.

We arrive now at the turn of the millennium, and I am living in London. I am getting more and more engrossed in another passion of mine, that is cars. Some seriously passionate vintage racing enthusiasts pull me deep into the scene and activities of the British A.M.O.C. (Aston Martin Owners Club). The Aston Martin factory sold some very neat merchandise in those days, including their own branded watches, which I couldn't resist (BELOW). I still wear this chronograph today on proper occasions.  Quartz powered, it is not an expensive watch but very functional with its chronometer and date complications and by now a collectors' item in its own right.

London is a terrible place for lovers of beautiful vintage items because they have them all and that can deplete your bank account quite quickly. Naturally, one day, one of my dream watches stared me right in the face from the window of a vintage watch dealer just down the road from my flat. The proper, full-on Daytona version of my Reverse-Panda Tudor: A Rolex Cosmograph Daytona 'Big Red', Ref. 6263 from the early 1980s. (BELOW).
I loved the "Big Red". When I got it, it had a large dent on its beautiful black Bakelite bezel at around 11 o'clock. London has one of the best Rolex flagship stores and I was able to get a NOS (New Old Stock) replacement bezel from Rolex directly – apparently one of the very last available. One would have a very hard time to source a NOS Bakelite Cosmograph bezel nowadays.  The watch fascinated me for the same reason as other tool watches. There was that same association with highly skilled professionals who used and wore them. In this case it was all about legendary racecar drivers. And hanging around racetracks much more often due to my evolvement with the A.M.O.C., I had many chances to use the chrono functions as intended.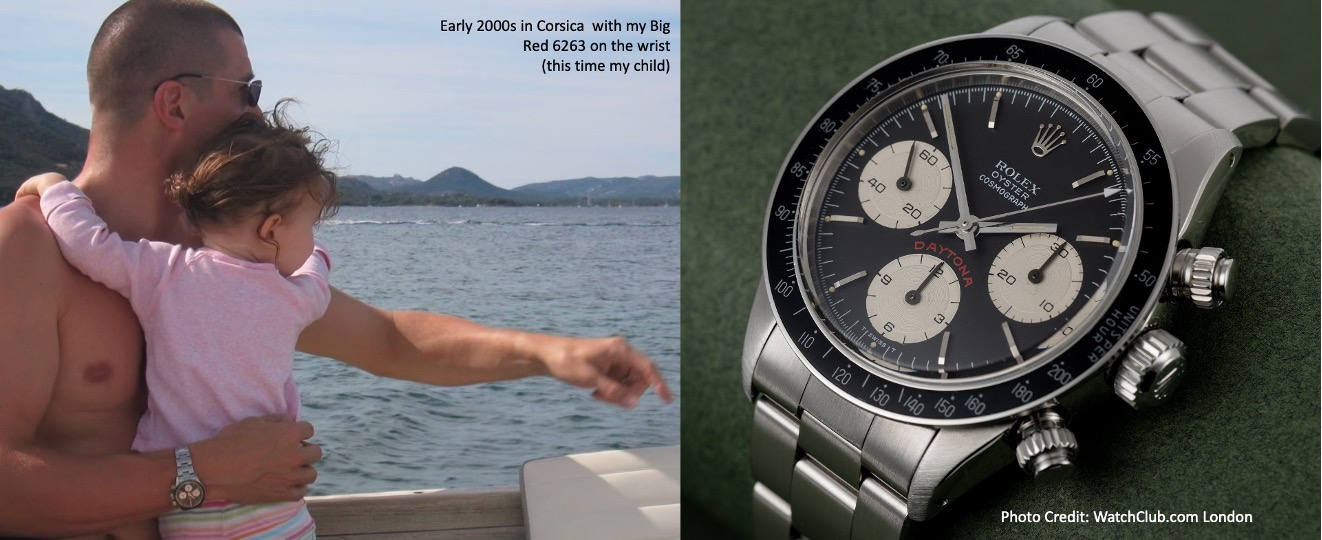 Then again, I had already learned from my other Chronos how useful the stop-function was in my film production profession. I really used this feature a lot. And most of the times I would leave the Daytona's screw-down pushers unscrewed (many people don't know that even with un-screwed pushers the watch is fairly water-poof – just don't "push" them under water).
But the "Big Red" was already almost too much.
Like with certain vintage cars; Some have appreciated so much in value that you cannot drive them on the road anymore out of fear that something might happen to them. Cars are built to be driven. So that is a shame in a way. And when "tool" watches become rather valuable pieces of jewelry it kind of defeats their purpose.  So it was with this exact watch. Knowing that I had gotten one of the very last NOS bezels for this one had me worry I would bang it again.  My watches always have been real tools. As a film director I have a very active and sometimes action-packed lifestyle. All my watches get banged around all the time, to this day.
So, this slight feeling of uneasiness wearing a super expensive watch as a "daily beater" coincided with the trend that the whole watch scene had become much more alive and mainstream. Thanks to the dissemination of information via the internet people started to know and notice what one was wearing. One time, on a NYC subway train, I escaped losing the "Big Red" to a determent (and obviously knowledgeable) robber. Thankfully my spider-sense saw it coming and I was lucky enough to trick him into following me off the train, only for me to jump back into the car in the very last second, leaving him frustrated behind on the platform. It was, however, a serious and close wake-up call.
In 2003, when the green 50th Anniversary Submariner, Ref. 16610LV came out (BELOW) I had my last brush with bling-ish trophy pieces.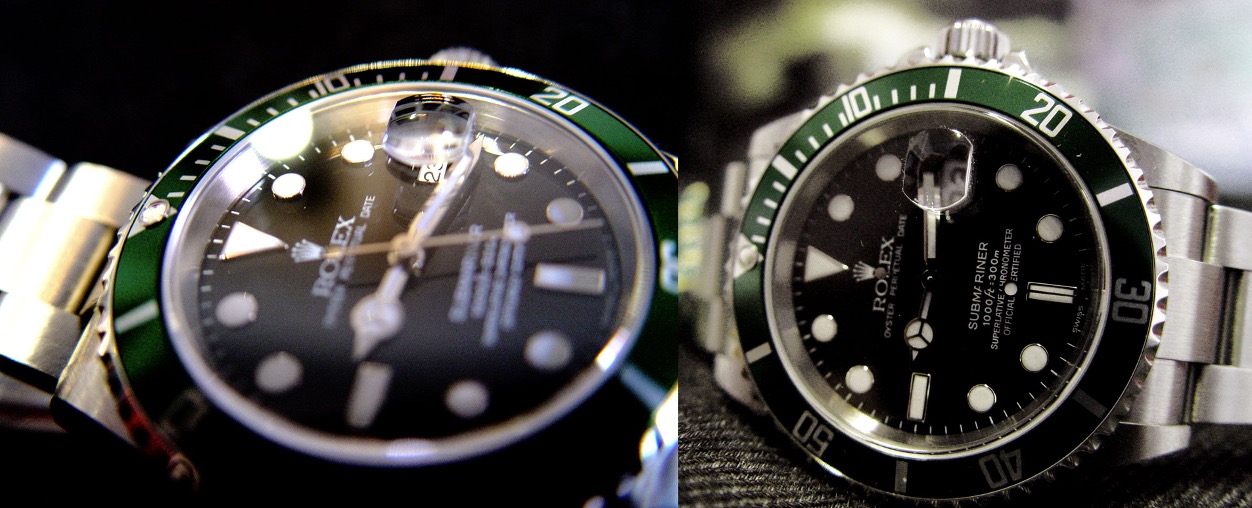 I figured my early Rolex Sub 5508 "James Bond" and the 50-year anniversary Submariner 16610LV would represent two great bookends to the lifespan of this icon. But as soon as I received it, I could not enjoy that vile green bezel. This was NOT my color and I think I sold the "Kermit" within a month.  I became less and less interested in Rolex and more and more interested in Tudor, which wasn't even sold in the US at the time.  The concept of bullet proof tool watches for professional men that need them still fascinated me the same as ever. And Tudor attracted me precisely because of the LACK of that status symbol nonsense, while being built by and having the quality of Rolex, nevertheless. The whole "bling" thing was starting to irritate me and I specifically liked NOT having a Rolex but loved me my timeless classic tool watch just the same.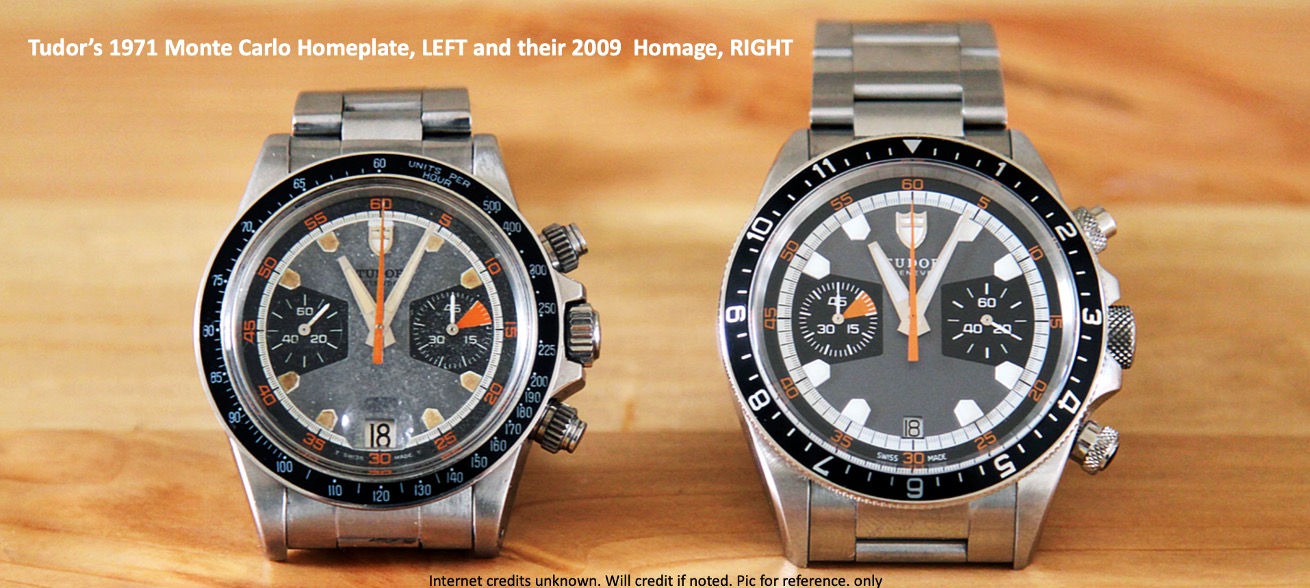 When Tudor re-launched its brand here in the US in 2013, I had already bought their Heritage Chrono (ABOVE RIGHT) four years prior, in Europe. The Heritage Chrono was Tudors first proper "Homage Watch." This one specifically paying tribute to its own vintage Monte Carlo "Homeplate," Ref. 7031 (ABOVE LEFT), Tudor's equivalent to Rolex' vintage "Paul Newman" Daytona.

Then, in 2012, also in Europe, I bought the new but vintage inspired red Black Bay (CENTER BELOW).  It was Tudor's second homage watch and as a vintage lover, I was fully on board.  Their future design direction had been decided. Away from a mish-mash of strange looking watches that tried way too hard to NOT look like Rolex and instead towards embracing Tudor's and Rolex' common successful heritage. Further, Tudor's level-headed pricing policies, designed not for exclusivity (like Rolex') but for accessibility, was very much in the original tool-watch spirit and the entire package won me over.  Affordable top quality timing instruments for the working men were back. So little by little the Tudor collection grew by some additional vintage "Snowflakes" (Tudor Submariners with square hour markers and hands – ABOVE RIGHT & BELOW 2nd FROM LEFT, Submariner Ref. 94010, black and BELOW LEFT Mini-Sub, Ref. 90910, blue). And over time, all Rolex, Omega, IWC etc., I let go of.
To be continued…
But what about Steinhart you may ask?
Was this just bait and switch? No it was not. Hold your horses…
Read Part II and it will all make sense, when we dive deeper into the revival of "vintage watch design" in modern clothes and with high-tech: The concept of Homage Watches. Stay tuned.

All unsourced pictures (such as the ones above) are copyright of DAVIDIS FILMS, INC. aka DF MEDIA, all rights reserved 2023 ©
Disclaimer: I have no association whatsoever with Steinhart nor any other watch brand discussed here. This essay is just an expression of my personal enthusiasm for these type of watches and serves no economic gain.