Though Ruf was founded in 1939 as a Porsche service garage by Alois Ruf, Sr., the CTR Yellowbird—star of the first viral automotive video "Fascination of the Nürburgring" and winner of Road & Track's 1987 "World's Fastest" shootout—was the creation of current Ruf chief Alois Ruf, Jr. And he is still the nicest guy you'll ever meet.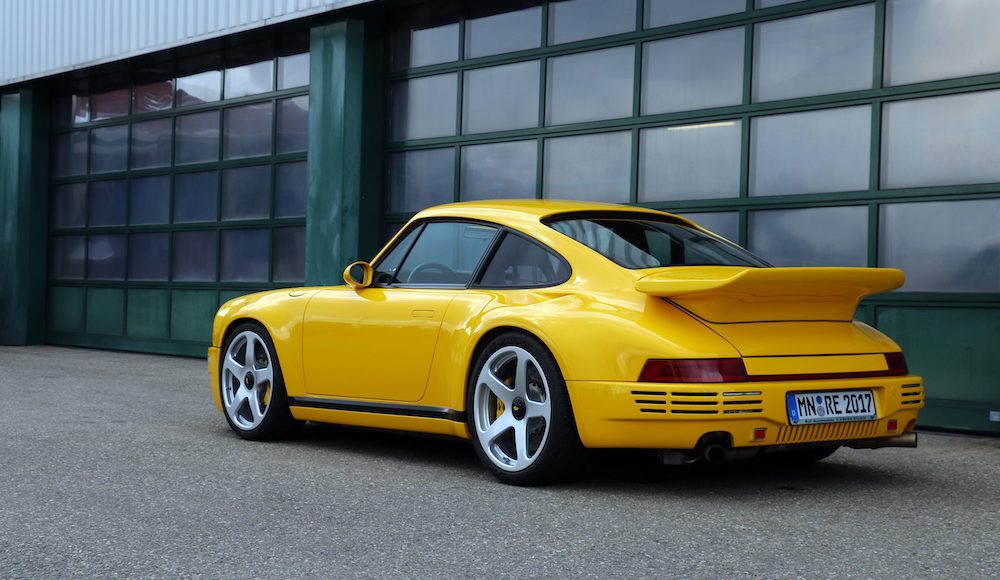 In the mid-'70s, the Ruf family was quick to realize that, while Porsche was about to abandon the 911 in favor of its new V-8-powered 928, there were more than enough rear-mounted, air-cooled flat-six fans out there to keep its business going. Ruf wasn't just a tuner and a trusted service center; it was also an engineering powerhouse, giving the 911 five -and six-speed gearboxes before Porsche would, and designing and manufacturing various other parts in-house. With all this know-how, in 1979, Alois Ruf came up with a concept for a car called the 945R—a slantnose, twin-turbo affair pushing out 450 hp and using the 935 engine as its base. This idea soon evolved into the CTR prototype.

With no rain gutters in sight, making it as sleek as possible, this first CTR Yellowbird became one of just 29 built, each pushing out 470 hp from a Ruf twin-turbo flat-six revving to 7300 rpm. This car was followed by the similarly bonkers 930-based BTRs, and various different Ruf evolutions afterwards.
Being a VHS sensation and a manufacturer instead of a tuning shop, Rufs also made it into the Gran Turismo franchise, gaining quite a few fans who, since the first few games, became both old and successful enough to purchase the real cars. However, with Ruf remaining a small company even after the very quick CTR2s and straight-up crazy CTR3s, not all Ruf experiments would lead to series production. Ruf's V-8-powered 911, the R-GT8, was put on the shelf by emission regulations, while electric Rufs called Model As remained concepts due to other technical limitations. However, just two years ago, Ruf finished its most important developing to date: the carbon-fiber tub that's now the base of its custom modular chassis. This independent setup allows Ruf to build cars completely from scratch, thus putting the disassembly and spot-welding of 911s in the past.
Designed by Freeman Thomas, the new CTR and SCR pair makes the most of this Ruf platform already, while the workshop continues to do all sorts of jobs from restorations to full custom builds. Ruf still works with a bunch of colleagues who have been with Ruf since the 1970s and the '80s. The company also remains conveniently located next to the gas station Alois Ruf, Senior bought all those years ago, now run by the current family of Alois, Estonia, Marcel, and Aloisa Ruf.
Time and a consistently immaculate reputation would build a legacy like Pfaffenhausen's, and it's time for us to learn more about it:
Report by Máté Petrány for hagerty.com
---