Antarctica: The least populated place on the globe, the coldest, driest, and windiest place known to humankind, and the last place you'd expect to see a 1956 Porsche 356A gliding through whiteout conditions—but that's exactly what happened this past December.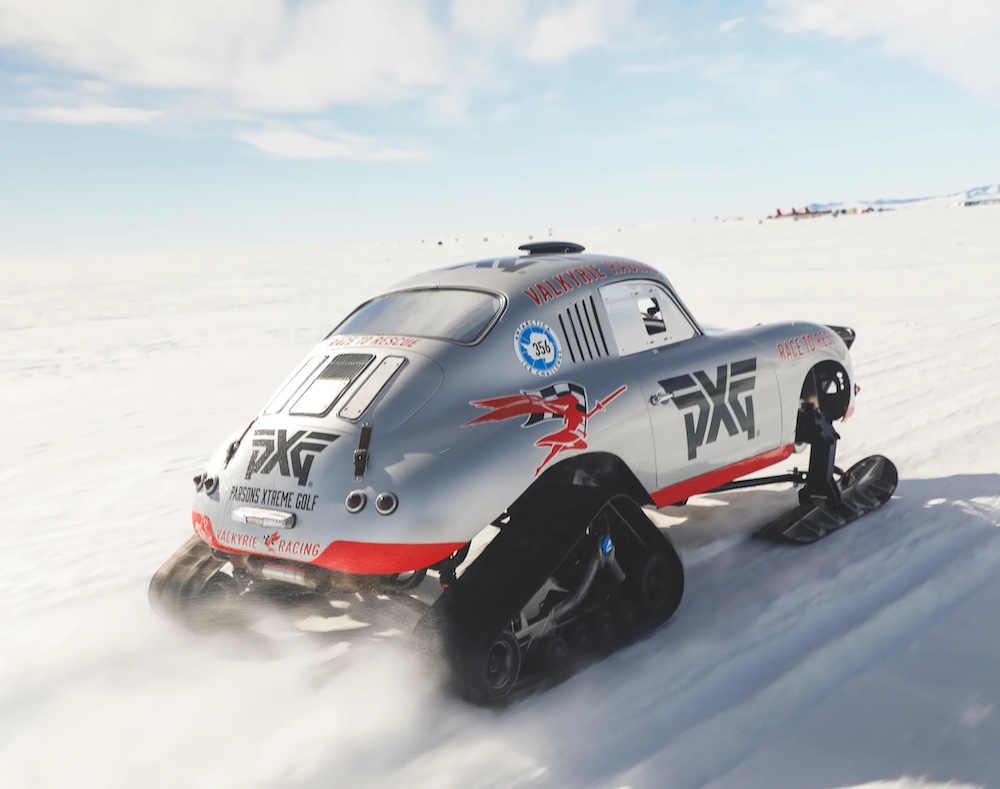 When it came to what type of racing she wanted to do, Brinkerhoff didn't have a clue, but she knew that racing around a track seemed too blasé. A simple Google search revealed the La Carrera Panamericana rally in Mexico, one of the most dangerous—and exciting—races in the world. "I just thought it sounded fun," recalls Brinkerhoff with a now-knowing chuckle.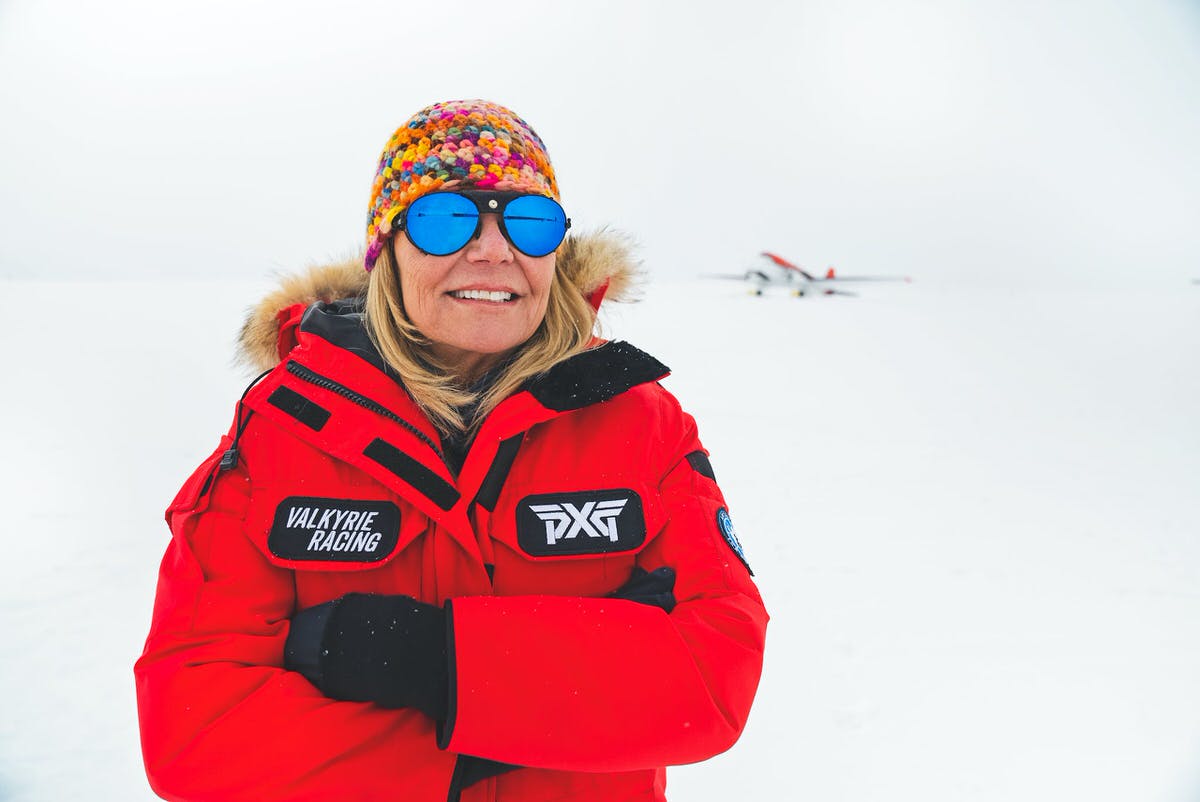 After further research, Brinkerhoff discovered a team with a similar 356A registered for the 2012 La Carrera Panamericana rally whose partner had dropped out a few months before the race. Paying half the cost to participate, she landed a seat in the car as both driver and navigator, and that seminal experience in the Mexican desert cemented her desire to come back with her own car and team.
With nothing more than a few classes at the Porsche Track Experience, albeit with famed endurance-racing driver Hurley Haywood as instructor, Brinkerhoff returned to Mexico in 2013 at the age of 57 with her newly prepared car and a patchwork support team.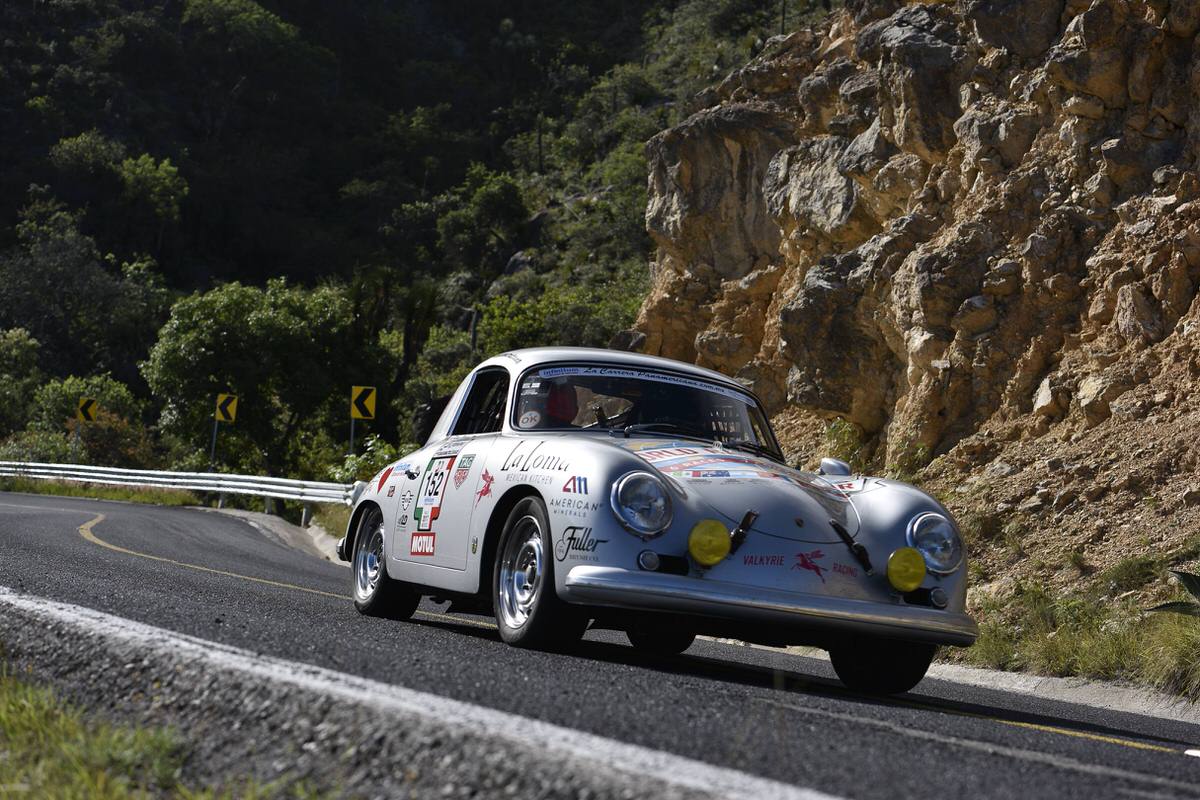 What unfurled was one of the most challenging things she had ever experienced, but it also provided an addictive adrenaline rush. "There was such a visceral connection as soon as I got behind the wheel, and the entire experience just fit in a way I never expected."
Upon returning home, Brinkerhoff realized that her newfound rally appetite could be used to feed her charitable interests—bringing a deeper personal meaning to this oversize adventure.
First, she established Valkyrie Racing—in Norse mythology, a valkyrie is a female figure who chooses who may die or live in battle. Then she created Valkyrie Gives, a philanthropic arm for her rally efforts.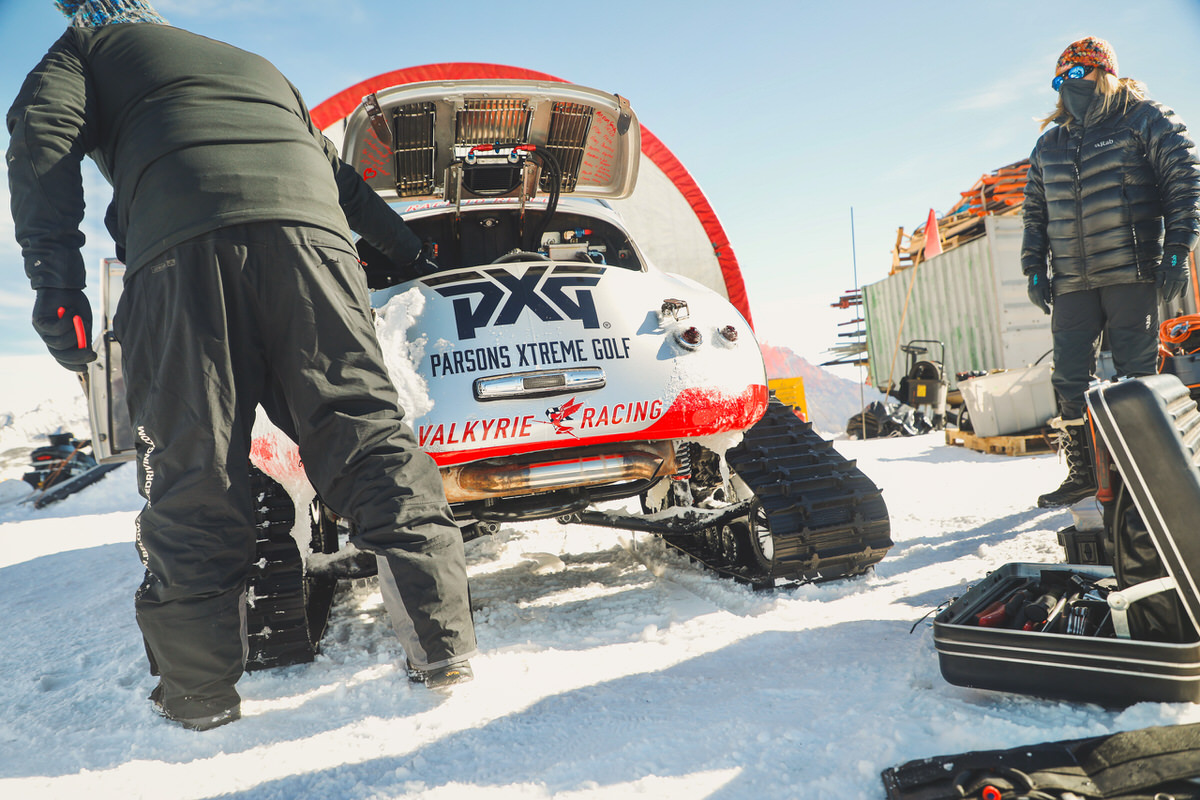 Valkyrie Gives focuses on human trafficking, a cause Brinkerhoff decided to champion after she learned that, each year, some 1.2 million children are smuggled and used in illicit crimes across the globe. Having spent much of her childhood in Southeast Asia as the daughter of a diplomat, Brinkerhoff quickly realized that she could leverage her racing publicity to help organizations that work to end trafficking, such as Haart Kenya and Valley Light Home in Kenya, CHS Alternativo in Peru, Chab Dai in Cambodia, and New Horizons House in India.
Brinkerhoff says that as these two pieces of the puzzle came together, the next stage of her life clicked into place. She would race for a cause and call it Project 356 World Rally.
Project 356 World Rally In A Vintage Porsche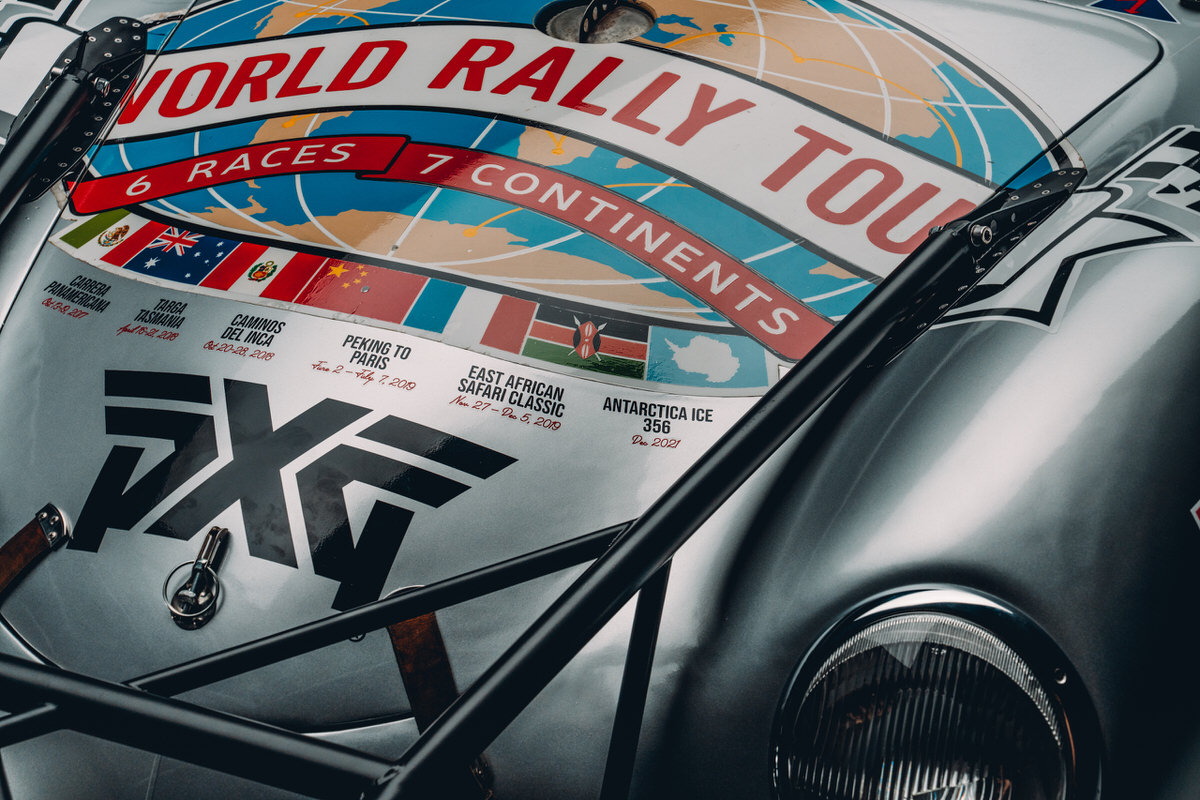 In creating the Project 356 World Rally, Brinkerhoff planned to tackle nearly 20,000 miles over all seven continents in six events to raise $1 million toward her charitable goal. A social media campaign kicked off fundraising, and the Valkyrie team held benefits, golf tournaments, pre-rally parties, and concerts to raise awareness, while simultaneously hitting the rally circuit.
Project 356 World Rally began in 2016 with a return to the La Carrera Panamericana, the rally that started it all. From end to end across the interior of Mexico, Valkyrie finished first in class. Down Under at the Targa Tasmania, the team had the only Porsche 356 out of more than 100 cars. Over in South America at Caminos del Inca, the team's 356 was the first Porsche to compete and, more important, the only non-modern vehicle in the history of the race. Covering two continents in the historic Peking to Paris, she was again the only Porsche 356 in the 9000-mile, 36-day journey. Heading to Africa, Valkyrie Racing finished the toughest classic off-road event on the planet, the East African Safari Classic, to mark the only time in the race's history for a Porsche 356 to compete.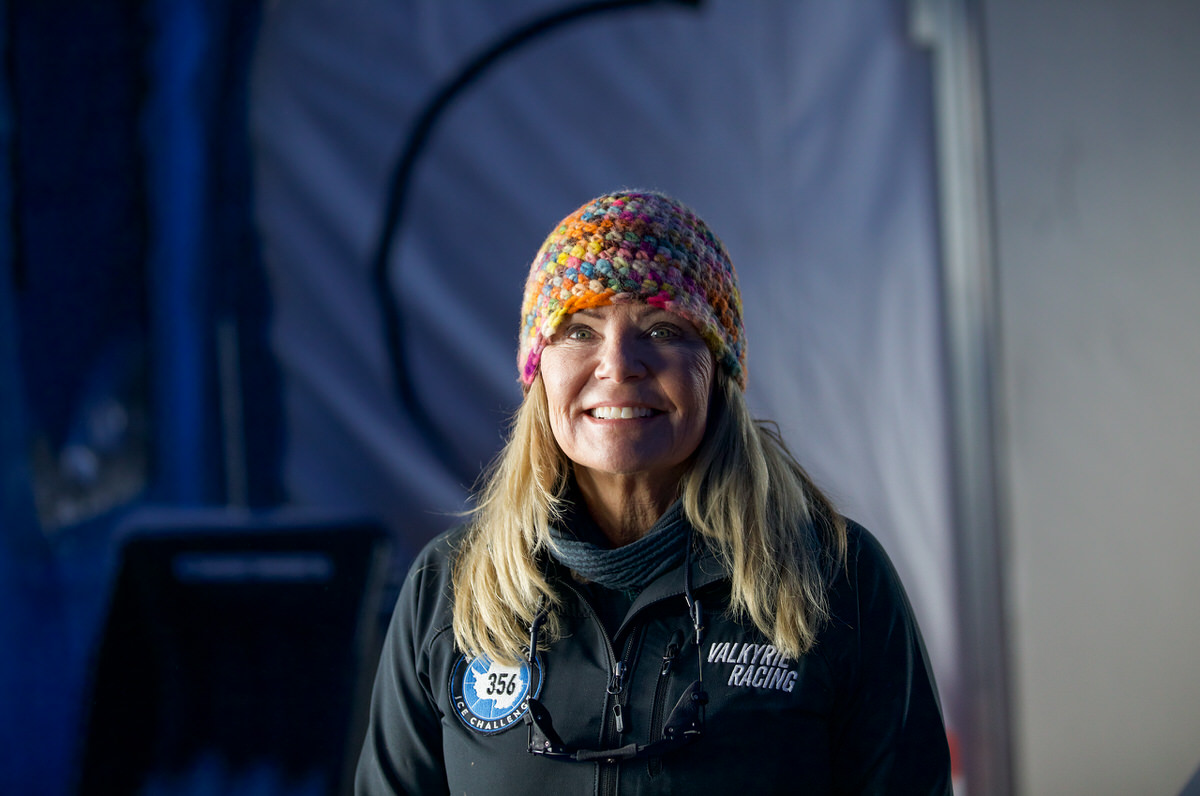 Each race brought a stronger sense of commitment for Brinkerhoff and her team, but nothing could match the final capstone to this seven continent journey—356 miles across Antarctica.
The last conquest kicked off in December 2021 atop the blue ice of Antarctica. This concluding step of Project 356 World Rally proved to be the ultimate test for Valkyrie Racing in modifying the vintage Porsche to handle the demands of driving on ice.
Chassis engineer Kieron Bradley, a U.K.-based extreme explorer, spent roughly 18 months re-engineering the classic mascot, replacing the wheels with a skis-and-tracks combination, adding a crevasse bar that supports solar panels, and reworking the cabin so Brinkerhoff could reach her survival and communication gear unimpeded by the rollcage. Reimagined for survivability, the 356 looks absolutely badass.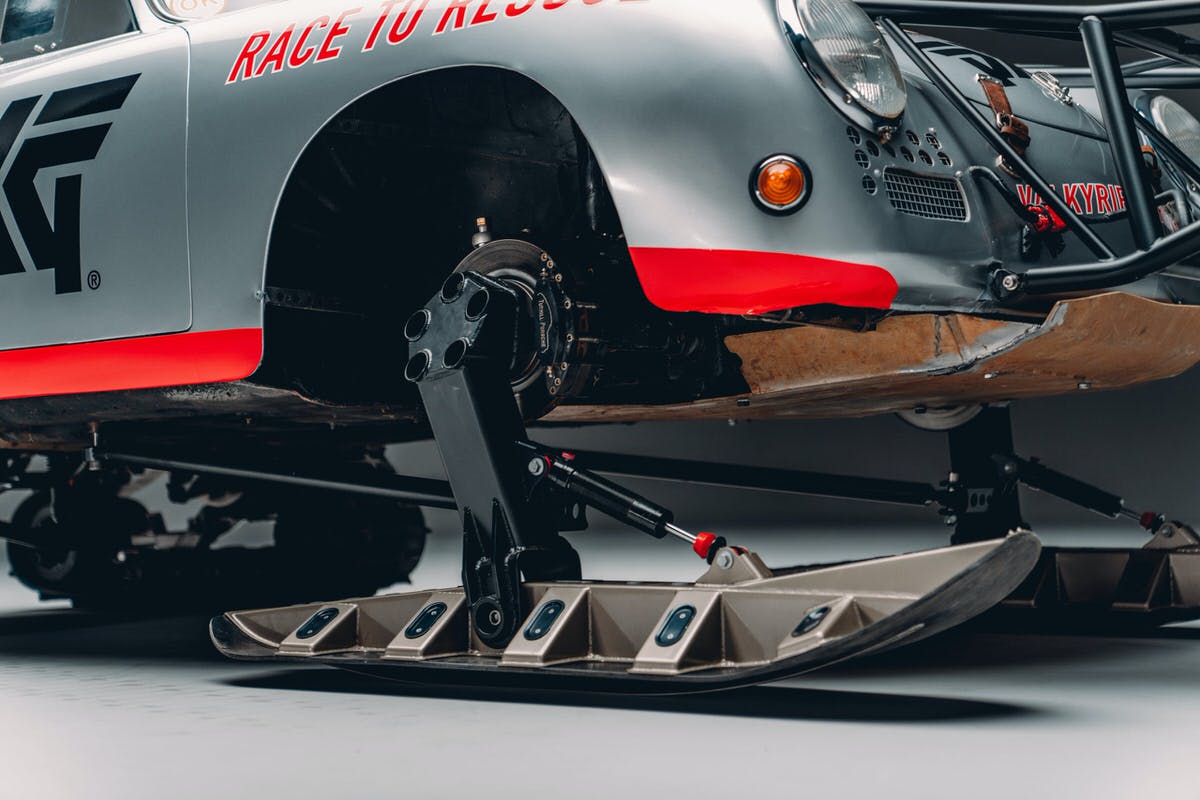 For the ice journey, Brinkerhoff enlisted navigator Jason De Carteret, who has held both skiing and vehicle world records for polar exploration, with 50 polar expeditions under his belt.
Besides charting a safe course, De Carteret used his background in renewable energy to ensure that Project 356 was carbon positive. He calculated the carbon footprint that every member of the team made over seven continents, both miles flown and driven, and the team donated twice that number in dollars to an organization that plants trees in areas of deforestation. Nearly 10,000 trees were planted.
Although a mixture of personal funds and donations from Colorado-based businesses helped keep Project 356 going around the world, the remoteness of this final leg exponentially increased all expenses. Shipping the Porsche from the U.K. to Chile on a cargo ship was relatively inexpensive, but shipping from Chile to Antarctica by cargo plane was approximately $50 per kilogram. A liter of fuel cost approximately $52 at base camp and double that when the expedition went beyond that reach. It was then that sponsor PXG, a sports-equipment company, came on board and funded all logistical costs for the car and team for the Porsche's voyage.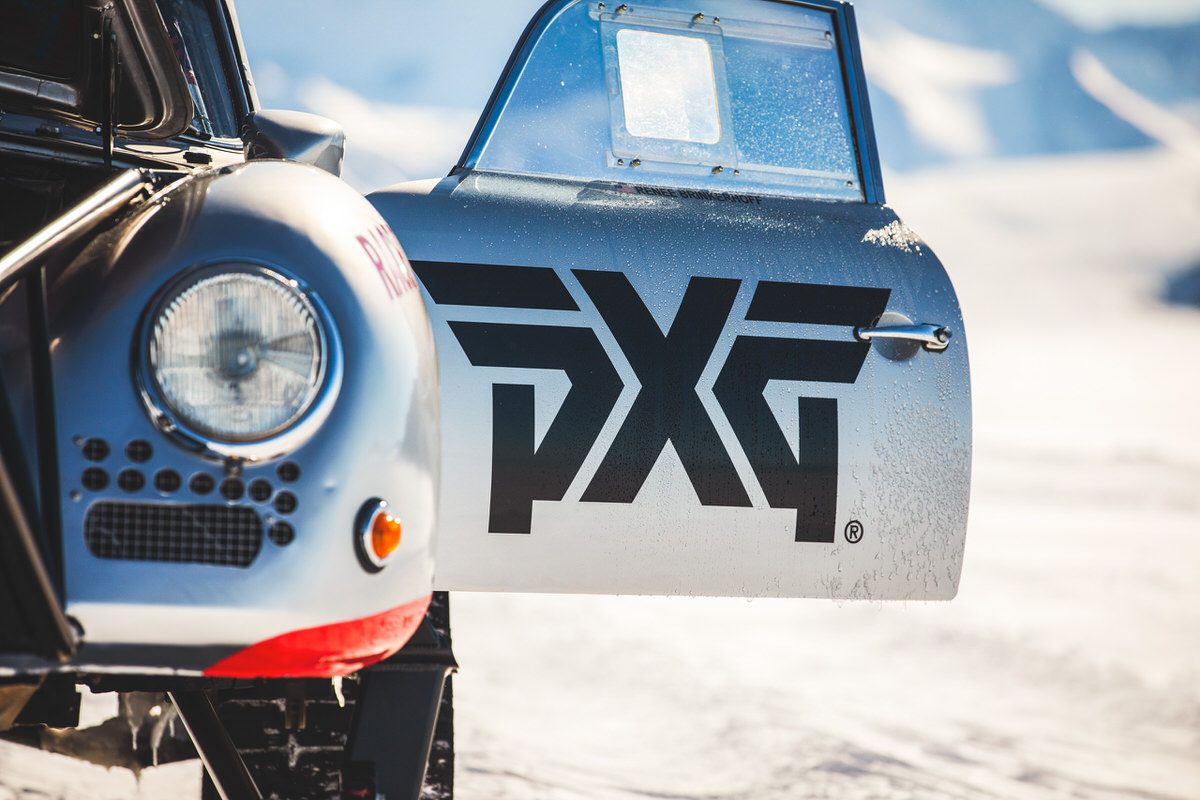 Not only did the team drive 356 miles across the blue ice of Antarctica—which, while beautiful, was also treacherous—they became the first to do so in a vintage car. Yet it wasn't akin to a day of sledding with a cup of cocoa at the finish.
It's one thing to trust a navigator/co-driver in rallying when, as the driver, you can see what's in front of you and can visually process directions. Brinkerhoff admitted that driving with near-zero visibility, knowing she couldn't veer too far off course due to potential crevasses waiting to swallow the car whole, was more than unsettling. "I had to trust De Carteret's course directions explicitly, only using his GPS coordinates, and that was extremely challenging," she says.
Then there was the plethora of mechanical issues: Air filters packed with ice like snow cones; frozen carburetors thanks to subfreezing air feeding the engine; two of four cylinders capable of running, forcing the car to cover miles upon miles in second gear; and the bolt attached to the ski's hub that snapped not once, not twice, but three times—the last with only 16 miles left to complete.
Despite the menagerie of motorized tribulations and weather only Mr. Freeze would enjoy, the car's skis and tracks performed incredibly well on the Antarctic terrain, perfectly gliding along the surface as it was designed to do. The team finished at Drake Icefall, a stunning ice waterfall spilling from blue snow, the journey's completion at once breathtaking, poignant, and triumphant.
"I became emotional in the last few miles, which I wasn't expecting," Brinkerhoff recalls. "The feelings in those last hours were so intense, and the sense of accomplishment was beyond expression when we hit our goal."
The Antarctica race may be over, but Valkyrie Gives' mission to raise $1M to end human trafficking is still moving forward. Although racing on every continent brought donations from around the world, the goal is yet unmet—Brinkerhoff says she will not stop driving until it is.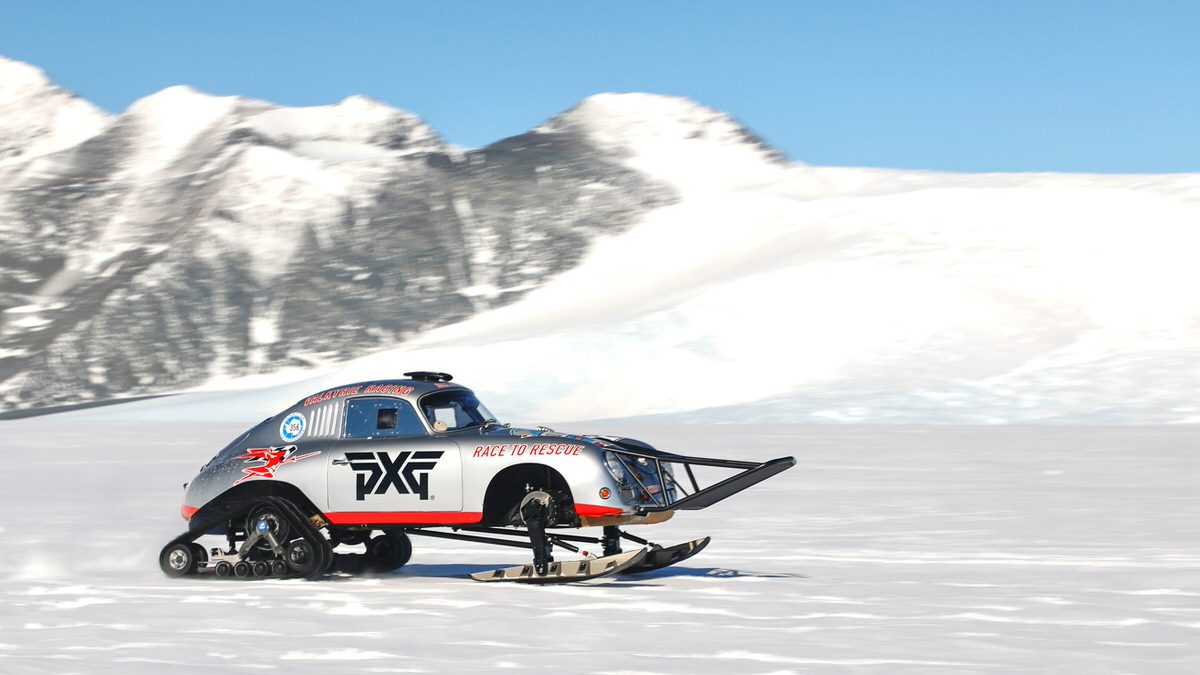 Whatever those future challenges may be, the skis are apparently here to stay. "The Polar Porsche's skis and tracks ran so well that it would be a massive mistake to just park her or put her back on tarmac," she asserts. "We have plans for another challenge—a bigger challenge—for the Polar Porsche."
Until then, you can learn more about Valkyrie Racing/Valkyrie Gives and follow Renée Brinkerhoff and her team's progress at valkyrieracing.com, through Instagram, or on Facebook.
World Tour: The first six continents on the Project 356 World Rally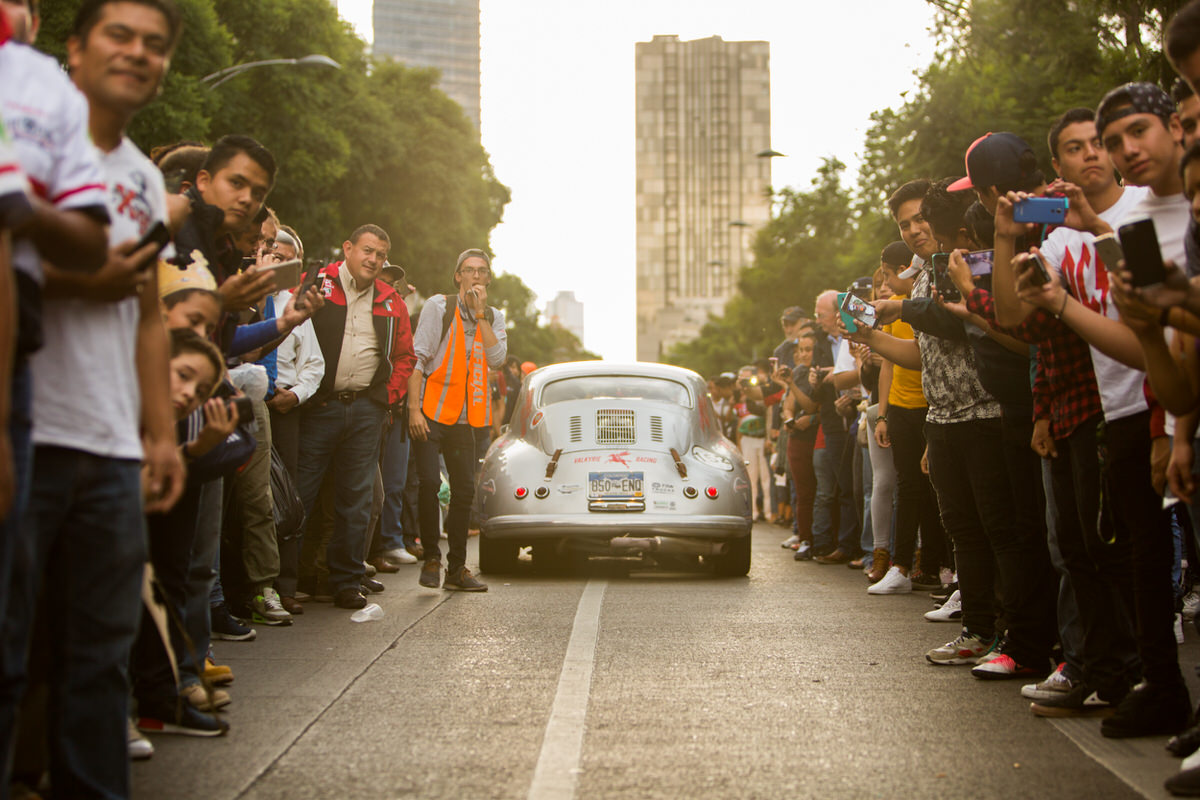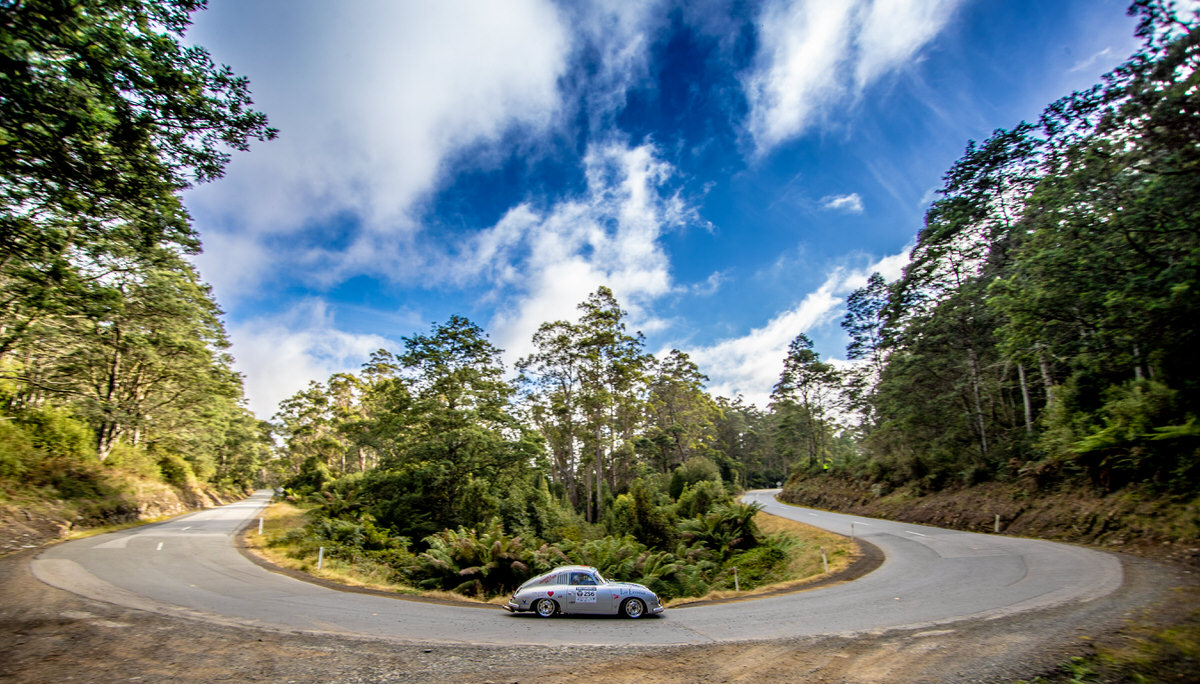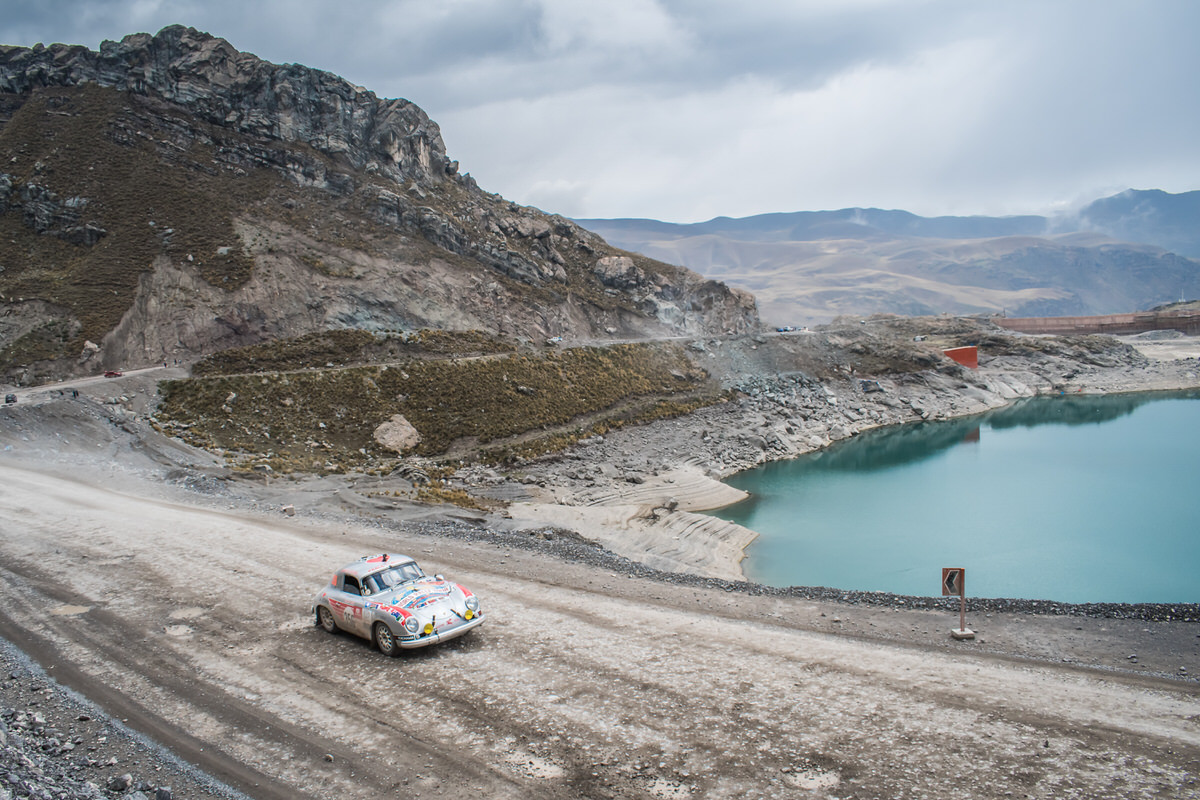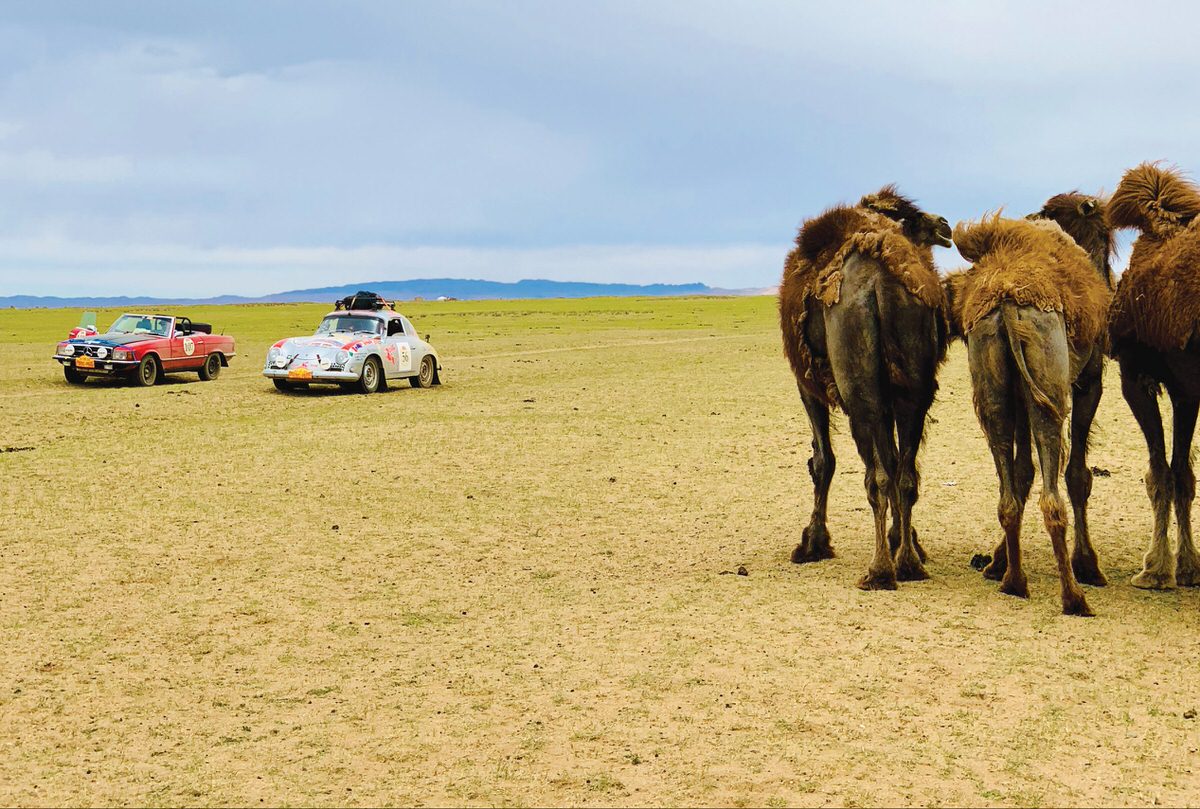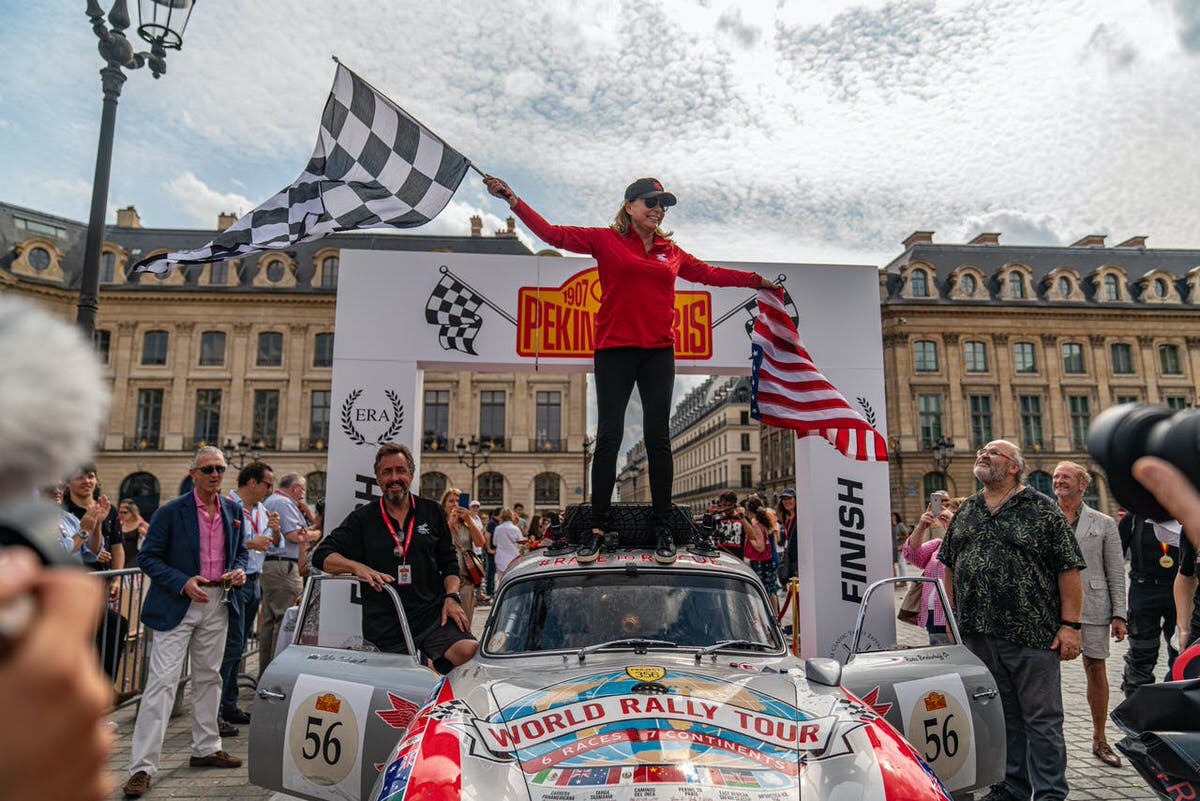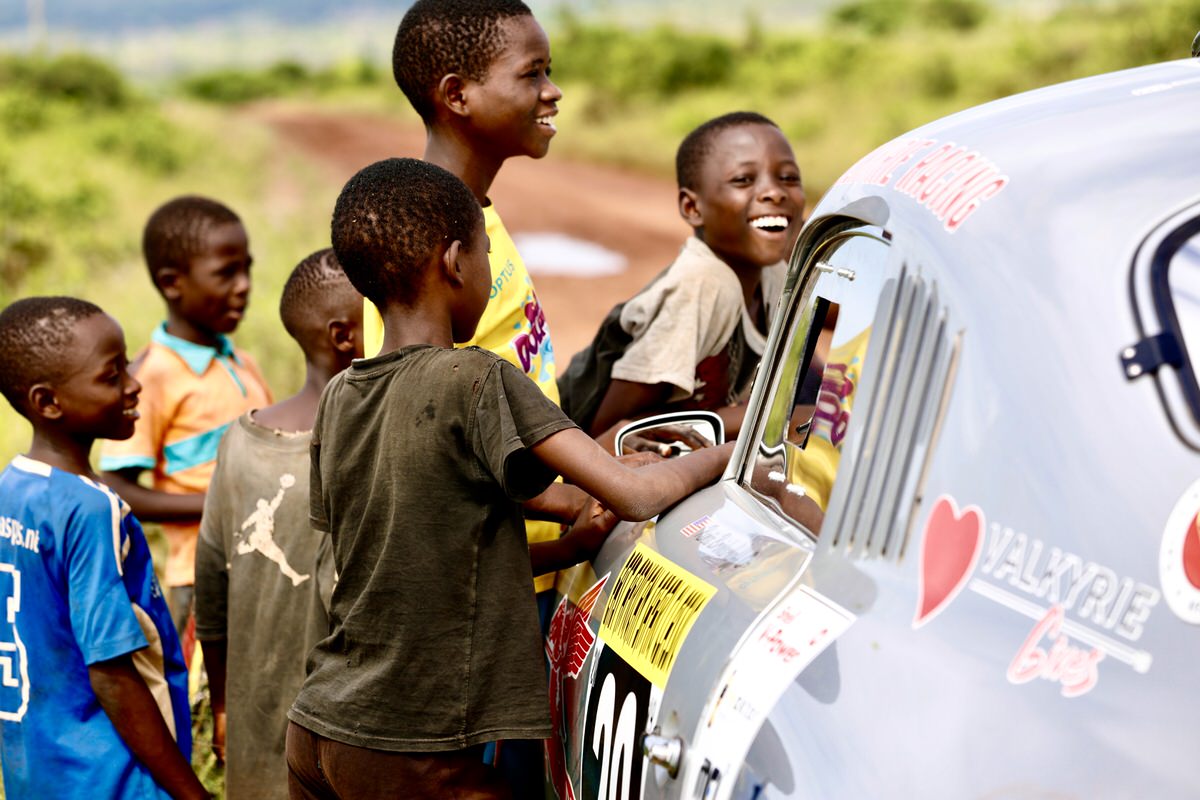 Report by Doreen Manning for hagerty.com