Villa Vipp Puglia is situated in one of the most desirable locations in Puglia, offering a perfect blend of modern luxury and impeccable design. This newly built property features three bedrooms and two bathrooms, providing ample space and comfort for guests. Unwind by the infinity pool, cook up a feast in the open-kitchen concept, and dine all fresco under the stars, surrounded by the ancient olive trees.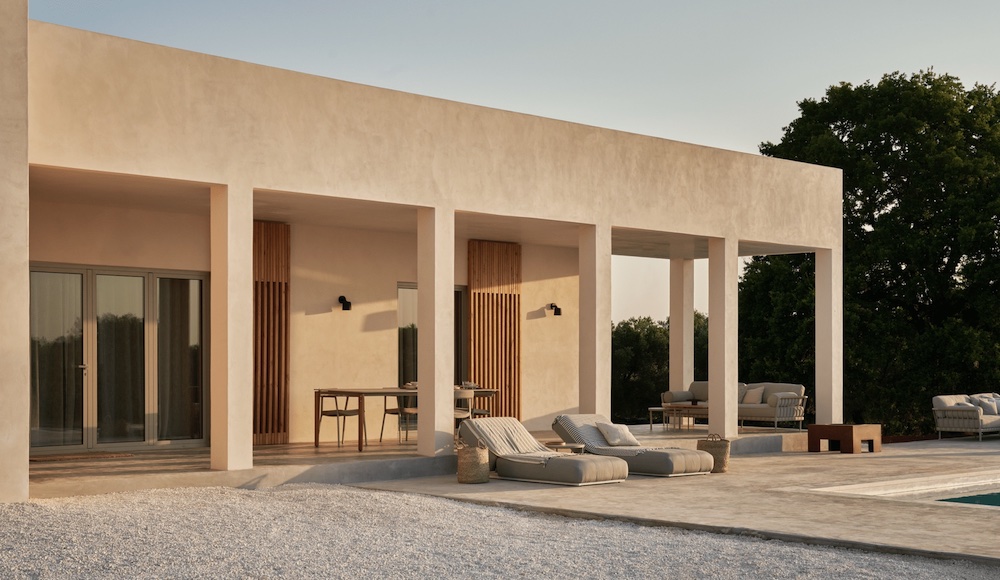 As part of the renowned Vipp Guesthouses collection, the house showcases the signature design expertise of both STUDIOTOFF and Vipp, ensuring a contemporary elegance and sophistication throughout.
Interior
The open living and dining area of this exquisite villa showcases a stunning Vipp kitchen equipped with top-notch Miele appliances, providing ample space for culinary enthusiasts to create culinary delights. The dining area is adorned with elegant paper pendant lights, creating a warm and inviting ambiance for shared meals. Adjacent to the dining area, a cosy lounge area awaits, featuring a modular Vipp sofa that exudes both comfort and style. This carefully curated space harmoniously combines functionality with contemporary design, offering the perfect setting for relaxation and socializing.
Each of the three bedrooms in this gorgeous villa provides a haven of comfort and style. The cosy beds are adorned with hotel-quality bedding, ensuring a restful night's sleep. Oak furniture elegantly furnishes the rooms, offering storage space for clothes and personal belongings. The primary bedroom is thoughtfully designed with a desk crafted by local artisans, adding a touch of craftsmanship to the space. Its ensuite bathroom is a true masterpiece, featuring stunning white tiling and a VIPP bath module, creating a luxurious retreat where you can pamper yourself in style. The second bathroom, shared and directly accessible to the other two bedrooms, is designed in the same style as the ensuite showcasing the same level of beauty and attention to detail.
Exterior
With a seamless transition between indoor and outdoor living, the villa offers a unique inside-outside feeling. The door from the living room opens completely, allowing the refreshing breeze and natural light to flow in, blurring the boundaries between the interior and exterior spaces. As you step onto the veranda, you'll be greeted by a perfect setting for outdoor dining and relaxation.
From here, you can admire the picturesque views while enjoying a meal or lounging in the comfortable seating area. Overlooking the inviting infinity pool, another lounge set and four plush sun loungers with Borek parasols provide the perfect balance of shade and sun harmonious and unified space. For those hot summer days, an outdoor shower awaits, providing a refreshing experience amidst the natural beauty of the surroundings. Completing the outdoor amenities is a barbecue, allowing you to indulge in delightful outdoor cooking experiences. For an even more breath-taking perspective, venture up to the rooftop, where the panoramic views become even more awe-inspiring.
Click here for further information
more information: studiotoff.nl
---