Built in the 13th century as an enchanting country house for an aristocratic Florentine family, Villa La Massa was owned by European aristocrats until 1948, before it was transformed into a luxury hotel.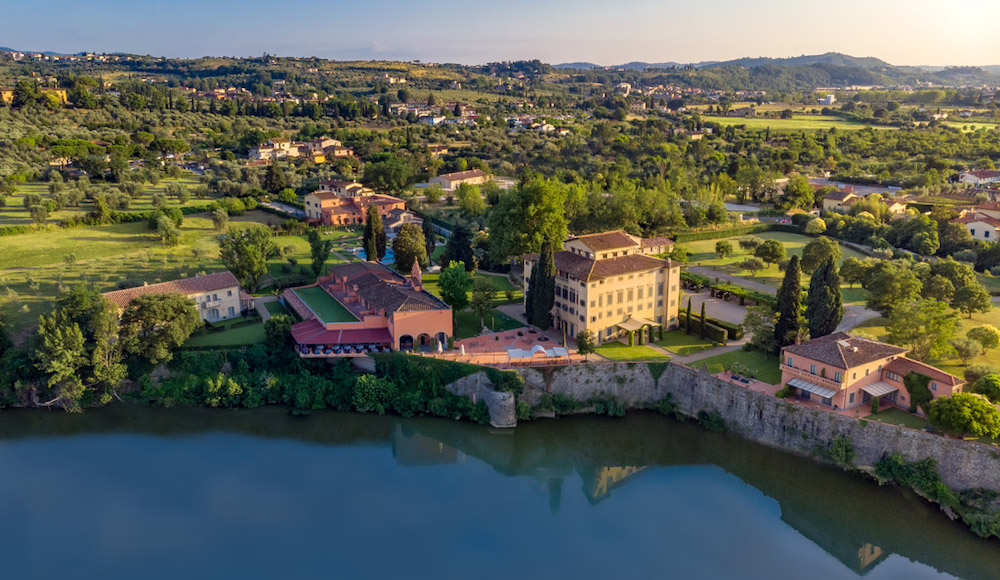 After a complete renovation, it reopened and its hundred-year-old history lives on, with every nook telling us tales of Renaissance splendor and the lifestyle of Florentine aristocrats. A proud member of The Leading Hotels of The World, Villa La Massa has been part of Villa d'Este Hotels since 1998.
Majestically sitting on the banks of the Arno River, in the heart of the Chianti wine region, Villa La Massa is just a few kilometers (15 minutes by car) from Florence's city center. This architectural gem is a world away from the hustle and bustle of the city, an oasis of peace and serenity immersed in a 25-acre park. The Tuscan countryside extends all around as far as the eye can see: olive trees, vineyards and cypresses fill the landscape with their unique colors and scents.
Accommodation
Villa La Massa features 51 luxury rooms, all unique and divided into 5 classical Tuscan-style buildings: the Noble Villa, the Villino, The Mill, Casa Colonica and La Limonaia.
The décor of the Noble Villa, the Villino and The Mill evokes the Renaissance atmosphere, with canopy beds, elegant fabrics, boiseries, frescoed ceilings, tapestries, refined marble bathrooms. Each room is a perfect combination of classic sophistication and warm elegance, along with all the modern comforts.
Casa Colonica and La Limonaia have both been completely restored and refurbished, with a typical Tuscan style that is in harmony with the atmosphere of Villa La Massa whilst also offering a more contemporary feel. The furniture and the various interior details, such as lamps and pictures, were masterfully designed by local craftsmen. The colors are earthy with bright dashes, giving the atmosphere a lively and fresh touch.
Each room offers wonderful views of the park, the Chianti hills or the Arno river, with the fairytale-inspired surroundings allowing guests to immerse themselves in peaceful relaxation and romanticism.
Click here for further information
more information: villalamassa.com
---