For the first time ever, view one of the world's most recognized Porsche collectors, Magnus Walker, like never before.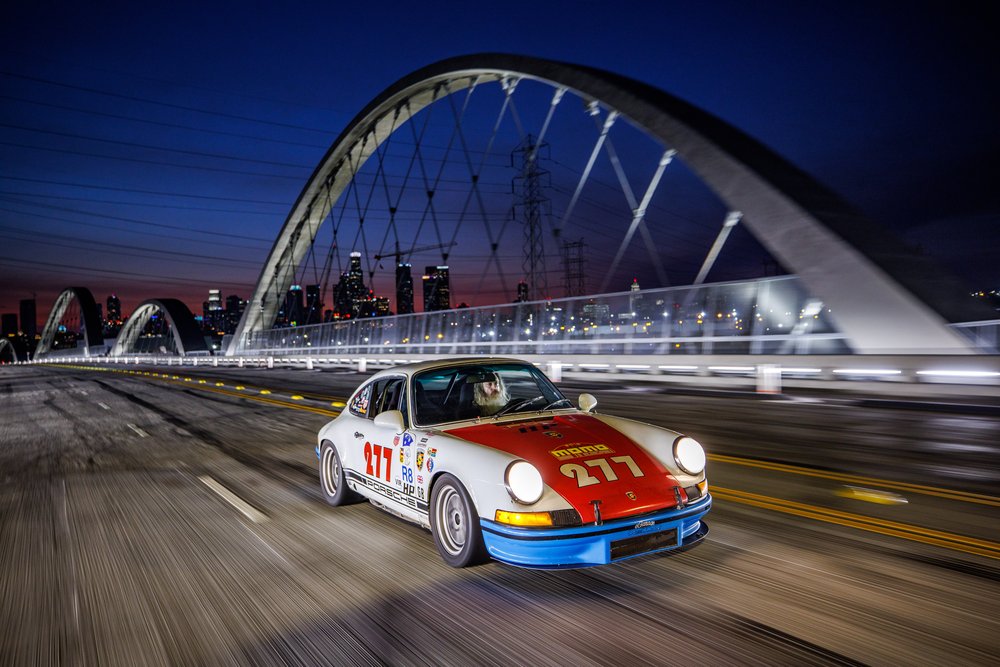 Celebrating the 10th anniversary of "Urban Outlaw," the award-winning documentary that detailed Magnus Walker's journey from the tough streets of Sheffield, England, to lavish Los Angeles, the Petersen Automotive Museum will debut a new exhibit in its Legends of the Vault Gallery surrounding Walker, his journey, and his cars.
Walker is one of the world's most well-known Porsche builders and collectors. He found fame with his popular clothing brand, Serious, prior to building a career in real estate, cars, and filmmaking. The exhibit will include 10 cars and a series of objects personally selected by Walker. Highlights include his iconic red, white, and blue Porsche "277," his Porsche 993 Art Car, his co-designed Nike SB dunks, and other art and automotive items curated by Walker himself.
---
Urban Outlaw
LIMITED-TIME EXHIBITION
OCTOBER 15, 2022 – JANUARY 31, 2023
buy tickets here
---
Discover the 1971 Porsche 911 T "227"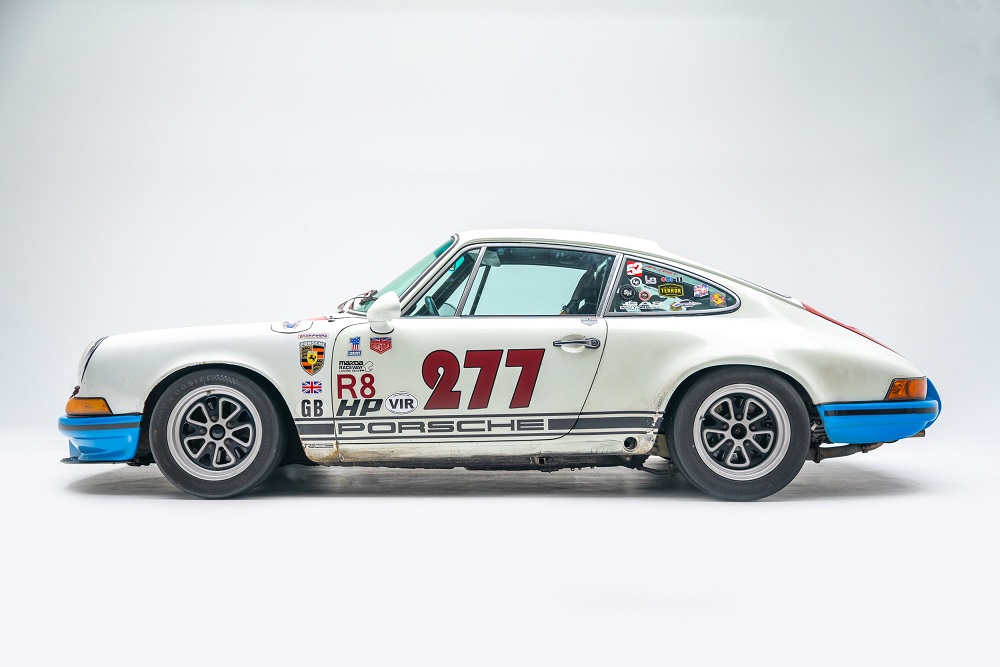 277 is Magnus' favorite of all favorites. It's the car often described as fitting him like his favorite pair of old shoes or jeans. He's comfortable in it. He acquired it back at the Pomona Swap Meet in 1999 for $7,500. It was actually the second Porsche 911 he ever owned but quickly he converted this white 1971 911 T to become more of a '73 RS replica look alike which was not too hard to do – just find a set of flares, weld them on, stick a duck tale on it, put a stripe on it and bingo – you have a car that looks a little bit like a '73 Carerra. That was circa 2000 and by 2002, he had taken his aggressive street driving to the track and joined the Porsche owner's club. He went through their time trial program and quickly became club race licensed, doing over 40-50 track days a year in the car that would become known as 277. He raced circuits such as Laguna Seca, Willow Springs, California Speedway, Phoenix, and Las Vegas Motor Speedway.
People often ask him the significance of the number 277. When he became race licensed, he just wanted a number with 7's in it. His birthday is 7/7/67 and 277 was the only number available. There's no real significance to the number nor with the car in the sense as it never raced anywhere glamorous like Daytona or Le Mans but it's the car he's most related to, most comfortable in, and that other people can relate to. According to Walker, the sum of its parts is nothing special by today's standards as it's running antiquated Weltmeister sway bars, it's still on torsion bars that have been upgraded to 22 and 28mm, it's running an SC brake, and it's rolling on 15×7 and 8 in Outlaw wheels wrapped up in sticky Hoosier 225/50/15 rubber all around.
What's relatable about 277 is that it was never a big budget build. It was built with the purpose of being a street-able track car that he could drive on the street to the track, do some track days and drive home. He could also have fun on his favorite twisty canyon road. He's owned the car for almost half of its life and it's gone through 3 0r 4 different motors. Originally, it was running a 27 CIS motor but it currently has a 2.8L twin plug motor in it but with 277, he's never actually built a motor.
People often ask him that if he could only keep one car, which one would it be? Without any hesitation, 277 is that car.
Discover the 1976 Porsche 930 Turbo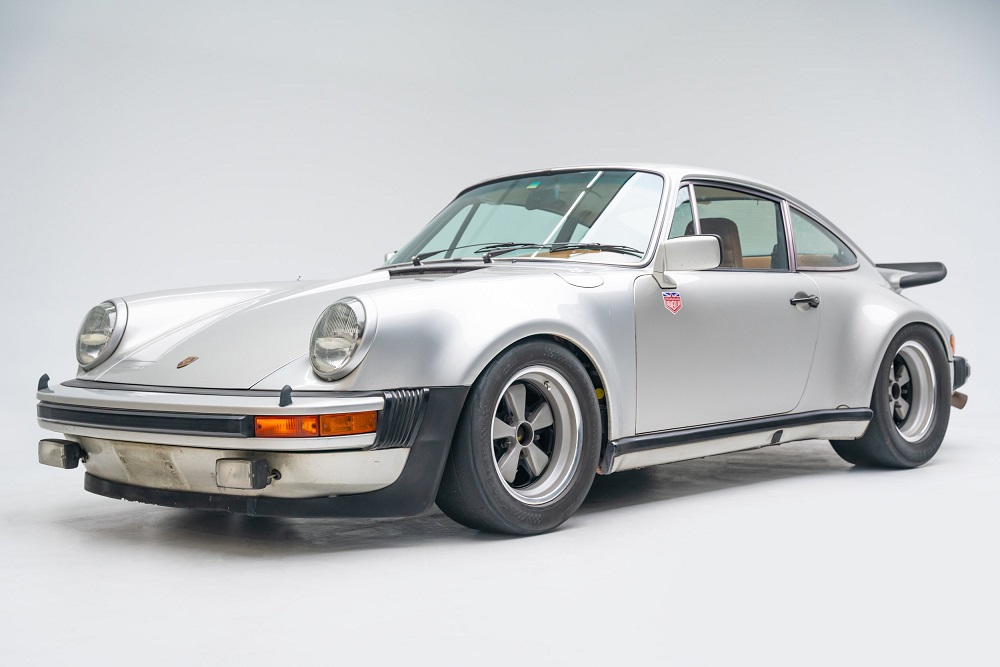 Magnus' 76 930 Turbo is a special car. Not only is it the first US production car ever made, but it's also VIN number 15. VIN numbers 11, 12, 13, and 14 were press demonstrator prototype cars. But this one, Number 15, was the first one sold in the US, documented by the Porsche Museum. It's a lifelong LA car, originally delivered to Bob Smith Porsche in Hollywood with an interesting rumor that it was once ordered by Robert Redford the actor who apparently never took delivery of it. But that's Hollywood for you and that's how the story goes. He's the fourth owner and acquired it about 10 years ago. His buddy Marty worked on it for the prior three owners. So the car has never been registered or titled outside of California.
Remember, the Turbo is the car that started Magnus' love affair with Porsches a 10-year-old back in 1977. This car is rolling on a set of 15×8 and 9 in Outlaw wheels with sticky 225 and 275 50 Series Hoosier rubber. It's running the stock 4-speed transmission, the type with the tall, lazy gears. First gear is good for about 50 mph, second is good for 90, third is good for about 120, and fourth is good for the rest. The Achilles heel about the Turbo is the lack of boost modulation and poor brakes. It's a challenge to get the most out of the Turbo's performance but that's what makes it a thrilling, rewarding, and stimulating drive.
Discover the Porsche 914 art car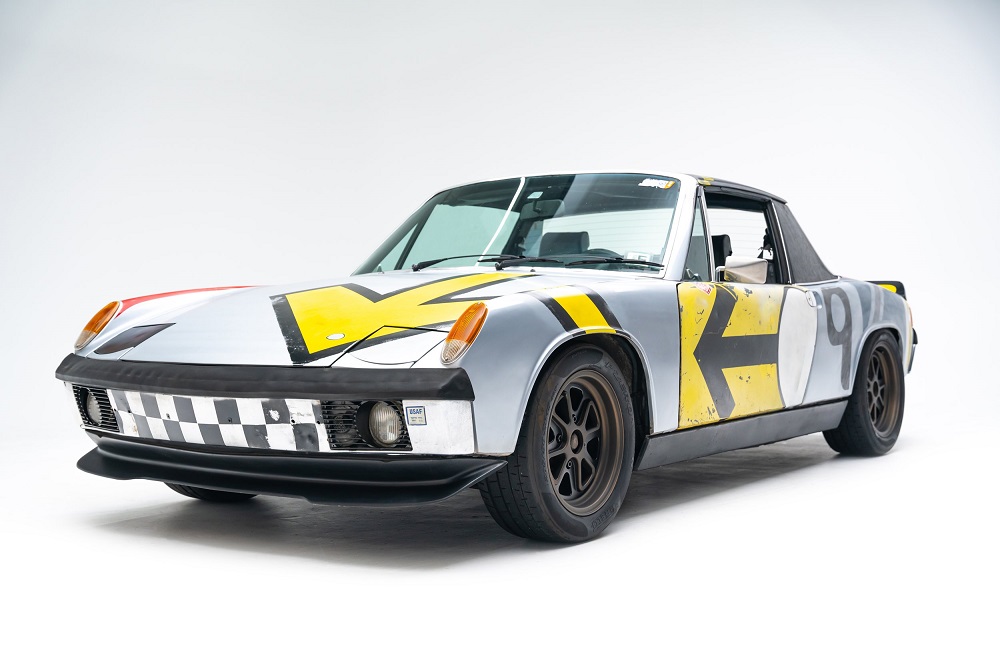 Magnus bought his 914 from his buddy Felix Holst mainly because he painted an arrow on the door which was the catalyst for his race-inspired mod-pop art livery. The goal here was to imagine the car being a race car painted a bunch of different colors, raced in the 70s, and then put away to fade in the desert. So he started out by taking a few black and white photos, put some post its on the roof, and then brought out the Sharpies to create this race-inspired livery.
Then he convinced Mobil 1 to allow him to put it in the booth at the 2019 SEMA show. And then Felix Holst helped him to rattle can paint job the car over a mere 3 days and they sort of made it up as they went along. It was old-school paper tape, duct tape, rattle canned, and then aged to look like it had faded in the sun. The little 1.7L motor makes a lot of noise but doesn't have a lot of go. But the car has an aggressive look and is fun to drive. At some point, Magnus hopes to put the 2.4L motor (on the stand in the exhibit) into this car. It's currently rolling on a set of four-lug 15×7 inch Outlaw wheels all around with some sticky Pirelli 205/50/15 rubber.
If you are interested in more news click here.
---