The McLaren MP 4/8 was the Formula One workscar for the 1993 Grand Prix season. With the three times world champion Ayrton Senna and the American Micheal Andretti in his first Formula One season the McLaren racing team with their teamprincipal Ron Dennis would fight back to the Williams Team that won the 1992 championship with Nigel Mansell.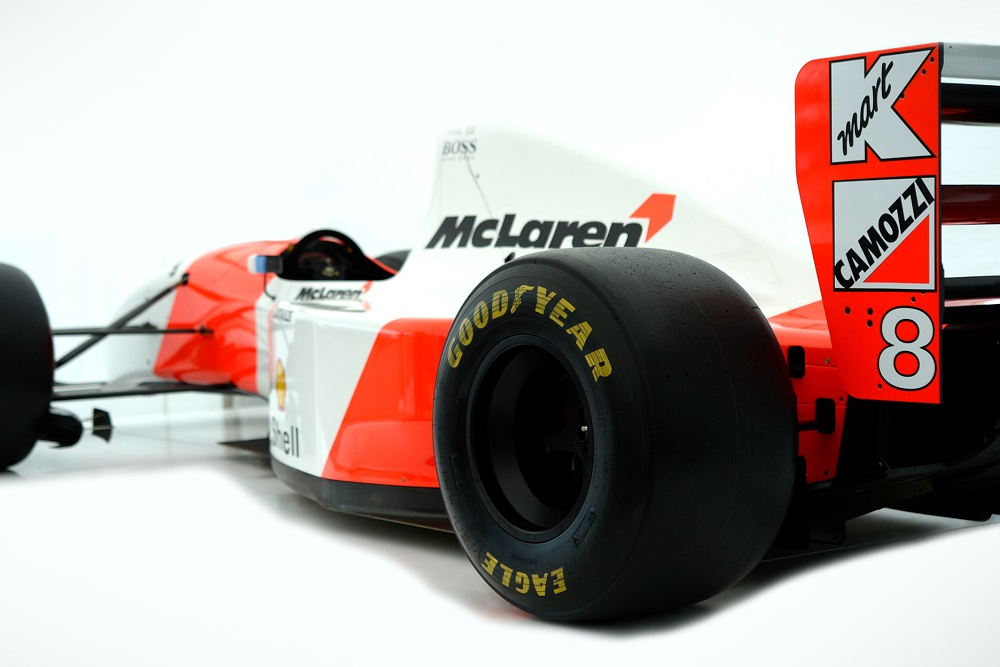 For 1993 Alain Prost signed up for the Williams Team. He came back after a year break from racing. The Williams FW 14 has an active suspension chassis. With its technical leadership they were the favourite for winning the championship again.
The McLaren MP4/8 however voted against this technical revolution with a clear and straight design going back to the development the the MP 4/7 of the 1992 season. The McLaren MP 4/8 was the first Formula One car with a high nose with an undercut underneath and later in the season the first car establishing barge boards between the front wheels and the sidepods.
Even the sidepods were very slim, the cola bootle shape which was created first by John Barnard for the McLaren Racing Team almost ten years ago, was extremly cut with very small entry for cooling the radiators.
With all this aerodynamic evolutions and the incredible talent of Ayrton Senna, the McLaren MP 4/8 was winning five Grand Prix, Brasil, Europe, Monaco, Japan and Australia.
In one of the most sensational opening laps in history Senna started the rain-soaked European Grand Prix at Donington Park fourth on grid, dropped to fifth and then passed four cars to lead
at the end of the lap. He lapped everyone up to the second place and won by over 30 seconds.
---
MODEL
McLaren MP4/8
TYPE FORMULA
Formula One
YEAR OF PRODUCTION
1993
DESIGNER
Neil Oatley
EXAMPLES
BUILT 8
ENGINE
Ford Cosworth HBE V8
CUBIC CAPACITY
3498cc
ELECTRONICS TAG
2.12F ignition/injection
POWER OUTPUT
640bhp
TRANSMISSION
McLaren semi-auto transverse 6-speed
CHASSIS
High modulos carbon fibre / honeycomb Monocoque
BODY
Carbon fibre single piece cockpit / engine cover & nose
SUSPENSION
Double wishbone, pushrod operating, longitudinal inboard coil spring/damper
BRAKES
Outboard Brembo / KH / Carbon Industrie
WHEELS
DIAMETER X WIDTH 13×11,5 / 13×13,8 in.
TYRES
Goodyear L / W / H 4420mm / 2000mm / 990mm
WHEELBASE
2902mm
WEIGHT
505kg
PRINCIPAL DRIVERS
Ayrton Senna, Micheal Andretti, Mika Häkkinen
---
If you are interested in more stories click here.
Text and Photos were provided by Ralph Lueker.
---