Amazing Porsche 911 GT2RS with relentless power and perfect handling! Finished in GT Silver Metallic with leather interior in Black and Black/Red Alcantara. Weissach Package! GT2RS magnesium wheels! Only 263 miles!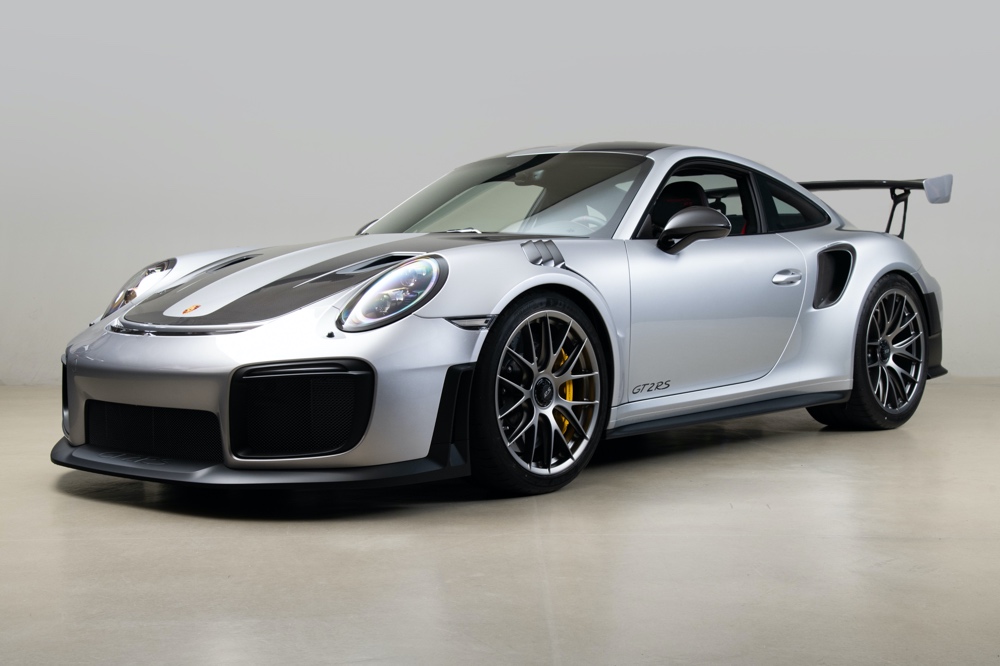 The first and only Southern California owner of the GT2 RS took delivery in June of 2018 from Beverly Hills Porsche's Experience Delivery Center. Returning to Beverly Hills Porsche for maintenance, the most recent Service was completed on October 24, 2020 at 245 miles, with just 263 miles currently logged on the odometer.
This 2018 911 GT2 RS was perfectly optioned from the Porsche factory in Zuffenhausen. Finished in GT Silver Metallic, over a Special Wishes Custom Tailored Black Leather interior with Black/Red Alcantara seats complimented throughout with red stitching, and guards red instrument dials and seat belts.
Major options selected include the $18,000 Weissach package, $13,000 GT2 RS magnesium wheels, $3,490 front axle lift system, and the aforementioned $14,955 custom tailoring option. With a carbon fiber hood and roof, and numerous other parts delivering weight savings and aerodynamic prowess, the already potent car is transformed into the ultimate road and track 911. With a total retail price of $364,170, this was a far stretch from the base GT2 RS' $293,200 sticker.
This GT2 RS represents the pinnacle of Porsche 911 performance that will certainly not be matched for years to come. With its motorsport-derived nature, the driver can live on the ragged edge of performance whenever desired, yet it is comfortable enough to use on a regular basis. The duality of a track monster and daily driver is not often met in a balance such as this, but in the GT2 RS Porsche has delivered such a masterpiece. The power is relentless, the handling sublime, and the styling could not have been better executed.
The Porsche GT2 RS name lay dormant in Stuttgart for almost 10 years, last used on the 2009 era 997 model, until in 2017, the 991 GT2 RS was announced. With a stupendous 700 horsepower from its 3.8-liter twin-turbocharged engine, this dual-clutch, rear-wheel-drive "widowmaker" was an instant sensation. Adding on top of its already resounding positive press, the GT2 RS set a production car lap record at the Nürburgring with a 6:47 minute lap time, cementing this car as the "baddest" street-legal car in the world, bar none.
Click here for further information 
---
---