The 2023 Donington Historic Festival launched the Motor Racing Legends season in style as bumper grids created a spectacle of cut-and-thrust historic racing over two glorious days.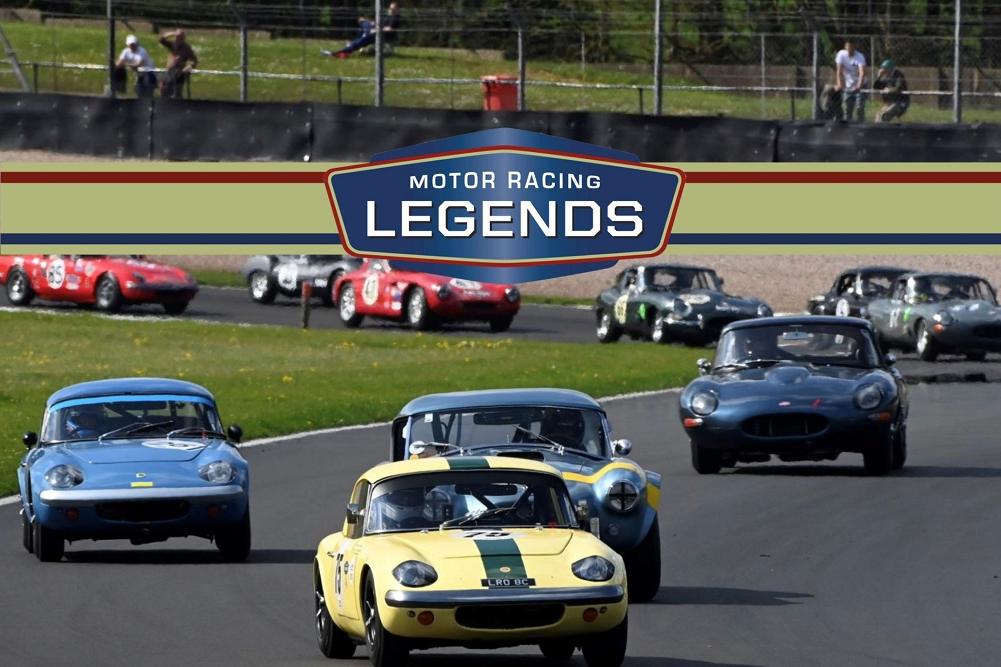 Classic cars collections on Donington's famous Melbourne Loop and on the infield offered added attractions, while celebrations to mark the 30th anniversary of the circuit's 1993 European Grand Prix – including Ayrton Senna's unforgettable first lap – were capped by dramatic demonstrations of screaming 1990s Formula 1 machinery.
The racing action kicked off on Saturday with the hour-long Jaguar Classic Challenge, as father-and-son duo Graeme and James Dodd enjoyed the rub of the green with the safety car to claim victory. Dodd Sr had stopped as soon as the pitstop window opened after 20 minutes to hand over to his son, who then leapt from third to the lead when dropped oil at Coppice triggered a lengthy caution period.
Racing resumed with 12 minutes left to run in the all E-type encounter, Dodd Jr managing a comfortable margin over Jonathan Mitchell and Matthew Wrigley, who had enjoyed a spirited battle from the start with early leader Danny Winstanley – the 2022 race winner losing the chance for consecutive victories when his engine's water pump pulley disconnected.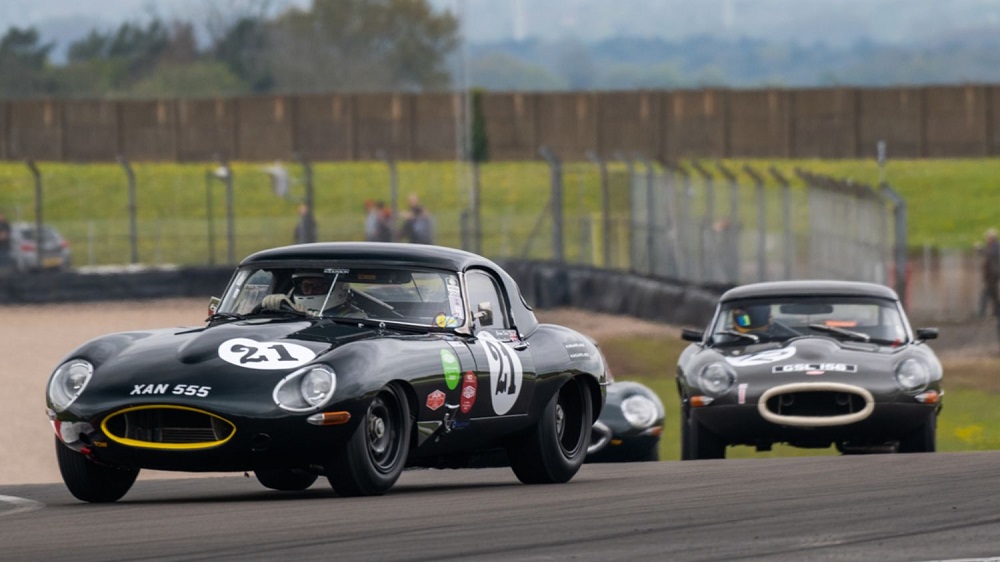 Four-time British Touring Car Champion Colin Turkington returned to Donington a week after racing in the modern series' 2023 season opener to win the 50-minute Historic Touring Car Challenge with Mark Smith. Driving an ex-Steve Soper BMW M3 E30, Turkington chased the more powerful Ford Cosworth RS500 of David Tomlin until the pitstops, then handed Smith the lead thanks to Tomlin's mandated handicap of a longer pit visit. Tomlin chased the BMW down, but spun in the closing stages on worn tyres and brakes to ensure a Smith/Turkington victory. Mike Whitaker won the Tony Dron Trophy in his Rover SD1, while another modern-era BTCC guest star, Josh Cook, grabbed U2TC and Sixties Touring Car Challenge honours in a battle of the Lotus Cortinas, sharing with Mike Gardiner.
The first day concluded with an eventful three-hour enduro for Pre '66 GTs, touring and Pre '61 sports cars, dominated at the sharp end by 1960s Lotus Elans. A trio of safety car interruptions shaped the battle for overall honours in the Royal Automobile Club Pall Mall Cup as James Littlejohn and Andrew Jordan put in star performances in the 26Rs. The race came down to a dash to the chequered flag, with Littlejohn battling gearbox problems to hold off Jordan by a little over four seconds. Littlejohn shared his victory with Simon Evans, and Jordan – a late substitute for fellow BTCC racer Sam Tordoff – his runner-up spot with John Tordoff.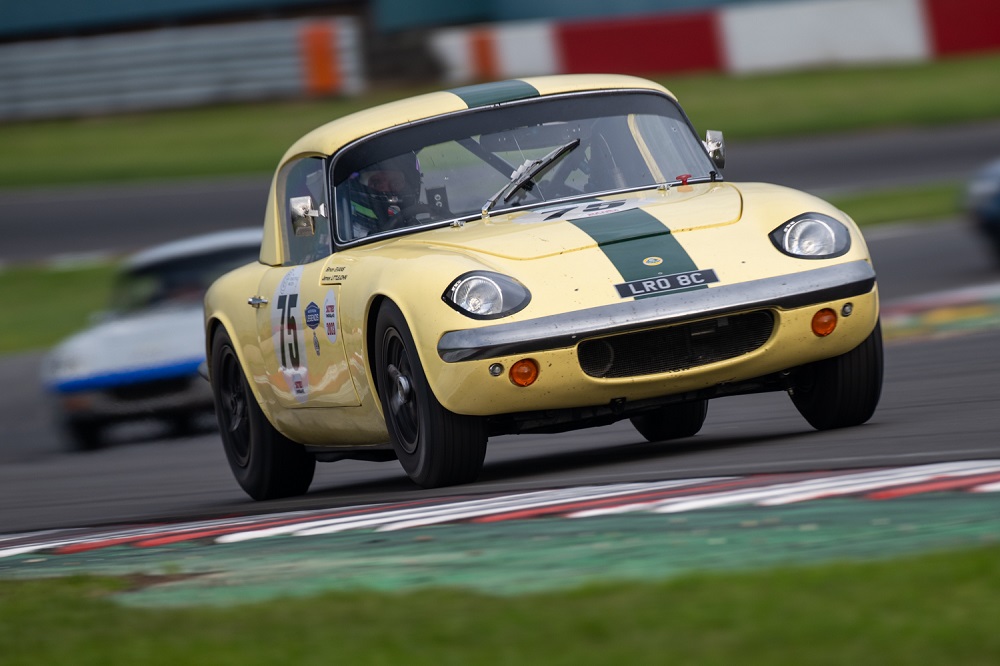 A flat battery robbed John Spiers and Ollie Hancock of what looked set to be an emphatic victory in the hour-long RAC Woodcote Trophy and Stirling Moss Trophy, the opening race on the final day of the Donington Historic Festival for Motor Racing Legends. No one had an answer for Spiers's pace over his opening stint, but the problem thwarted Hancock after he'd taken over the Lister Jaguar Knobbly. That left Ollie Crosthwaite and Nick Finburgh in their Cooper Monaco to claim overall and Stirling Moss Trophy honours, with John and Gary Pearson finishing third overall and first in the Royal Automobile Club Woodcote Trophy in their Jaguar D-type XKD 543. Overall runner-up and second in the Stirling Moss Trophy was the Lotus 15 of Michael Birch and Gareth Burnett, who were left to rue what might have been. An extra pitstop for a brief and easily solved fuel feed problem delayed their charge, Burnett finishing more than 20 seconds down on the winning Cooper Monaco when it could have been so much closer.
Threatened rain finally arrived for the intrepid 'Mad Jack' Pre-War Sports Car racers as Rudiger Friedrichs left the field far in his wake in his potent 1933 Alvis Firefly Special, while a 'new old' contender made a special guest appearance during what is always one of the annual highlights of the Donington Historic Festival. The so-called 'Car Zero', a Bentley Blower continuation car built by the factory, made its race debut driven by Stuart Morley. The pristine Blower is hand-built from a combination of laser-scanned data and original drawings, and finished safely in the midfield despite the increasingly treacherous conditions that added jeopardy over the course of the 40-minute contest.
Complimenting the contemporary creation was a covetable grid of historic machinery including the 1927 Bugatti 35C of Czech female racer, Elisabeth Junek driven by Jonathan Bailey and the original Jaguar SS works car of John Burton and Nick Finburgh amongst others.
The full race report from Donington Historic Festival and images will be published on the Motor Racing Legends website later this week – full results from the weekend and available now on our Entries and Results page.
see the results here
If you are interested in more news click here.
---