The Pikes Peak International Hill Climb has wrapped up a week of racing, and this year's event was held under a unique atmosphere in light of the COVID pandemic. Scheduling changes pushed the event to its backup date in late-August and restricted the event to competitors only. With much of the field missing and no crowds, the race had a more humble feel, which was reflected in the highlight stories from the event, including the overall-win by Colorado's own Clint Vahsholtz.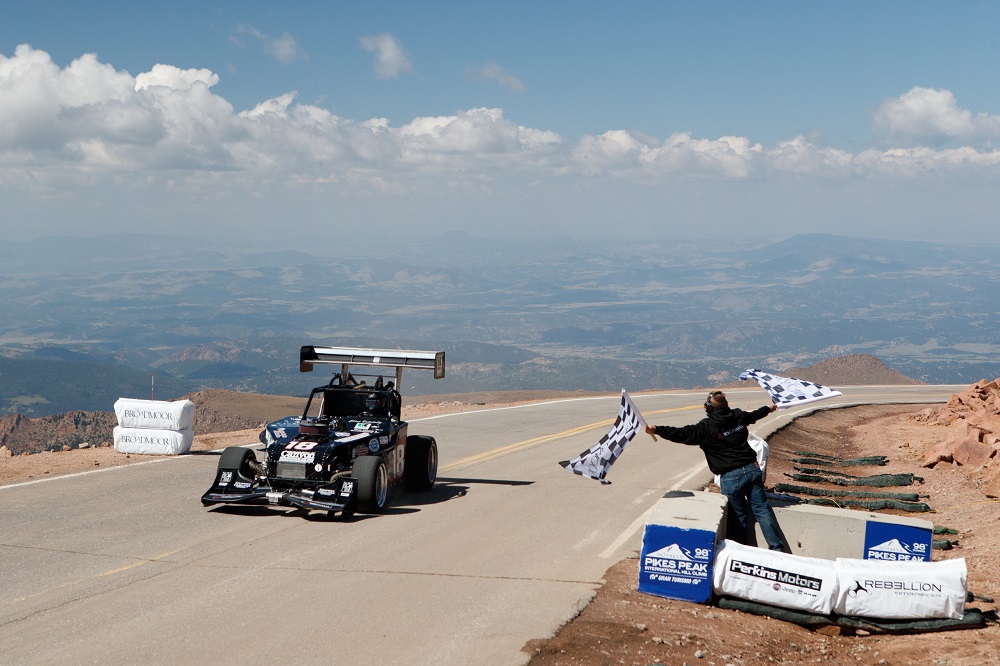 Without the big-budget prototypes on hand that usually command the most attention, this year was filled with traditional Pikes Peak specials (custom-built cars that have been developed over long periods of time solely for Pikes Peak, many with roots in the all-dirt days) and several self-built time-attack vehicles both old and new. To get an idea of what it was like on the ground, here are five home-brewed special race cars that reflect the spectrum of what takes on this famous 152-turn, 14,115-foot torture test.
---
Scott Birdsall
Few vehicles dared to be more different than Chuckles Garage's "Old Smokey," the brutal 1949 Ford F1 pick-up built (and raced) by Scott Birdsall to house a 12oo-whp 5.9 Cummins between those fat, patina'd fenders. Supporting the monster diesel is a custom, NASCAR-style tube chassis that borrows heavily on Chuckles' experience in building off-road racing trucks. The over-built tube chassis incorporates a double A-arm front suspension with a four-linked rear axle, plus Wilwood brakes hanging off each corner to bring the all-steel truck down to a stop.
The team's new diesel record on the hill came after a three-year fight; Old Smokey's 2018 debut was marked by a gnarly crash off of Engineer's Corner (which it came back from before the engine popped later in the week), and 2019's inclement weather shortened the course to Glenn Cove.
This year, Birdsall's luck finally came together with a clean run up Pikes Peak, aside from some overheating past Devil's Playground. The result for the freakshow time-attack truck was a mighty 11:25.065. Not only was it a new record for diesels according to the team, but it managed to finish third in the Exhibition class, too. [Ed. note – many Pikes Peak records are unofficial and confusing, an earlier version mentioned a prior 11:22 record by Mercedes, which we are working to clarify.]
---
Randy Pobst
Pikes Peak is a race where morale rises and falls like the Rocky Mountain ridge line, given that minor mistakes can quickly escalate into major consequences on the hill. For Randy Pobst, that happened at Bottomless Pit, which gets its name from the 1000-plus-foot edge of the turn just past Devil's Playground (a popular spectator area known for regular lightning strikes). Bottomless Pit is a notoriously tricky right-hander at the bottom of Pikes Peak's only downhill section.
By this point in the run, about three-fourths of the way up the mountain, the downhill portion presents high-speed entry that's tough on brakes and results in a lot of speed with the correct shot through the corner. Pobst, who entered Bottomless during practice at 113 mph, crashed when the modified Unplugged Performance Tesla Model 3 snap-oversteered at about 60 mph after hitting Pikes Peak's notorious bumps (formed by the ice flows during winter) just before the apex. Pobst was able to catch the car thanks to practiced reflexes, but by then he had unfortunately ran out of pavement on the narrow two-lane road. The Model 3 clipped the wall with its rear-passenger fender, spinning around and falling onto the hillside that flanks Bottomless Pit.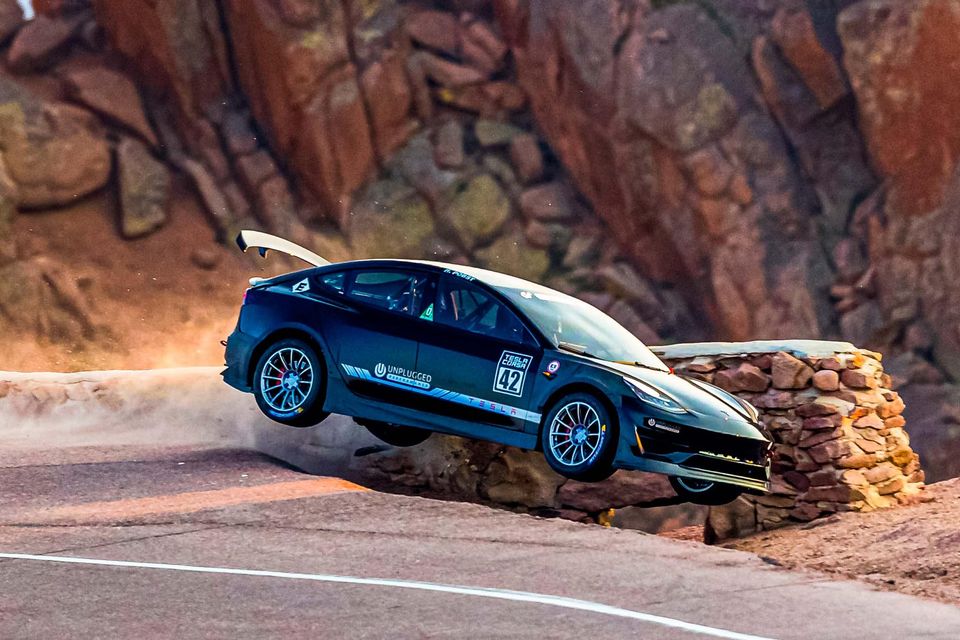 Pobst was sore but in otherwise good shape. The same couldn't be said for the Model 3, however, which suffered considerable damage. The suspension had folded several control arms, subframes were damaged, even the battery was suspect—literally everything had been rocked by the stone wall, but Ben Schaffer, Unplugged Performance's big boss, couldn't let the outing end on such a heavy note.
Unplugged's initial idea was to buy a new Model 3 and swap over the safety gear of their wrecked one, but a recheck of the rules confirmed that they needed to finish the race with the car they started with. Then Schaffer had another idea, why not gut a new car? After putting in some phone calls, a nearby Tesla dealership delivered a brand-new Model 3. The $55,000 parts had everything they could ask for to fix their Model 3 without any hunting, and if the crew over at Eurocars Collision could get the body straightened out, they felt they had a chance of making the run on Sunday.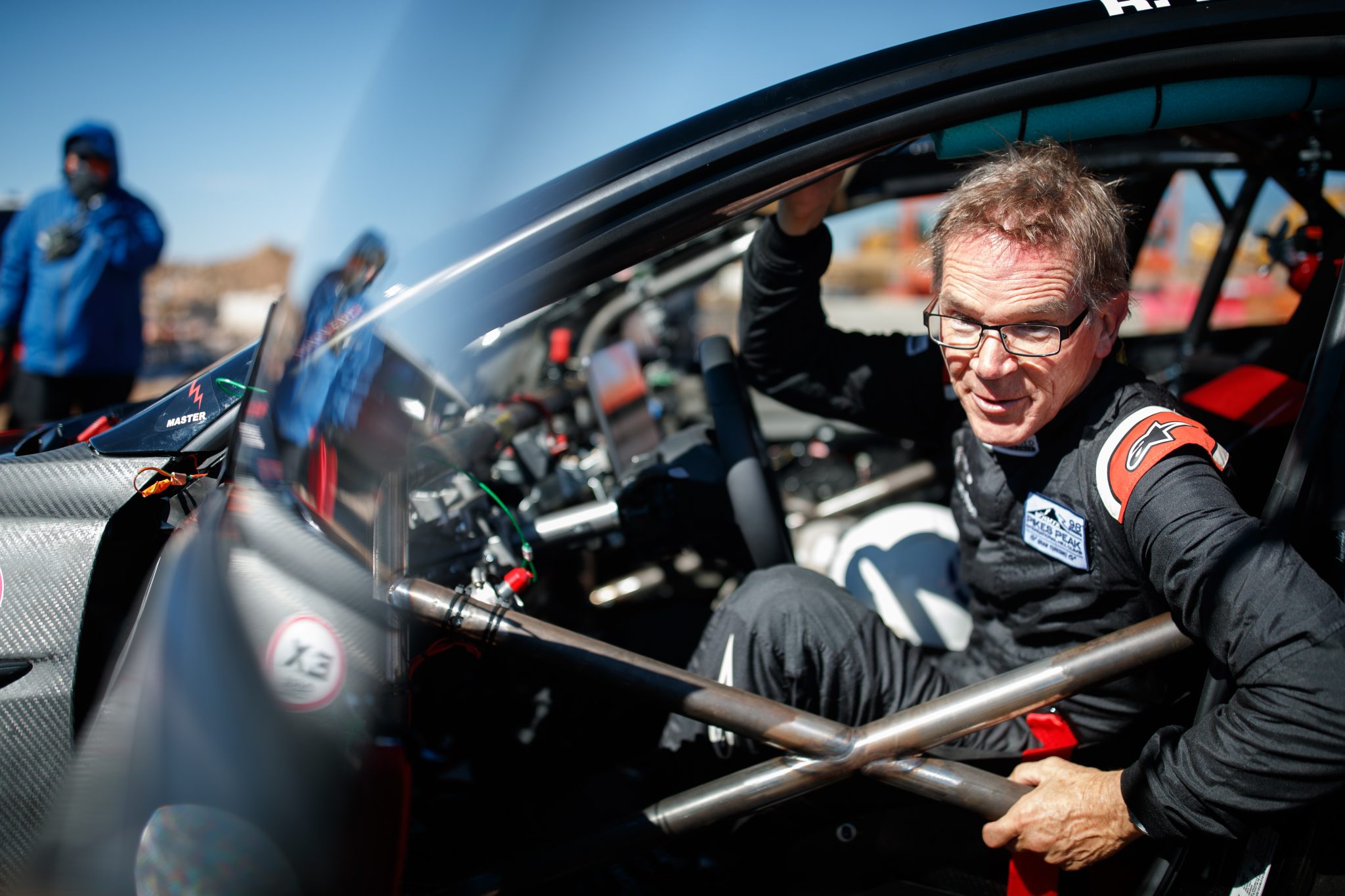 They hammered out the rebuild in record time, completely restoring the once beleaguered Model 3 into back into a hill-climb machine in time to make Sunday's race through non-stop work over several days. The crew worked in shifts to keep some semblance of sanity on the stress-filled hell week, working tirelessly to get Pobst back into the seat. In Exhibition class, which racer Blake Fuller won driving another Model 3, Pobst finished second with less than a two-second gap behind Fuller. A heroic comeback from what looked like a done-deal just days prior.
---
Clint Vahsholtz
With a name that sounds like a wild-west gunslinger, it makes sense that Woodland Park native Clint Vahsholtz would take the overall win in an old-school throw-down with his Coyote-Wells-based hill-climb monster. The Open Wheel class veteran is one of the the last holdouts from the dirt-days of Pikes Peak specials. Big tires, big wings, and a carbureted big-block all combine into a brute-force approach that is special in an era where EV hypercars and modern production cars with advanced technical wizardry make up much of the field.
Vahsholtz was born and raised on the mountain, starting on motorcycles but quickly moving onto four wheels, and he has 23 class wins under his belt between car and bike. The Pikes Peak special used this year is a regular on the mountain, which carries a fully independent suspension that was originally built for the dirt, making it a natural on even the rougher sections of the course.
---
Paul Dallenbach
For Paul Dallenbach, another Open Wheel class staple (nine class wins, with an additional Time-Attack win), the pandemic-related delay to Pikes Peak's starting date played into his favor, as gaining medical clearance for the event hinged on his recovery from a recent neck surgery. Like Vahsholtz, he too is apart of a racing dynasty, with his father and brother also spending time in Indy Car and NASCAR when not on the mountain every summer.
His iconic blue-and-yellow Pikes Peak special earned him a second-place finish behind Vahsholtz by little more than a half-second, with a 09:36.181 to the winner's 09:35.490. He was setting good pace in the lower sections, but "around Glen Cove the car started experiencing issues with fourth and fifth gear getting hung up a few times," he said. "Let's be honest, I run a Wells Coyote dirt car, with a 25-year-old Menard's IndyCar engine—and even with the road being loose in places and the gears getting hung up at times we still almost won overall with it."
---
Dan Novembre
Breaking the lauded 10-minute barrier has been a longtime goal for Dan Novembre, who also competes with a modified Coyote Wells Open Wheel car that has evolved over the years into the focused machine it is today. Currently it uses a Nissan V-6 that's fed by a pair of Garrett turbos and sends power through a Weddle S5 five-speed sequential transmission. The car has also claimed victory at the 2017 Mt. Washington Hillclimb with a RWD record in tow, and prior to that Novembre found his footing hill climbing in PPIHC's moto classes.
Dan's run was on the ragged edge of traction at Pikes Peak. Several clincher moments were quickly sorted with flashes of opposite lock catching the tail of this no-nonsense machine, but such is to be expected when pushing hard enough to shave 15 seconds off a previous personal-best in what still stands as one of the world's most challenging hill climbs. He managed to achieve his big goal, finishing with a time of 9.50329.
---
Report by Phillip Thomas for hagerty.com
Photos by Larry Chen Photography

---