The quest to be the fastest person with the fastest car in the world has gripped people since the very first automobile was nailed together. But some Land Speed Record cars are more interesting than others. Take, for example, Blue Flame, which held the record from 1970-1983, a pretty dull tube that had a rocket and three wheels. But, plenty of the cars that have held the record are way more interesting, so here are Goodwoods favourites.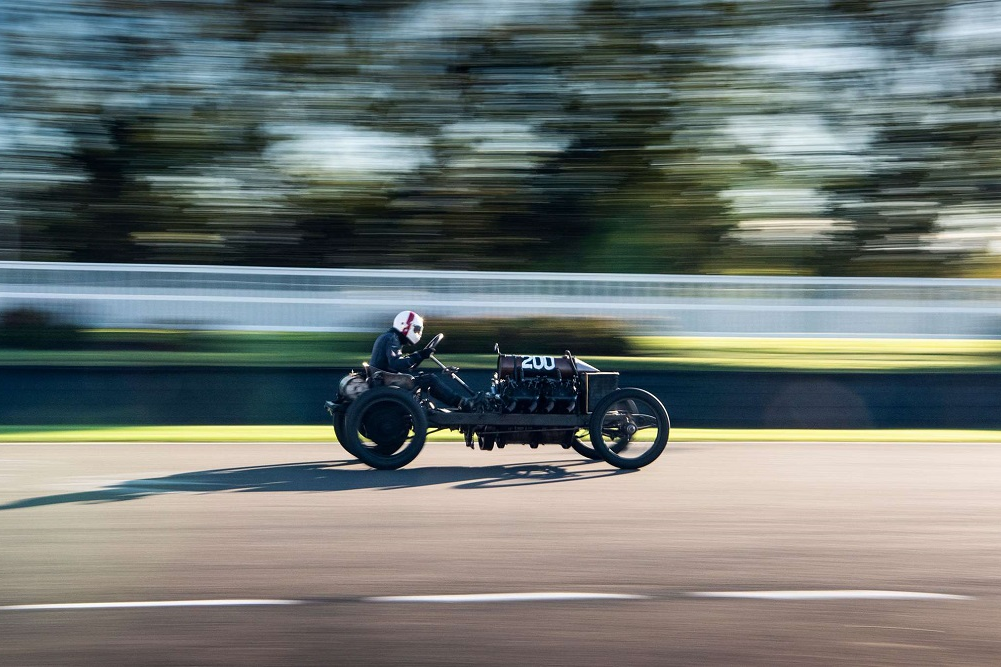 Darracq 200hp
The Darracq comes from those very early days, when not only did the name of the vehicle just tell you what it was (it's made by Darracq and it has 200hp), but there was very little to it other than an engine, a chassis and some wheels. Or in the case of the Darracq 200hp, nothing else to it.
This extraordinary machine from 1905 has a 22.5-litre engine made of two straight-fours bolted together to a single crankcase, and was one of the first cars made solely for the purpose of breaking the Land Speed Record. Driven by Victor Hémery in Arles, France, the Darracq would hit 109.59mph for a new record, before heading to America in early 1906 for another attempt, where it was promptly beaten by a steam car…
---
Jeauntaud Duc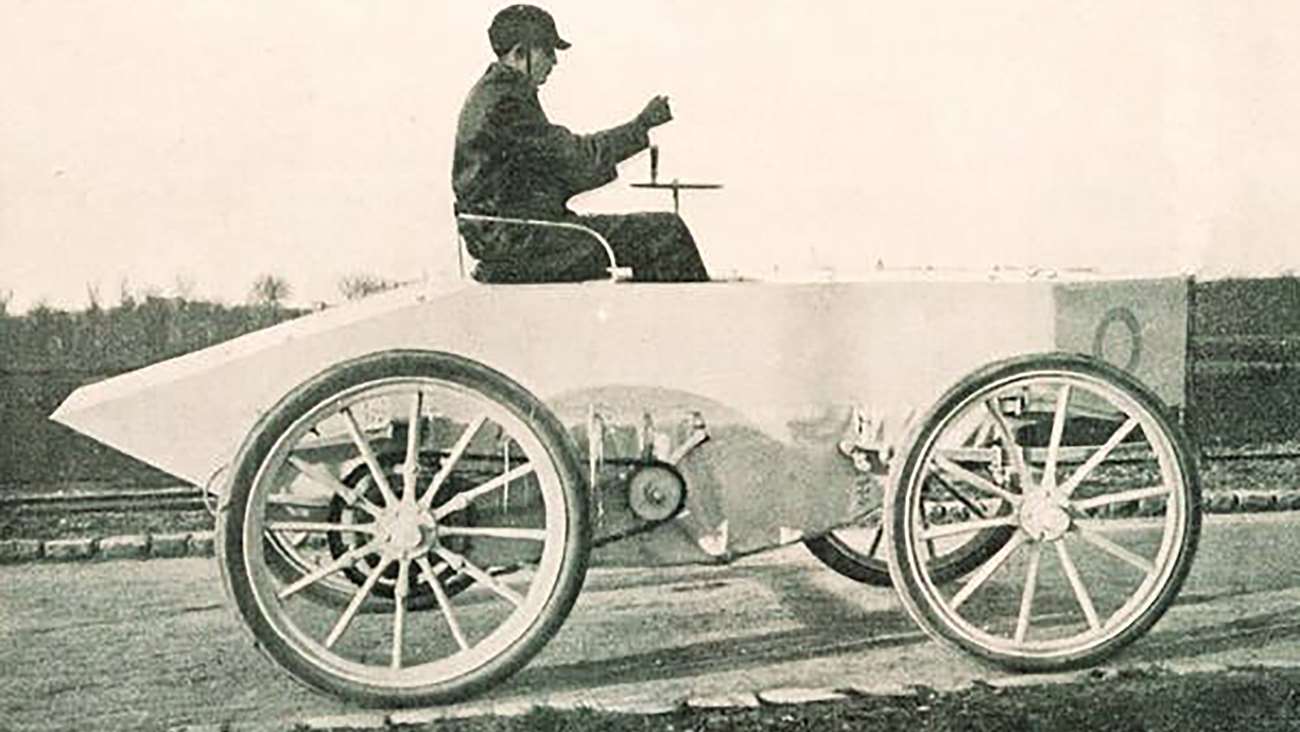 The first six cars to claim the official Land Speed Record were… electric. Yep, way back in 1898 Gaston de Chasseloup-Laubat set a speed of 39.24mph in his electric-driven Jeantaud Duc. He would eventually break the record three times with Jeantaud, fighting against Belgian Camille Jenatzy for glory until Jenatzy – also in an electric machine – eventually breached the 100km/h (62mph) barrier for the first time.
The final Jeantaud Duc – called the Profilée – was powered by a 36PS (27kW) electric motor and weighed around 1,400kg. It had been gradually redesigned over the years to become more aerodynamic, in very basic terms – it was now pointed at both ends. The final speed reached by Chasseloup-Laubat was 57.65mph on 4th March 1899. Although its speed was surpassed barely a matter of days later by Janatzy in the perhaps even more bonkers, missile-shaped, La Jamais Contente.
---
Fiat Mephistopheles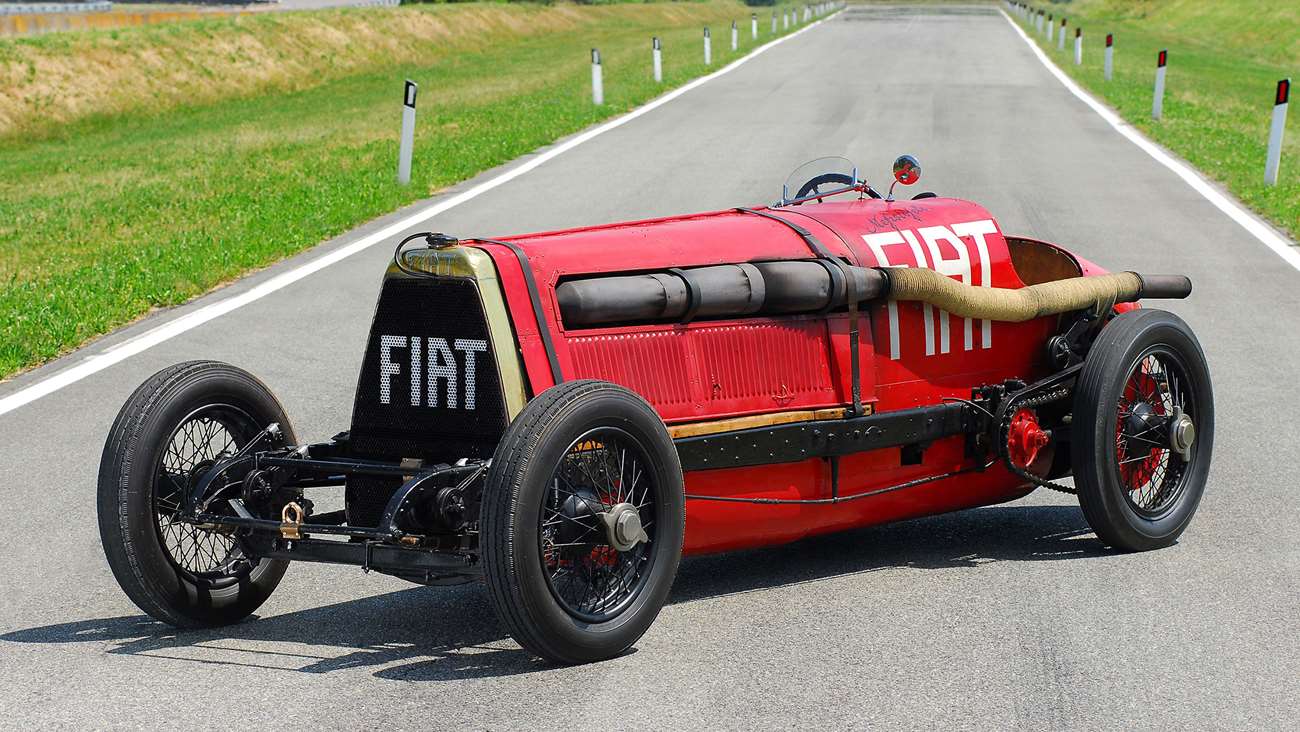 Fast forward nearly a quarter of a century and the speeds drivers were gunning for had increased rather dramatically. Now pushed on by the rapid development of the combustion engine, the Land Speed Record passed 100mph in 1904, and sat at 142.31mph in 1924.
At this point eccentric (we're talking about a man who once gambled over £60,000 on the turn of a single card in 1922) engineer Ernest Eldridge arrived on the scene. He combined a Fiat racing car chassis, with a Fiat aeroplane to create a monstrous machine he named after the Faustian demon Mephistopheles. Eldrige would break the Land Speed Record on 12th July 1924 in Mephistopheles, it's bonkers 21.7-litre, six-cylinder engine producing 320PS (235kW) and sending the Fiat to 146mph dead. He promptly drove the car to Paris, and plonked it outside the showroom of rivals Delage on the Champs Elysees.
---
Babs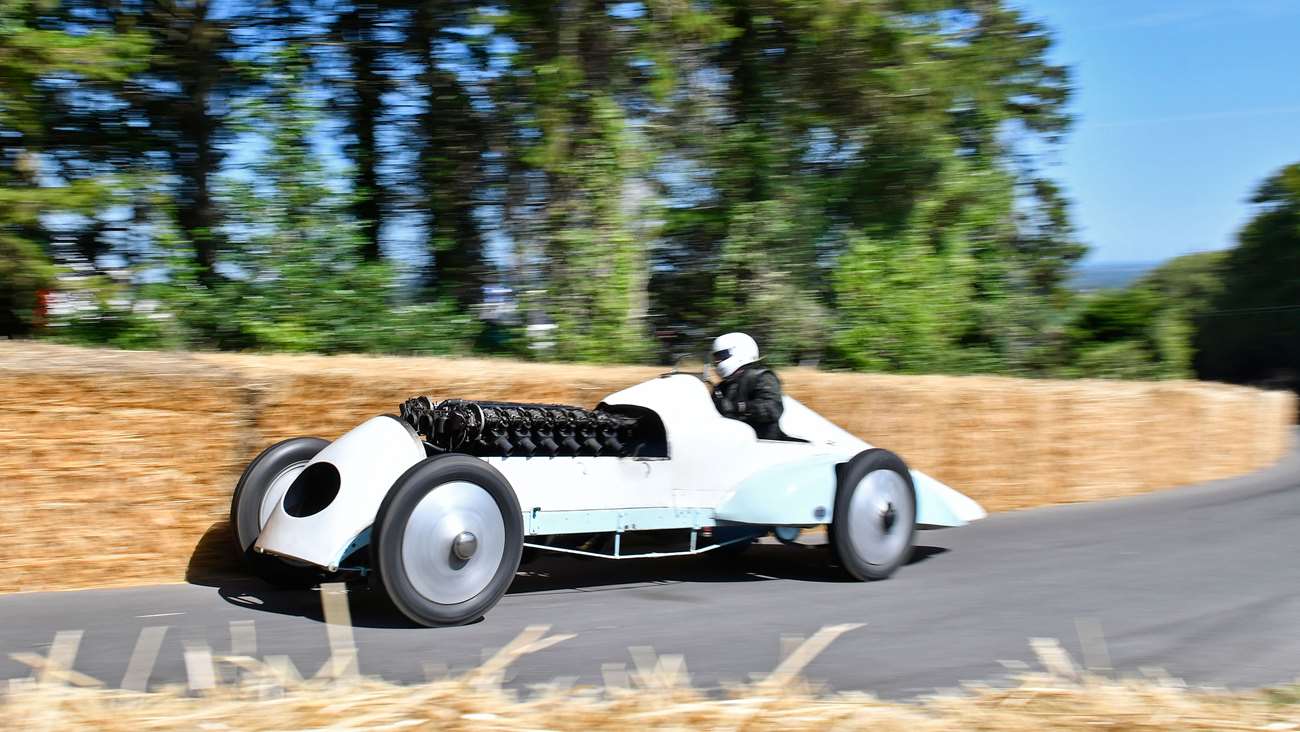 Babs is a car that is very familiar with Goodwood. It's been a star of the Festival of Speed presented by Mastercard on numerous occasions, looking like a teardrop that's been in the windtunnel. The bright white and blue machine was originally called "Chitty 4" and owned by Count Louis Zborowski. It had a Liberty aeroplane engine, measuring just 27-litres to produce 450PS (340kW), run through the gearbox and chain-drive scavenged from a pre-war Blitzen Benz. When Zborowski passed away it was bought by one J.G Parry-Thomas.
Parry-Thomas renamed the car Babs, gave it new carburettors and redesigned pistons and set about breaking records. First he hit 169.29mph on Pendine Sands on 27th April 1926, before raising that bar to 172.09mph the very next day. Sadly, just under a year later, Parry-Thomas was killed attempting to reclaim the title from Malcolm Campbell. Blaming the car, Babs was buried, its seats slashed and dials smashed, in the sand. It wasn't until 1967 that Owen Wyn Owen excavated and restored the car. It now runs regularly in the hands of Owen's son Geraint.
---
Golden Arrow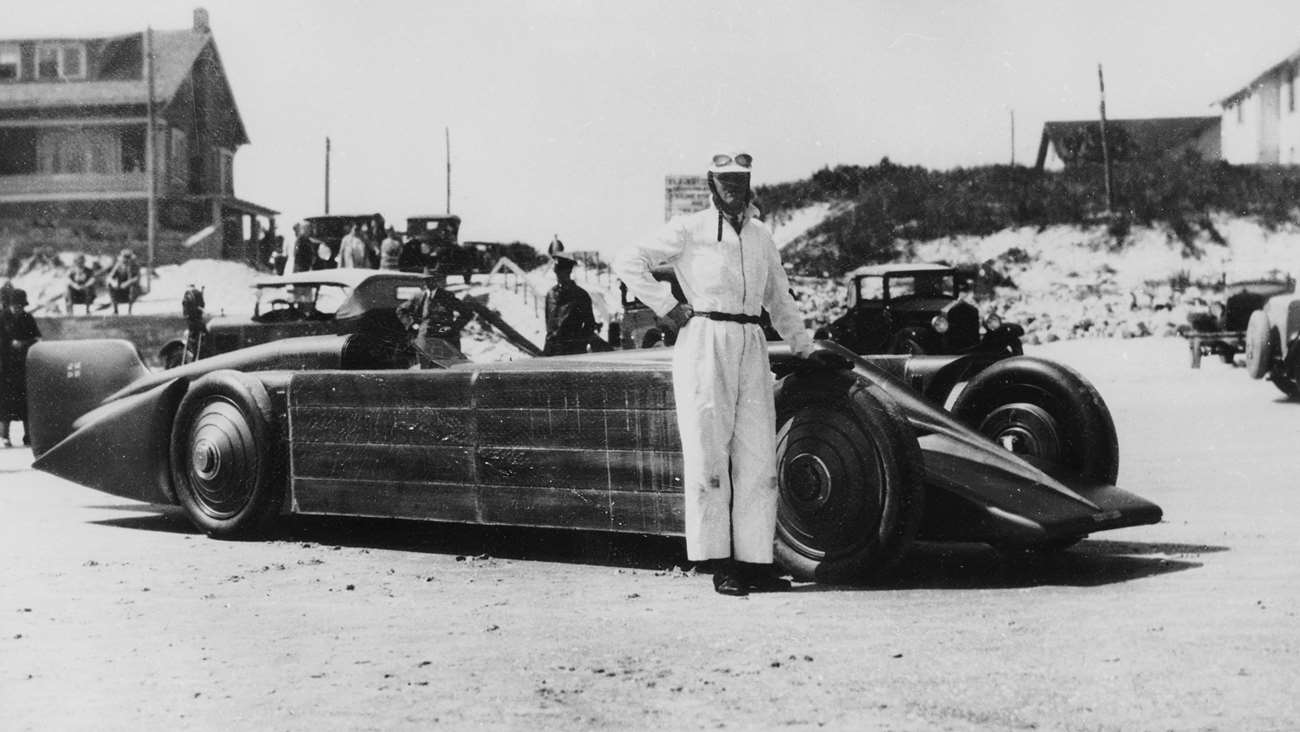 Throughout the history of the Land Speed Record there are stories of personal battles, the wish for two individuals to get one over on each other, pushing the boundaries of the record higher and higher. In the 1920s and '30s it was Malcolm Campbell who would become famous for pushing the boundaries, in a fierce battle with another speed pioneer – Major Henry Segrave. While Segrave drove many cars from Sunbeam (from the 250HP to 'Mystery', the Sunbeam 1000hp), Goodwood thinks his best was the final one he would use to break the record: Golden Arrow.
As the decade went by the need for more and more aerodynamic shapes became apparent, and the Land Speed Record cars moved from looking like old fashioned upright machines built entirely around their engines, to giant, fully streamlined speed machines. Golden Arrow was the first of these machines to completely embrace the concept, with the Arrow part of its name taking from the piercing nature of the car both front and back.
Inside it was fitted with a 23.9-litre Napier Lion W12 aircraft engine producing 925PS (690kW) at just 3,300rpm. On 11th March 1929 Segrave took Golden Arrow to Daytona Beach, setting a new speed record of 231.45mph, adding over 25mph to the record. He had expected to go further, but a fatality two days later halted all runs at Daytona. Tragically Segrave would never have another go, perishing just over a year later while trying to set a new speed record on water.
---
Blue Bird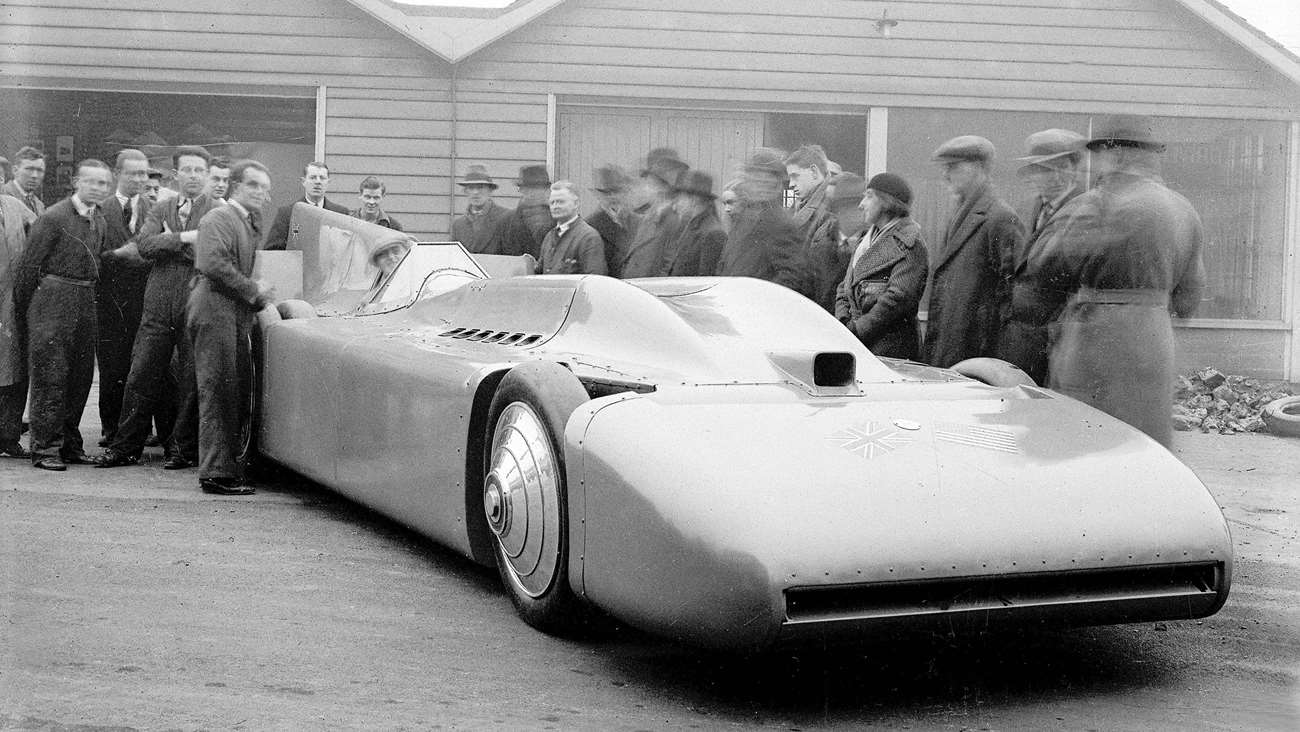 The Campbell family broke the Land Speed Record with many machines called Blue Bird, first with Sir Malcolm Campbell at the wheel and then, later, with his son Donald driving. Of Malcolm's Blue Birds Goodwood has picked the final one, to give it its full name the Campbell-Railton Blue Bird.
A development of the previous car (the Campbell-Napier-Railton Blue Bird), the Blue Bird of 1933 had ditched the old Napier Lion engine in favour of a more powerful Rolls-Royce V12 – an engine of such pedigree that it set not only Land Speed Records, but airspeed records. This supercharged engine was so large it required extra bumps to protrude from Blue Bird's bodywork, but with 2,300PS (1,690kW) from the 36.7-litre engine Campbell had more than enough power to overcome aerodynamic oddities.
The main problem Campbell found himself facing was wheelspin. After setting a new record at Daytona of 272mph, Campbell complained that he was losing up to 50mph to slippage. To fix this he fitted double wheels to the rear axle and split the final drive. He also added an air brake, whereby Blue Bird's radiator could be briefly closed to aid aerodynamics. Blue Bird was so fast it had outgrown Daytona Beach, so the Land Speed Record circus moved to Bonneville – there, with Donald Campbell watching on, Malcolm Campbell broke the 300mph barrier for the first time – by a single digit.
---
Bluebird CN7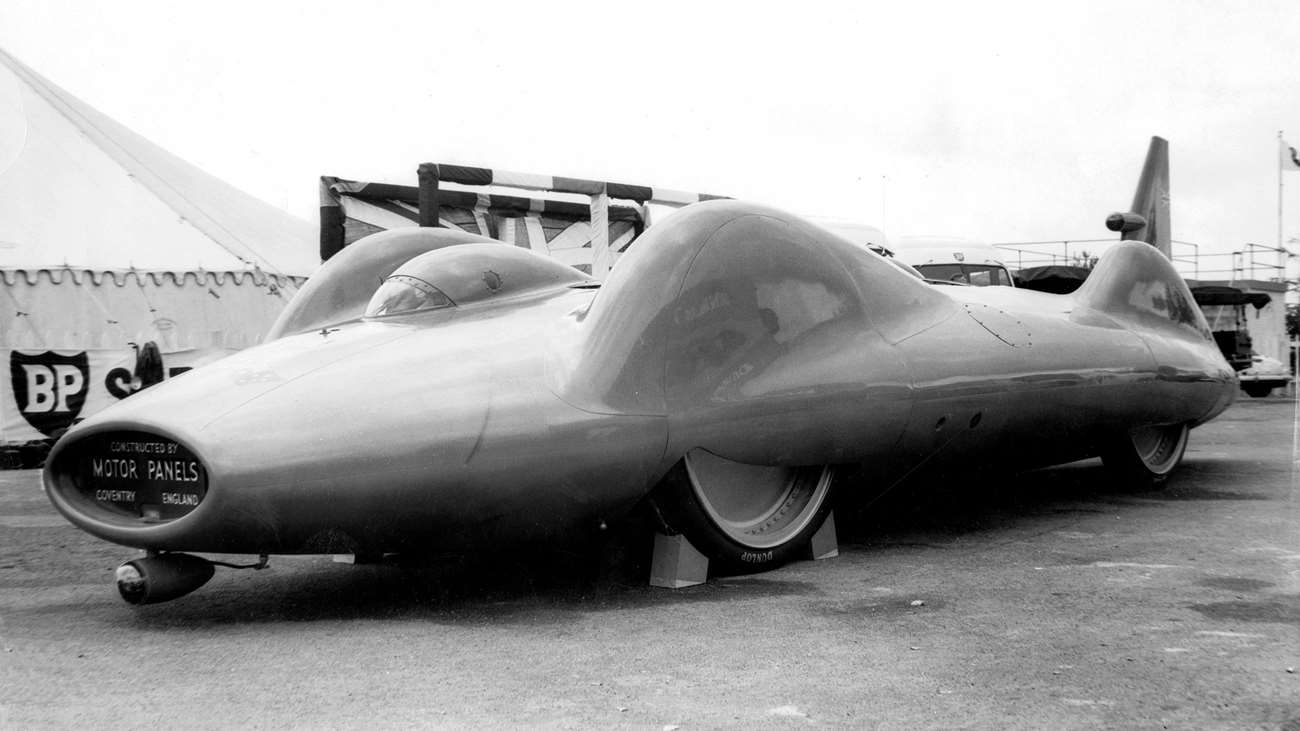 Malcolm Campbell would never set another Land Speed record, and he died after a series of strokes in 1948. But his son, Donald, who had watched is father smash the 300mph barrier, instead set his own sights on a new target – he was going for 500mph.
In 1956 the record had been raised to 394mph by John Cobb in his super-streamlined Railton Mobil Special. Campbell decided that he wasn't going to be able to beat the new standard with another petrol engine, instead turning to gas turbine power. Using a Bristol-Siddeley Proteus engine producing over 4,500PS (3,300kW) the new Bluebird CN7 was born. The engine was not allowed to provide direct thrust like it would on a plane, instead driving the rear wheels like previous record holders, and it was swathed in a super low-drag body that allowed its giant wheels to protrude above the cockpit without disturbing the airflow.
After low speed tests at, of all places, Goodwood, CN7 was flown to Bonneville in 1960 for an attempt. Instead of triumph it ended in a crash and Campbell in hospital. It would be three years before another attempt. Eventually, in 1964, Campbell and Bluebird broke the record, achieving 403mph, well below the potential he believed the car had. While testing for a new attempt the car was crashed by Campbell, who turned his attention to a new challenge – building a rocket car.
---
Spirit of America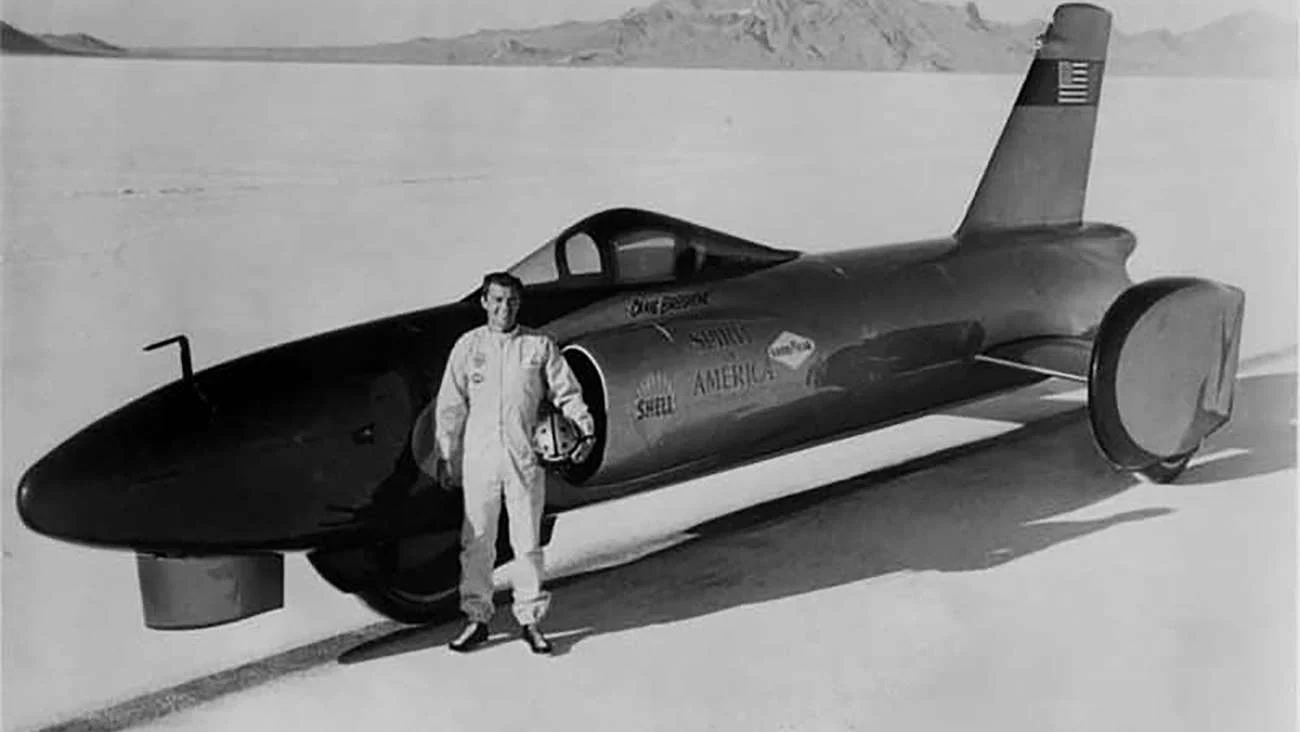 As the years went by, the number of people attempting new Land Speed Records fell dramatically. This was partly because in 1963 Craig Breedlove introduced a whole new way of going faster than ever – pure jet power. Rather than using its motor to turn the wheels, Breedlove's creation, Spirit of America, was a full-on jet car, using a General Electric J47 engine from an F-86 fighter plane.
Spirit of America actually looked more like a plane than a car, with a vertical stabiliser and only three wheels, two slung out on low 'wings' either side of the fuselage and one in the nose. In September 1963 Breedlove was actually the first person to pass 400mph, but controversy reigned. Breedlove's car not only didn't drive the wheels, but also had only three of them. And this didn't conform to the FIA's rules for a Land Speed Record. Therefore, despite hitting 407mph well before Blue Bird CN7 would hit 403, it was not recognised. Eventually the FIM did recognise the mark, deciding Spirit of America was a motorcycle.
A little later it was decided that having two Land Speed Records was ridiculous, shortly after a series of faster and faster attempts from jet cars in the US, and the Parisian FIA reclassified how its records could be set, allowing Spirit of America to finally take its place at the top – by which time it had already been deposed by both Breedlove in an updated Spirit of America and others. Spirit of America would never properly hold the FIA Land Speed Record, but its revolution set the standard for how people approach the feat today.
---
Thrust SSC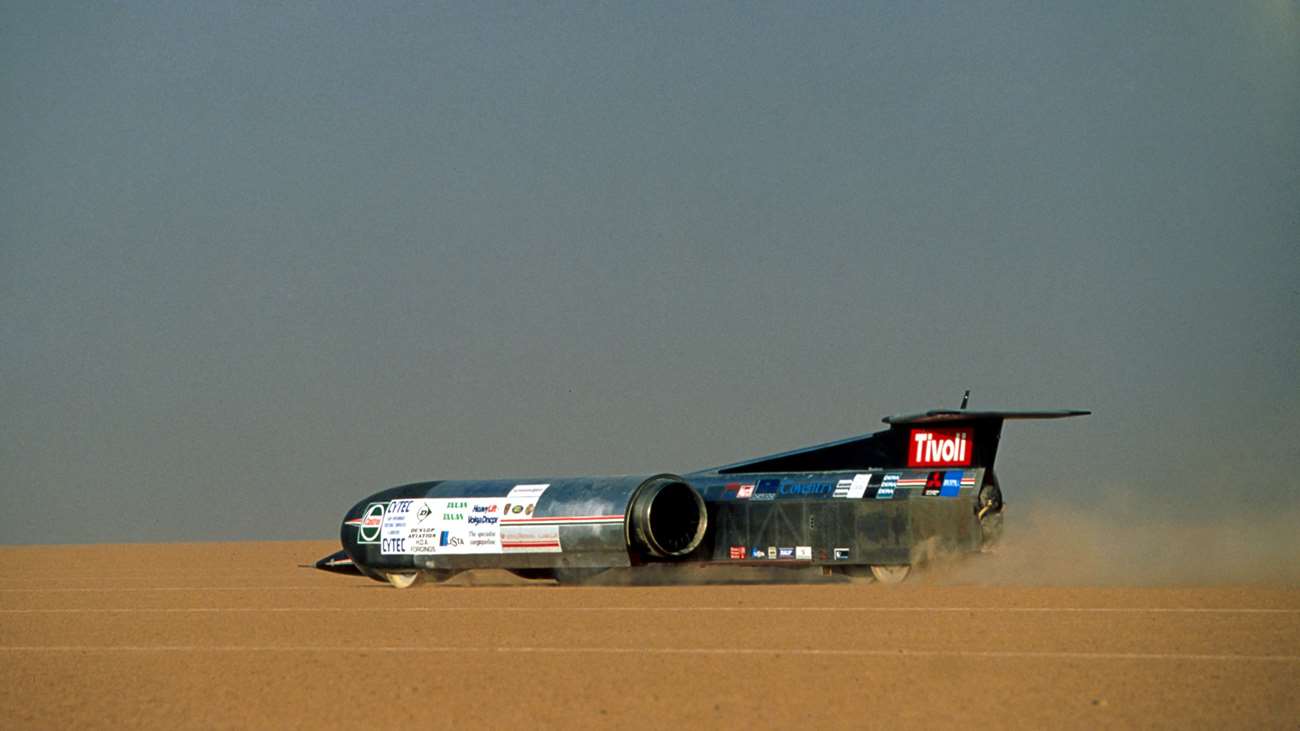 Since 1965 only four runs have broken the Land Speed Record. After the early jet era was dominated by Americans (Breedlove returned to eventually set a speed of 594mph in a new version of Spirit of America before Gary Gabelich's Blue Flame was the first car to break 600mph in 1970), Scottish entrepreneur Richard Noble decided it was time to bring the record back to the UK. His golden machine, Thrust 2, pushed the record up by just 3.5mph to 634, with its single Rolls-Royce Avon jet taken from an English Electric Lightning.
To beat this, Noble decided to double the output, the follow-up to Thrust 2, called ThrustSSC, had a pair of Rolls-Royce Spey engines, weighed 10.2 tonnes and was aiming not just to break the record, but also the sound barrier. Its two engines burned a barmy four gallons of fuel a second to produce around 102,000PS (76MW) – that's roughly 0.06mpg.
A first attempt in September 1997 saw the 700mph barrier breached by driver Andy Green, a little shy of the targeted sound barrier. A third run smashed it, setting new record at 760.343mph, or a rather mind boggling 1,227.986km/h. While they will never run again, you can still see both Thrust 2 and SSC in the Coventry Transport Museum.
There will be future attempts at making the fastest car ever to have run. The Bloodhound LSR project appears to have gone rather quiet since a hopeful test back in 2019, but Goodwood still hanker for new and more incredible feats of speed.
more information by goodwood.com
---