On track. On road. From Formula 1™. To P1™. Artura is the distillation of everything McLaren has learned. They poured every drop of their expertise in super-light engineering, extreme power, electrification and race-honed agility into its DNA to deliver a uniquely intense McLaren experience.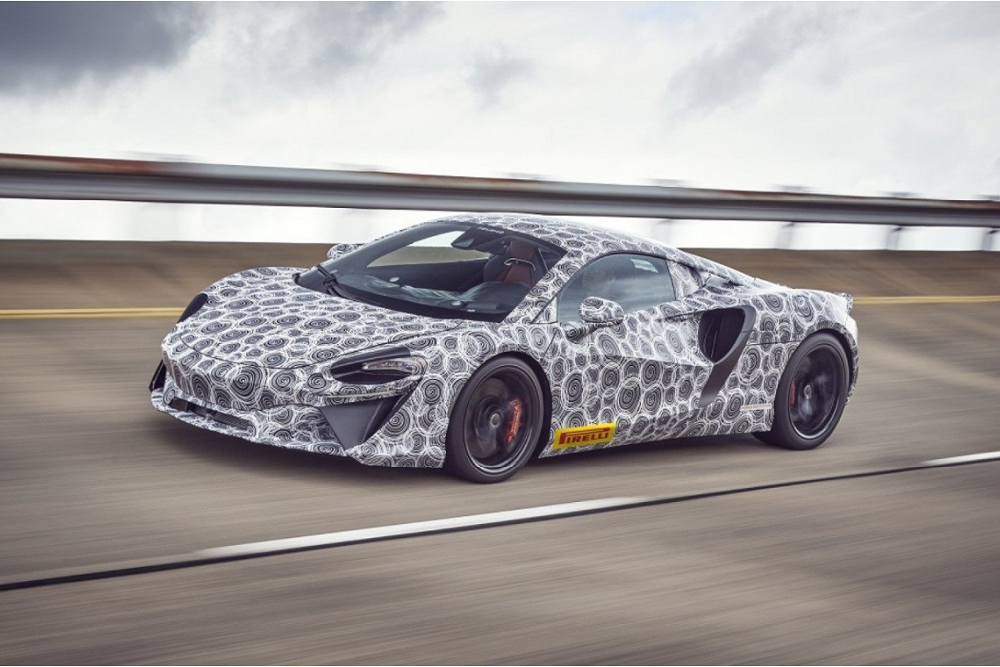 The full force of McLaren comes together in one incredible, all-new supercar. To define a whole new era. 
---
The Name of Progress
The name of the forthcoming hybrid supercar is revealed.
In preparation for one of the most important launches in McLaren´s history, the name of the all-new High-Performance Hybrid supercar is revealed.
Due for launch early in 2021, the new, next-generation V6 hybrid will be named the McLaren Artura. The new model follows in the footsteps of the McLaren Senna, Speedtail and Elva in having a name rather than a number designation – an approach first introduced in 2017.
The Artura also marks the debut of a new, compact, twin-turbocharged V6 petrol engine. Designed to combine with an electric motor, the HPH V6 powertrain retains all the performance benefits of McLaren's larger capacity V8 engines with the added advantages of improved torque at low revs and the option of electric-only, emission-free urban driving.
It's also the first supercar to be built around our new carbon fibre chassis, known as the McLaren Carbon Lightweight Architecture or 'MCLA'. Optimised for electrification, it will be built at the McLaren Composites Technology Centre in Sheffield, England. By applying our super-lightweight engineering principles, the additional mass of the High-Performance Hybrid system has been largely offset, ensuring the new P16 will offer all of the dynamic abilities that drivers expect of a McLaren.
The full force of the expertise is behind this new supercar. Drawing together decades of expertise in Formula 1, GT racing, hybrid technology and best-in-class driver engagement. Harnessed and forged beneath a stunning new design, the Artura is the distillation of everything McLaren has ever learned.
---
Report by mclaren.com
---