2shores classic cars is excited to be able to offer on behalf of one of their clients this outstandingly rare collection of 3 of only seventeen (17) built 1994 Porsche 964 Turbo S "Package cars".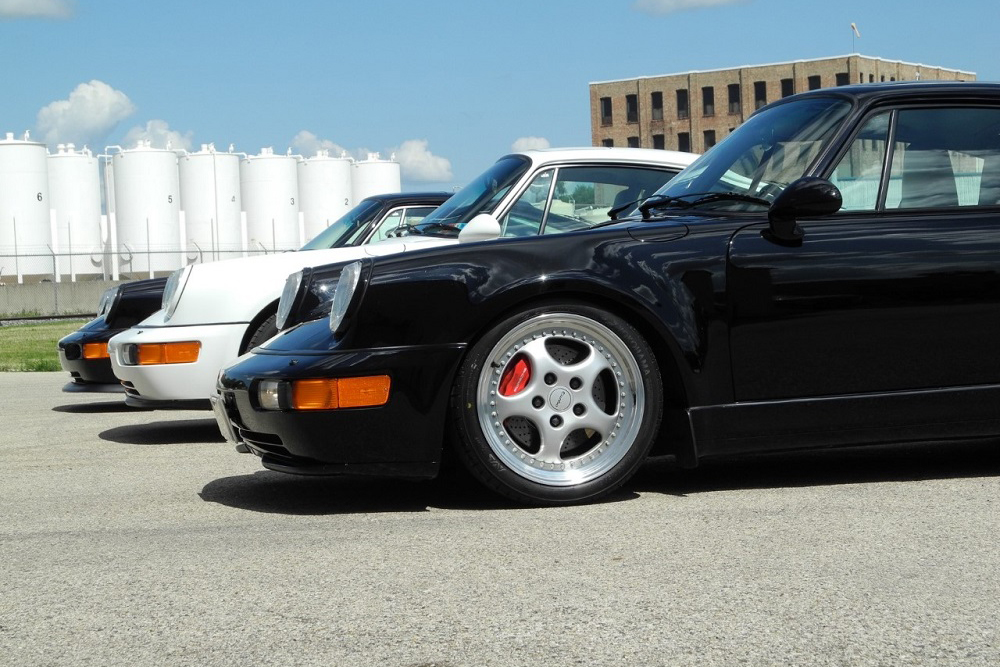 For many years, 2shores has been offering selected first grade examples of air-cooled Porsches and other collectible automobiles. This collection of the unique, ultra-rare 964 Turbo S "Package cars" is one of those special finds!
The Porsche 964 Turbo S Flachbau aka Flatnose option was hand-built in Stuttgart during the end of the 964 production run in 1994, to commemorate the end of a five year production run of the model 964. Porsche set out to build a highly exclusive Turbo S model, based on the 964 Turbo 3.6. The company confirmed total production of these very special models at only 93 Turbo S examples worldwide! 76 of the 93 were built with the Flatnose configuration and only 17 cars were built with the "Flatnose Delete" Package, dubbed "Package cars".
The official unit breakdown is as follows:
39 X85 Flatnose examples for the US.
27 RoW Flatnose models for Europe.
10 Flatnose examples with older style pop up headlights for Japan.
17 Flatnose Delete "Package cars" for Northern America (USA/Canada).
---
The Flatnose Delete examples are the rarest of the rare and arguably the best looking, featuring the standard 964 Turbo front for a more classic 911 look. Just like their Flatnose siblings these cars were fitted with the X88 option increasing total output to at least 385 brake horsepower. Furthermore, the package cars carry a special front lip spoiler X92, special rear wing X93 and the X99 optional engine air inlets on both rear quarter panels. The cars came standard on 18-inch "Speedline for Porsche" modular lightweight wheels.
In 1994, the standard Porsche Turbo 3.6 with 355hp was already the fastest production car available in the United States. Power for the Turbo S cars was elevated even further to 385 hp inspired by Porsche race technology and achieved by using a larger turbocharger unit with increased boost pressure, modified cylinder heads, re-profiled camshafts and advanced valve timing. These upgrades resulted in a neck snapping 0-60 time at or below 4 seconds, truly remarkable today let alone in 1999, when it was setting new standards for road-going super cars!
Locating one of these ultra-rare icons is not easy, but how about locating 3 of 17?
Yes, you read correctly, our cars on offer are indeed 3 of the 17 extremely rare "flatnose delete" cars ever produced, dubbed"Package cars" by Porsche.
The owner and longtime Midwestern car collector was able to acquire the trio over 20 years ago and has carefully maintained them ever since. The collection consists of the very first and the very last of these unique cars as well as one of only two Canadian models.
Obviously, this is a collection of cars that is beyond rare. All 3 of these examples are in perfect running condition, but they have not been regularly exercised for the past years due to some owner's health concerns. We suggest a thorough service before putting them back on the road. All of the cars have been stored in a climate controlled environment under cover and look fantastic, but have not been professionally detailed for re-sale. I personally see this as a plus as it shows the remarkable condition of the trio before the use of waxes and cleaners!
This is a rare opportunity for the serious collector to acquire the first, the last and one of only two Canadian examples of a highly exclusive and very limited Porsche production run. This collection is sold privately by a knowledgeable and enthusiastic Porsche aficionado!
2shores classic cars would welcome an opportunity to sell these cars as a package, but all 3 of them are available as single units.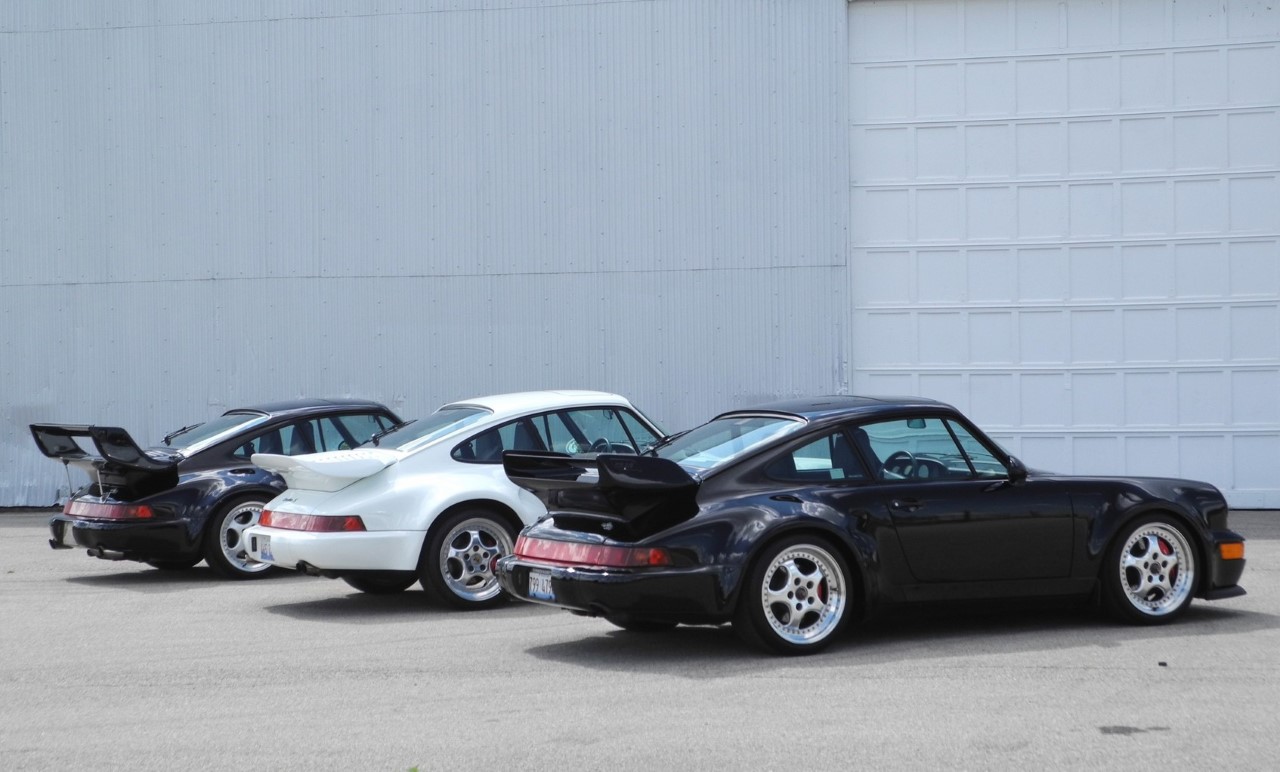 ---
Example 1: This is the first Turbo S "Package" built and one of only two Grandprix white examples in existence. Beautiful light grey leather, completely original with 13,515 miles from new. Excellent, damage free body, close to perfect interior with just very minimal signs of use on driver seat piping. This car is 100%original as delivered, comes with window sticker, jack, tools and spare and owners history.
Two owners from new, current ownership since September 2000!
Never been on the market for 20 years!
Example 2: 1994 Porsche 964 Turbo S "Package car" VIN# WPOAC2963RS480454. This is one of only two Turbo S cars for Canadian delivery. Black over black full leather interior. 21,841 miles from new, excellent body, original paint with like new full leather interior. This car has been in the US since May 2000, all import documentation available. The car has a LeMans type rear wing mounted, which is rumored to be the actual LeMans wing from Porsches LeMans race car in 1994. We can at this point not prove this, but the story is with this car for well over 20 years. The original rear wing is still with the car as well and correctly labeled Turbo 3.6 as Canadian market cars were not labeled Turbo S. The car comes with full documentation, tools, jack and spare. 2 owners from new, current ownership since May 2000! Never been on the market for 20 years!
Example 3: 1994 Porsche 964 Turbo S "Package car" VIN# WPOAC2968RS480465 This is the last of the Turbo S "Package cars"built. Black over black leather interior, only 5,615 miles from new. Stunning condition, like new in and out. Original Paint! This car has a few easily reversible modifications, most notably a 3.8l RSR wing, which is rumored to have been mounted by the first owner upon delivery. The original wing,
correctly labeled Turbo S is still with the car! Further, the car has upgraded Cup brakes and rotors and painted headlight rings. Fantastic collector condition. 2 owners from new, current ownership since May 1999 and have not been on the market for over 20 years!
Price: On request!
---
Report by 2shores.com

---