The Hymer Venture S defines an entirely new vehicle category – an innovative motorhome that satisfies the loftiest demands in terms of design and function.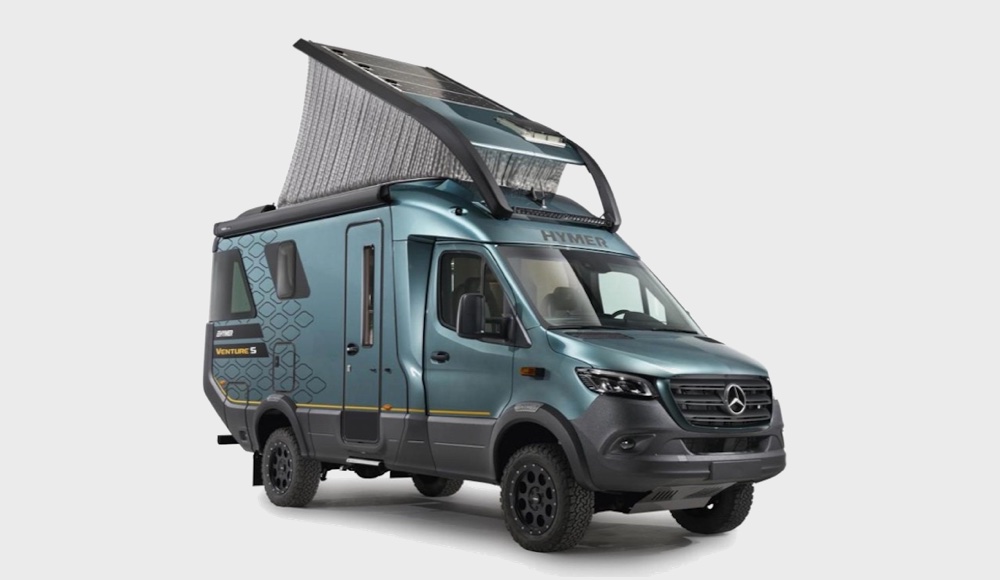 It sets new standards by combining a distinctive appearance and narrow body with generous interior space. As an exclusively equipped off-roader for two people, the Venture S promises freedom without compromise.
A grand gesture. In a compact package.
The innovative interior design concept.
The striking exterior is not the only clue that the HYMER Venture S is challenging the status quo. Inside, too, the HYMER Venture S revolutionises the traditional approach to camping with its visionary layout concept. A completely new dimension of "van life" opens up on two levels, characterised by the highest standards of comfort, design and functionality.
A new understanding of light.
The ambient light system
Light is an elementary component of our lives. Light creates atmosphere, alters mood and is vital for our sense of wellbeing – just like the four-level lighting concept in the HYMER Venture S. Pendant lamps and reading lights can be mounted at various locations in the vehicle, giving you full control of the lighting. You can adjust this as required – easily via a central controller or the HYMER Connect App.
Open up new horizons.
In three minutes.
The next-generation pneumatic pop-top roof combines maximum comfort with inspiring functionality. It opens at the touch of a button (or finger) to reveal your vehicle's comfortable sleeping area. The insulating outer skin ensures optimum temperature control, whether in high summer or snow. Discover a unique, unprecedented outdoor sleeping experience – shooting stars included!
Click here for further information
more information: hymer.com
---