Pirelli and Lamborghini. That's not just a business partnership, it's a marriage of Italian soul mates that has lasted ever since ­Automobili Lamborghini was founded back in 1963. An extremely intimate history lesson, ­accompanied by a ­stunning V12 orchestra.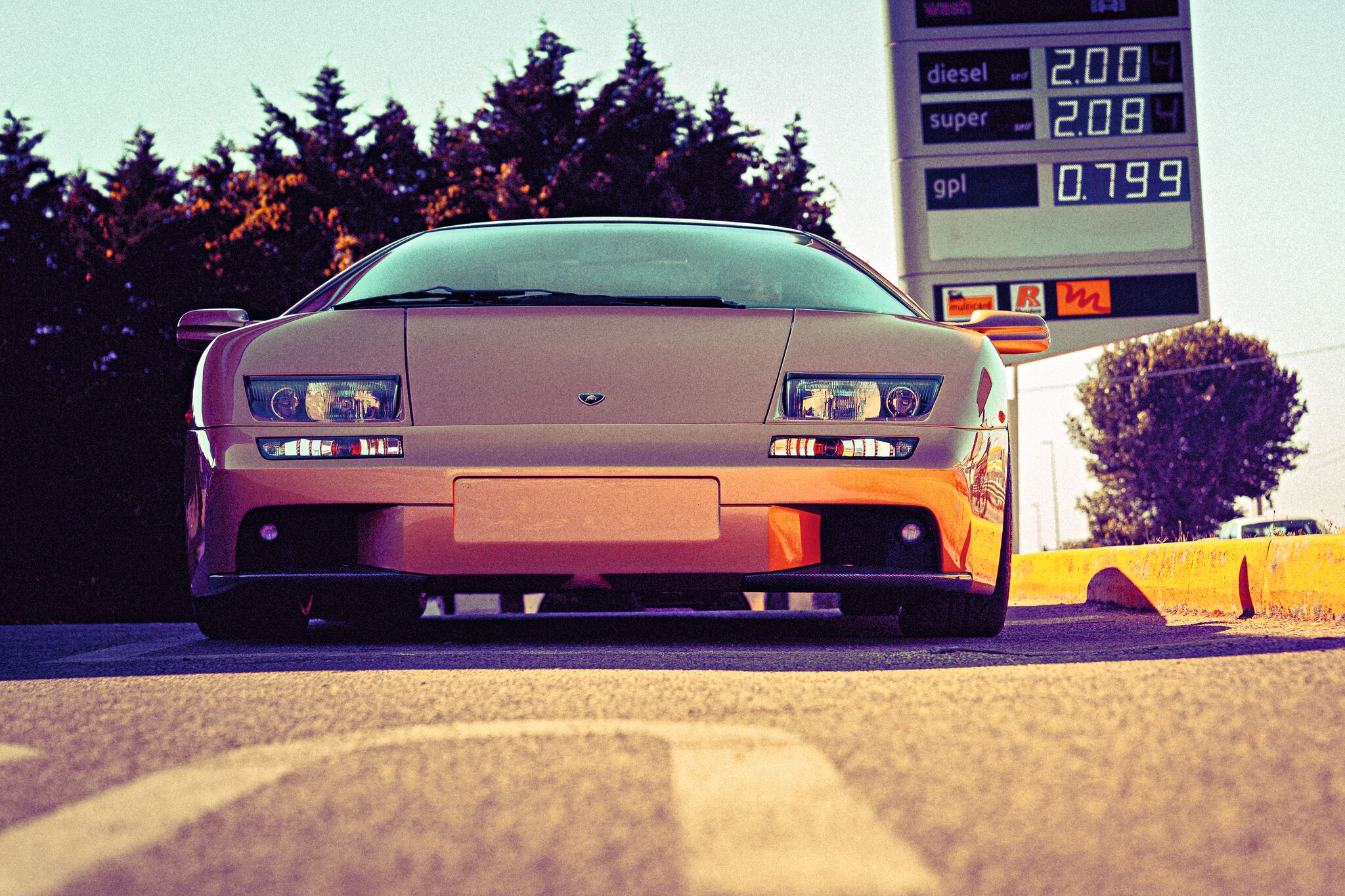 Italian fashion rule number one: The belt isn't so important. What really matters is that your Lamborghini has the right tires for the job.
This has been an unwritten law so far, which is why we are using this opportunity to claim a copyright right here and now. The only thing that is certain is that the origin of this little bit of wisdom can probably be dated to sometime in the early 1990s in Switzerland. Lamborghini was just delivering its answer to the Ferrari F40 and the Porsche 959. Though "answer" is the wrong word. "Attack" would probably be more appropriate. The model, with the internal designation of P132, was a declaration of war, intended to be the fastest production car in the world. And as a way to offend all potential doubters, ­Lamborghini called its response the Diablo.
Pirelli and Lamborghini
The devil was loud. Too loud for the bureaucrats at the Swiss traffic authority. One cause for the extra decibels were indeed the tires and their rolling noise. Pirelli tires, as they have been delivered since Lamborghini was established in 1963 and as, almost without exception on pretty much every model, they continue to be delivered to this day. Rear wheels 335 mm wide, 18 inches in diameter, developed and tailor-made for the Diablo's performance. The stated 325 km/h top speed was exceeded in several independent tests. The matter was serious. So serious that ­Lamborghini wasted no time in acting. In ­collaboration with another manufacturer, a tire was developed especially for Switzerland that significantly reduced rolling noise – albeit at the expense of performance. The result convinced the authorities, and the Diablo received approval for Swiss roads. Buyers immediately fitted their cars with Pirellis before the first outing, however, in keeping with the sacred oath: What Italians have joined together let no Swiss authorities put asunder. Amen.
The thermometer shows 37 degrees in the shade. The heat radiates over the golden Lamborghini Diablo VT 6.0 SE even before I start the V12 with a classic ignition key. It's the last Diablo ever built, from 2001, No. 42. No rear spoiler, fixed headlights integrated into the body instead of flip-up ones (yes, they're from Nissan!!), ­perforated rims, open five-speed manual ­gearbox and under 5,000 km on the odometer. Normally, this car is at Mudetec, Automobili Lamborghini's museum in Sant'Agata Bolognese. But today the twelve-cylinder engine can breathe freely. In the truest sense of the word. Nevertheless, I hesitate. It's the Diablo! Top trump in Top Trumps. Automotive poster fantasy. Legend. Adolescent dream. A shame they usually only take women as models for the world-famous Pirelli calendar.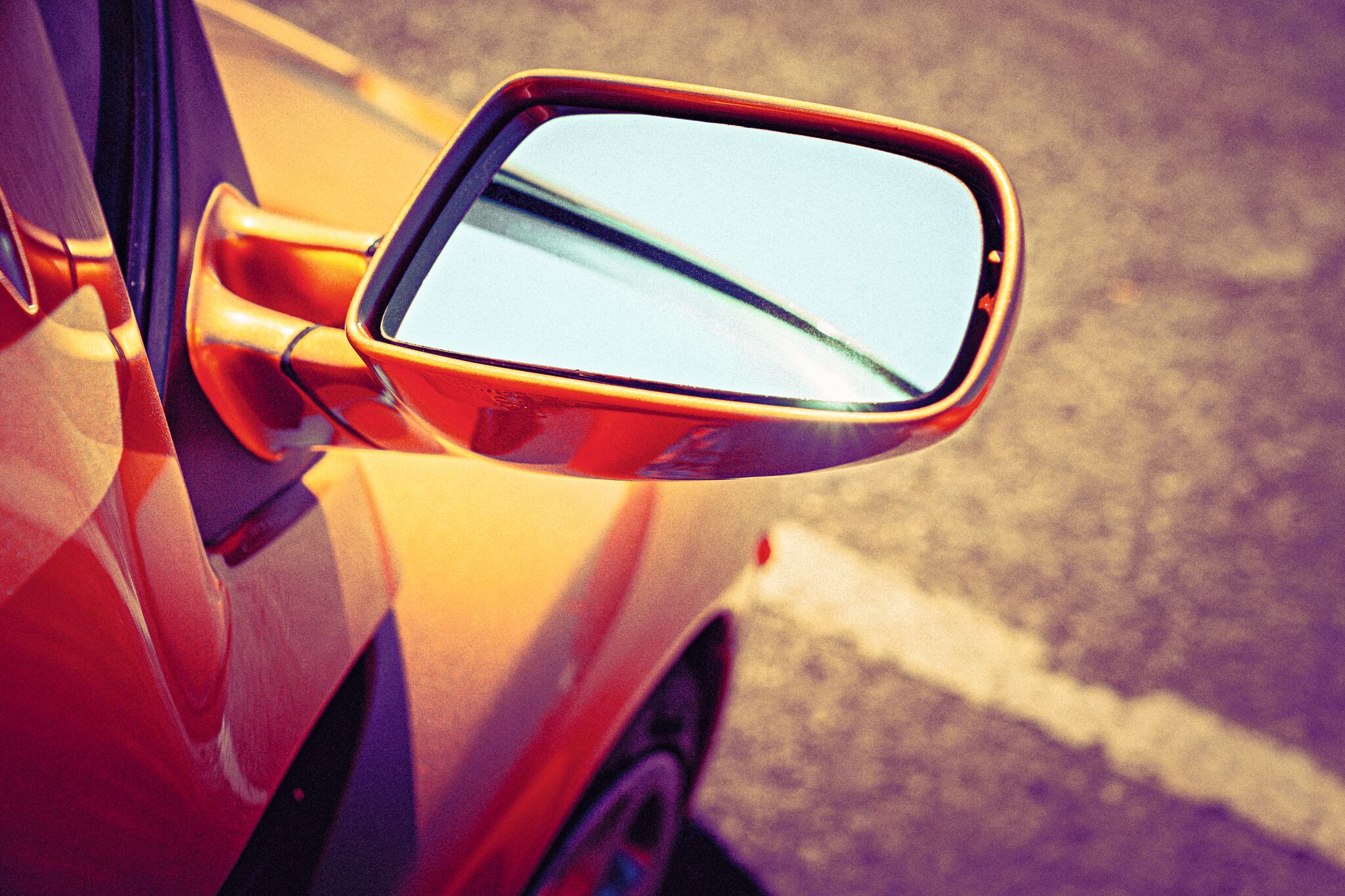 Don't get me wrong, I have nothing against women nor do I have a problem with getting in a modern Lamborghini Aventador and driving it according to its purpose. Even with an SVJ, the process is almost routine. But the Diablo? It's a bit like being introduced to Ana de Armas. You just sheepishly say "hello" and don't immediately plant a kiss on her lips.
On the other hand: It's the Diablo! A ­Lamborghini! With a design by Marcello Gandini. A body that jumps out at the eye. No restraint. Never. So off we go. The stiff clutch alone demands a strong lower leg, as if you're trying to kick open a locked door. The starter gurgles neatly, you feel the mass that needs to be pushed from its cold resting state into the mechanical movement of a good 1,000 revolutions. Is the engine smooth? More or less. Compared to the almost synthetic harmony of the twelve pistons of an Aventador, the Diablo V12 grumbles with a certain unrest. Is it displeasure, engine rage? Who could blame this Diablo, after all it spends most of its time comatose in a museum. Decades. That's nothing short of blasphemous. Or what is the hellish equivalent of blasphemy?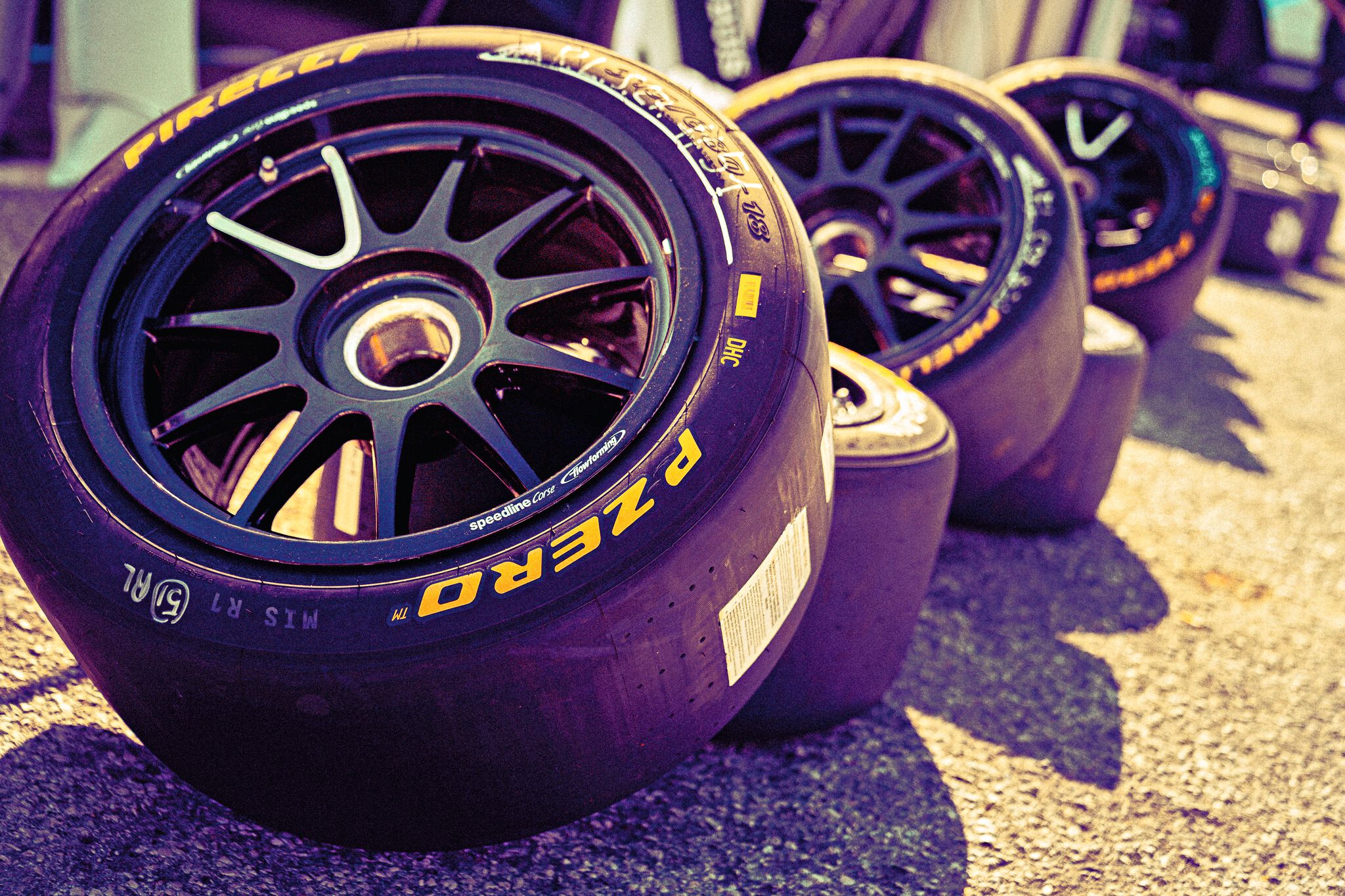 First gear. Release the clutch. The pressure point is easy to feel, and the first few yards are ­pleasantly confident. From then on there's only one thing I have to do: drive the Diablo. I have to think it through clearly and take everything as it comes. And not brood so much. Brooding is just as bad as feeling fear. It makes everything more difficult. Especially in this car. Second gear, clack-clack.
The tires aren't really cold at all. The asphalt is much too hot. They function perfectly. With eighteen inches, the Diablo actually has the smallest diameter tires that Pirelli still offers today. They look exactly as they did in the 1990s. Except that the technology and the rubber ­compound have been brought up to date. Pirelli has always followed a strict direction in its ­development: from race to road. It's all about performance. Run-flat technology was once ­conceived for rallying and today makes it ­possible to continue driving at up to 80 km/h in the event of  a flat. Interestingly, the production tire for the road is the much more complex one. The demands are far more varied than for a racing tire, which has to function within a smaller range of parameters. A street tire for a vehicle like a late-model Lamborghini has to perform in the sun and the rain, on cobblestones and, at times, on the racing circuit. Some people even drive in Switzerland.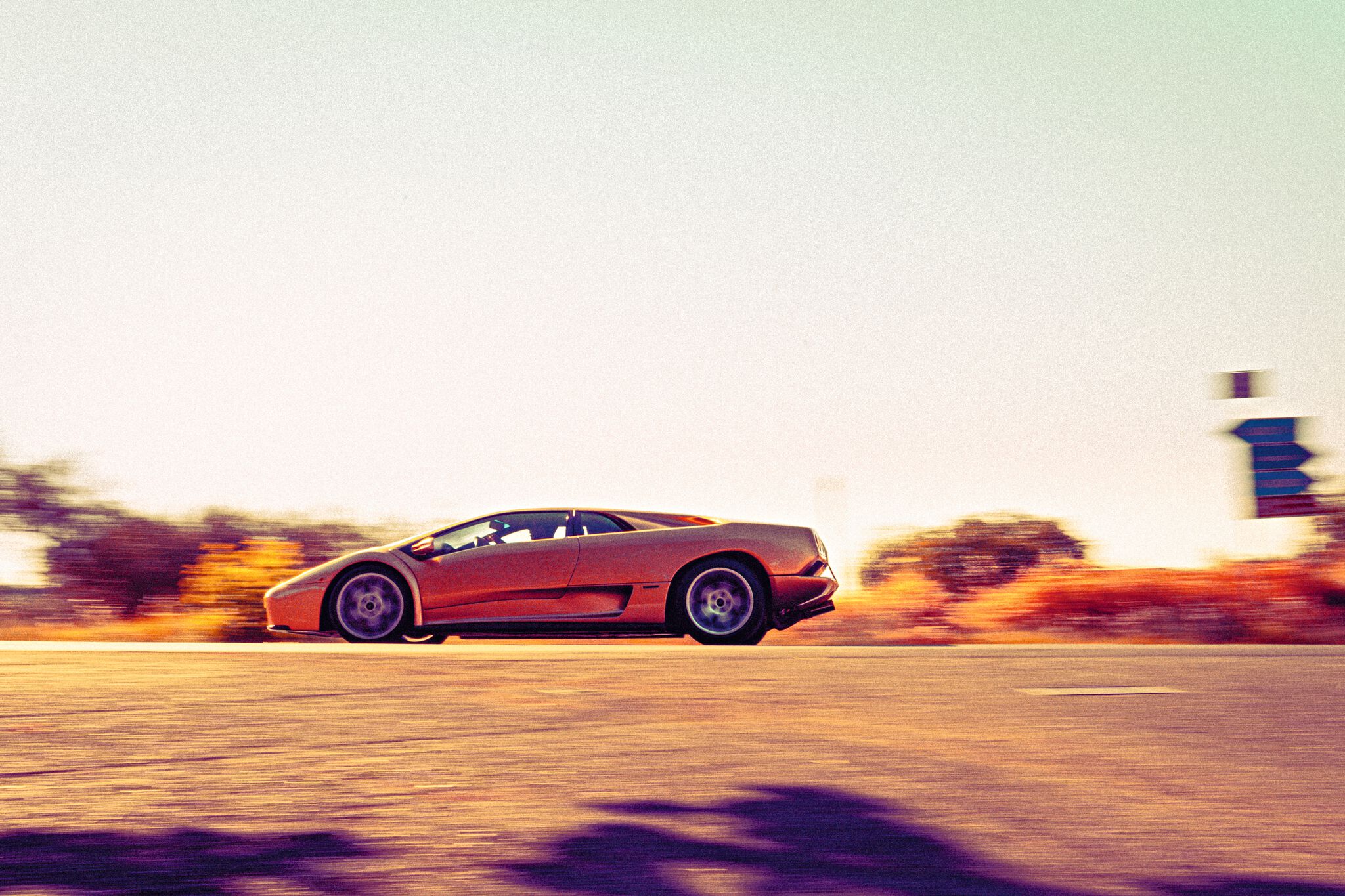 Italian country road. Golden-yellow fields pass by, along with plenty of cellphones taking ­pictures of the car from the side of the road. Not because of the paint job, which is called Oro Elios in Italian. A traffic circle. The first curves. Second gear. 3,000 revs. 4,000 revs. Response. Pull-through. The car really performs. And it does it so well that it leaves me speechless. I'm really at a loss for words. What can describe it? A short straight . . . 5,700 revolutions! I'm going crazy because I can't think of any words to describe it. I would like to put my vocabulary in a stranglehold . . . squeeze something out of it . . . use brute force against the letters until they ­surrender and voluntarily join together to form words that are just as brilliant as this experience. But nothing comes out. Not a word. Instead, three more gears. Each new start is an act of human-machine interaction in the compressed plot of an epic drama: it pleads, it throbs, it vibrates, it snorts, it screams, it roars! And yes, it lives! At least it feels that way.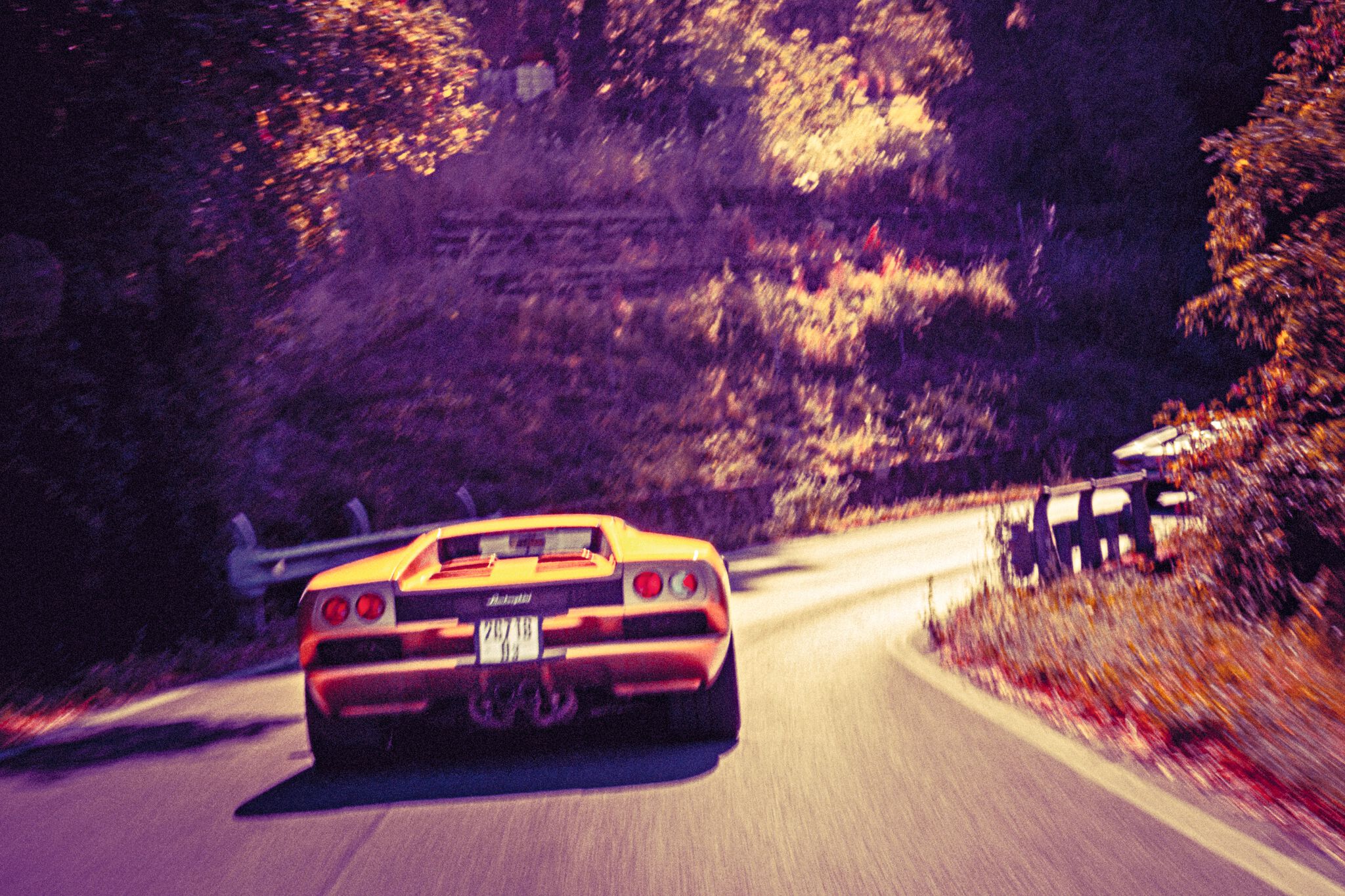 At 7,500 rpm, I reach the yellow zone of the tachometer, followed soon thereafter by the red. Never before have I felt such deep respect for this area of the dial. Am I really allowed to take this engine to these limits? Something inside me roars: absolutely! I can't really understand the other voices. A few harmless bends lay winding in front of me, then it's out onto a straight, slightly uphill, second gear. I floor the gas pedal and stare in awe at the rev-counter, at the road, at the rev-counter, at the road . . . The Diablo pushes on with an uplifting violence that remains impressive just thinking about it. The right hand firmly on the gearshift, the left foot resting on the clutch. At 7,300 revs, I press down on the clutch and tear into third, accelerating straight ahead . . .
And that changes me.
I park the Diablo at a gas station, sit down on the curb next to the car and drink an Italian coffee. It doesn't take long before a man approaches me. He has an almost peculiar white face with hawk eyes, a big nose, thin lips and a scar in the shape of a boomerang on his shaved, smooth skull. Surprisingly shy, he asks in a Swiss accent if he can take a few photos with his phone. Sure. At first, he doesn't know what to say, then he stutters the same "Awesome!" every time he takes a picture. Two or three kids and a local farmer also rush over. The Diablo tolerates this form of voyeurism with stoic resolve.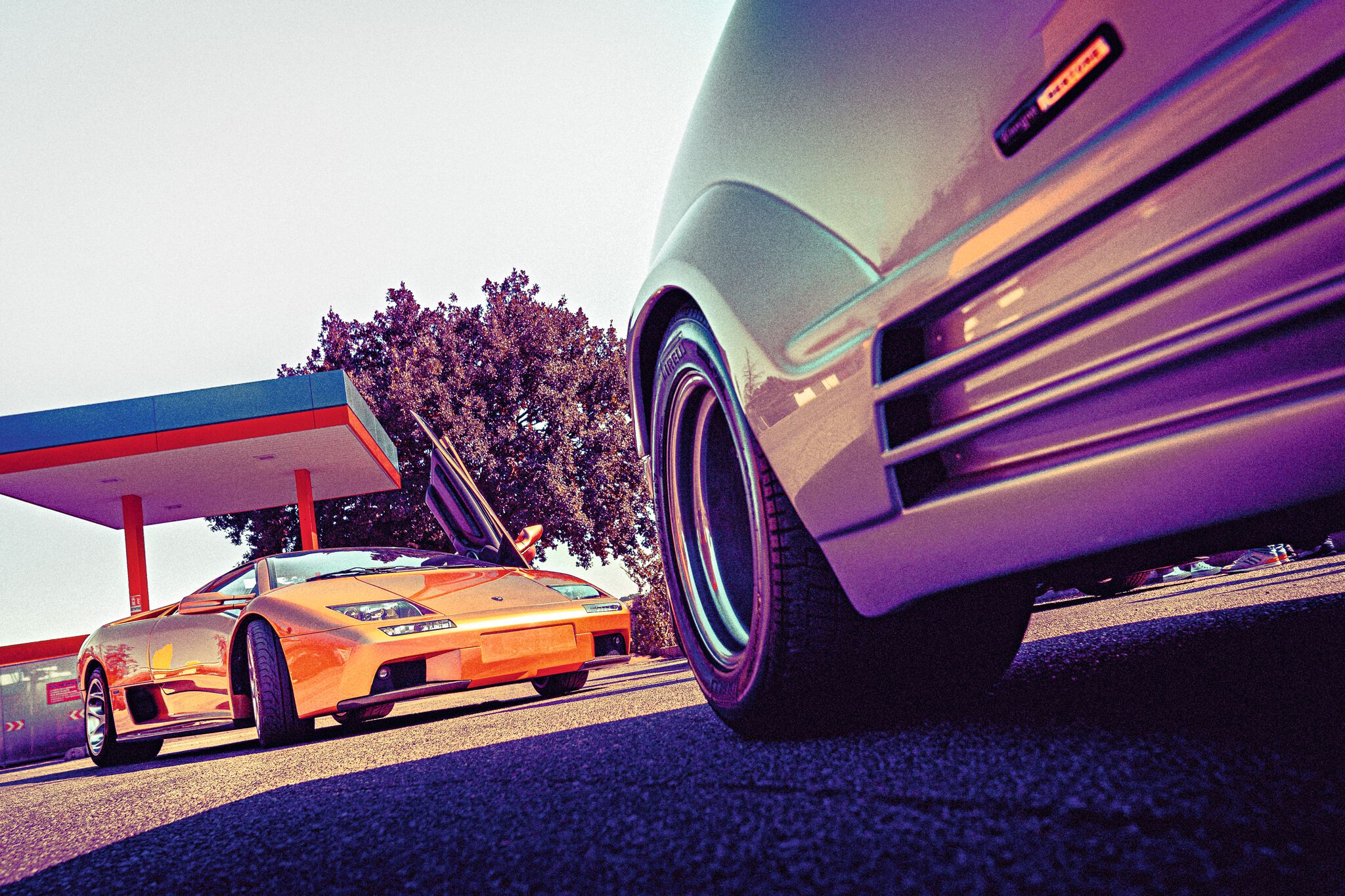 And then one word comes to mind after all: goraiko. That's Japanese. And it describes that feeling, that meditative moment at seeing the rising sun on the summit of Mount Fuji, the perfect mountain. I've never been there. But I think I know what it feels like now.
Text & Photos: Matthias Mederer · ramp.pictures
ramp #58
As a high-impact multimedia brand that takes an all-encompassing, end-to-end approach to publishing, ramp is an absolutely authentic expression of quality, integrity and excellence. Its trailblazing luxury magazines, recognized with numerous awards over the past 15 years, have been celebrated for their cool and unconventional, not to mention inspiring and pioneering style, since day one.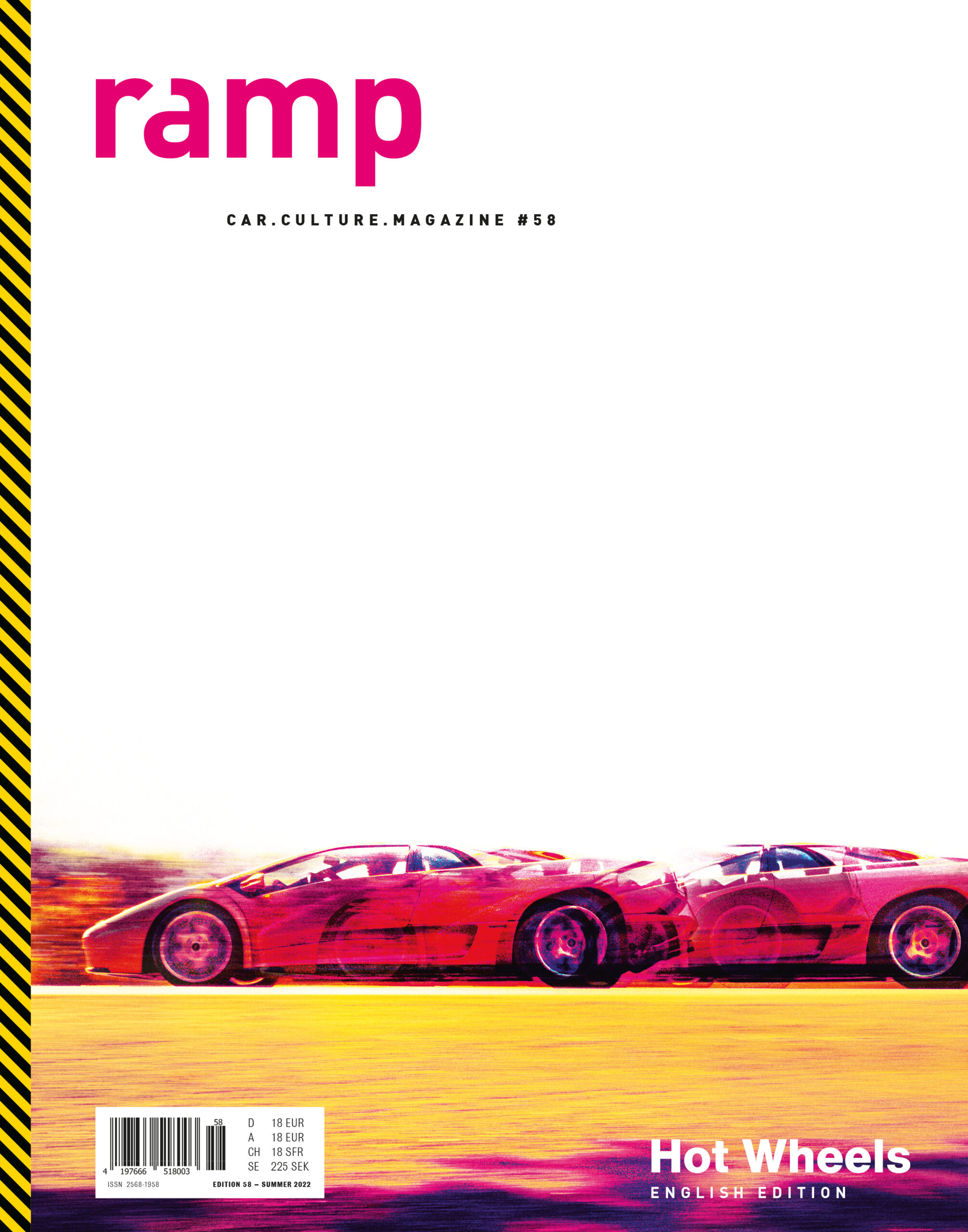 ramp, the lavish and beautifully designed coffee table magazine, celebrates the enthusiasm for cars and driving in a passionately subjective, personalized fashion.
Immediate, authentic, intense. Fresh perspectives, avant-garde imagery, with a fine feeling for nuances and the right dramaturgical mix. Always new, always stimulating. Automotive passion infused with a lust for life. The automobile in new, exciting and intense contexts, precisely tailored to the relevant target group, presented in relation to music and fashion, culture and lifestyle, design and art, science and philosophy.