The final day of Petersen Car Week Presented by Michelin culminated with the Petersen Concours d'Elegance, and the unveiling of a new Ford GT variant, as well as garage tours from collectors David Lee, Peter Mullin, Dennis Varni, and Doug DeMuro.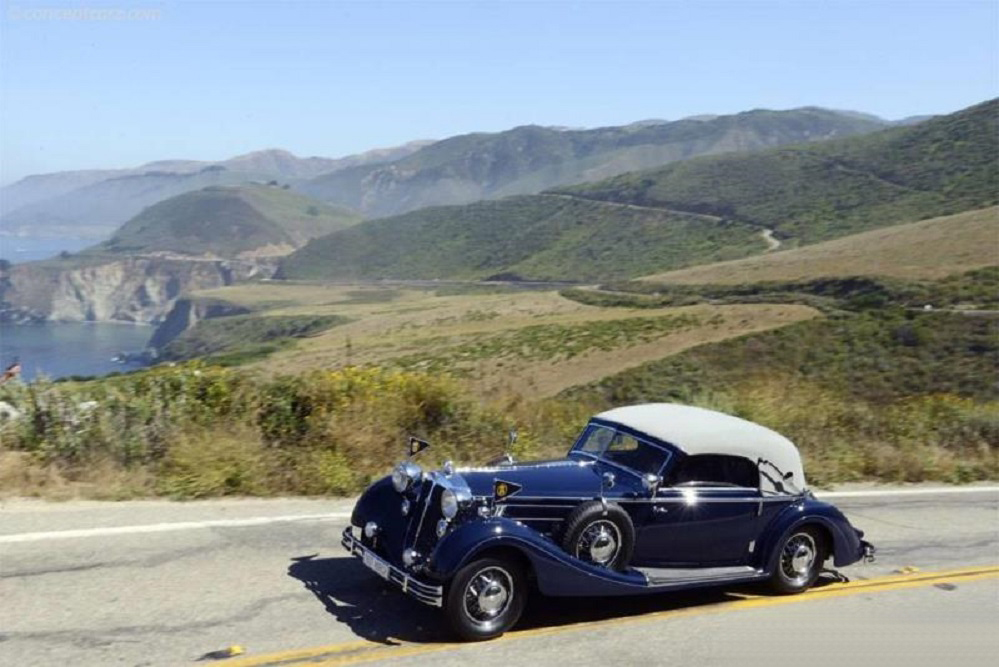 Petersen Car Week took place August 12–16, 2020 on the Petersen Automotive Museum's YouTube channel
Garnered millions of media impressions
Viewed by nearly 40,000 people live and more than 400,000 over the week
The Concours received more than 500 submissions from 4 continents and 24 U.S. states
---
A 1937 Horch 853 Sports Cabriolet, owned by Aaron Weiss, was awarded Best of Show out of more than 100 accepted entrants today during the Petersen Concours d'Elegance. The virtual Concours marked the final day of Petersen Car Week Presented by Michelin, the Petersen Automotive Museum's digital compilation of the Monterey Car Week events. More than 20,000 viewers tuned in to the museum's YouTube channel to watch the culminating awards ceremony.
The Concours also featured several other classes, including Competition, American, European Classic, Ferrari Touring, Hot Rod, Movies/TV Screen Used, Special Significance, Post-War Preservation, Post-War Sports, and Post-War Touring. Vehicles were judged by a panel of motorsports legends, collectors, and industry leaders.
In addition to the Concours, the final day featured the unveiling of a new Ford GT variant, as well as garage tours from collectors David Lee, Peter Mullin, Dennis Varni, and Doug DeMuro.
"Although we could not gather in person this year, we couldn't have hoped for a better digital event to share our automotive passion," said Petersen Executive Director Terry L. Karges. "From the supportive fans to the incredible partners and participants, our shared love for the automobile helped make Petersen Car Week possible."
Petersen Car Week Presented by Michelin took place from August 12–16, 2020. The week-long event delivered more than 25 hours of original content from manufacturers, collectors, enthusiast events, and auction houses, which premiered exclusively on the Petersen's YouTube channel.
Highlights of the week included the debut of the 2021 Ford GT Heritage Edition (find out more about this car below), a walkaround of the Koenigsegg Gemera with Christian von Koenigsegg, an in-depth interview with Horacio Pagani,  a RUF factory tour, a digital version of The Quail, A Motorsports Gathering, the Future Collector Car Show by ClassicCars.com, and the live Bonhams Quail Auction selling the 1959 718 Porsche RSK.
---
Class and award winners:
Competition – 1959 Old Yeller II Buick Special owned by Ernest Nagamatsu
American Classic – 1936 Chrysler C9 Airflow Coupe owned by Mark Becker
European Classic – 1937 Horch 853 Sport Cabriolet owned by Aaron Weiss
Ferrari Grand Touring – 1962 Ferrari 400 SuperAmerica owned by Revs Institute
Hot Rod – 1932 Ford Fordor owned by Bruce Canepa
Special Significance – 1910 Thomas Flyer owned by Jim Grundy
Post-War Preservation – 1950 Simca 8 Sport owned by Richard Plavetich
Post-War Sports – 1961 Carrera Abarth GTL #1008 owned by Bob Ingram
Post-War Touring – 1966 Shelby GT350 owned by Mark Lopez
Las Vegas Strip Award – 1959 Imperial Speedster owned by Murray Pfaff
Drive-In Award – 1959 Buick "LoSabre" custom concept owned by Barry Penfound
Most Charismatic – Peugeot Darl'mat owned by Mark Hyman
Most Elegant (Open) – 1953 Bentley Graber DHC owned by Gene Epstein
Most Elegant (Closed) – 1936 MG SA owned by David Spiegel
Best of Show – 1937 Horch 853 Sport Cabriolet owned by Aaron Weiss
PCH – 1931 Ford Roadster owned by David Martin
---
Heritage Edition Ford GT honors '66 Daytona victory
Ford's triumphant 1966 Daytona 24 Hour Continental, the first 24-hour endurance win for the GT40, will be celebrated with a new Heritage Edition of the GT supercar. The livery honors the historic #98 car driven by Ken Miles and Lloyd Ruby who led Ford to a 1-2-3-5 finish.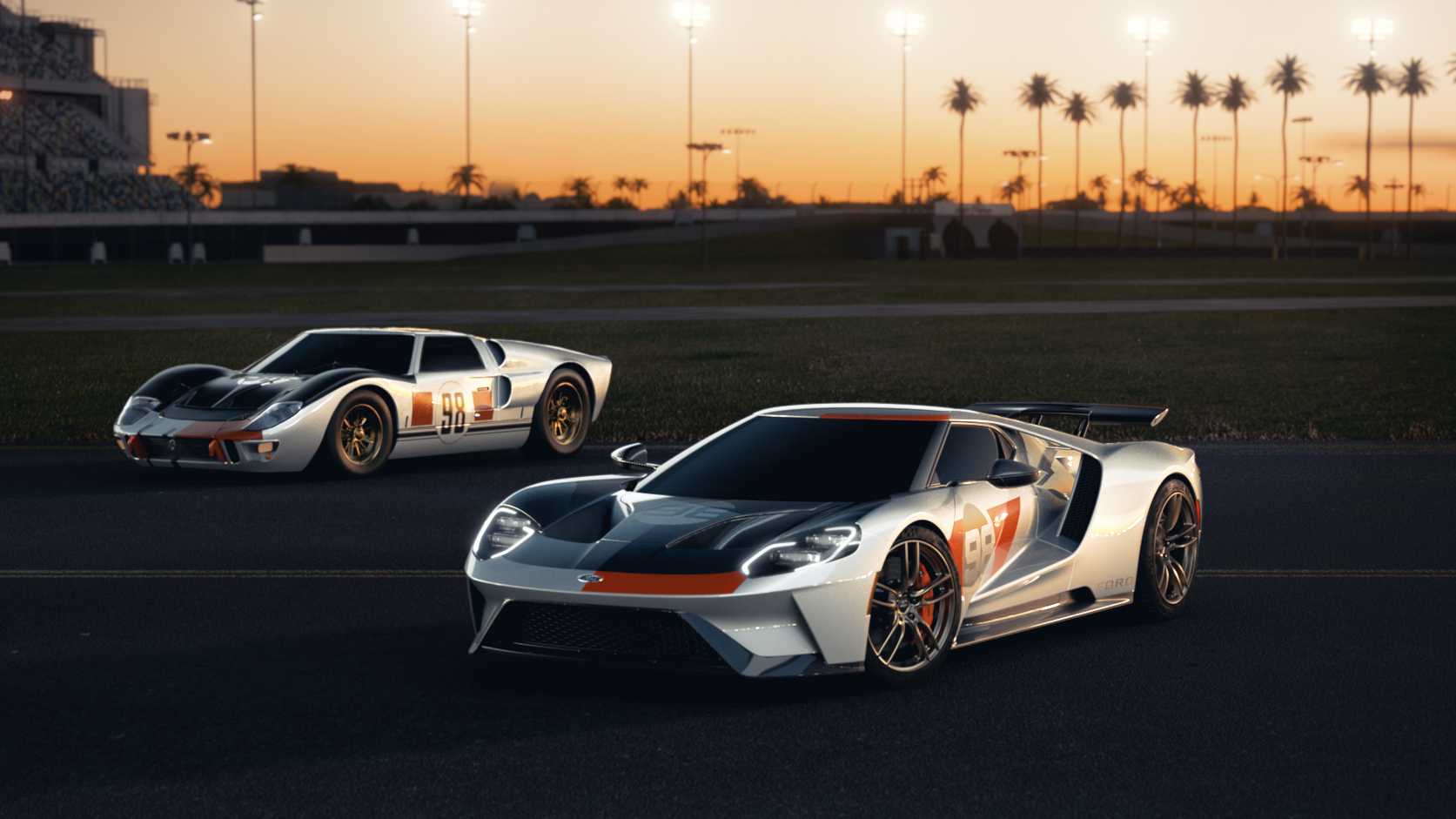 The Frozen White with exposed carbon fiber hood and Race Red paint scheme will be available to 40 buyers who order a 2021 or 2022 Ford GT. It marks the first Heritage Edition GT that pays homage to a race other than Le Mans. The Daytona-inspired cars will wear number 98 and feature Ford graphics on the lower rear-quarter panels along with one-piece Heritage Gold 20-inch forged-aluminum wheels that frame red Brembo monoblock brake calipers.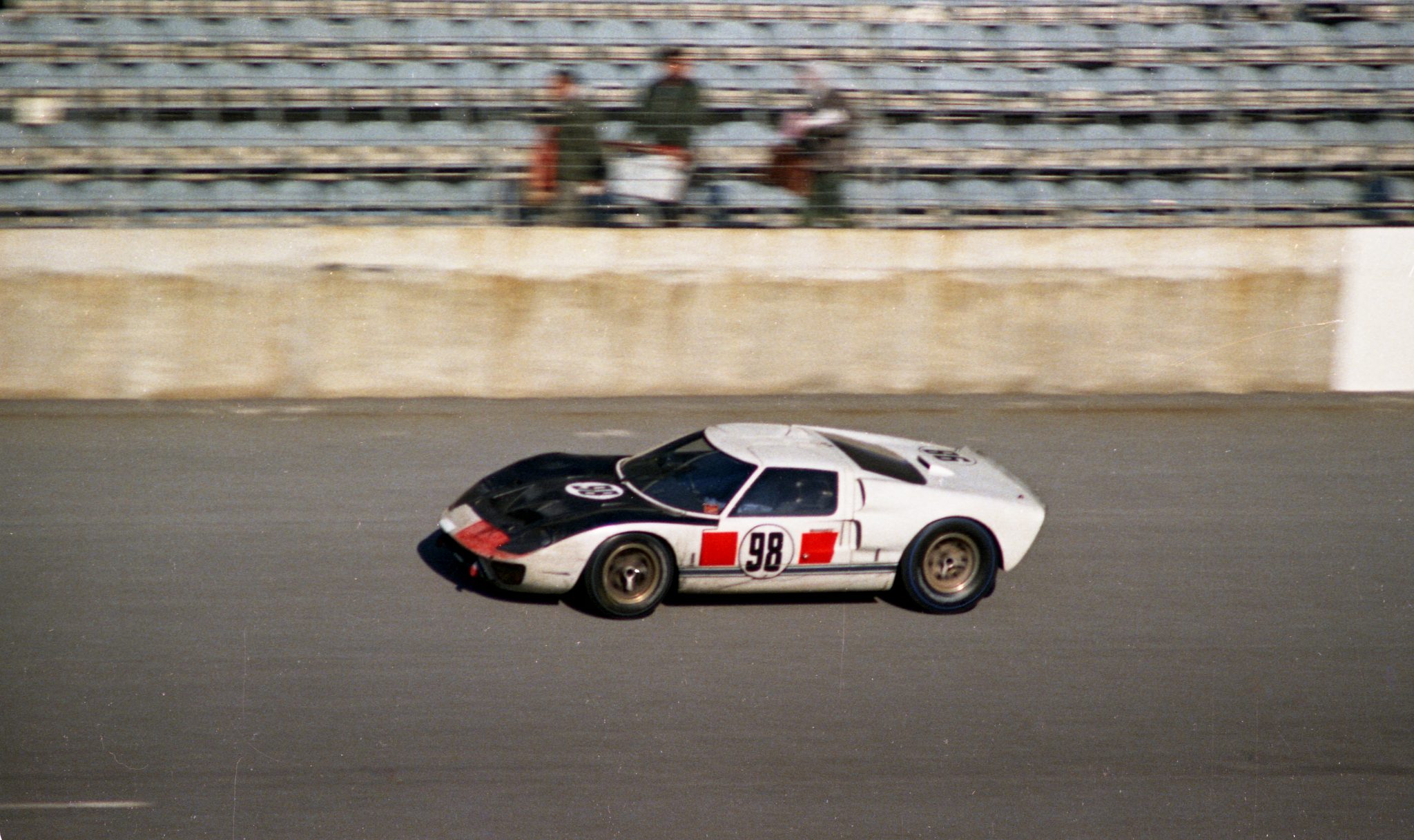 An optional Heritage Upgrade Package swaps the forged aluminum wheels for exposed carbon fiber units that use a gloss red-painted inner accent barrel and contrasting black brake calipers with Brembo lettering in red.
"For this Heritage Edition, the Ford Performance team went deeper into the Ford GT's race history and crafted a limited-edition model that stylistically honors the 55th anniversary of the Daytona 24 Hour endurance race that would eventually lead to our successes at Le Mans," says Mike Severson, Ford GT program manager.
As cool as the paint scheme looks, a "Heritage Edition" of a vehicle that is so clearly an homage to the original GT40 does seem a bit … redundant. Every Ford GT built for public consumption since the 2005 retro reboot of the model is the automotive equivalent of a billboard emblazoned with a Blue Oval and three-foot-tall letters that read, "Hey guys, remember the time we beat Ferrari?" We're not mad about it, because if there ever was a road car that should always be in race livery, it's the Ford GT.
However, if you're not one for Daytona nostalgia, Ford has other good news. Buyers of the final two years of GT production who want to specify their own livery can take advantage of the Studio Collection graphics package. Customers can pick colors to go with a paint scheme designed by Ford Performance and Multimatic, the Canadian company that builds the GT.
Report by petersen.org & hagerty.com
---