Volkswagen is taking the MEB modular e-drive system to the water and is cooperating with Silent-Yachts, a pioneer in solar-electric yachts. CUPRA is also involved in the project. Scalable, robust, clean and CO2-neutral – with the modular e-drive system (MEB), Volkswagen Group has developed a common platform for electric mobility across its brands. The MEB makes the production of electric vehicles more efficient and cost-effective in the long term. At the same time, Volkswagen has opened up its new platform as an industrial solution for other manufacturers and is also seeking collaborations in other sectors.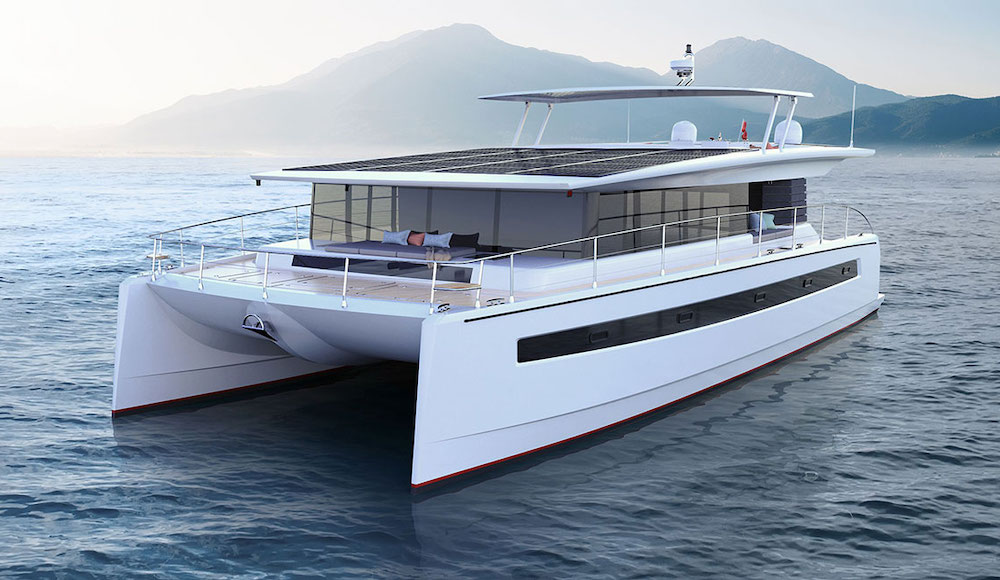 Take shipbuilding, for example: In the future, the Volkswagen Group will cooperate with Silent-Yachts, a manufacturer and pioneer of solar-electric catamarans. The SILENT 55 shown in the picture below, for example, is capable of covering 160 kilometers per day using only solar energy. The goal: to combine individual mobility and sustainability.
Yacht Builder From Austria
The idea for the collaboration arose in 2019 as part of an intrapreneurship program related to the Innovation Fund II within the Volkswagen Group. It offers all employees the opportunity to implement their own business idea at Volkswagen. The most innovative business models are promoted; after all, novel ideas are intended to expand the existing service and product portfolio. Based on a business plan, a prototype is built within twelve weeks, tested with customers and further developed.
The business plan is then validated. This is where Volkswagen became aware of Silent-Yachts as a company that, as a provider of solar-electric powered yachts, has been committed to the issue of CO2 neutrality for 15 years. The company is based in Austria and employs around 400 people, including in production shipyards in Italy, China and Thailand. Silent Yachts founders Heike and Michael Köhler alone have spent more than 8,000 days on board and covered a total of more than 75,000 nautical miles around the world. After 23 years of crossing oceans on motor and sailing boats, they both agreed that there had to be a better way to fuel and power yachts.
First Ocean-Going Yacht Powered Exclusively By Solar Energy
From 2005 to 2009, they compared alternative energy sources on yachts. After four years of continuous research, this led to the birth of the Solarwave 46 in 2009, the first ocean-going yacht to exclusively use solar energy not only for the actual propulsion, but also to power all the equipment on board. In about ten years, the company has delivered a dozen solar-powered catamarans ranging from 13 to 24 meters in length, including the Silent 55, Silent 60, Silent 80 and 80 3-Deck.
Now Silent-Yachts is relying on Volkswagen's MEB. Because the platform is used millions of times throughout the electric cars of the Volkswagen Group, there are economies of scale to be gained – the yacht can be produced more cheaply. In addition, maintenance and servicing are reduced compared to a conventional yacht, as the electric drive system is less susceptible to repair than conventional engines.
Driving Pleasure, Range, Clean Mobility
From Silent-Yacht's point of view, this is an understandable decision – but why is Volkswagen now getting involved in yacht building? In this way, the Group wants to further increase enthusiasm for electromobility, demonstrate the technological strengths of its platform, and show that driving pleasure, long ranges, quiet cruising, and clean mobility are also possible on the high seas.
The MEB powertrain is not only powerful and quiet, whilst providing low vibrations. The MEB batteries, produced with green electricity, also improve the CO2 balance of the entire means of transport. In all Silent-Yachts models, a diesel generator is still available as a backup in case of emergency.
Design With CUPRA Appeal
With CUPRA, Volkswagen has also brought SEAT's progressive, design-oriented brand on board. CUPRA normally focuses on electric vehicles with a special demand for contemporary sportiness and stimulating design. In collaboration with Silent-Yachts, the Barcelona-based company has given the new boat model a contemporary touch. A whole new experience for the car designers: they had to think in completely different terms of dimensions, proportions and surfaces and adapt their ideas to the geometry of the yacht.
Click here for further information
Report by volkswagenag.com
---