The Stage One V8 is the final chapter in Twisted's Remake History celebration. The term 'Stage One' originally signified the first stage of investment into the manufacturer from the UK Government to enhance the product portfolio.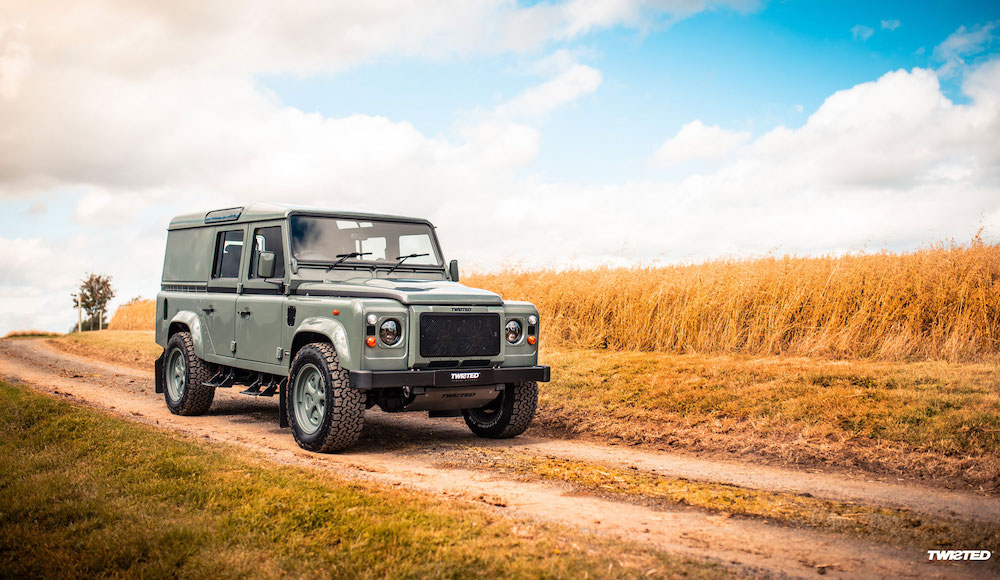 All of the base vehicles chosen for the Stage One V8 builds were built at JLR between the 11th and 21st January 2016, making them within the very last ever to pass through the factory. No doubt some will end up in private collections, though they are built with driving and adventure in mind.
Design
Upon release, the Stage One V8 comprised of fifteen vehicles, ten of which remain. Eight will be finished in the historic Welsh Grey with the addition of canvas hoods, the other two will be sold in their original colours from the factory. Featuring black grainy with black stitch full interior, raptor to the bulkhead, a retro head unit and second row air conditioning comprise this series.
As you would expect the team of Twisted Automotive has considerately addressed the usual areas of improvement over the standard unit including serious power from our LS3 V8 engine, refined handling, steering, braking, seating, sealing and rust protection, to make this special build Defender the driving experience it deserves.
In essence, what your feet touch will be hard as the coal taken from the British mines of the same era, what you sit upon or touch with your hands will be soft, comfortable and tactile. The interior will include a seat inspired from the age of the deluxe cab option and the exterior will exude a working class, no nonsense approach.
Click here for further information
Report by twistedautomotive.com
---