To deliver expertise while providing experiences, a critical rethink of the environment dedicated to receiving customers struck us as self-evident. Hosting the friends of the brand in the best possible way is as important as welcoming future buyers and enthusiasts in search of information. In keeping with Richard Mille's watches themselves, bold design revolutionises the welcome at St. Martin. The brand's in-house architecture team laboured with rigour and determination for three consecutive years to complete this space, whose various worlds spring from the mind and inspirations of Richard Mille himself.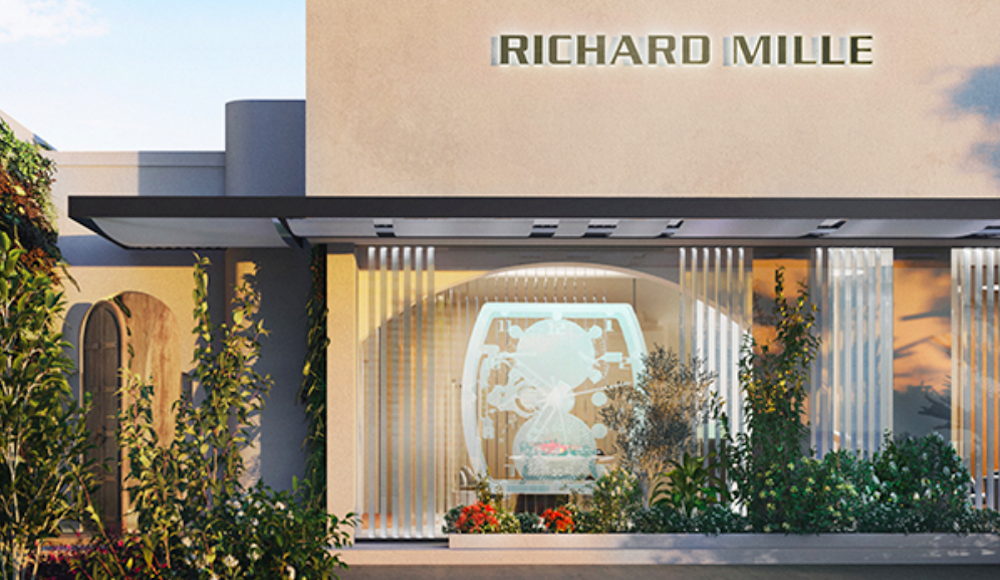 The idea of adopting the fundamentals of a speakeasy stood out right away for renovating the 700-square-metre site of a former restaurant, ideally located in Singapore's Orchard Road district. Like the famous Prohibition bars, the façade and traditional boutique conceal a surprising venue deeper within. Being invited to explore it grants access to the interconnected spaces where Richard Mille's parallel worlds and passions are deployed. It was from this early proposal that St. Martin, a flagship dedicated to the brand's interests, was to take shape. Discreetly elegant ambiences, beautiful staging, welcoming rooms, some of which are deliberately more intimate, all these features are integral to the varied and always-exclusive interior design. Materials and textures add visual richness and subtle contrast. Delicate shades of colour provide a refined backdrop. In each space, harmony and balance tell a story, evoking memories, travels and cultural inspiration.
'Every Richard Mille event is an opportunity for wonderful encounters. As well as a chance to meet and share, each one also serves to highlight the brand's strong convictions and commitments. St. Martin was designed in perfect harmony with this philosophy conducive to fostering human relationships. This venue awakens emotions and elevates the art of hospitality so dear to Richard Mille, thanks in particular to an innovative vision,' explains Amanda Mille, Brand and Partnerships Director.
Consisting of airy, open-plan spaces, St. Martin sets no limits. The setting reveals its secrets along an extremely fluid pathway that is natural and intuitive in equal measure; a fun architectural construction of volumes and lighting devised to achieve a perfect balance of style, innovation, tradition and emotion. From the Hub to the Crafting Space, the Restaurant, the Bar, the Sport bar, the Riad and the Hidden Library, each space has its own identity. Style and comfort are woven together, creating an ambience where hospitality reigns, and visitors are invited to experience a warm, informal atmosphere. This gives rise to a feeling of closeness and intimate connection within a circle of friends. An intuitive sense of being at home. To achieve this feeling, the vast majority of the furniture and decorative elements were created and designed especially for each of the rooms to highlight their distinct personalities.
'The architectural organisation of St. Martin creates a feeling of astonishment at not having guessed such a space could exist behind this door. Discovering it makes you wonder what the next surprise will be. Our intention was to play with visitors' expectations,' shared Alexandre Mille, Brand Director.
A broad array of artistic crafts was brought together for the design of St. Martin. Nearly 30 specialists contributed to the layout and decoration of the different spaces. Some applied their dexterity to this project by pursuing innovative solutions or contributing to a piece of furniture or an atmosphere. From leather to wood, metal, stone and glass, 250 materials were selected through a sourcing process in which each was chosen for its manufacturing qualities and aesthetic contribution. Every artisan called upon was keen surpass their own limits to meet the requirements imposed by the creation of this unique space in Singapore with the utmost rigour.
The highlight is a work by the French visual artist William Amor: an olive tree that takes root at the centre of the Hub. This creation embodies loyalty and transmission, along with resistance, friendship, peace and health. The tree also evokes the Mediterranean basin so dear to Richard Mille.
Click here for further information
more information: richardmille.com
---