Canepa presents his special Featured Inventory. Below you can find out more about the McLaren P1 GTR, the 2017 Ford GT and the 1980 BMW M1.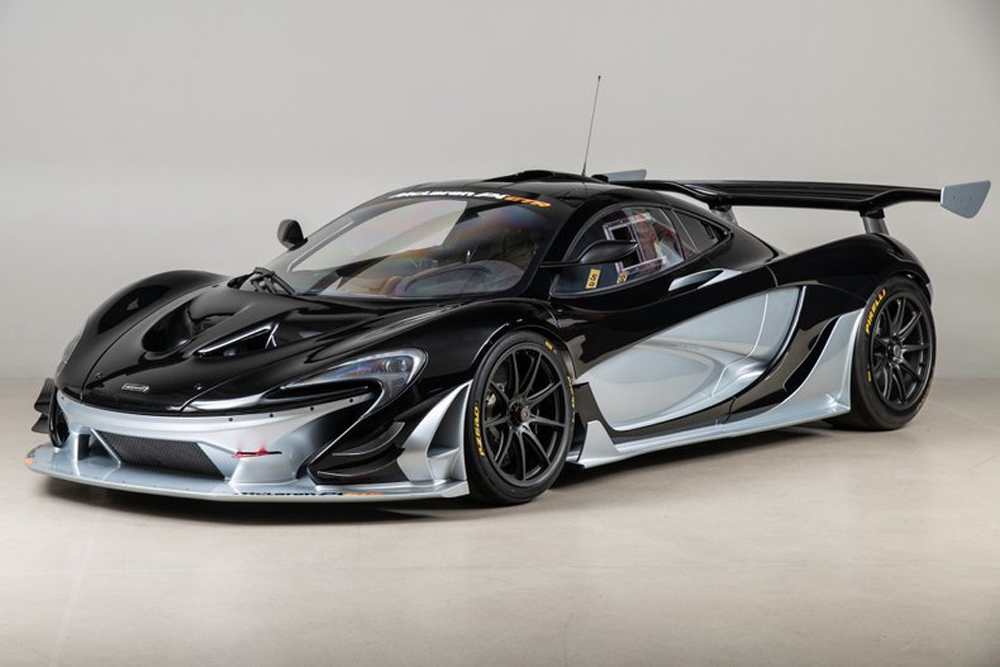 ---
2016 McLaren P1 GTR
986 horsepower, 1,045 horsepower w/system boost
3.8-liter twin-turbocharged V8 engine w/hybrid system
Only 283 miles since new (456 kilometers)
Limited edition and track-focused – only 58 examples ever produced by McLaren
Capable of being made road-legal
Integrated Formula 1 technology for faster lap times
7-speed dual clutch transmission
With over 900 horsepower, the McLaren P1 street car was no slouch and no one said that the car needed more power or performance. But sometimes it's that cumulative silence that drives innovation and creates the need to be one step ahead of people's expectations. McLaren took ahold of those reigns and then some with this: the 2016 McLaren P1 GTR. The most hardcore, race-oriented and limited-edition McLaren P1 ever created.
The McLaren P1 GTR was originally released as a special track-only version of McLaren's P1 street car, available and offered to only to McLaren P1 owners once the last of the 375 street P1s were completed. However, due to the similarities to the road car, there have been a number of cars made to allow the P1 GTR to become road-legal. The GTR was given revised engine mapping for a power boost, a fixed and larger hydraulically-actuated wing that was capable of immense downforce, special aerodynamic improvements including a larger front splitter and carbon fiber underside which is good for 10% more downforce. Together these touches produce a whole new package, creating this ultimate hardcore P1. A wider track of 3.2 inches vs. the normal P1 ensures space for wider front and rear tires for ample grip. 110 pounds are stripped from the already-lightweight body by removing various components including sound deadening materials and replacing the car's glass with polycarbonate. The results are a staggering set of numbers: A combined output of 986 horsepower, 0-60 miles per hour in just 2.4 seconds and will reach a top speed of 225 miles an hour, all while being able to brake from 60 miles an hour to 0 in 85 feet while cornering at 1.54Gs.
With no regulations to limit them, the engineers at McLaren were let loose to turn everything to 11 with every intent of maxing performance out of every possible system. The mid-mounted twin-turbo 3.8-liter V8 engine paired with its high-performance electric motor generate a mind-boggling 986hp. With this performance an F1 ERS-style push-to-pass system has been designed for the GTR, allowing you to have sudden bursts of extra power to get past that nagging driver at your track day. This sudden boost is good for a total of 1,045 horsepower for short bursts. The large fixed wing features a F1-derived Drag Reduction System for straight line speed, and the exterior wing mirrors have been repositioned to the A pillars to move them closer to the eye of the driver and reduce aerodynamic drag. Included inside every GTR is a permanent video recording system, able to monitor the driver's actions while overlaying data upon export to review after their sessions.
The GTR benefits from other improvements that were not included on the street car. The entire car has been lowered, but retains its front axle nose lift for loading and going over bumps you might encounter. 19-inch motorsport center locking wheels ensure quick and secure wheel changes with the onboard jacking system, borrowed from McLaren's 650S GT3 racer. Below the massive wing sits a bespoke titanium and Inconel alloy exhaust system. Per McLaren, the exhaust maximizes the visceral sound from the 3.8-liter V8 engine while reducing backpressure to increase performance.
This McLaren P1 GTR was ordered new for a U.S. owner to join his vehicle collection. Evident by the mileage on the odometer and the cosmetic condition of the entire car, the GTR was hardly used. In as-new condition, this is an opportunity to buy a P1 GTR that is essentially fresh from the factory and ready for its next owner to track and/or convert for road use. Now available for purchase worldwide, the ultimate version of the legendary McLaren P1, the McLaren P1 GTR.
Find out more about the McLaren P1 GTR 2016 here
---
2017 Ford GT "Heritage Edition"
"Heritage" Ford GT owned by Motorsport "Hall of Fame" member Chip Ganassi
First year, 25th Ford GT built, one of the limited edition Heritage cars in 2017
Special limited-edition celebrating Ford's first 24 Hours of Le Mans victory in 1966
647 horsepower, 550lb/ft torque 3.5-liter V6 engine, 7-speed dual-clutch transmission
Same Ford GT platform that won at 24 Hours of Le Mans, 24 Hours of Daytona, two-time 2nd place overall in IMSA GTLM class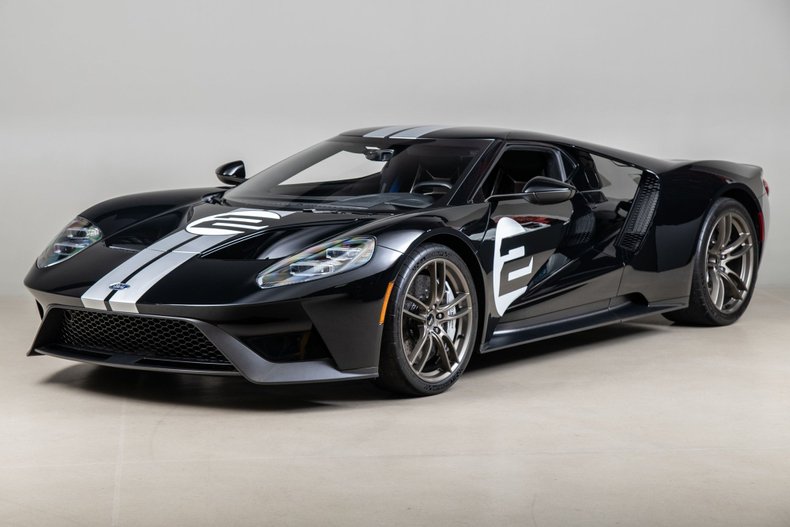 In the world of motorsport, it is easy to be forgotten among the hordes of drivers and teams, and pulling off the act of becoming legendary is often a hard-won battle. However, two names in motorsport are known for their sheer determination and have gone down in the record books: The Ford GT and Chip Ganassi. One was an unlikely racecar designed to beat the likes of Ferrari in 1966 at the 24 Hours of Le Mans, the other is a Motorsports Hall of Fame member for his exploits in the motorsports world and as a championship team owner. Both started with something to prove, with both proving to the competition that they were not to be meddled with and cementing themselves in motorsports history. With both of their legacies intertwined more recently with Chip Ganassi Racing chosen by Ford to run their new Ford GT in IMSA and select European races such as the 24 Hours of Le Mans, the two have quite easily made a name for themselves together and separately.
The Ford GT story follows a 50+ year timeline. The original Ford GT40s were built to break Ferrari's seemingly unshakable grip on the 24 Hours of Le Mans race. In the second year they raced, 1966, they took 1st, 2nd, and 3rd place at Le Mans, justly proving that Ford, an American manufacturer, could run with the European contenders and beat them. The Ford GT name would lay dormant for almost 40 years, seeing its revival in 2004 with the new Ford GT road cars. These were developed to be street cars first, comfortable and easier to drive, with 550 horsepower on tap. Fast forward to 2015's Frankfurt Motor Show, and the all-new Ford GT is revealed. It is announced that the Ford GT is set to go racing in both IMSA and the World Sports Car series, spearheaded by the Chip Ganassi Racing team. Chip Ganassi is the only team owner to have won the Indianapolis 500, the Daytona 500, the Brickyard 400, the Daytona 24 Hours, the 12 hours of Sebring and the 24 Hours of Le Mans – six of the biggest races in the world. Chip Ganassi racing has a record of 8 wins at the 24 Hours of Daytona, five wins at the Indianapolis 500 and 12 IndyCar championships in addition to numerous other wins. Much like the fateful race at Le Mans 50 years ago with Ford's triumph, Ford's GT under Chip Ganassi Racing took to 1st in class at the 24 Hours of Lemans in 2016, cementing the modern car in legend as its predecessor had done before it.
The new 2017 Ford GT application process saw a flooding of applicants who wanted to purchase the new car, despite only 1,000 being announced to be built. With over 6,500 applications to date, many went home empty handed. However, Chip being the principal owner and CEO of Chip Ganassi Racing who represented and supported the Ford GTs in racing received the 25th car off the assembly line. Optioned with the $50,000 Heritage '66 Series package, adding the following: Black leather seats with pillowed inserts, Shadow Black paint with Silver stripes, white #2 badge on the front hood/door graphics and forged aluminum alloy wheels, Exterior exposed carbon fiber package with Gold IP/Seat X-brace finishers and shifters, Black leather steering wheel, IP, Pillars and headliner, matte carbon fiber registers, door sills and console, blue seatbelts and pull strap webbing, and a white #2 interior door accent graphics with Gold IP badge. Approximately 50 cars in 2017 were optioned with the Heritage package. A $10,000 Akrapovic titanium exhaust option was selected, along with Titanium lug nuts. Along with an indoor car cover and factory-installed 6-point harness anchors, Chip's Ford GT factory MSRP was $516,000 when completed.
Chip drove the car for only 1,300 miles during his ownership before the car arrived at Canepa. Knowing Bruce Canepa and being a personal friend of his, Chip thought that Bruce would be the right person for his Ford GT when he decided it was time for the next owner to enjoy it. Upon arrival at Canepa, the Heritage car was thoroughly looked over from front to back. With paint protection wrapped on paint surfaces, the deep black paint finish is in same stunning condition that you'd expect from being in as-new condition. With only a limited number of these supercars destined for the U.S., owning and driving one now is a rare experience. Couple that this design has won major contemporary races, along with the positive opinions of drivers and fans alike, there is no better opportunity to own a 2017 Ford GT. There is no more collectible Ford GT than Chip Ganassi's personal car.
Find out more about the Ford GT 2017 here
---
1980 BMW M1 E26
Single family ownership since new!
22,760 miles, very original car
Recent major mechanical servicing and preservation restoration completed by Canepa
Has BMW tool roll kit, road hazard triangle, medical kit and spare
BMW's first mid-engined sports car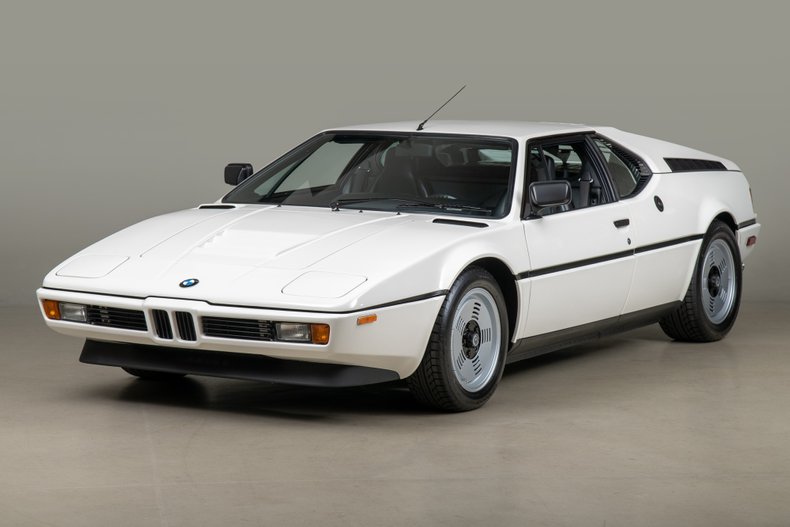 Rivalry has always been an effective catalyst for producing some of the world's most well-designed sports cars. Companies always have pushed their designs to the limit to beat out their competitors in efforts to win the affection of consumers on the street and championships on the track. The BMW M1, the Bavarian Motor Company's first mid-engined sports car, was just that. Originally conceptualized to go up against the likes of Porsche's incredibly-dominant racers, the M1 became an iconic street car with its racing counterpart gaining widespread fan and critic acclaim in Group 4 racing, named the Procar. Born from competition, wearing Italian-designed bodywork by Giorgetto Giugiaro and built by German specialty coachbuilder Baur, the BMW M1 team effort created one of BMW's most iconic vehicles of all time.
This BMW M1 began its life with a single Bay Area family and has remained in their possession since new. Importing the car from Germany from new was John Davila. During his life, John owned a total of three M1s and was very much in love with the style and design of the M1. Of the three cars, two came to him in orange and the other in blue. This example he drove for a few years when he first acquired the car before deciding to do a comprehensive and very detailed color change to white. Among all of the cars that John owned and drove over the years, this M1 was the car that he kept.
In the early 1990s John passed away, leaving his prized M1 to his two sons who inherited his passion and love for automobiles. Wanting to keep one of the fondest lasting memories of their late father, the family stored the car in the Bay Area and it would remain this way until early 2010. Upon exiting its storage, it was completely serviced to bring it to running condition so the two brothers could enjoy the car. Both of the brothers described being able to drive the car allows them to experience their memories again of their father and all of the fun times they had together in the M1.
In 2017 the car was given a comprehensive service by Canepa that included repairs, maintenance, and preservation restoration that included work on the wiring harness, alternator, fuel system, suspension bushings, and brakes. The M1 was also given a sympathetic preservation of the interior, using new carpets and new correct OE cloth inserts in the seats while preserving all of the original black leather.
In 2019 it returned to Canepa to complete all of its mechanical servicing and refurbishment, restoring all of the mechanical systems as needed. The car was treated to a full "Canepa Difference" experience, with all systems on the car inspected to be working in correct order. Items that were addressed included: restoring the entire exhaust system, refinishing all four wheel's finishes and new tires, a comprehensive engine tune up, engine reseal, new coolant hoses, new injection pump belt, exhaust gaskets, engine lid struts, air conditioning service, plug wire set, and all fluids changed. It was then given a complete concours-level detail, ensuring that every surface was pristine. The white paint was polished using only a foam pad and polish, needing very little work to be brought to showroom standards. In all, an investment of over $125,000 was put into this white M1 to bring this car up to a concours preservation-quality car.
Now this stunning 1980 BMW M1 is ready for its next caretaker to enjoy driving or keeping it in a collection. With much of the car still original, maintained excellently with everything done for the next caretaker to drive or show this BMW, while being enjoyed by a single family since new, this M1 is a shining example of what will be difficult to find in the coming decades.
Find out more about this car here
Report by canepa.com
---