Island called "the island of the gods" considered to be among the most famous destinations in the world.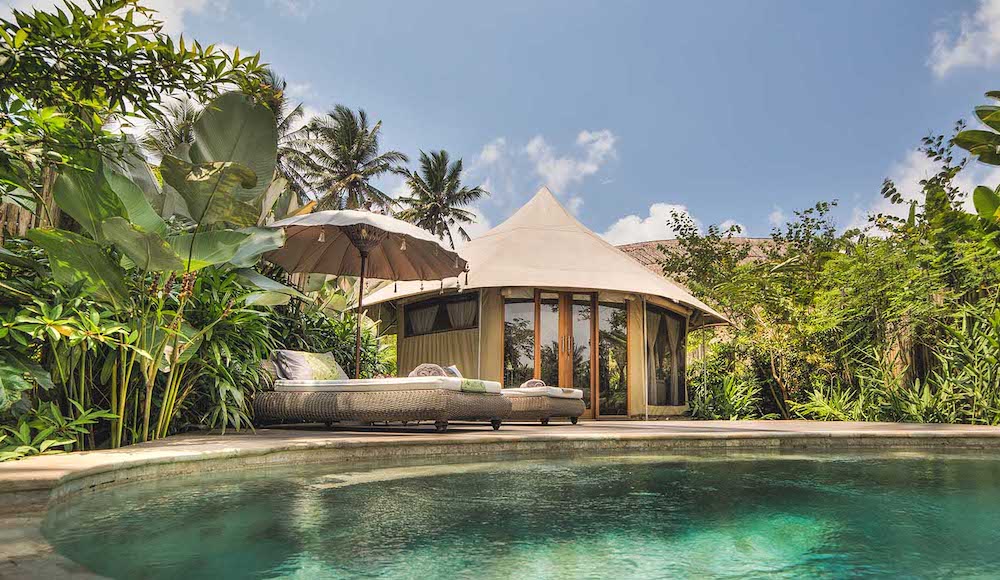 In 2013 the first glamour camp of Bali was born, and it's the Sandat Glamping Tents which is located just 3km from Ubud the cultural centre of the island, and the most sought after destination in terms of tourism. Immersed in a corner of paradise, where the green rice fields create unique landscapes made of sinuous terraces.
The Sandat Glamping offers unusual and refined environments and influences in a matter of taste mainly Italian, combining details from East and West, creating environments with refined and charming atmospheric details.
Staying at Sandat means to try the experience of being in harmony with the explosive natural surroundings but not sacrificing the pleasant luxury of sleeping on a four-poster bed overlooking the forest or enjoy a glass of wine surrounded by a private pool.
About the Sandat Glamping Tents
The passion for travelling to places where nature is still unspoiled and the passion for the elegant and sophisticated décor but unconventional, are the ingredients that led Emanuela and Federico, a pair of Italians who live near Venice, to give life to this new form of hospitality (glamour+camping) with the opening in 2009 of the first glamping in Italy.
The GLAMPING CANONICI DI SAN MARCO and later in 2013, literally " caught" by the unspoilt nature and wildlife of this island and the culture of the local people, the opening of the SANDAT GLAMPING TENTS in Ubud that got immediate success being the first example of GLAMOUR CAMP in Bali.
The realization of Sandat lasted 13 months together with old venetian friends like Silvia and Stephen who believed and participated in the adventure.
Promoters of a sustainable, ethnical tourism, respecter of culture and traditions of the local people, Federico and Emanuela have wanted to hire a staff entirely Balinese, looking for the most valuable elements among the youths from the nearby village, taught in local vocational schools and there by returning in this way the hospitality offered to them by this ever-smiling people.
Click here for further information
more information: glampingsandat.com
---