Already dominant in Can-Am with the all-conquering M8, McLaren decided to add Indy racing to its portfolio for the 1970 season.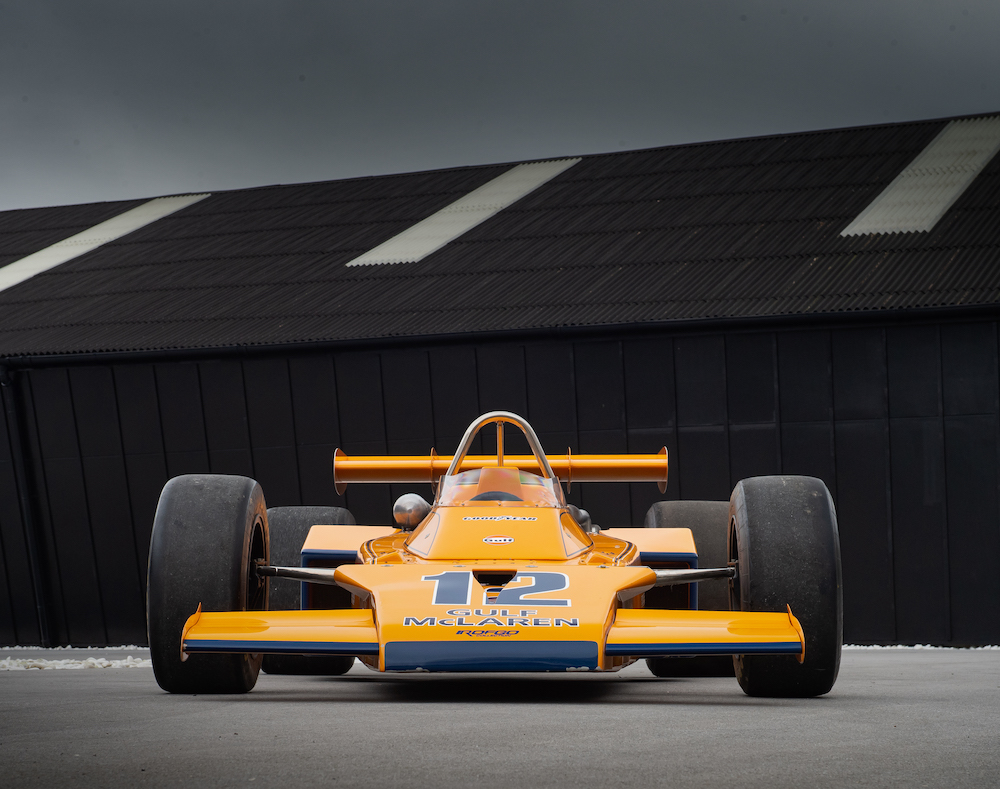 The weapon of choice was the purpose-built M15. It was a relatively conventional car penned by Gordon Coppuck which, though not an instant winner, proved competitive enough for McLaren to develop the concept for the following year. The result was the low-drag, wedge-shaped M16A that was characterised by its sharp nose and side-mounted radiators. Power was supplied by the ubiquitous turbocharged Offenhauser unit that drove through a Hewland transmission, but the newcomer's undoubted USP was its unique engine cover, whose integrated wing cleverly circumnavigated USAC's ban on separately mounted such items.
MCLAREN M16 1972 – CHASSIS M16B/2
Penske had planned to purchase Lolas for its 1971 campaign, but on seeing the M16A during a social visit to McLaren opted for a pair of those instead. Things augered well  for that year's Indy 500 with the Works car of Peter Revson annexing pole position and the Sunocco-liveried Penske entry for Mark Donohue grabbing an early lead, but the M16 challenge faded, leaving Unser's Eagle to take the honours. Never a company to accept defeat, McLaren produced the M16B for 1972 – the move to a shorter nose allowing the all-important rear wing to be mounted further back.
This was the model that would give the Woking-based company its first Indy win – courtesy of the Sunoco-sponsored Penske entry of Mark Donohue. The Gulf liveried chassis M16B-2 was campaigned on that occasion by Works driver Peter Revson but succumbed to gearbox woes after 23 laps. It ran in three more USAC events that year before being sold off to the Automotive Technology team, whose driver John Martin contested the USAC series for the next three years.
Recently purchased from Australia, M16B-2 endows the ROFGO Collection with an example of one of the all-time great Indy cars.