It is almost expected that famous racing drivers' love of cars extends off-track to their own personal garage. Pick any driver on a modern F1 grid and you can bet they have a supercar or two back home. Before today's mega salaries, not all Grand Prix drivers had sumptuous daily drivers? After a dive into the depths of various internet forums and uncovering a few dusty books, a few stories jumped out!

John Surtees
It was 1956 and Big John was lying in hospital. He'd just bagged his first TT victory – for MV-Augusta – and was on his way to winning the world motorcycling crown when Count Augusta paid a visit. 'Perhaps thinking that my terms hadn't been that generous', explained Surtees, 'the Count said, "We must buy you a prize, do have a think"'.
He ordered a long-legged, sporting V8 coupe, that would be perfect for his intercontinental commutes between races… Styled for BMW, for the American market, by another Count – Count Albrecht Graf von Goertz – the BMW 507 had elegant, fluid lines and a bespoke, if not super-advanced V8. But it didn't come cheap. According to Surtees, when Count Augusta asked what he'd decided upon, there was hesitation enough for John to think the better of it and offer to contribute half himself. At £3,200, it was more expensive than a Mercedes 300SL.
Rare, elegant and refined, with BMW's assistance, Dunlop added disc brakes, while the engine was boosted for a top speed closer to 130mph. This very personalised car graced the paddocks of Europe until he joined Ferrari in '62, whereupon Enzo Ferrari said something to the tune of 'German car. Not possible'. His daily wheels then became a Ferrari 330, but the price was deducted from his salary, which doubtless irritated him greatly. Either way, John kept his upgraded 507 for the rest of his life, it being sold at Bonhams' Goodwood Festival of Speed Sale in 2018.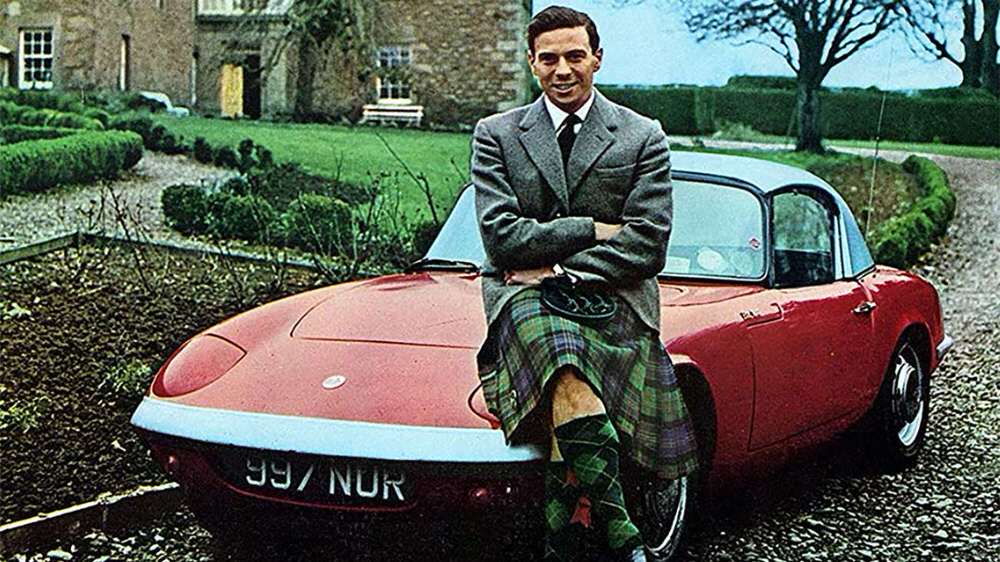 Jim Clark
Contrast to Count Augusta's gesture, Colin Chapman wasn't the most generous of employers. Perhaps because his business rather teetered between boom and bust? Still, gentleman Jim Clark had no complaints.
Notoriously, Ford's top brass wanted the world's fastest farmer to use their tractors. Legend has it that while he posed for pictures, thrifty Jim returned the vehicle, commenting that his existing tractors still had plenty of life in them. When Clark's first road-going Lotus – a primrose coloured Elite Super 95 – was delivered to Scotland in early 1962, it was a gift in lieu of driver salary.
The same thing happened the following year when, having won his first World Championship, Chapman dispatched an Elan. Though it was the first of three Jim used before his untimely death, his first, 997 NUR – a red and silver hardtop – was in fact the first Elan; a pre-production development car. Jim covered 15,000 miles in that car before Chapman recovered it, had it refreshed and sold it to Jim's closest friend and mentor Ian Scott Watson – only for the engine to disintegrate just days later.
The red Elan was a regular sight in Clark's native border country, recalls Nick Jordan, as were other factory cars. Then a young apprentice working at Jim's local filling station – later lead mechanic for Tony Brise and Roger Williamson – Jordan remembers the great man dropping by in an early Lotus Cortina. "That Cortina recently came up for auction. It was the same car for sure because when fuelling it, somehow my knee dented the bodywork and it was still there forty years later. Jim replaced the cap. He couldn't not have seen the dent and I was bracing myself for fireworks – even though it was small – but he just smiled and thanked me."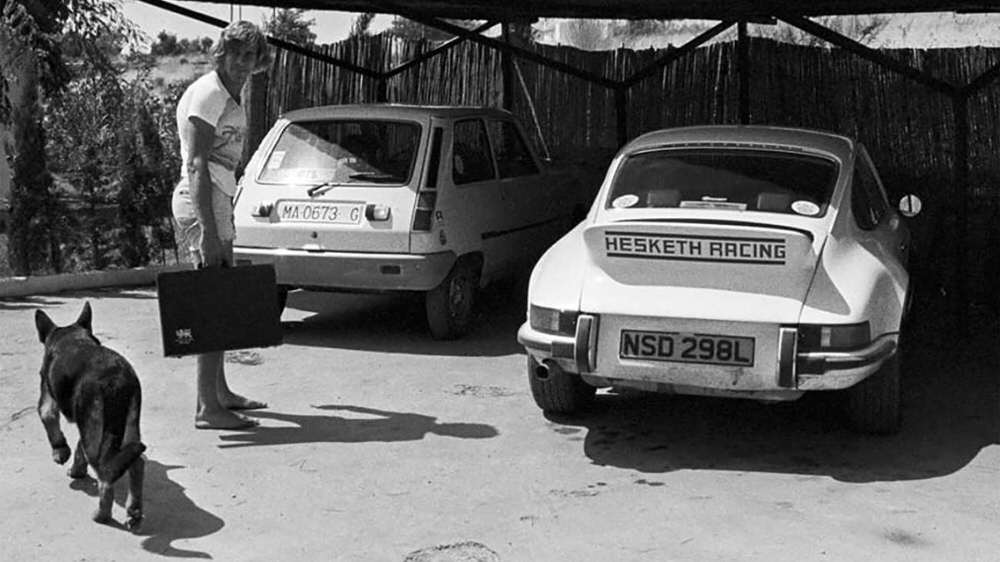 James Hunt
The racing world remembers well Team Hesketh's arrival at Monaco in '73, with their own 162ft yacht, a Bell Jet Ranger II, a Roller and a Porsche 911.
On a retainer of just £12,000 in his first GP season, but not having received all his monthly paycheques, the pushy James Hunt had eyes on Hesketh's personal wheels; a nearly new Porsche 911 Carrera 2.7 RS, registered NSD 298L. According to Le Patron, 'All he did was get the keys out of my cabinet and drove off with it in Monaco!', later joking that Hunt had taken the car to be serviced and never returned it.
Sadly, James didn't keep the car. Had he done so it might have saved him from the ignominy of storing his Mercedes 450 SEL 6.9 on blocks, while either cycling or careering around London in his infamous Austin A35 van. A favourite hobby of the late great was overtaking Ferraris and other sportscars on the Wandsworth Roundabout at night in the wet: Hunt alleged this was made far easier by a bald set of rear tires.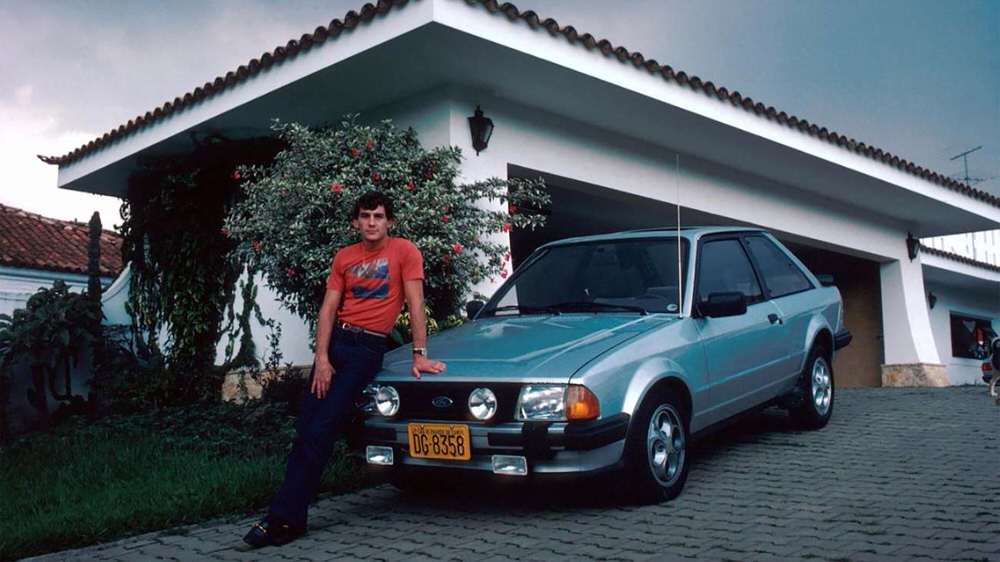 Ayrton Senna
Lauded by many as the best F1 driver ever, Ayrton Senna had quite the acquired taste in cars he drove off-track. Far from splashing out on contemporary supercars and classic museum pieces, Senna often opted for more modest road cars than you'd expect. He learned to drive in his father's Willy's Jeep at the tender age of seven and many claim the first car he owned was a Ford Escort XR3i.
Famed motorsport journalist Peter Windsor claimed that during his early racing career Senna drove an Alfa Romeo Alfasud GT with broken wing mirrors but perfect bumpers. The implication being that Senna had been flying through gaps so tight that the mirrors could not pass unscathed… Certainly, it seemed he was practising what he preached years before his immortal line "if you no longer go for a gap that exists you are no longer a racing driver".
Come 1984, Senna had a newfound appreciation for the 2.3-litre, 16 valve, Mercedes-Benz 190 E and for good reason. Though little-known at the time, Senna lined up against a star-studded grid of contemporary and former F1 drivers in identical Merc Cosworths at the newly christened Nürburgring GP circuit. Senna won the 12-lap race, beating the likes of Lauda, Prost, Rosberg, Hulme, Scheckter, Brabham, Hunt, Surtees, Hill and Moss in equal machinery. Upon victory, Ayrton returned to the UK with a lust for Benz ownership: rocking up at his local Suffolk Mercedes dealership in 1985, he was offered a handsome discount for his very own 190E.
Another legend – as told live on ESPN during the 1992 Belgian GP – recalls Senna reaching speeds in excess of 125mph in his personal 3.2-litre Porsche 911 Carrera Cabriolet near Heathrow. The apprehending police officer supposedly, looked him deadpan and asked, 'Who do you think you are, Nigel Mansell?'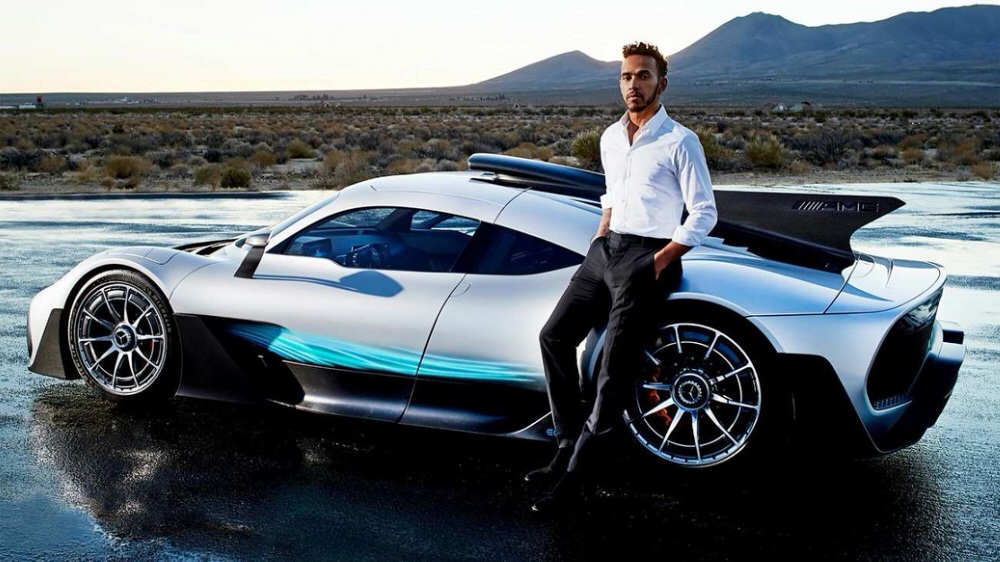 Lewis Hamilton
It comes as no surprise that seven-time F1 world champion Lewis Hamilton has a rather interesting car history and taste. Top Gear fans may remember a younger Lewis confessing his love for the Mercedes GL420 with 24-inch rims. Some may be surprised that his first car was actually a second-hand 2002 Mini Cooper.
With his F1 career well underway, in 2010 he swapped out his Mini for a Ferrari 599 GTO and since has bought and kept an ultra-rare drop-top 599 SA Aperta. In his own words: 'I tend to have two of the same car because when they bring out a more limited edition I have to have it'. Perhaps the most famous LH ride is his Pagani Zonda 760LH, a bespoke creation carrying his initials. One of only thirteen 760PS Zondas, it was the first to include a manual transmission. He also infamously crashed this 200mph+ monster in Monaco. Lewis is no stranger to the hypercar fraternity, having secured both a LaFerrari and McLaren P1. This year Lewis is staying on brand, as he takes delivery of his Mercedes-AMG One. With over 1,200PS, the One brings the modified 1.6-litre V6 turbo and hybrid electric powertrain of Lewis's multi championship-winning F1 machine to the road.
Modern supercars and his stable of 'gifted' Mercedes aside, Hamilton invested in two Shelby Cobras. The first was confirmed by Carroll Shelby himself, to be an all-original racing Cobra from '66, complete with a 7.0-litre Ford FE block, pushing out over 431PS. The ageing legend revealed to Hamilton it was one of the best examples he'd seen for years. In an effort to preserve the '66 car's originality, and perhaps as a tribute to Shelby himself – he died a few weeks later – a second '67 427 Cobra joined the LH collection for use on the road.
For all the glitz and glamour of his garage, a Smart car is still his run-around when going incognito!
---
See also the "The Eight Best F1 Cars Of The 1980s". Click here!
Report by goodwood.com
---