Sporting mechanisms that are as elegant as they are immediately recognisable. An identical obsession with excellence, precision, reliability and innovation. A common goal of uncompromising performance. In 2021, Ferrari and Richard Mille, driven by their shared quest for perfection, joined forces to create a long-term partnership.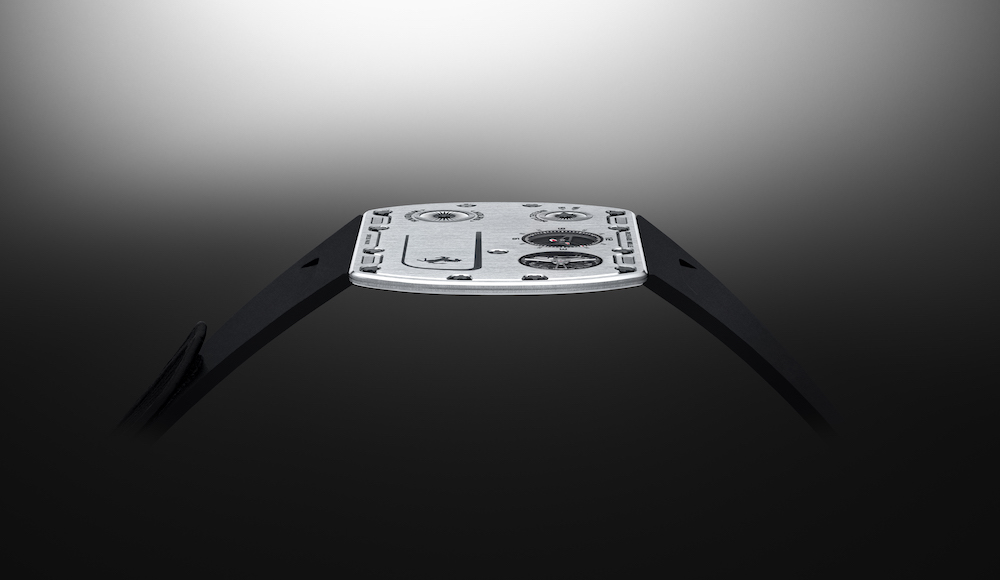 Richard Mille celebrates this budding relationship with the creation of an exceptional ultra-flat timepiece, the RM UP-01 Ferrari.
Breaking with the brand's established stylistic codes, but faithful to its identity and spirit, this model once again rolls back the limits of the possible by taking up the ultra-flat challenge. At just 1.75 millimetres thick, the RM UP-01 Ferrari constitutes a triumph of technical prowess and exemplifies a new approach to watch mechanics in which technicity more than ever dictates aesthetics.
A model resulting from many year's work, dozens of prototypes and more than 6,000 hours of development and laboratory testing… Richard Mille was determined to retain a traditional architecture in which the movement is assembled within the case, rather than a construction in which the caseback doubles as a baseplate, in order to ensure under any circumstances total shock resistance.
'For such a project, it was necessary to set aside all the knowledge we had amassed over years of practice, and every conceivable standard of watchmaking,' explains Julien Boillat, Technical Director for Cases at Richard Mille. 'This is precisely what we did throughout our collaboration with the laboratories of Audemars Piguet Le Locle. Shaving off those last millimetres of depth was an extremely demanding and lengthy process.'
Click here for further information
more information: richardmille.com
---