RM Sotheby's presents the St. Moritz Lots for the online auction on 9. September. The auction will be placed at the Grand Hotel des Bains Kempinski St. Moritz. Click here to register to BID.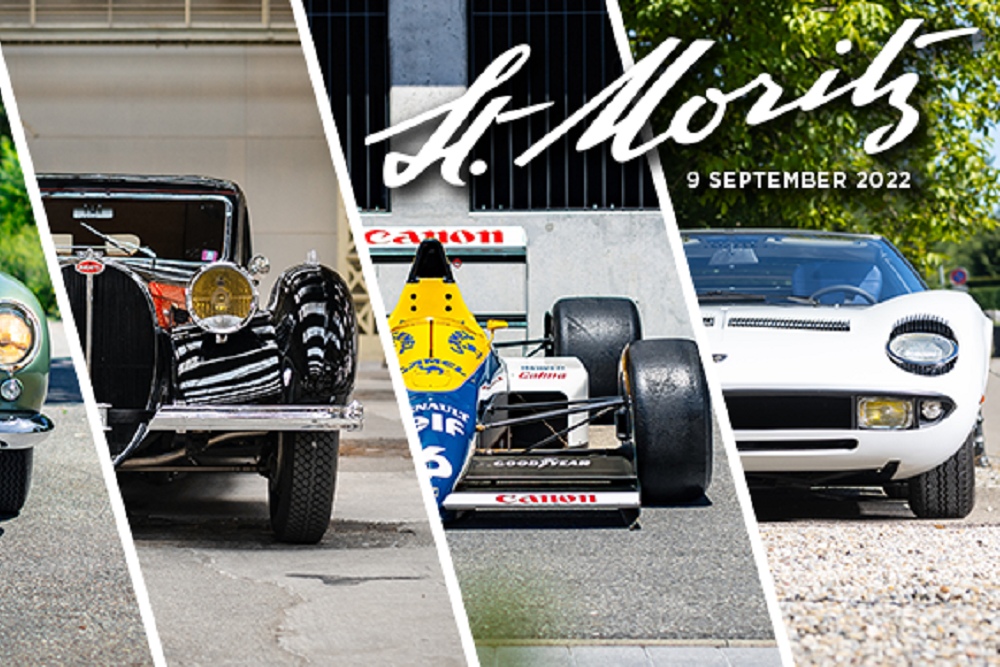 ---
Want to see some highlights of the RM Sotheby's online auction in St.Moritz? Click here or see below.
1936 Bugatti Type 57S Atalante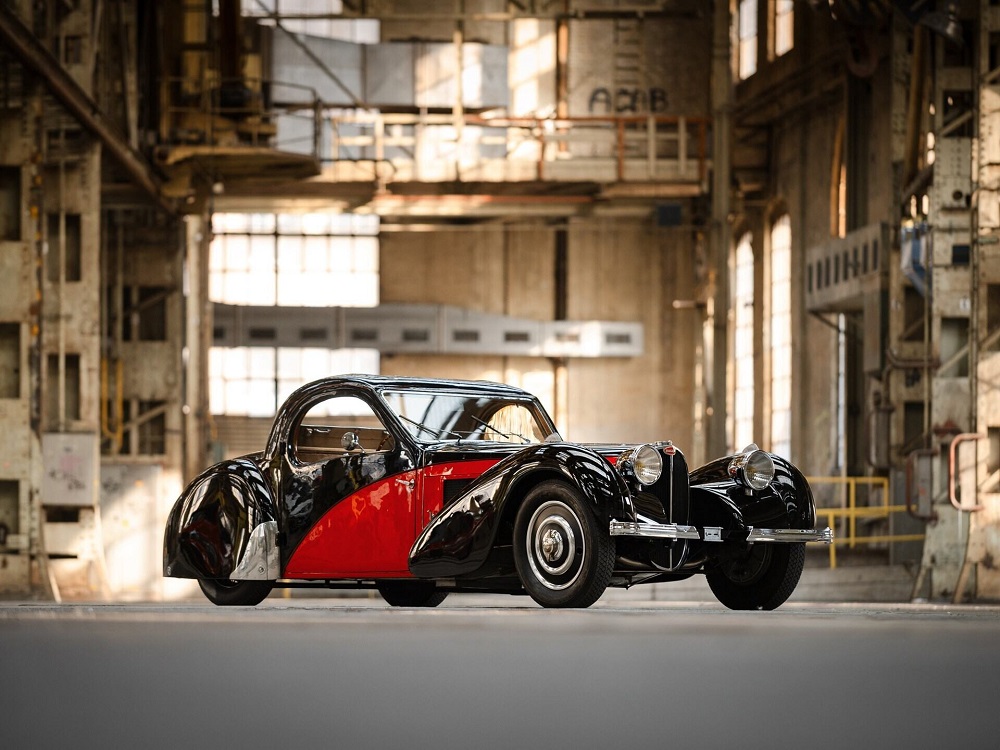 The first Bugatti Type 57S Atalante to leave the Molsheim factory
One of only 17 Bugatti Atalante Coupés built on a 57S chassis
One of the few Atalantes known to have competed in period
Uprated to 200 horsepower supercharged "SC" specification
In current ownership for almost three decades
One of the finest Type 57S to come to market in recent years
From the featherweight Grand Prix Type 35 through to the indomitable Royale and devastatingly powerful Chiron, no manufacturer in history has so consistently pushed the boundaries of engineering and design as Bugatti. Nor has any marque been so inextricably linked with a reputation for both scintillating performance and timeless style. Built with the precision to rival the finest Swiss watch and the style to match the leading couture design houses of Paris, few cars in Bugatti's back catalogue exemplify these qualities quite so effortlessly as the sublime Type 57S.
---
1965 Aston Martin DB5 Vantage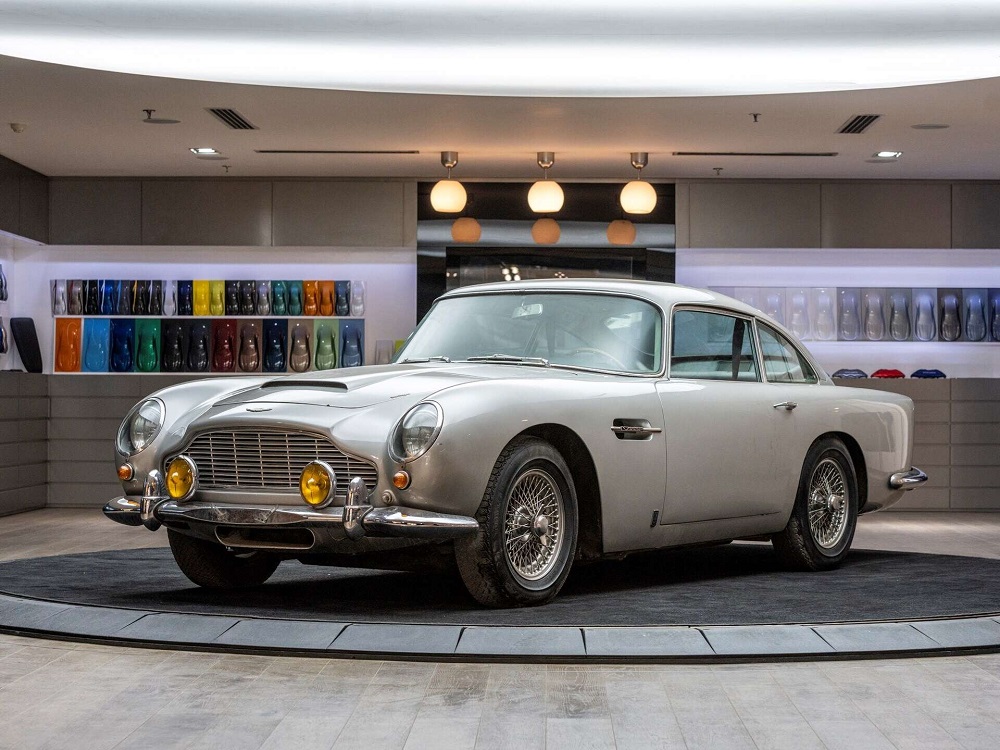 One of just 17 left-hand-drive Aston Martin DB5 Vantages manufactured
Finished in its exquisite factory-correct livery of Silver Birch over Red Connolly leather
Odometer reads 76,575 km at the time of cataloguing
Just five owners from new, having remained in the care of the current owner for 12 years
Retains its matching-numbers chassis and engine
Accompanied by a data sheet and letter from the Aston Martin Heritage Trust, a certificate from the British Motor Heritage Trust, an instruction book, jack, and a spare wheel
Put simply, there is no other Aston Martin as iconic as the DB5. Launched in 1963 as the company's flagship grand tourer, the powerful, accomplished, and stylistically crisp modern revision of the DB4 instantly became an object of desire. A hugely appealing machine in its own right, interest in Newport Pagnell's most expensive model went stratospheric with an unforgettable appearance in the 1964 box office smash Goldfinger. But the DB5 was so much more than a handsome film prop.
---
1958 Maserati 450S Recreation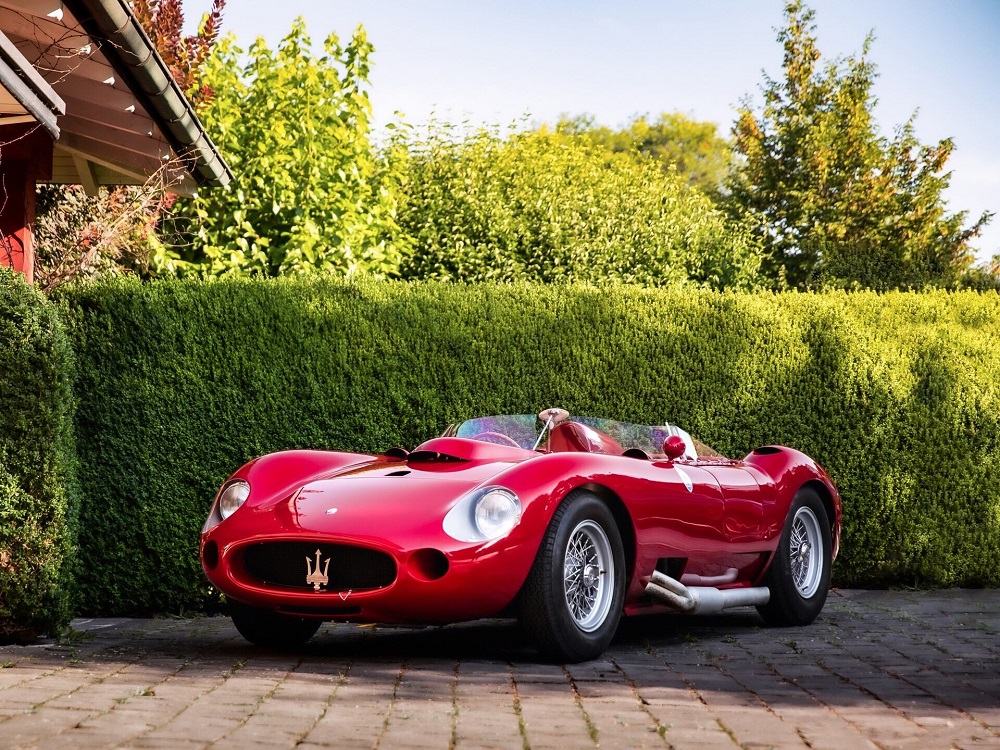 A detailed and exacting recreation of Maserati's legendary sports car, built using many factory-made parts and based on original technical drawings
Powered by a correct-type 4.5-litre Maserati V-8 fed by four Weber 46 IDA carburettors, mated to a five-speed transaxle with dual-range high-speed overdrive
Recognised by the Maserati Club with an accompanying historic register certificate
Participated in several events, including the Bernina Gran Turismo, Vernasca Silver Flag, and the Ennstal Classic
When it comes to recreations, few are as evocative of the original machine's spirit as this 450S, a replica of Maserati's famous 1950s World Sportscar Championship contender brought to life in the Belgium-based Apal workshops of Edmond Pery. The origins of chassis "4511" can be traced back to Houston-based collector of Italian exotics, Stephen Forristall. As the one-time owner of the ex-Kimberly 450S, Forristall is believed to have created several replica chassis based on the original car. Accompanying invoices show that one of these chassis—stamped 4511—was sold to Pery in 1992.
---
1965 Aston Martin DB5 Convertible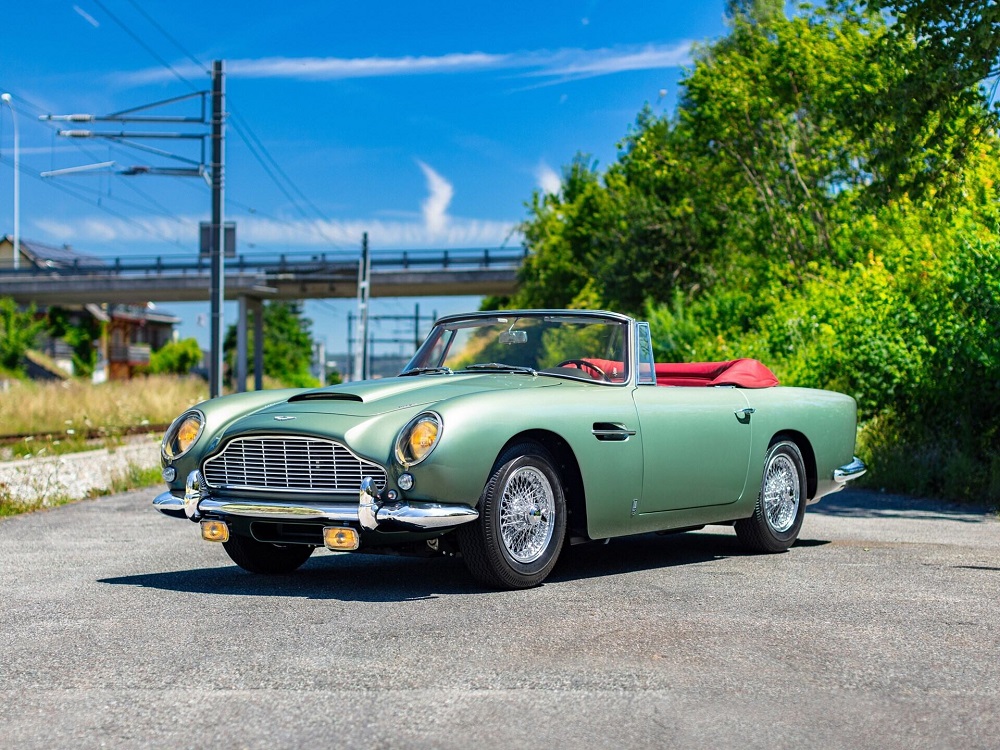 Built as a show car for the Salón Internacional del Automóvil de Barcelona, as noted in factory documents
One of just 39 DB5 Convertibles specified in left-hand drive
Concours-quality restoration at Aston Martin Works Ltd, the historic home of the marque; matching-numbers chassis and engine
Finished in California Sage over Red Connolly leather, with ultra-rare matching factory hard top
Launched in 1963, the Aston Martin DB5 represented the pinnacle of British automotive design. With a classic-yet-modern shape that hid a deceptively muscular stance, the sharply dressed grand tourer combined spirited performance with elegant superleggera coachwork in a way that came to define the David Brown era. Already a hit with well-heeled buyers, the DB5 became the stuff of legend with the wider public when the Silver Birch-cloaked lines of James Bond's iconic machine first appeared on screen in the spy thriller, Goldfinger. Newport Pagnell's premier grand tourer would remain etched in the minds of subsequent generations of both movie-goers and car enthusiasts. But while 007 made do with the tin-top version—produced in their many hundreds between 1963 and 1965—the more exclusive offering remained the DB5 Convertible, of which just 123 were created. Of those, just 39 left the United Kingdom specified in left-hand drive destined for the export market.
---
1989 Lamborghini Countach 25th Anniversary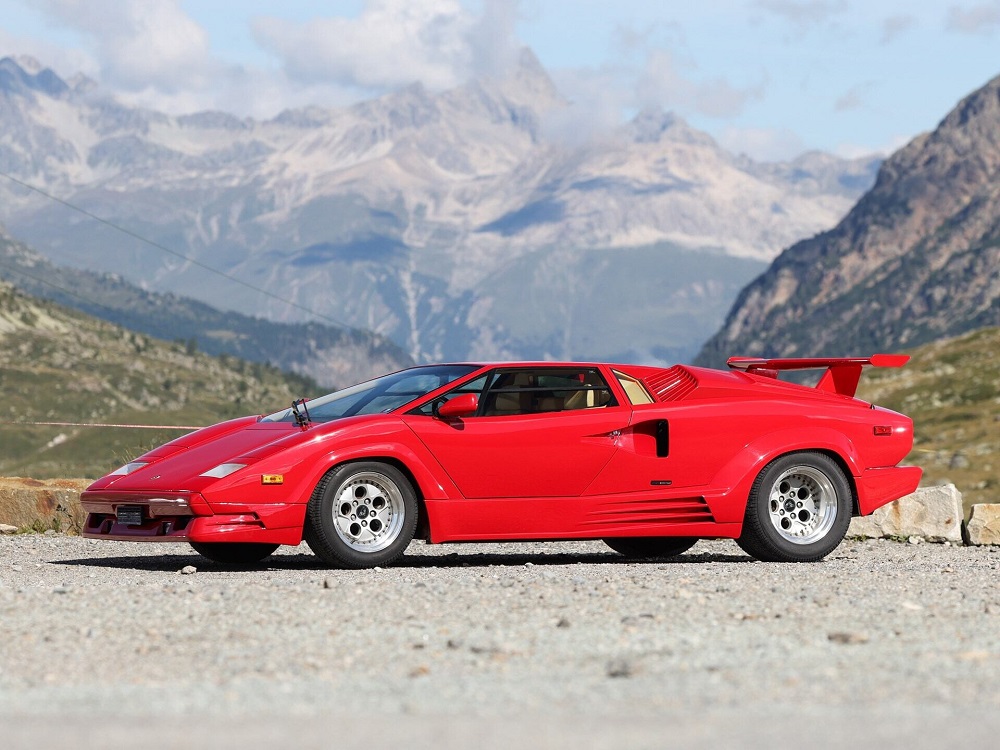 One of an estimated 650 examples of the Countach 25th Anniversary, the final evolution of the iconic Raging Bull
Arguably the most refined Countach, notably restyled by Horacio Pagani
Powered by a 5.2-litre V-12, rated by the factory at 449 horsepower
Delivered new to the United States; odometer shows just 12,484 km from new
Finished in Rosso Siviglia over a tan leather interior
Such was the allure of the Lamborghini Countach by the end of the 1980s, each of the final cars made were spoken for before they had even left the Sant'Agata Bolognese factory. The wedge-shaped Raging Bull held a strong pull among supercar enthusiasts from the moment the covers were first lifted to reveal the LP500 prototype at the 1971 Geneva International Motor Show. Over a 16-year production run that began three years after its unveiling, the Countach underwent several revisions, beginning with Marcello Gandini's lauded LP400 'Periscopio' and bookended by the last-of-the-line 25th Anniversary iteration.
---
1968 Lamborghini Miura P400 By Bertone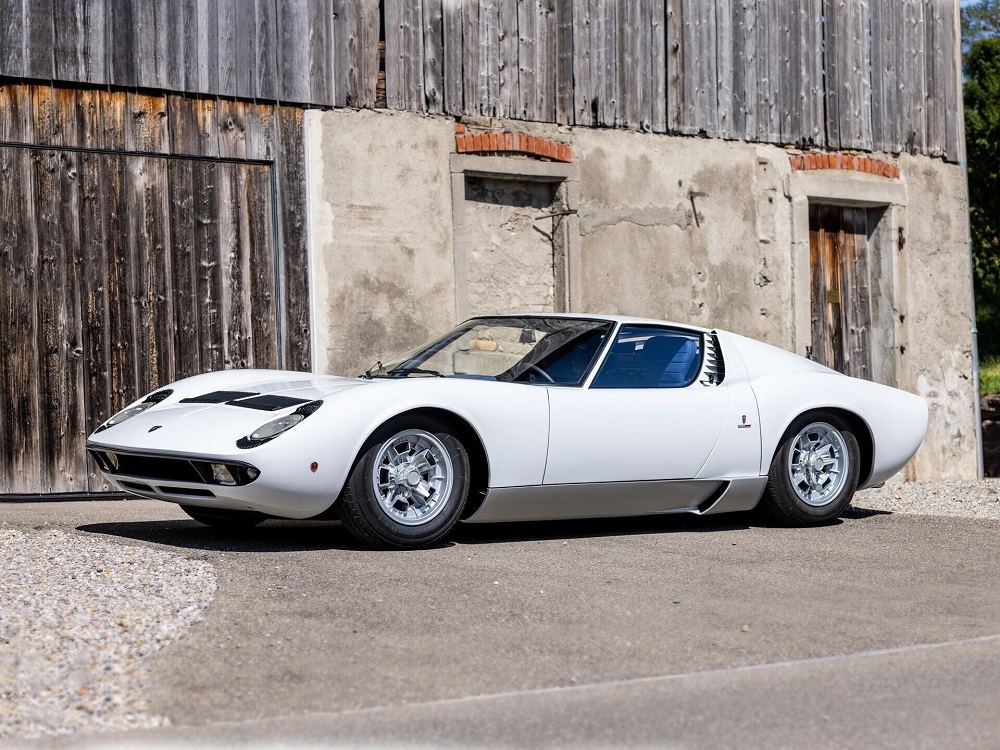 The class-defining first modern supercar
Powered by a magnificent 4.0-litre V-12 with a five-speed transaxle
An early "thick chassis" P400, delivered new to Italy
Fully restored to original specification by marque specialists
The automotive industry has a long history of evolution, interrupted with bursts of innovation. It is hard to imagine the world without the supercar, the pinnacle of automotive engineering married to extraordinary aesthetics. Since the 1960s, supercars have always been the most desirable cars on the road and the first modern supercar was the Lamborghini Miura.
---
1962 Ferrari 250 GTE 2+2 Series II By Pininfarina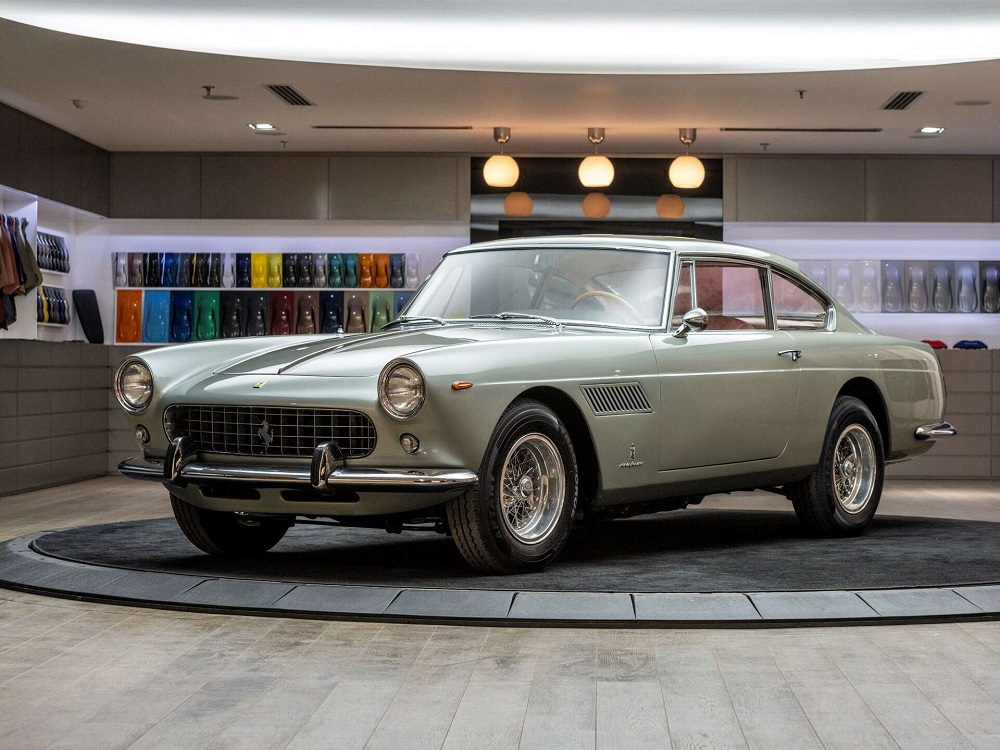 One of an estimated 355 Ferrari 250 GTE 2+2 Series IIs built
Retains its matching-numbers chassis, engine, and rear axle
A Swiss deliverered example, supplied new by M. Gastone Crepaldi Automobili of Milan, Italy
Five known owners from new, documented by marque expert Marcel Massini
Breaking with convention in 1960, Ferrari unveiled a new "2+2" version of its vaunted 250 model not at a motor show, but rather the 24 Hours of Le Mans endurance race. Dubbed the 250 GTE 2+2, this luxurious grand tourer featured a spacious interior with compact rear seats, and was significant for being the first Prancing Horse-badged four-seater produced on a large scale, with more than 900 leaving Maranello. Powering the 250 GTE was the all-new "Tipo 128F" 3.0-litre Colombo V-12, a constant in each of the three series built between 1960 and 1963. According to marque expert Marcel Massini, just 355 Series IIs were produced from 1961 to 1962.
---
1957 Mercedes-Benz 190 SL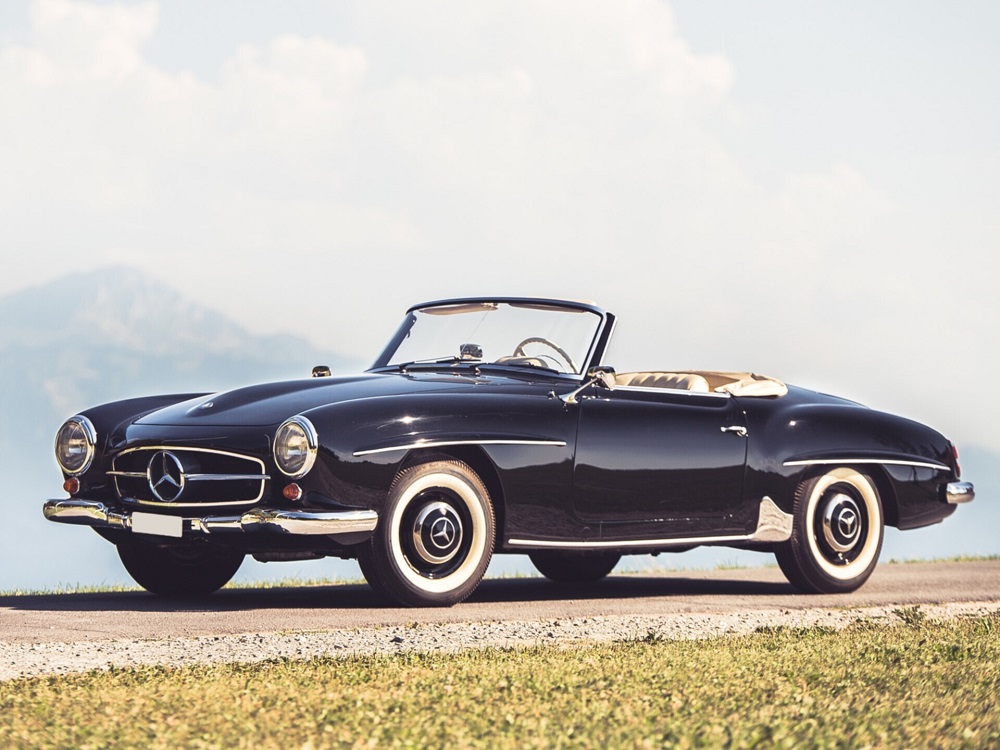 An attractive example of Mercedes-Benz's glamorous 1950s roadster
Equipped with charming features of its era, such as a dash-mounted clock and push-button radio
Powered by a 1.9-litre four-cylinder engine paired with a four-speed manual transmission
Eligible for historic rally events, including the Mille Miglia
On reflection of Mercedes-Benz's 1950s model range, this era represents the bedrock of the Three-Pointed Star's legendary reputation for making some of the finest road-going sports cars. Bosses at the Stuttgart firm realised the importance of meeting the growing trend towards convertibles, chiefly motivated by great demand for roadsters in the USA. And so, in 1955, the 190 SL joined the line-up alongside both coupé and roadster iterations of the all-conquering 300 SL.
If you are interested in more news click here.
---