A highly complex sports timepiece, a masterpiece of technical prowess designed for everyday use and for any situation, such is the latest execution of Richard Mille's tireless quest for innovation, the new variation of the RM 65-01.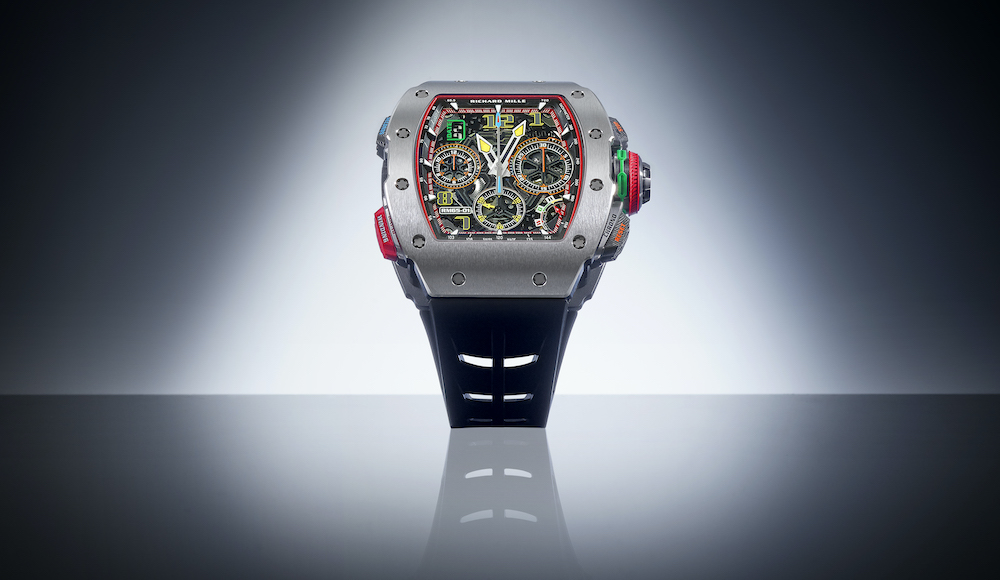 The culmination of some five years of development, this automatic split-seconds chronograph is the most complex timepiece ever to leave the Richard Mille workshops. With production beyond the limited edition, it demonstrates true watchmaking greatness. This model fully embodies the brand's technical approach thanks to the combination of several additional functions, a very specific architecture and an extremely high-end aesthetic. All in all, a fabulous challenge of mechanical watchmaking that called for patience, technicity and utter perseverance.
This chronograph honed for the 21st century has a high frequency balance with variable inertia—5 Hz, or 36,000 vibrations per hour—developed for superior timekeeping accuracy over an extended period and precise stopwatch calculations to 1/10th of a second. It is every bit a genuine racing machine with a split-second hand to calculate intermediate times, a first for Richard Mille on an automatic movement.
Developed in partnership with Vaucher Manufacture Fleurier, the integrated movement boasts unfailing consistency with its 6-column wheel architecture and vertical coupling. Like a mechanical brain, this castellated piece orchestrates the controls and can be seen through the base. A mechanical cathedral—standing on a grade 5 titanium chassis supported by grade 5 titanium bridges—it receives its energy from a fast-rotating barrel that maintains ideal torque for energy transmission for the full duration of its 60-hour power reserve. The barrel's automatic winding also ensures the watch sustains optimal torque whilst worn on the wrist. This is further enhanced by the variable geometry of the calibre's oscillating weight segment, which makes it possible to change the rotor's inertia for improved winding yield depending on the more or less active profile of the person bearing the watch.
The chronograph was also subjected to a battery of merciless tests to demonstrate its capacity to function under any circumstances. These included everything from shock and drop simulations to accelerated 10-year ageing phases for all functions, by way of waterproof tests and magnetic field resistance trials. But the Richard Mille teams did not stop there. No indeed, to this powerful, solid and infallible racing engine, mounted on a Carbon TPT® case as resistant as it is light, they added complications to boost the model's ergonomics. In another milestone, Richard Mille developed its first in-house patented rapid-winding mechanism, activated by a pusher at 8 o'clock. In 125 presses, the barrel is fully wound, ready to time your next event. This highly practical function, described as 'very playful' by Richard Mille's engineers, was particularly difficult to develop because of its high levels of torque transfer. During the ageing tests, the function was activated thousands of times.
The model was also enhanced with a new gearbox, taking the form of a function selector housed in the crown. This system makes it possible to switch between 'traditional' winding (W), semi- instantaneous date adjustment (D) or setting the time (H), all done simply by pressing the crown. For a supremely legible dial, the RM 65-01 uses colour-coding to match watch functions with the pushers. Light blue is for time: hours, minutes, small seconds at 6 o'clock, whereas blue refers to the date display. Orange identifies the chronograph's sweep seconds hand as well as the 30-minute and 12- hour totalisers. Yellow is linked to the winding mechanism. To avoid all confusion, the split-seconds hand is purple. Here, function is what drives the aesthetical choices.
As for the case, its every surface boasts extremely elegant detailing. Sporting a grey Quartz TPT® bezel, caseband and caseback, it has a microblasted, polished and satin-finished grade 5 titanium crown, framed by the chronograph buttons, also in polished and satin-finished grade 5 titanium. The same material and finish are used for the plate engraved with RM 65-01 on the caseband. The rapid- winding pusher stands out with its lemon yellow Quartz TPT® button.
Available in 4 variations grey Quartz TPT®, Carbon TPT®, 5N red gold and titanium, the RM 65-01 has over 600 components, further evidence of the immense technical expertise of the development teams. Embracing the brand's ancestral codes whilst affirming its own identity, the RM 65-01 is set to take its place in the gallery of illustrious Richard Mille models with technicity at its heart.
Click here for further information
---
RM 65-01 Grey Quartz TPT®
RM 65-01 Carbon TPT®
RM 65-01 Titanium
RM 65-01 Red Gold
more information: richardmille.com
---