With coachwork by Carrozzeria Vignale the chassis no. 101.01741is one of only approximately 400 built. Believed an ex-Factory demonstrator with air conditioning and limited-slip differential, matching numbers chassis and engine , professionally restored by Maserati Specialist Leo B. Peschl from 2018-2020 with close to €100,000 of restoration invoices on file.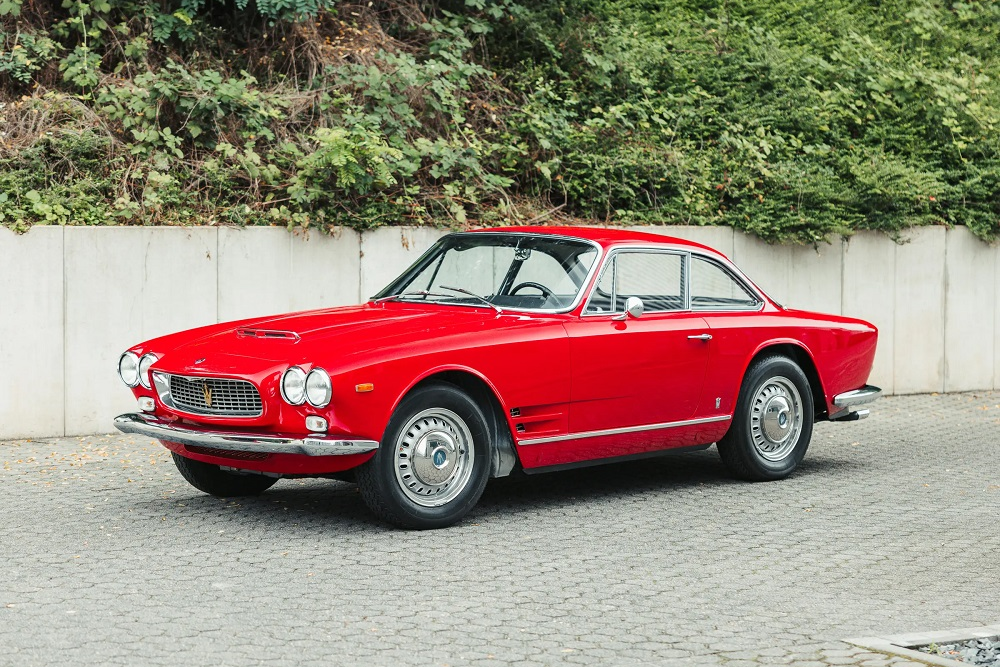 Maserati's survival strategy for the 1960s – after Juan Manuel Fangio's fifth World Championship at the wheel of a 250F, followed by financial difficulties – centred on switching production from competition to road models.
The new era began in 1957 with the launch of the Touring-bodied 3500GT, its first road car built in significant numbers. The designer was none other than Giulio Alfieri, creator of the immortal Tipo 60/61 'Birdcage' sports-racer and the man responsible for developing the 250F. The twin-overhead-camshaft, six-cylinder engine was a close relative of that used in the 250F and developed around 220bhp initially, later examples producing 235bhp on Lucas mechanical fuel injection.
Built on the short-wheelbase chassis of the Spyder and styled by Carrozzeria Vignale, the Sebring 2+2 coupé arrived in 1962. By now a five-speed gearbox, four-wheel disc brakes, and fuel injection were standard equipment, with automatic transmission, air conditioning, and a limited-slip differential available as options. In 1965, the Sebring Series II was introduced and by the end of production in 1966, 591 Sebrings had been built, around 400 of which were in the first series.
This particular Sebring was first owned by an American, and the car would later enjoy two more custodians in the USA up to 2015 when the car was exported to Europe. In 2018 the new owner decided to undertake a complete restoration, entrusting the work to the renowned marque specialists Peschl in Cologne, Germany, who also fitted a new, modern a/c unit. Carried out to an exemplary standard, the work took until 2020 to complete. Restoration invoices totalling nearly €100,000 are on file together with an official expertise and various other historical documents. Rare and highly desirable, this recently fully restored Maserati Sebring is worthy of the closest inspection.
Offered at Bonhams annual auction sale in Knokke / Le Zoute at 'No Reserve' on October 8, 2023 with an estimate of €130,000 – €160,000.
find more auctions here…
---