The review of this book is apt given it focuses on the story of one of the race's legends. Ford GT40 1075 is truly a 'great car'. One of the last GT40s to be built by JW Automotive Engineering, it raced 11 times in two seasons and scored six outright victories including two at the Circuit de la Sarthe, in 1968 with Pedro Rodriguez and Lucien Bianchi, and in 1969 with Jacky Ickx and Jackie Oliver.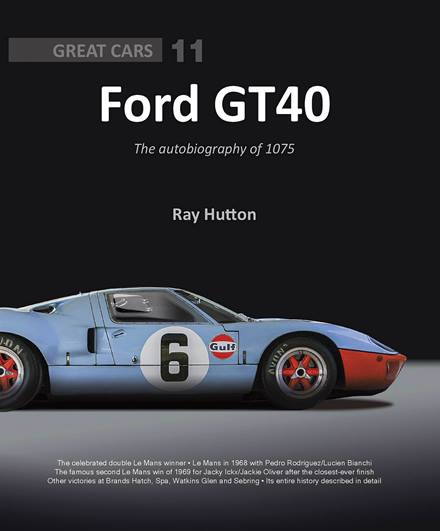 Other successes were at Brands Hatch, Spa, Watkins Glen and Sebring with Ickx, Bianchi, Oliver and Brian Redman. As with all of the Porter Press Great Cars series, the book is an epic tome, full of superb period photographs and specially commissioned studio pictures. The story is told wonderfully by author Ray Hutton, whose personal relationships with the car's drivers and team manager give an exceptional insight to this period.
Although much of the book rightly focuses on the car's Le Mans heritage, there are also some fascinating sideline stories such as an Autocar test drive at Silverstone by Innes Ireland in December 1968. The book also contains biographies of all main drivers, which gives an interesting perspective to the car's performance.
Great Cars Ford GT40; An Autobiography of 1075 is published by Porter Press, and can be ordered from sales@porterpress.co.uk or telephone 01584 781588. ISBN 978-1-907085-68-0, £60.00.
Report by Robert Sherston for hagerty.com / porterpress.co.uk
Photos by porterpress.co.uk