The Lamborghini Miura is a sports car produced by Italian automaker Lamborghini between 1966 and 1973. The car was the first sportscar with a rear mid-engined two-seat layout, although the concept was first seen in a production road car with René Bonnet's Matra, introduced in 1964. This layout has since become the standard for high-performance sports- and supercars. When the Lamborghini Miura was released, it was the fastest production road car.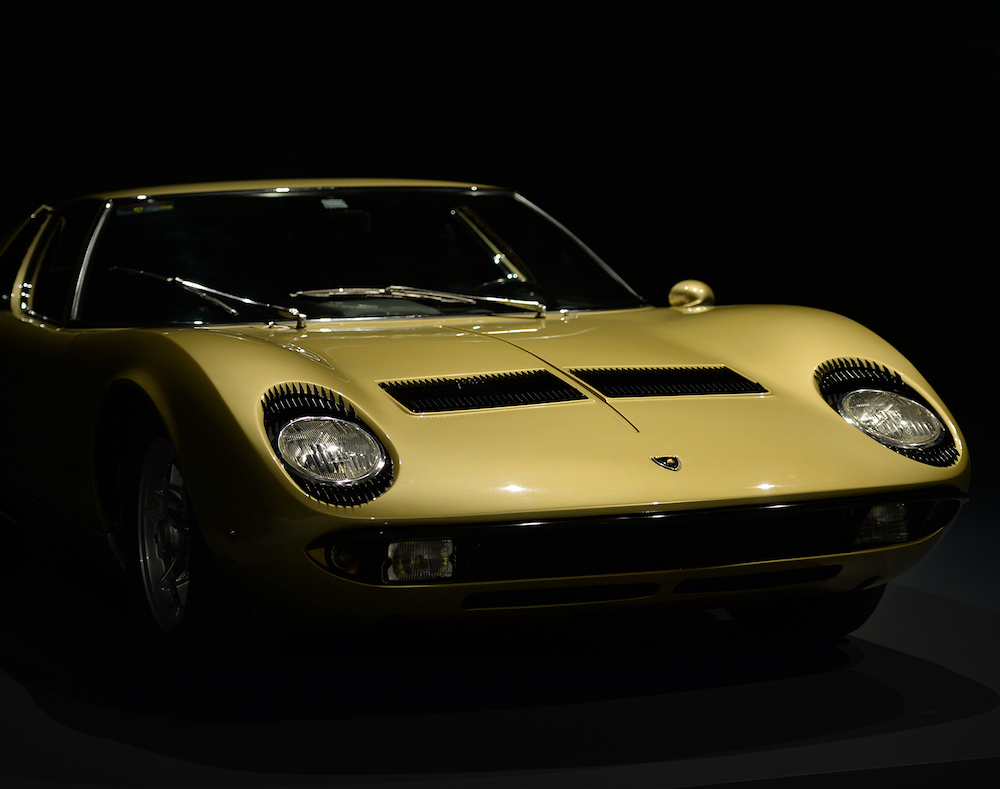 The Miura was originally conceived by Lamborghini's engineering team, which designed the car in its spare time against the wishes of company founder Ferruccio Lamborghini, who preferred powerful grand touring cars over the race car-derived machines produced by local rival Ferrari.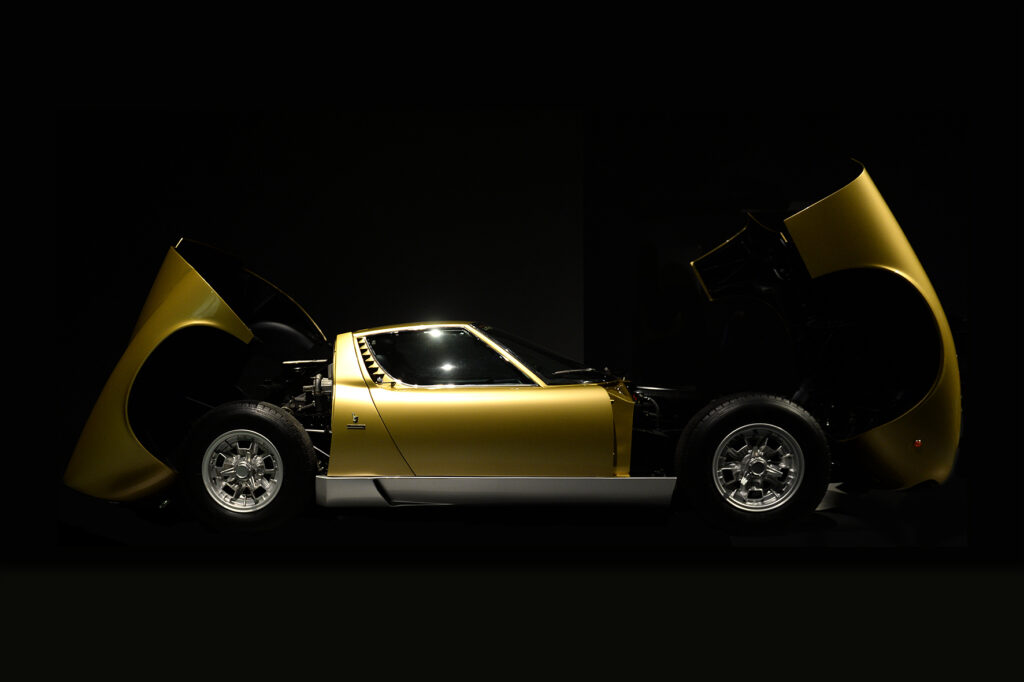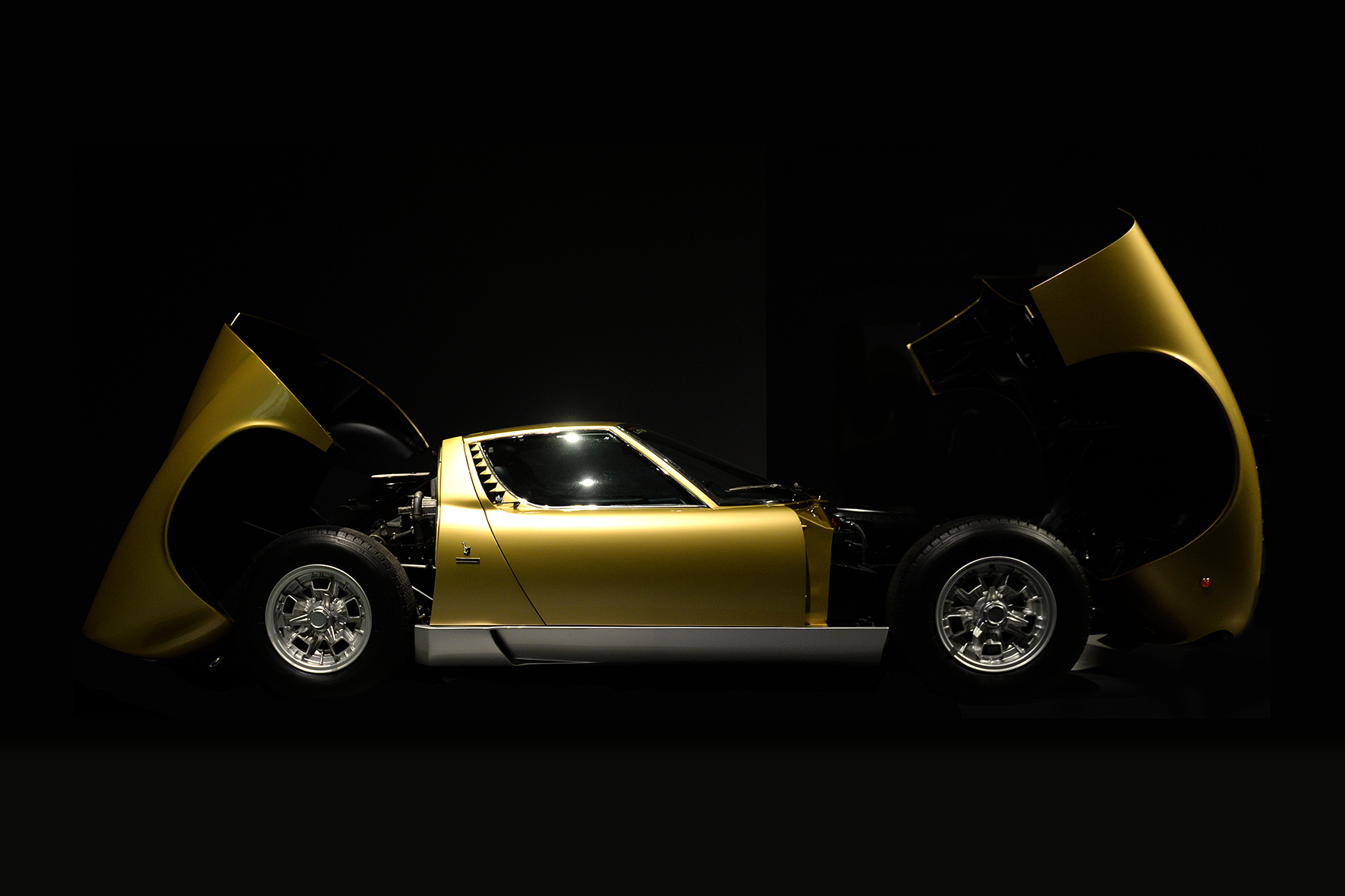 The Miura's rolling chassis was presented at the 1965 Turin Auto Show, and the prototype P400 debuted at the 1966 Geneva Motor Show. It received stellar receptions from showgoers and the motoring press alike, each impressed by Marcello Gandini's sleek styling and the car's revolutionary mid-engine design.
Lamborghini's flagship, the Miura received periodic updates and remained in production until 1973. A year later the Countach entered the company's lineup.
I took the pictures of the two golden Miura's at the fabulous exhibition "PS – Ich liebe Dich" which was shown at the Düsseldorf Kunstpalast in 2019. The two cars were displayed there at the entrance, so they were the first to discover. Great cars shown in a great museum.
Lamborghini Miura: TECHNICAL SPECIFICATION / FACTS
MODEL Lamborghini Miura
TYPE Gran Turismo
YEAR OF PRODUCTION 1966 – 1973
ENGINE V12 cylinders
CUBIC CAPACITY 3929 cc
LAYOUT Transverse rear-mid engine, rear-wheel-drive
BODY STYLE 2-door-coupé
POWER OUTPUT 350 – 370hp VMAX 280km/h
DESIGNER Marcello Gandini
NUMBER OF PRODUCTION Series 1: 475 Pieces / Series 2: 140 pieces
MANUFACTOR Automobili Ferruccio Lamborghini, Santa Agata, Bolognese