Tracks in the sand. It's been almost thirty years since Porsche's victory in the Paris–Dakar Rally. As good a time as any to commemorate the legacy. With a contemporary new edition into which -Porsche has poured all of its heart and soul.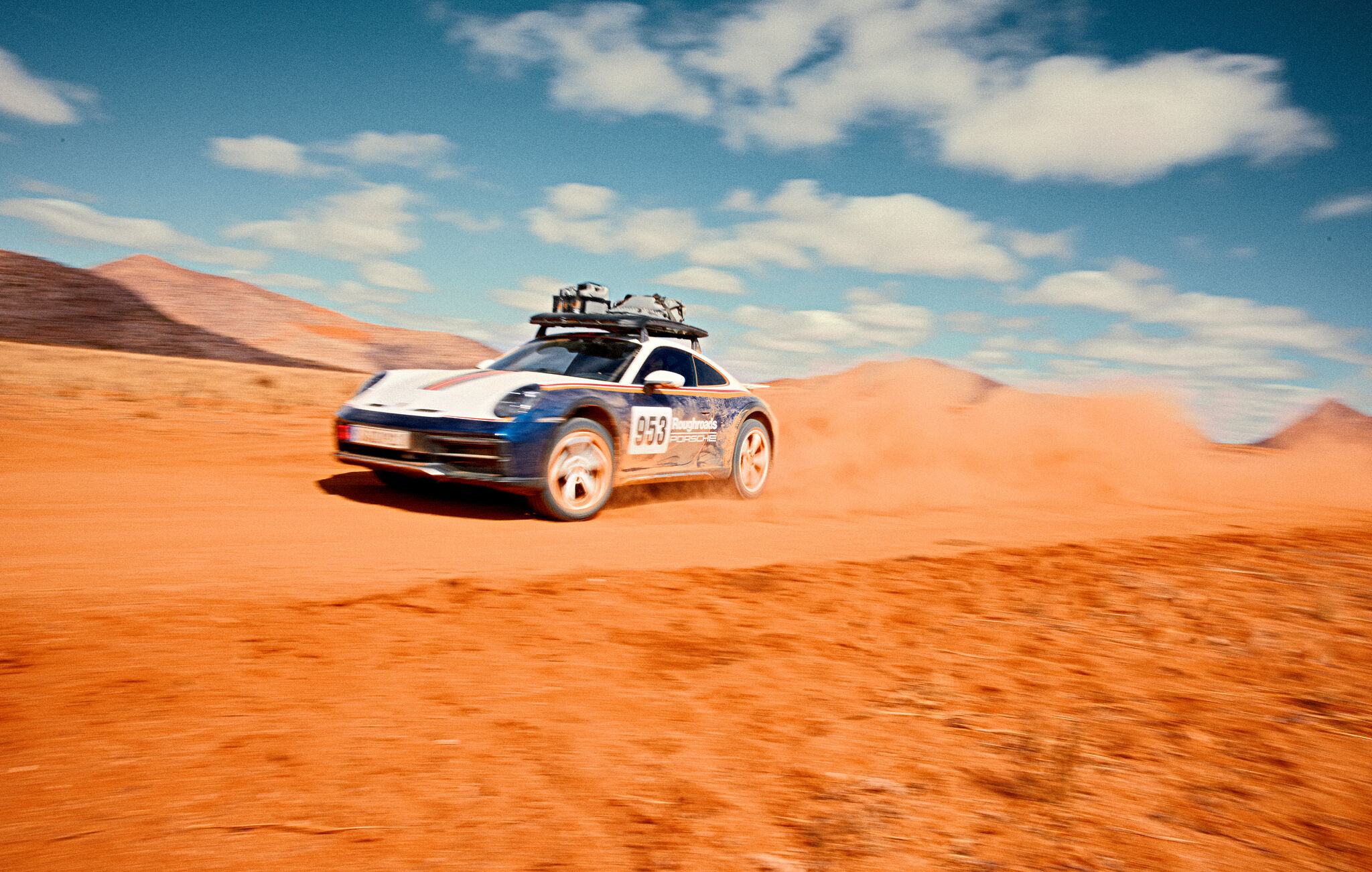 Those tires. That roof rack. The ground clearance. Those bright red towing eyes . . . Hardware rules! So here it is, the new 911 Dakar, the first two-door sports car to offer superior offroad qualities. After all, there is an extensively documented history of successful offroad 911s that impressively demonstrates what this concept is capable of, apart from roadability and racetrack suitability. With this rugged package, it is ready for any type of terrain. Need proof? Just think back to 1984 and the overall victory in the Paris–Dakar Rally.
30 years since Porsche's victory in the Paris–Dakar Rally
This Porsche, which in its evolution into the 959 also claimed the overall Dakar victory in 1986, was a G-series model powered by a standard 3.2-liter engine that could also tolerate more modest fuels. To make up for it, the chassis was designed to be as premium as possible: all-wheel drive (for the first time) with a lockable center differential. This massive racing rocket with welded steel cage is the direct ancestor for today's special Porsche 911 Dakar model.
One look at the new must-have 911 makes everything clear, even without the optional Rally Design Package that gives the car a two-tone paint finish in White/Gentian Blue Metallic with rally stripes in red and gold and an individual race number of your choice between 0 and 999, all modeled on the iconic car that won the 1984 Paris–Dakar rally. The look suits the 911 of yesteryear as much as the current one. And it fits in well with the present times, where it seems appropriate to cut a good figure on any terrain. Already the first driving impressions show: no sandbox is too big for it, no terrain too problematic. The 911 Dakar was sent around the globe and test-driven over half a million kilometers under extreme conditions, including more than ten thousand kilometers off paved roads. Tests were conducted on fast sand tracks and high dunes in Dubai and Morocco and at the Château de Lastours test track in southern France to validate the handling on typical rally courses and to fine-tune the suspension. Two-time world rally champion Walter Röhrl also put the car through its paces by racing it across the frozen lakes at Arjeplog, Sweden. Not over bare ice, of course, but over a blanket of snow. He agrees with Michael Mauer, the Porsche chief designer, who promises that the new 911 Dakar will be a lot of fun to drive.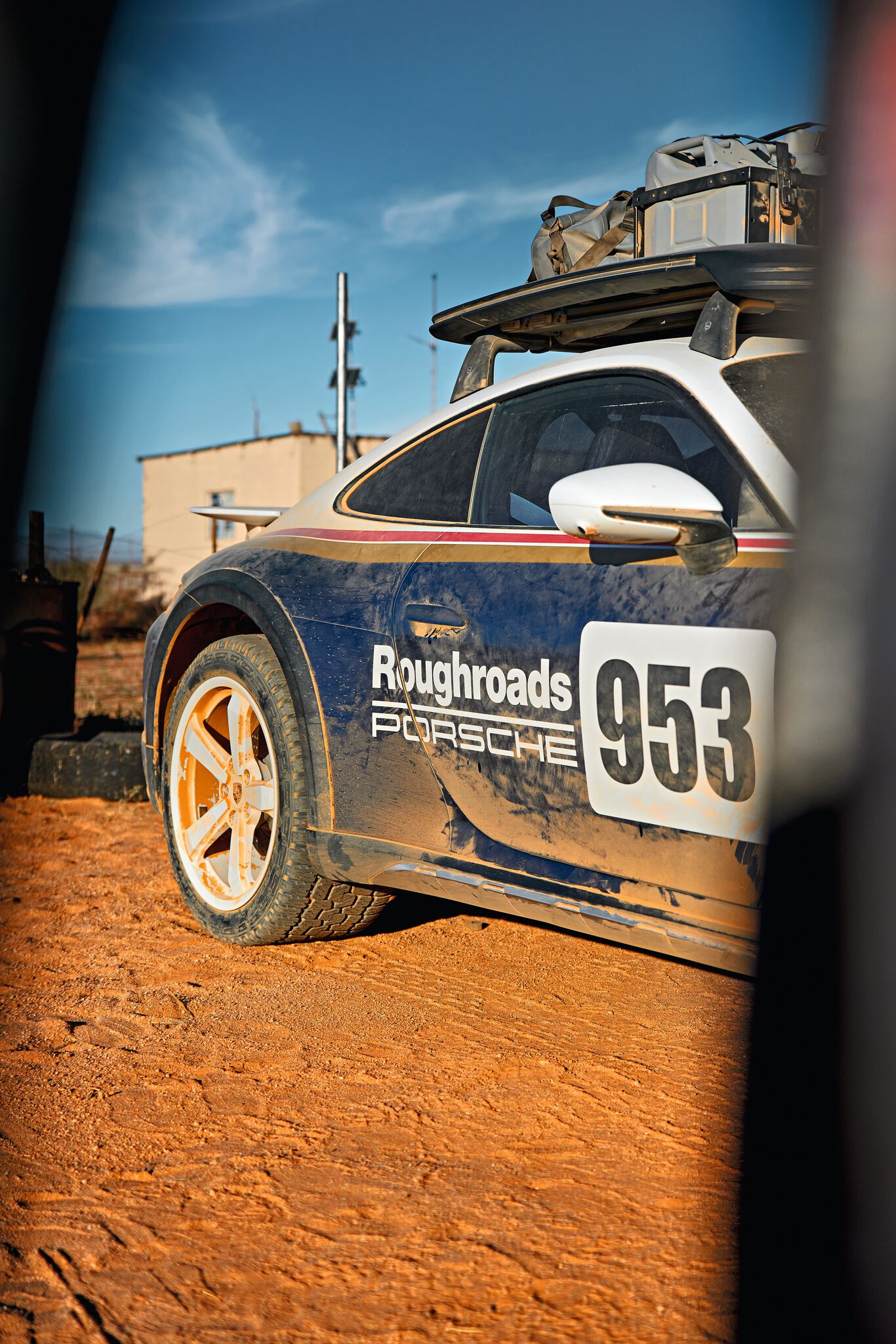 A new addition in the cockpit of the 473-hp twin-turbo are the two driving modes Rallye, with rear-focused all-wheel drive for loose, uneven surfaces, and Offroad, which automatically activates the high clearance. That raises the car, which is already jacked up to fifty millimeters, up by another thirty. As long as you don't exceed 170 km/h – above that speed, the high level is automatically lowered back down. At 240 km/h, there's nowhere left to go – the top speed is limited there, in part because that's where the all-terrain tires reach their limits. Another new feature is the switchable Rallye Launch Control that allows wheel slippage of twenty percent for impressive acceleration on loose surfaces. Made by drivers for drivers. Cool things are happening in the sandbox! The new lightweight rear spoiler also kicks in and the air is guided through the striking air outlets in the CFRP front luggage compartment lid taken from the 911 GT3.
To make the most of the vehicle's assets on any terrain, Porsche recommends the specially developed Pirelli Scorpion All Terrain Plus tires (sized 245/45 ZR 19 at the front and 295/40 ZR 20 at the rear) that come as standard. The chunky tread pattern has a depth of nine millimeters, the reinforced sidewalls and the threads consist of two carcass plies.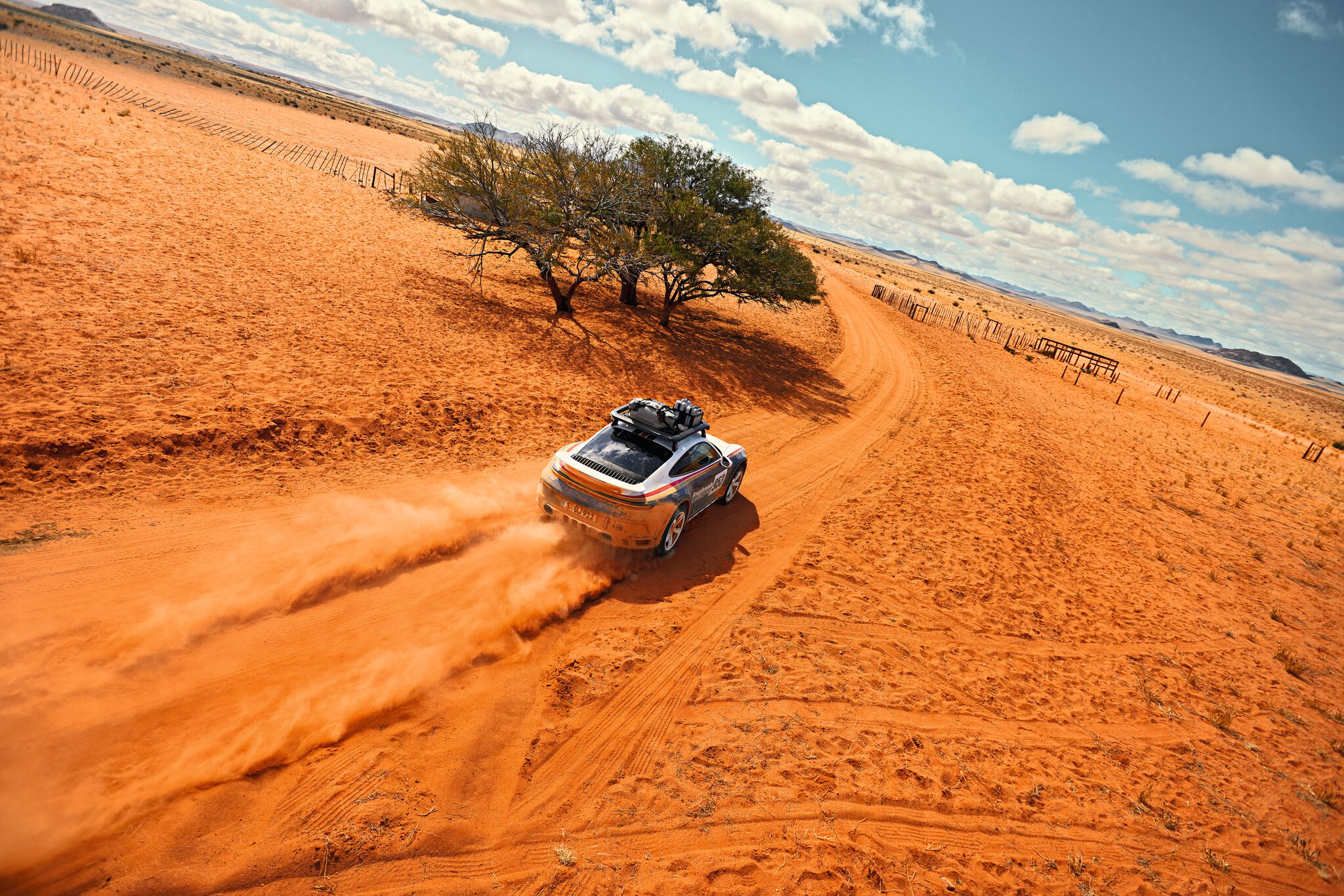 To conclude, we delight our inner child with a promising excerpt from the press release: "The roof of the Porsche 911 Dakar features a visible 12-volt power outlet for the headlights of the optional roof rack. With a capacity of 42 kilograms, the rack can accommodate rallying equipment such as fuel and water canisters, folding shovels and traction boards without any problems. A roof tent is also available." We should add that, as is so often the case with a special car, the 911 Dakar is only available as a limited edition of 2,500 units.
Text: David Staretz
Photos: Porsche
ramp #59
As a high-impact multimedia brand that takes an all-encompassing, end-to-end approach to publishing, ramp is an absolutely authentic expression of quality, integrity and excellence. Its trailblazing luxury magazines, recognized with numerous awards over the past 15 years, have been celebrated for their cool and unconventional, not to mention inspiring and pioneering style, since day one.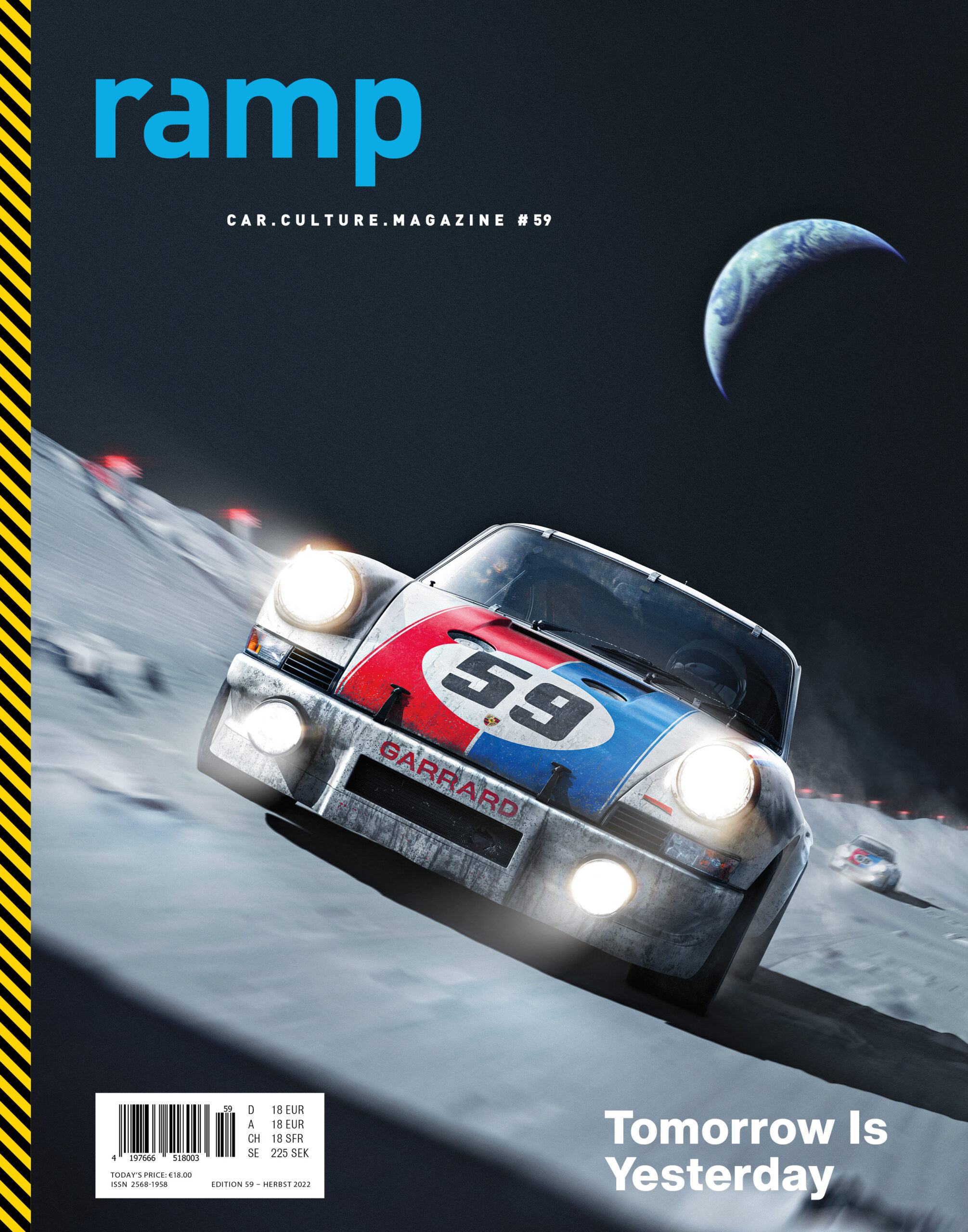 ramp, the lavish and beautifully designed coffee table magazine, celebrates the enthusiasm for cars and driving in a passionately subjective, personalized fashion.
Immediate, authentic, intense. Fresh perspectives, avant-garde imagery, with a fine feeling for nuances and the right dramaturgical mix. Always new, always stimulating. Automotive passion infused with a lust for life. The automobile in new, exciting and intense contexts, precisely tailored to the relevant target group, presented in relation to music and fashion, culture and lifestyle, design and art, science and philosophy.