Here is a special selection of cars that have recently arrived or are expected soon at our partner Gallery Aaldering. This preview allows you to be the first to indicate your interest in one of these cars. Do you want to hear more about these cars? Please send an e-mail to: info@gallery-aaldering.com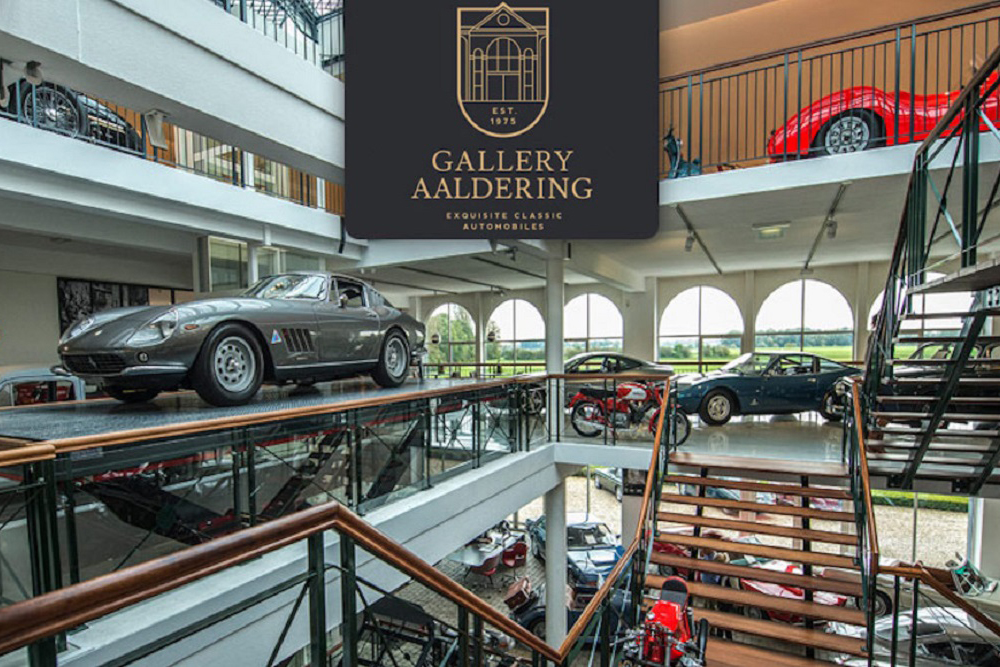 Gallery Aaldering has added some truly astonishing new cars to their inventory. What do you think about a Aston Martin DB2 (1952), or a Ferrari 365 GT/B4 Daytona (1972)?
Gallery Aaldering can sell cars by appointment now. It is also possible to schedule a video call with them. If you are interested in one of their cars please let them know, they are available for you and are happy to answer any questions you may have regarding one of their cars.
---
Aston Martin DB5 (1964)
Factory left-hand drive, air conditioning, ZF 5-speed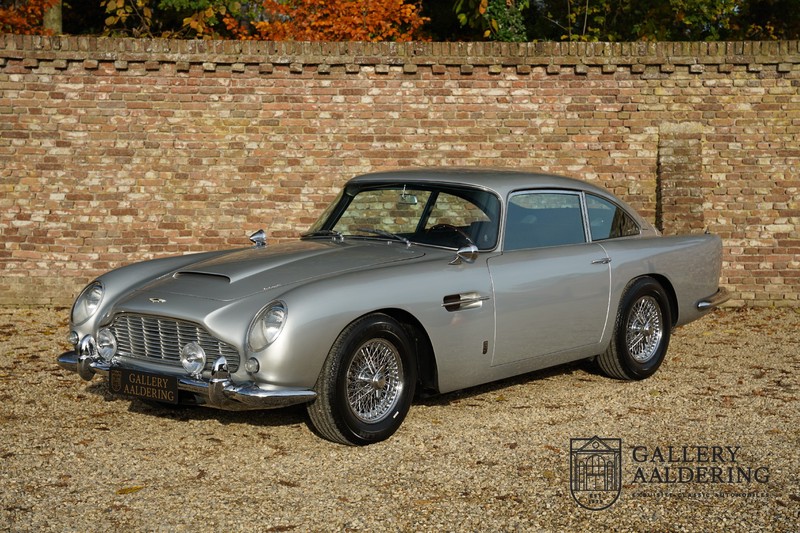 Price: € 785.000,-
Gallery Aaldering has a stunning 1964 Aston Martin BD5. The car is an American issue. This car is therefore a factory supplied left hand drive. Since 2007 it has been owned by the same owner who mainly kept the car in his collection. The car has already been subjected to a full nut & bolt and is still in superb condition. The restoration was meticulously carried out and the car's documentation shows this DB5 has only ever had four owners.
---
Maserati Mexico 4.2 (1969)
Fully restored and revised, manual transmission, stunning colours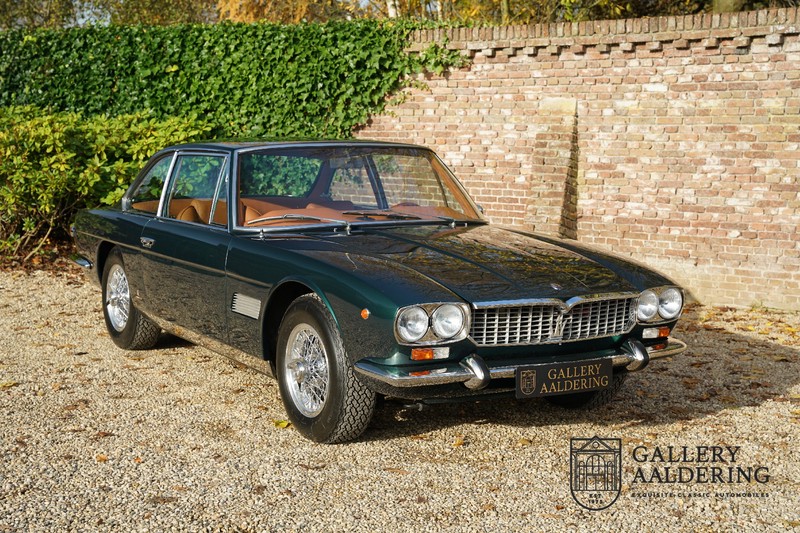 Price: € 159.950,-
Gallery Aaldering has a quite the stunning 1970 Maserati Mexico available. This fully restored and mechanically overhauled example is in brilliant condition. The Mexico is a wonderful design that arose from the pen of Virginio Vario, then working for Vignale. The Mexico should be considered as the coupé version of the Quattroporte from the same generation of Maseratis and also shares most of the technology used in the four door sedan.
---
Ferrari 365GTC/4 (1972)
Very well maintained, logbook present, only 3 owners from new
Price: € 229.500,-
Although the Ferrari 365GTC/4 may look like a modern version of the Ferrari Daytona, it is actually a completely newly developed model. The 4.4 litre V12 with four overhead camshafts is the same as the one in the Daytona, The 365 GTC/4 has a much longer nose with the carburettors located on the side to enable the V12 to fit into the flatter nose.
The Colombo V12 produces 340 Ps and is attached to a 5-speed gearbox. Just like the Daytona the 365 GTC/4 has independent suspension on all four wheels. The rear is hydraulically adjustable. The 365 GTC/4's form was considered quite modern for its time. The Ferrari 365 GTC/4 that typical 70's wedge shape. Its exotic exterior is complimented by the presence of flip-up headlights, the rubber front bumper and matt black rear detail.
---
Citroën SM 2.7 (1972)
Restored and revised, full service history, manual transmission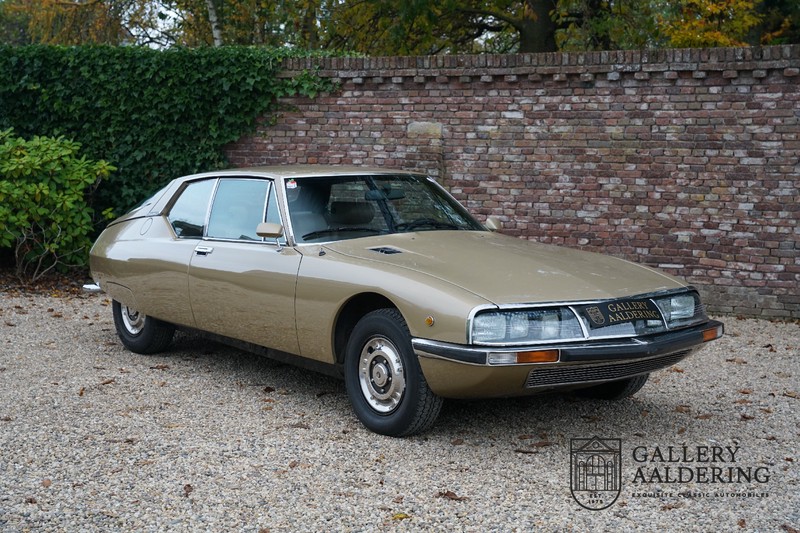 Price: € 65.950,- 
This is a beautiful 1972 Citroen SM. The "Sa Majeste" (Her Royal Highness in French) was delivered new in Genoa, Italy. The car came to the Netherlands in 1986 and was first registered in the Netherlands in 1990. Since then, the car has had two more owners who have always taken very good care of the car.
---
Volvo P1800e (1971)
Fully restored and revised, fuel injection, stunning colour combination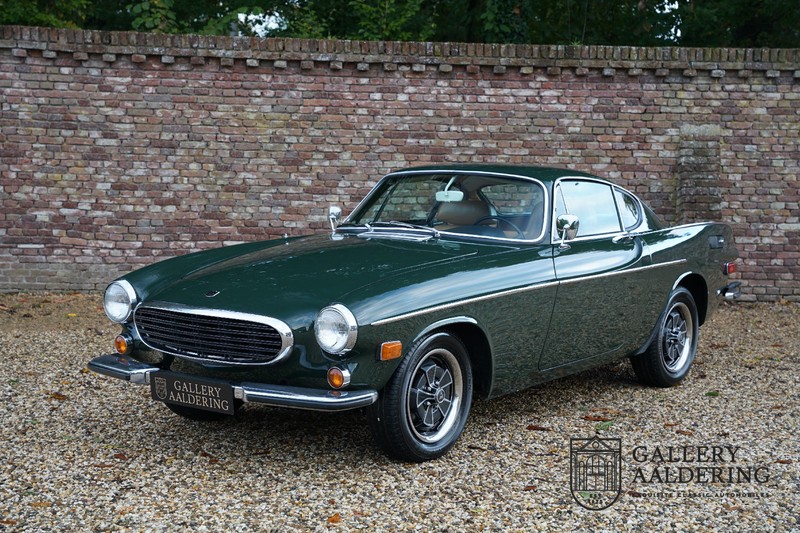 Price: € 48.750,- 
Gallery Aaldering has a delightful restored and mechanically overhauled Volvo P1800. This car underwent a full nut & bolt restoration a few years ago and is beautifully presented. This restoration was carried out meticulously with a keen sense to keeping things authentic. This has resulted in one truly brilliant Volvo P1800.
---
Oldsmobile 88 (1955)
Mille Miglia eligible and finisher of MM 2015, very well documented car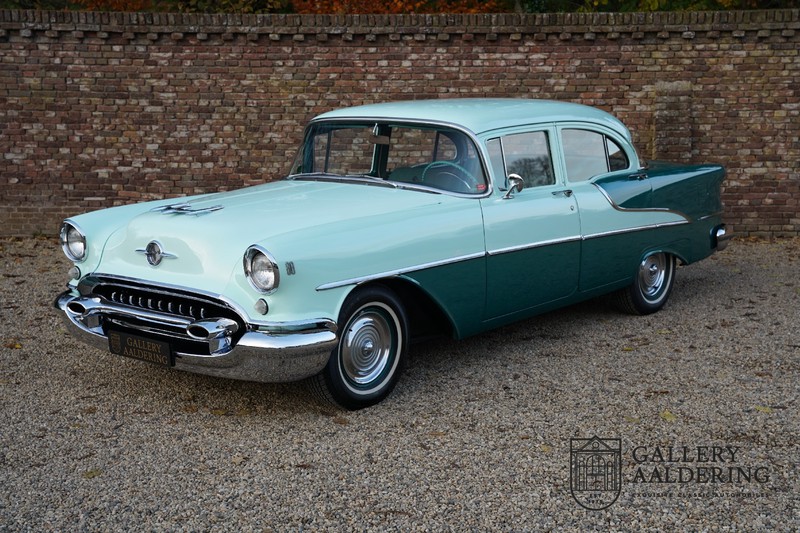 Price: € 49.950,-
If Gallery Aaldering had to talk about the weirdest choice for the most prestigious old-timer rally in the world it would have to be this. What nearly anybody knows about this 1955 Oldsmobile Super 88 it is eligible to enter the Mille Miglia. That is exactly what the previous owner did. He bought the car in 2013, put it on the waiting list in 2014 and in 2015 its time had arrived with an entry to the Mille Miglia! Mechanically the car was fully prepared. The transmission overhauled, many parts preventatively replaced as well as getting a full retune. All with one goal in sight and that was to complete the Mille Miglia.
---
Alfa Romeo GT 1600 Junior (1973)
Dutch delivered car, recently revised engine, great overall condition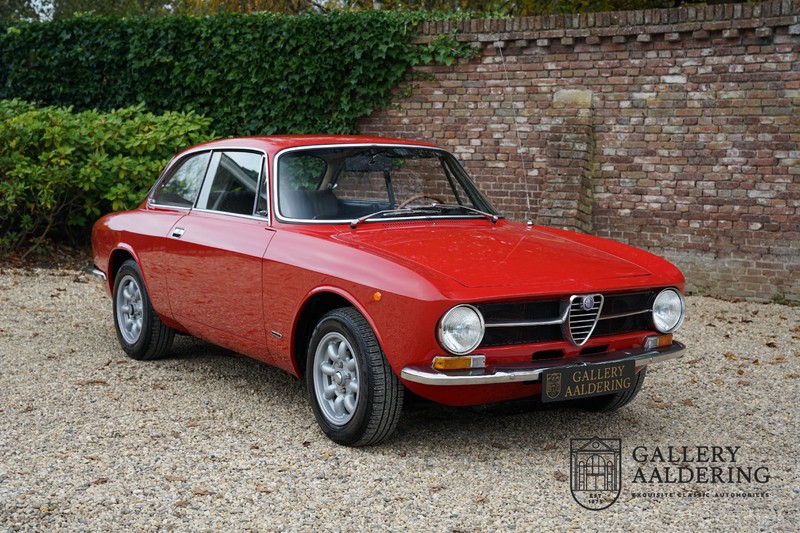 Price: € 33.950,-
Italian cars are simply faster when they are red, those are facts. In this case it concerns an original Dutch delivered Alfa Romeo GT Junior 1600 from 1973. This car is also fast, not only because of the red color but even more because of the recently completely overhauled engine. The engine was then re-tuned on the dynamometer and runs beautifully and is very powerful at all speeds.
---
DKW 1000SP Coupé (1960)
Long term ownership, great overall condition, fully restored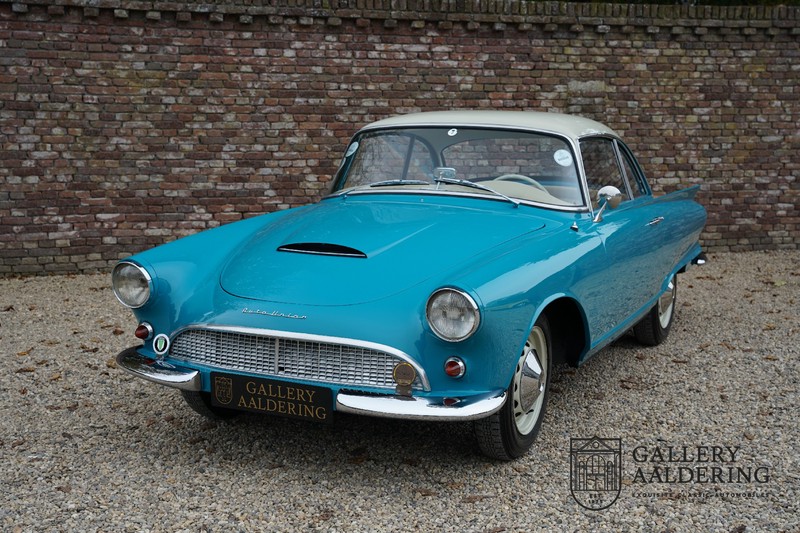 Price: € 35.750,-
You will seldom come across this, even less so in this condition. The Auto Union 1000SP Coupé was often seen in its day as a diminutive version of the Ford Thunderbird, which is not surprising when put side by side. The DKW 1000SP Coupé sold 5,004 times and whilst the Roadster only managed 1,640. Despite its modest size Auto Union sold the 1000S as a true luxury product, a marketing model its successor Audi still adheres to. The Auto Union 1000SP was also the last Auto Union model to feature a 3-cylinder 2-stroke engine. All further models were fitted with 4-stroke engines.
---
Jaguar XK150 (1957)
Long term ownership, drivers condition, original leather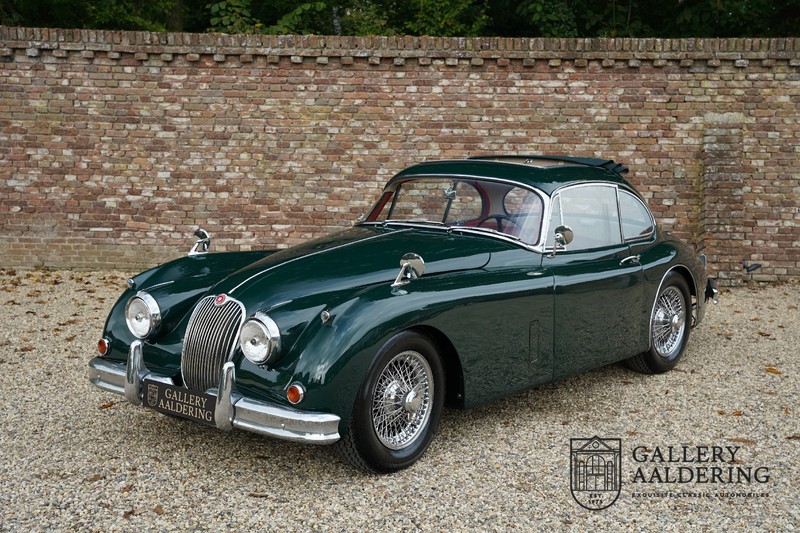 Price: € 69.500,-
Gallery Aaldering has a gorgeous 1957 Jaguar XK150 Fixed Head Coupé (FHC), complete with a canvas sliding roof, in great condition on offer. The Jaguar XK150 was so much more than just a face-lifted version of the XK140. The XK150 was very much more advanced with an accompanying improved modern drive. These kind of cars come out of an era that a few years could make an enormous difference in technical development. It was also a time that Jaguar was absolutely a world automotive power, delivering a level of quality they have been hard-put equal since.
---
Volvo P1800e (1971)
Fully restored and revised, stunning colour combination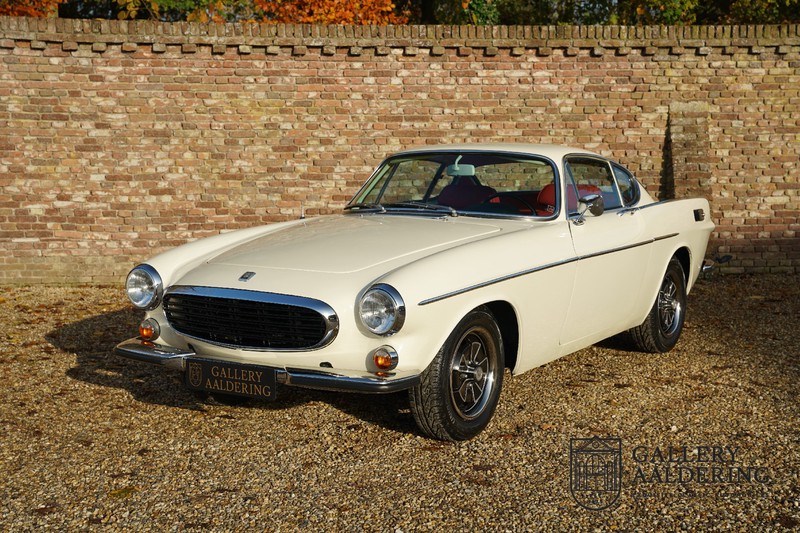 Price: €49.500,-
Gallery Aaldering is proud to present this recently fully restored and mechanically overhauled Volvo P1800E. In 1971 the car was originally supplied to the States. This late Volvo P1800E features a number of agreeable technical improvements in comparison to earlier P1800 versions. This P1800E has amongst other features disc brakes all around and Bosch D-Jetronic fuel injection.
---
Chevrolet Corvette C3 7.4 (1974)
Last year of the Big Block Corvette, manual transmission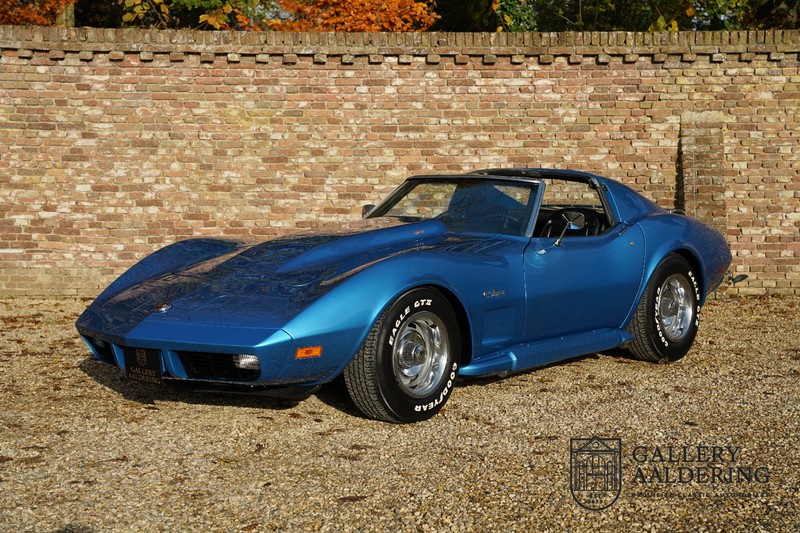 Price: € 42.500,-
There was a time when the Chevrolet Corvette was simply supplied with a "Big Block". This example first hit the roads in 1974 and has a satisfying 454 Cubic Inches of V8 under the bonnet. In Europe we would call it a 7.4 litre. Which ever way, is it more or less an infinite large bore. The 275 Ps engine is couple to the more popular 4-speed manual gearbox.
---
for the hole selection click here
If you are interested in more news click here.
---