Monterey Car Week sees some of the world's most significant race cars duking it out at the Rolex Monterey Motorsports Reunion at Laguna Seca, but it also sees big-money motorsports icons crossing the auction block. Some of this year's eight-figure star Ferraris are already making headlines, including Bonhams' 412 P as well as RM Sotheby's 550 Prodrive, 250 LM, and 250 GT California Spider.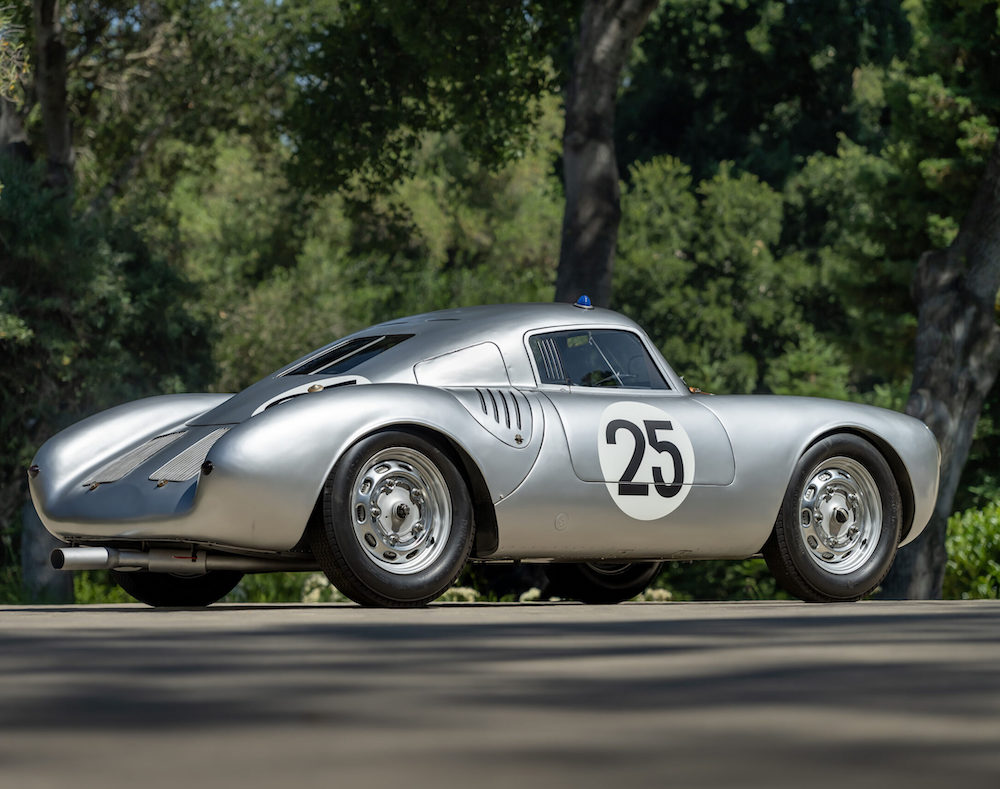 There are plenty of other track marvels on the docket this year, though, including a dozen cars that have raced at the 24 Hours of Le Mans.
2007 Porsche RS Spyder Evo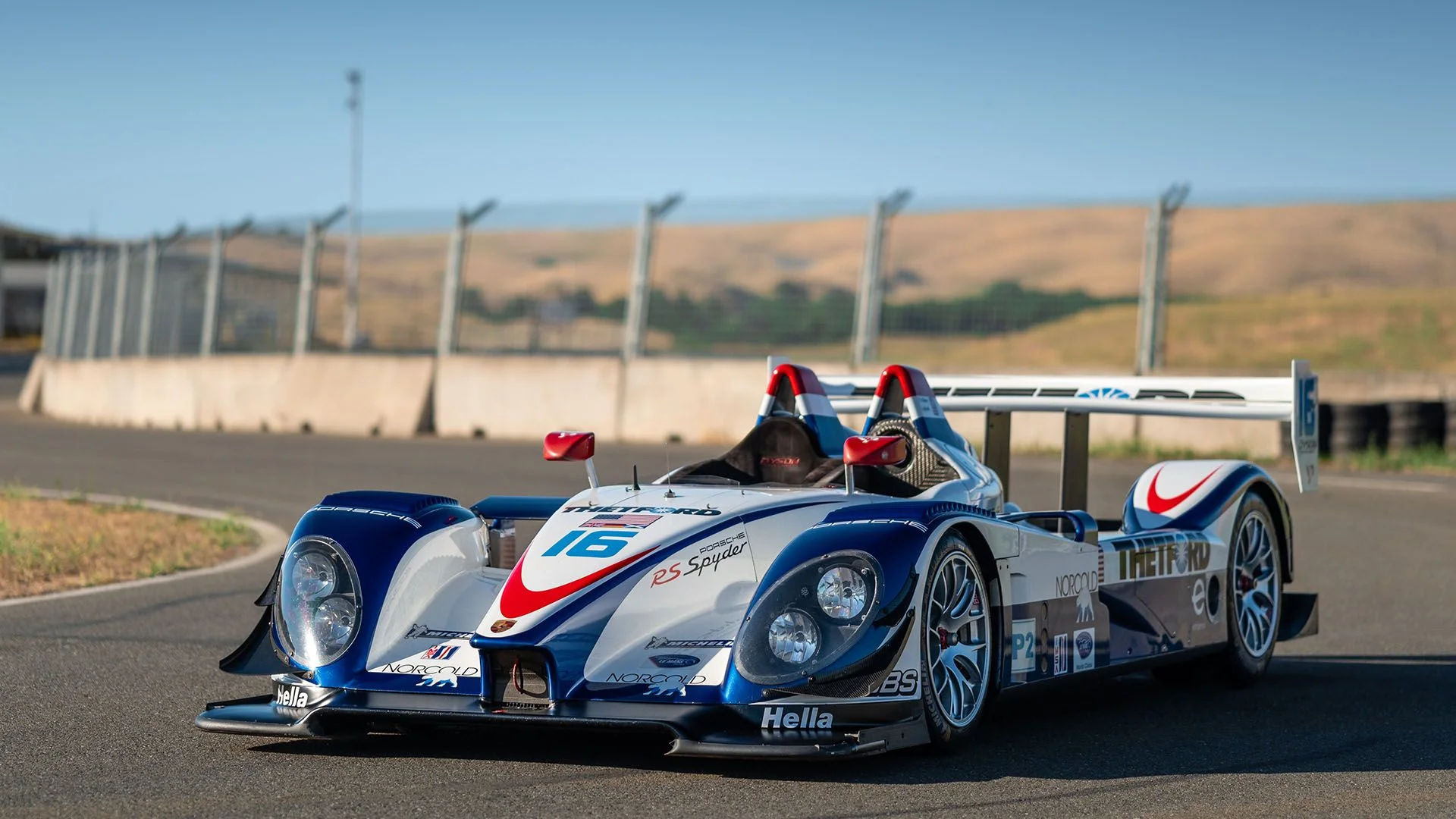 In 2005, Porsche debuted yet another in its long, long list of all-conquering sports racing cars – the RS Spyder. Developed in conjunction with Team Penske, the RS Spyder raced in the LMP2 class, but in typical Porsche fashion, it punched above its weight and frequently harried the supposedly faster prototypes in LMP1. RS Spyders even notched a 1-2 overall finish at Sebring.
The LMP2 title went the RS Spyder's way in 2006, 2007, and 2008, and Porsche won the class at Le Mans in 2008 and 2009. Rule changes left the RS Spyder obsolete for 2011, but the program wasn't exactly a developmental dead end, as the road-going 918 Spyder's engine was related to the mill in the RS.
Porsche built 17 RS Spyders from 2005-08, and the most famous of those are probably the factory-supported Penske Porsche Racing team cars wearing the yellow and red of German shipper DHL. This one, however, is the car campaigned by Dyson Racing to a podium finish at the 2007 Petit Le Mans and second in the LMP2 team championship, just behind the Penske cars. The following season saw class podiums at Sebring and the St. Petersburg Grand Prix street race as well as two fourth-place finishes. It suffered damage at Lime Rock that necessitated significant repair, but it built up enough points over the season to give Dyson Racing third place in the LMP2 team championship. The car then went back home to Germany for display in the Porsche Museum until 2012, and then it briefly served as a training car for the mechanics and pit crews assigned to Porsche's upcoming 919 Hybrid LMP1 car. It has since been restored in preparation for historic competition. According to Broad Arrow, it has a $5M-$6M estimate. One of the yellow Penske cars sold at Pebble Beach last year for $5.615M.
1948 MG TC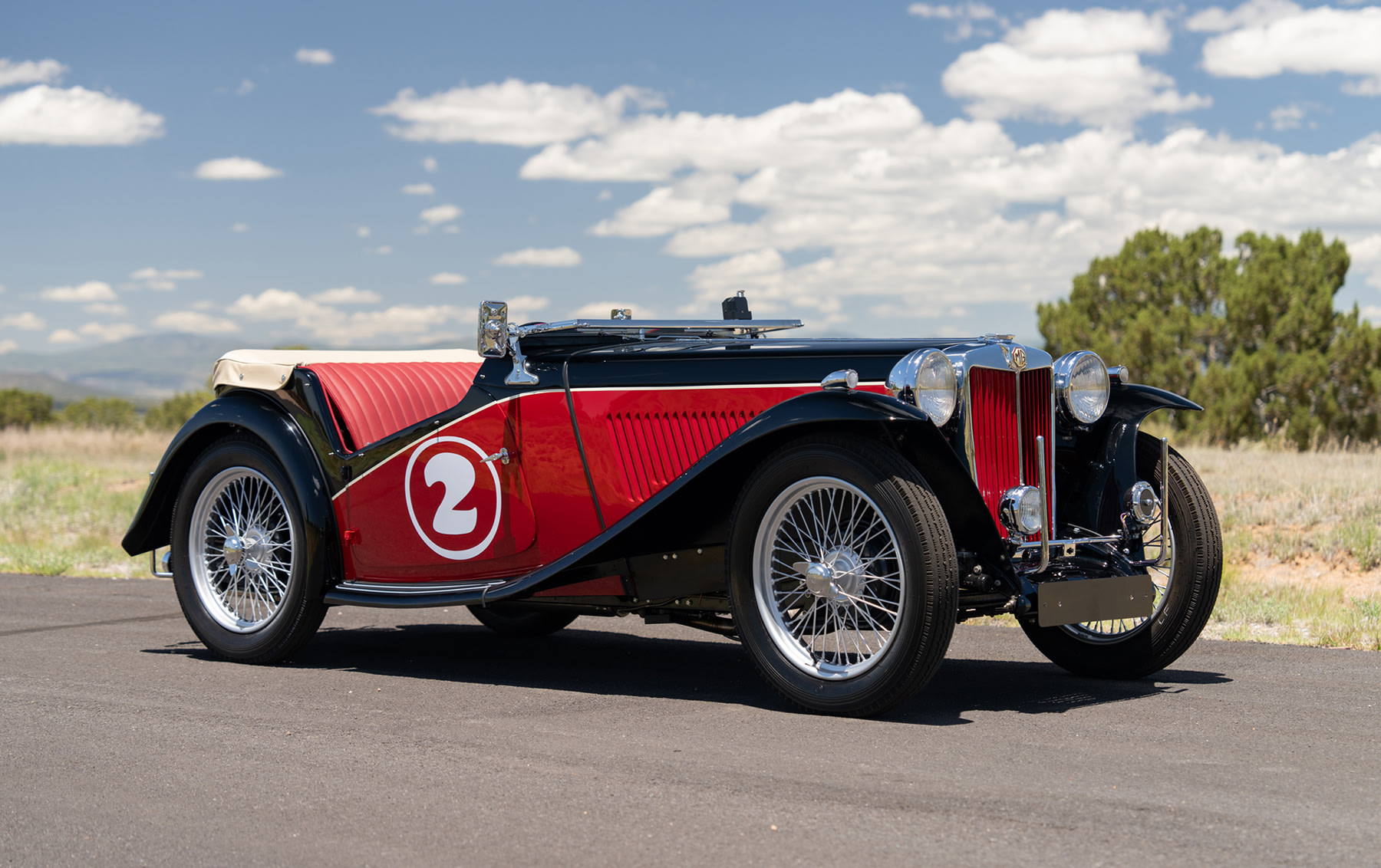 The MG TC is a humble thing. Attributes like skinny tires, poor aerodynamics, and just enough power to barely break the speed limit don't exactly scream sporting. But this lively English roadster is what made Americans fall in love with sports cars, and MGs launched many an amateur and professional racing career in the '50s, including America's first Le Mans winner and Formula One World Champ, Phil Hill.
He bought this '48 TC in Hollywood, where he worked as a mechanic. He then added a Shorrock supercharger and took it to Carrell Speedway where he won two races. Two podiums and another win at Carrell followed. Hill soon moved on to bigger, better things and sold the MG, but later said of the TC that "I learned everything from it, really. I mean, all my early days of really driving a car that I knew was capable of being driven." It was restored in the late 2000s to its Phill Hill-era appearance and configuration.
Another career-launching MG TC, the one in which Carroll Shelby won his first race, sold for $544,500 in Scottsdale eight years ago. Hill's car, meanwhile, has a more modest but still very expensive $250,000 – $300,000 estimate.
1951 Ferrari 212 Export
Ferrari's much-publicized win at Le Mans this year is bringing old Ferrari Le Mans veterans out of the woodwork, with several of them on offer in Monterey. A very early competition Ferrari, this 212 Export wears Barchetta coachwork by Carrozzeria Touring and is one of a reported eight cars built with this body. Sold new to Charles Moran of New York, it ran Le Mans in 1951 to a 16th overall and seventh in class finish. Moran also ran it at Watkins Glen, Vero Beach, Bridgehampton and MacDill Air Force Base to decent results.
Another engine from a similar Ferrari 195S was swapped in during 1954, and then Moran sold the car to John Shakespeare, who raced it further over the next few years. Recently cosmetically refurbished, it's eligible for top-tier events like the Le Mans Classic or Mille Miglia Storica, and Bonhams estimates it will sell between $4.25M and $4.75M.
1960 Porsche RS60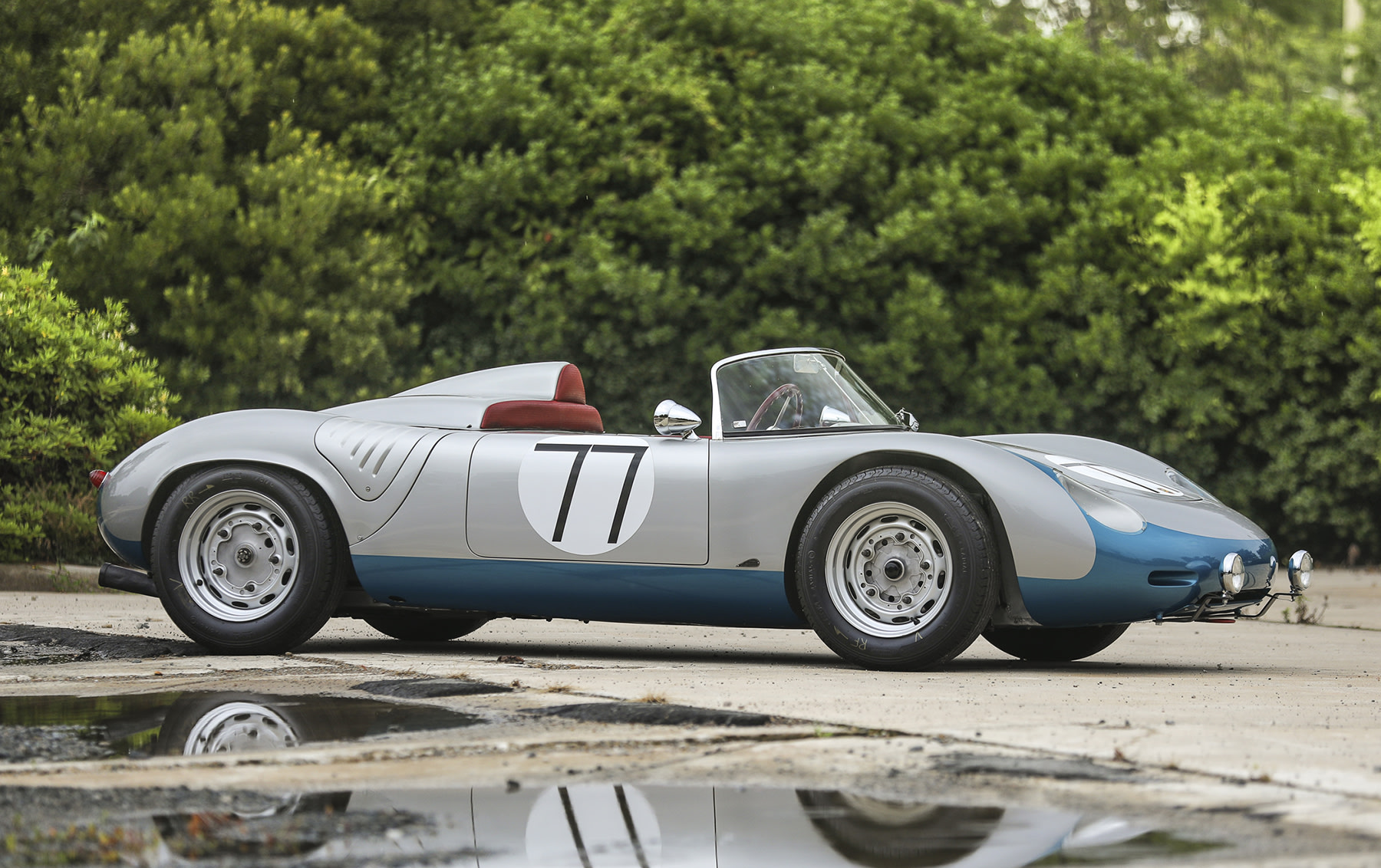 Another pint-sized Porsche with a serious racing resume is this RS60. One of 17 built and just six customer cars delivered to the U.S., it sold new for $9000 to Milwaukee car dealer/racer William Wuesthoof, who painted it with a metallic blue accent to stand out in a sea of all-silver Porsches. He captured three consecutive class wins, and later in the year raced it at Watkins Glen, finishing second to Roger Penske in another RS60.
More wins and podiums followed in 1961, 1962, and 1963 at places like Elkhart Lake, Road America and Indianapolis, and a few years after its competitive career it sold to pioneering early Porsche collector Dr. William Jackson. Never wrecked or damaged, it received a sympathetic restoration in the early 2000s. Gooding sold it in Pebble 11 years ago for $3.465M, but estimates suggest it could bring $5.5M-$6.5M there in 2023.
1966 Chevrolet Corvette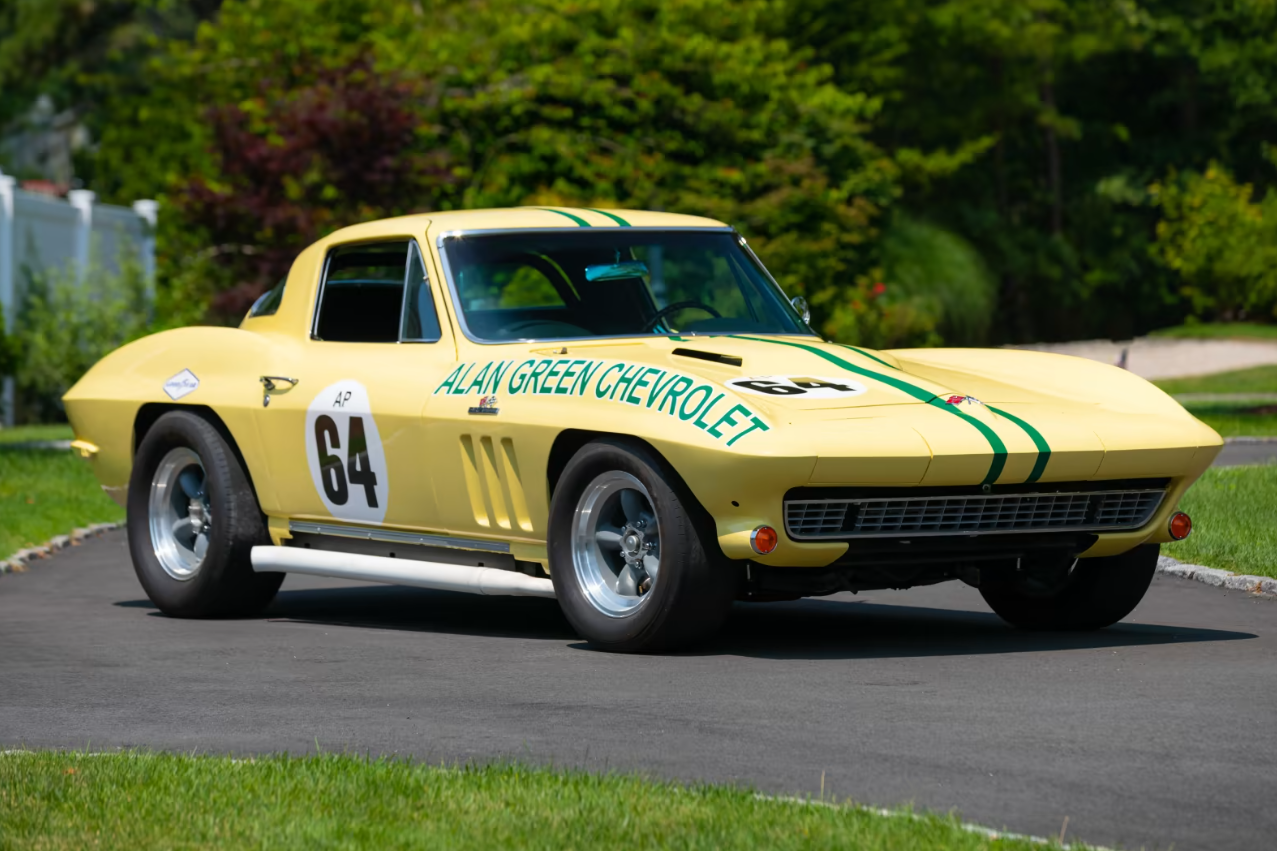 It isn't all V-12 Ferraris and flat-six Porsches from Le Mans in Monterey this year. There's plenty of V-8 thunder as well, and among the most significant Corvettes on the peninsula is this ex-Alan Green 1966 coupe. Raced in SCCA A-Production by the Seattle-based Alan Green team, it has a surprise under its yellow hood. For the '66 season, Chevrolet sent the team a trick 427 engine, dubbed the HD427, for use in the car to test its reliability. It was prepared by driver Gary Gove and mechanic Bud Weiser (real name, apparently). With 12:1 compression, heavy-duty rods, hotter camshaft, and improved lubrication, the HD427 was akin to an iron-head version of the legendary L88 engine that would come a year later.
Gove won three SCCA races in the car at Spokane along with several more events in the region before Alan Green Chevrolet sold it to another racer, who notched up several regional SCCA titles. Since restored, it has a $750,000 – $800,000 estimate with Mecum.
1973 BMW 3.0 CSL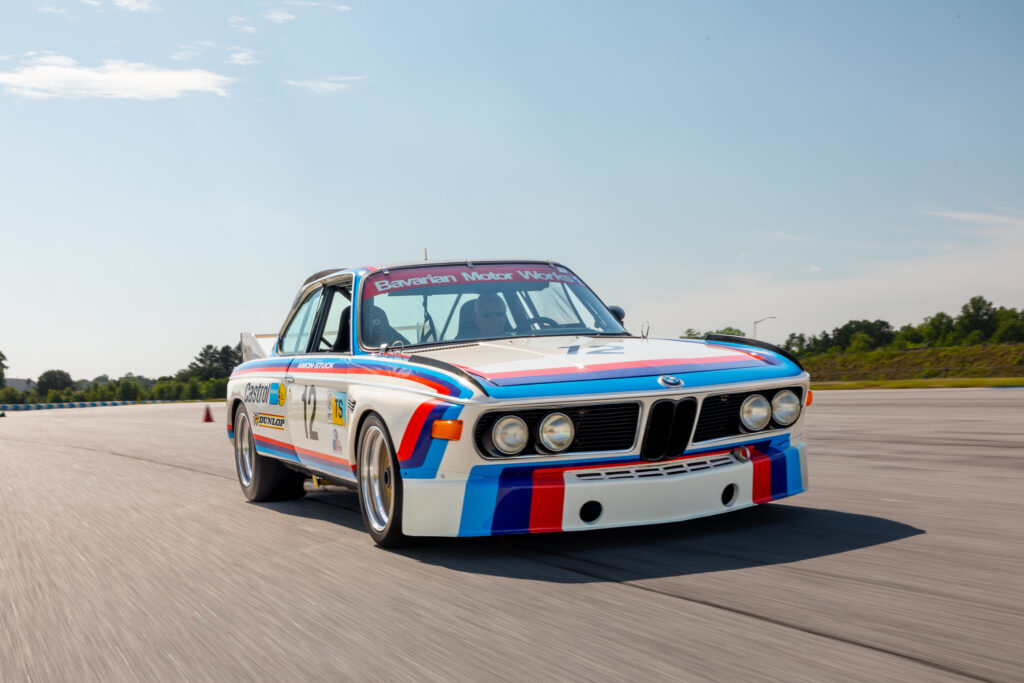 CLS – three magic letters for BMW fanatics that stand for Coupe Sport Leichgtbau. Concocted to homologate BMW's elegant E9 for racing, the CSL put the six-cylinder coupe on a diet fueled by aluminum panels and Perspex windows, while the engines gradually grew in displacement. In 1973, BMW tacked on a large air dam, fender fins, roof spoiler, and a massive rear wing, leading to the famous "Batmobile" moniker that has stuck with it ever since.
3.0 CSL Batmobiles are near the top of the collectible BMW food chain even in road car form, but this one is extra special as a works race car that competed in the 1973 European Touring Car Championship (which BMW won) as well as the 1974 IMSA GT and SCCA Trans Am Series. Later restored to its touring car specs, it has an estimate of $800,000-$1.0M
1961 Ol' Yaller VII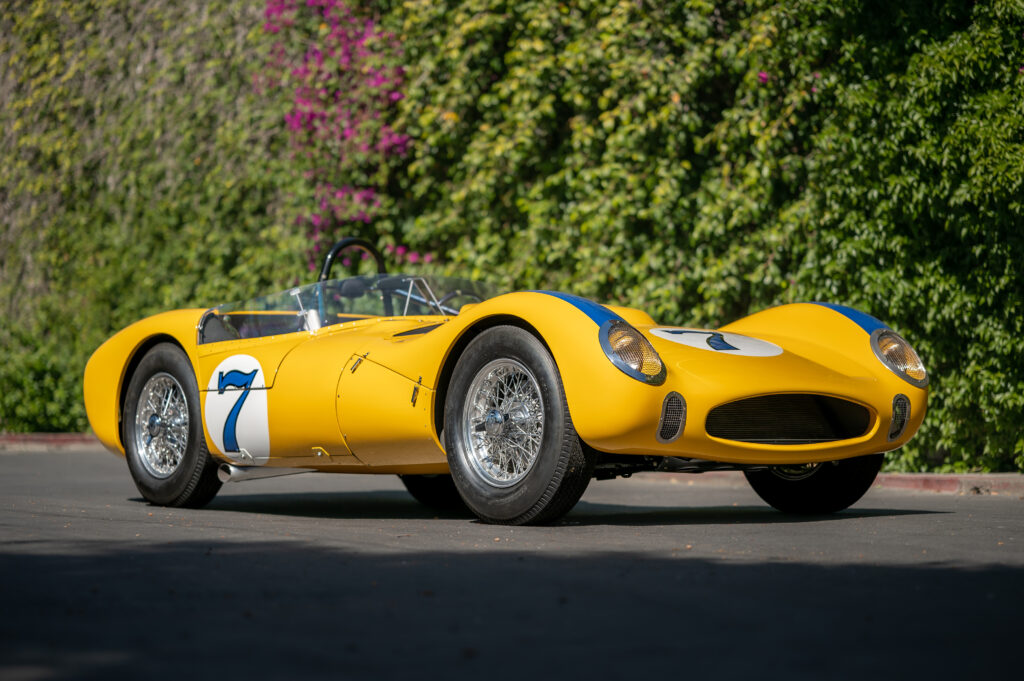 Sometimes ugly, usually cheaply built, but always deceivingly clever and quick, Max Balchowsky's Ol' Yallers (or Ol' Yeller—spellings vary) were junkyard dogs that took on and often beat the best and most expensive sports cars from either Europe or America. The shop run by Balchowsky and his wife Ina (a talented welder, fabricator and mechanic in her own right) on Hollywood Blvd churned out nine Ol' Yallers from 1955-63, each of them different.
Balchowsky preferred Buick power, and his most famous concoction with a Buick engine is probably the storied Ol' Yaller II. This one is number VII, and unlike most of the pale yellow underdogs, it raced with venerable small-block Chevy power, and it does actually look good. Sold as a rolling chassis to an owner on the East Coast in 1962, it got a Devin fiberglass body and Chevy 327. The owner smacked it into a loudspeaker pole at Daytona on the first turn, but was repaired and raced up through 1964. One of three Ol' Yallers to race with Chevy power in period, it was fully restored in the late 2000s and has a $175,000-$225,000 estimate in Monterey.
1955 Jaguar D-Type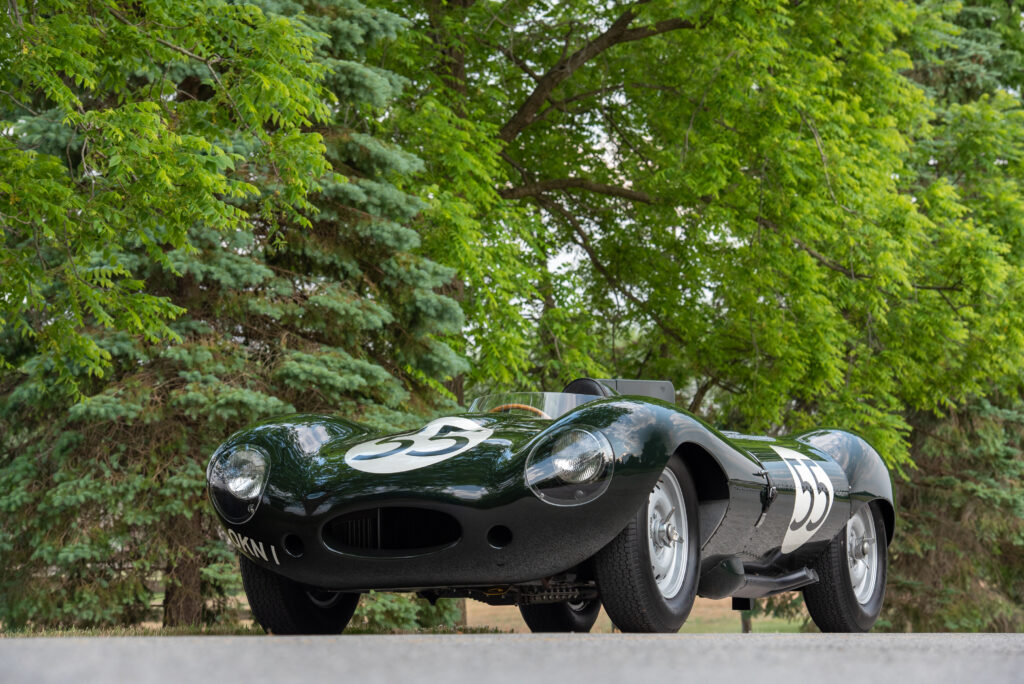 With a C-Type, an XKSS and an XJR-15 on offer in Monterey (not to mention a slew of E-Types and XK120s), Jaguar fans have more than enough to drool over. But when it comes to actual race history, this D-Type has them beat. Jaguar built just 54 examples of its pioneering three-time Le Mans winner, and Chassis XKD546 sold new in Tennessee of all places. It won races in Alabama, Boca Raton and Fort Pierce, and also put in solid performances in Louisiana, Georgia, and South Carolina.
After its on-track career faded, it moved to California and Tim Considine (of My Three Sons fame) bought it, had a windshield installed, and regularly drove it to the studio. The original 3.4-liter engine also failed during this time and a 3.8-liter replacement was swapped in. After restoration in the '90s, Nicolas Cage bought it, then turned around and sold it to back the consignor and found its way back to its home state of Tennessee. D-Type prices can vary widely depending on originality and race history, but RM's $4.5M-$5.5M estimate for this one looks right.
1957 AC Ace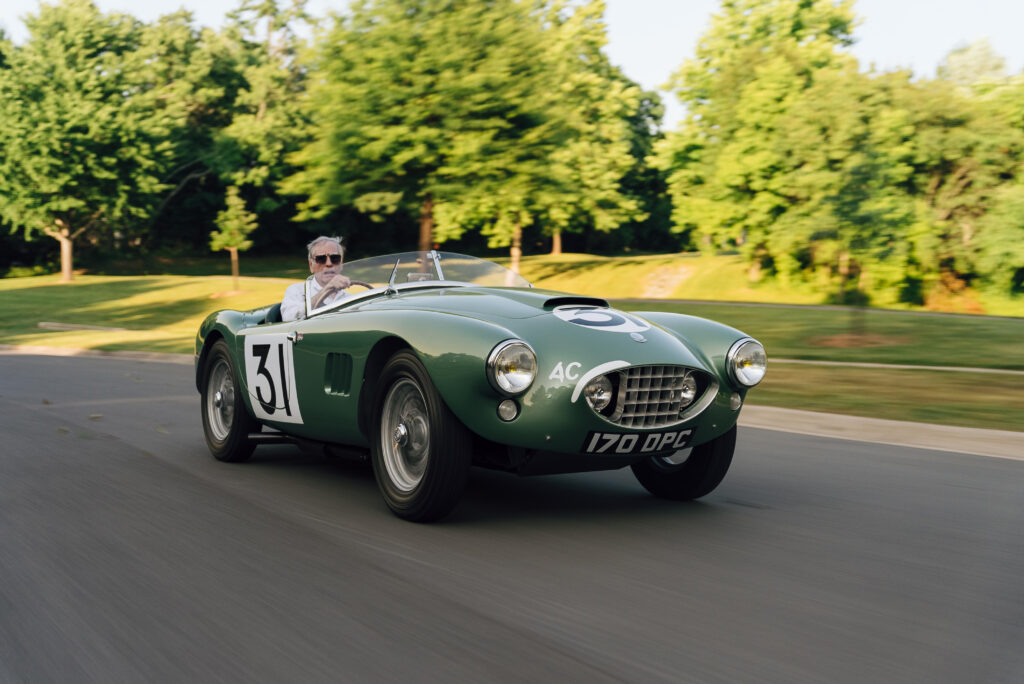 Even if Carroll Shelby had never turned AC's little roadster into the Cobra, the Ace would still be a high-dollar collector car on its own merits. Especially with raspy six-cylinder Bristol power, Aces won races on both sides of the Atlantic and provided a sports car experience well above contemporary MGs and Triumphs. This one has cool history both on and off the track.
Originally built as a Works demonstrator, Chassis AE205 later went to Ken Rudd (whose "Ruddspeed" Aces used Ford Zephyr power during the brief period between the Ace-Bristol and the Cobra) who prepared it for racing at the 1957 24 Hours of Le Mans. Modifications included a race-prepped high-compression Bristol engine, a close-ratio Bristol gearbox, a low-ratio diff, electric fuel pump, large fuel tank with special filler, oil cooler, Girling front disc brakes, Plexiglas windscreen, bellypan, and modified body with low-drag nose with a smaller, almost smile-shaped grille.
Those were the days when you could drive your Le Mans racer straight to the track, and Derek Hurlock (co-owner of AC Cars) drove AE205 to France himself. In the race, it finished second in class and tenth overall. Then, it sold to a doctor in Pennsylvania who intended to race it in SCCA E-Production. Seeing the extensive factory mods, though, the stewards placed the car in E-Modified instead. It still managed to win its class at the 1959 Watkins Glen Classic.
Driving your Le Mans racer from the shop to the track and back is one thing, but using your Le Mans racer as a daily driver is entirely different. The car's next owner, who has had it since 1963, used it to commute between Baltimore and Washington, D.C. while he worked on the Apollo program. He must have only had room for one car.
He must not have had any friends with a truck, either, because he reportedly also strapped a 34-foot, two-man rowing shell to the Ace. No word on where the oars went. Eventually, the Ace with the smiley face got tucked away in the owner's basement from 1972 till a full restoration followed from 2019-21. This is the most significant Ace to come to auction in quite some time, and Bonhams estimates $750,000 – $950,000 for it.
1956 Porsche 550A Werks Coupe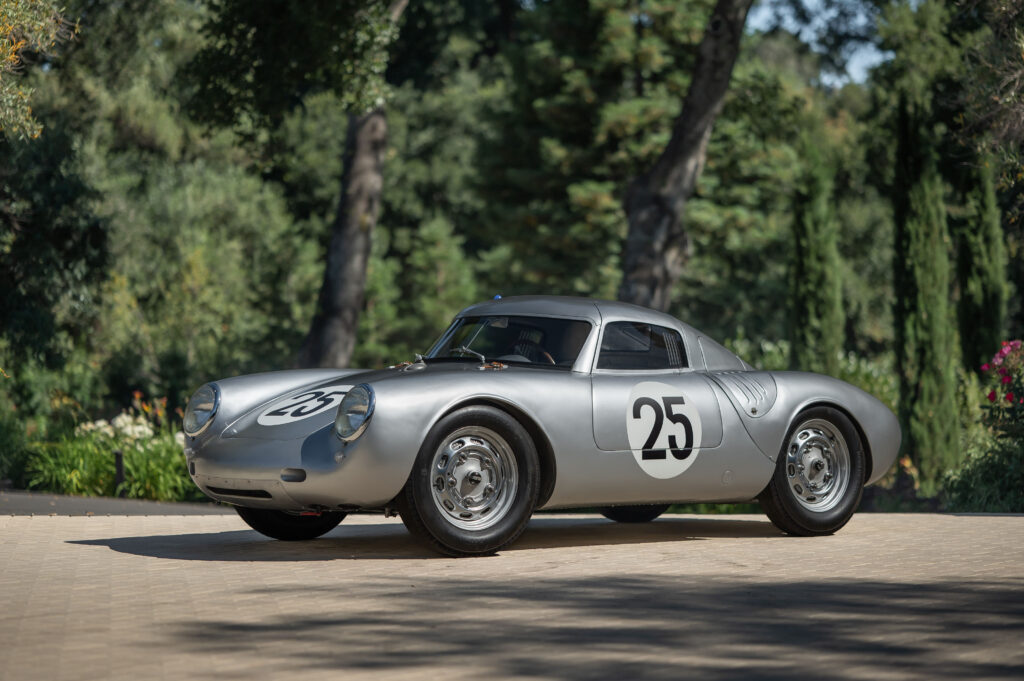 The 550 was Porsche's first dedicated race car. Although the spyder is the version that most people think of as well as the one that has inspired plenty of replicas, some of the model's biggest successes came in coupe form, particularly at Le Mans, where high-speed aerodynamics really matter.
This one, Chassis 550-0104, is a 550A sports an improved spaceframe chassis and 5-speed transaxle, and is the last of four 550A prototypes. After its sister car clinched an overall win at the 1956 Targa Florio, 0104 was prepped for Le Mans and assigned to factory drivers Richard von Frankenberg and Wolfgang von Trips. After a very rainy 24 hours, the pair brought the silver coupe home in fifth overall and first in the 1.5-liter class. Then sold into private hands, it finished second in class at Sebring in 1957 with Ken Miles driving, and subsequently raced in the SCCA through the mid-1960s. The years weren't too kind to it, as it raced with Corvair power at one point and the original body was ruined, but it was restored in the 2000s. This very important piece of early Porsche racing history has a $5.5M-$7.5M estimate in Monterey.
Report by Andrew Newton for hagerty.com