All eyes looked to Mecum Auctions in Florida to carry the torch for the January collector car auction action with hopes that the company would kick off 2021 with positive news and successful sales. Not only did Mecum answer the call, it delivered the message with $141.2 million in sales and an overall sell-through rate of 90% in January. For 10 straight days at Osceola Heritage Park in Kissimmee, Florida, Mecum put on a spectacle of automotive entertainment, sending 2,030 collector cars home with new buyers for a whopping 89% sell-through of the total number of cars offered, an unprecedented sales percentage for a reserve-based auction of this magnitude. Less than a week later, Mecum took the auction action just 2.5 hours southwest to Punta Gorda, where the company auctioned the Muscle Car City Museum collection at no reserve, sending 200 more collector cars into the hands of eager enthusiasts bidding both on-site and from the comfort of home.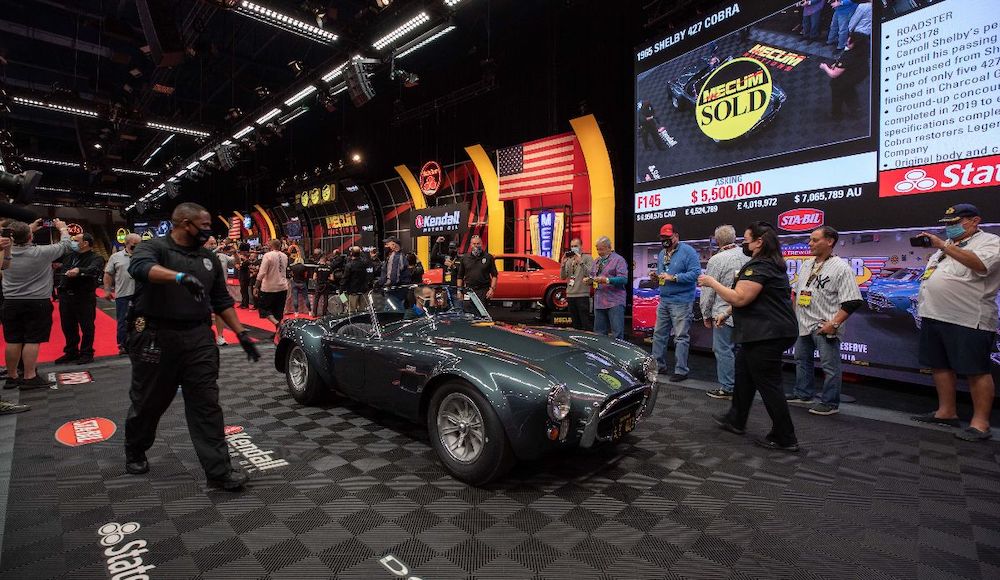 Mecum Kissimmee 2021 was held Jan. 7-16 and saw total overall sales from its 10-day duration reach $122.8 million—the highest single-auction total ever achieved in Mecum's 34-year history. Friday, Jan. 15 marked the largest single-day total in company history, as the day's sales reached $34 million with Carroll Shelby's personal 427 Cobra, CSX3178(Lot F145), becoming the annual event's top seller and taking the crown as the most valuable 427 Cobra ever sold at public auction with a $5.94 million final sale price.
The bids poured in from those on-site at the auction as well as from those bidding remotely by both internet and telephone, and the combined synergy of strong bids coming in from every avenue available created a symphony of sales and an overall sell-through rate of 89%, the highest ever achieved at a reserve-based auction and sustained over a 10-day period. Friday, Jan. 8 marked a single-day reserve auction best for Mecum with a sell-through rate at 92%.
Runner up to the nearly $6 million sale of CSX3178 was a 1967 Chevrolet Corvette L88 Roadster (Lot MG5) offered from the special exhibition Mecum Gallery collection that brought $2.5 million. Five more vehicles broke the million-dollar mark as well, with another 427 Cobra, CSX3318 (Lot S161), selling for $1.38 million, two Mercedes-Benz 300SLs (Lot S137 and S146) selling for $1.57 million and $1.21 million, a 1966 Ferrari 275 GTS (Lot F164) reaching $1.35 million and a 1965 Iso Grifo A3/C Bizzarrini (Lot S231) reaching $1.18 million.
Private collections were another auction highlight with more than two dozen on the docket and some of the finest assemblages bringing in top dollar. The headlining Larry Carrell Collection saw all 32 of the vehicles within hammer sold for a total of $3.14 million, while the headlining Michael Fux Collection also achieved a 100% sell-through and $852,500 in total overall sales. The Marshall Goldman Collection was another especially notable group that reached $2.42 million as all 23 cars hammered sold, and the Aaronson Estate Collection brought $1.06 million.
Mecum kept the Florida auction action going strong with the offering of the Muscle Car City Collection in Punta Gorda held the following weekend, Jan. 22-23. Another massively successful event, the collection auction saw all 200 vehicles and all Road Art and memorabilia offered hammer sold for total overall sales of $18.4 million. Top-selling cars included a 1963 Chevrolet Corvette Resto Mod (Lot B40) that sold for $368,500, a 1969 Chevrolet COPO Camaro (Lot A12) that sold for $297,000 and a 1958 Chevrolet Impala Convertible Resto Mod (Lot A54) that brought $253,000.
---
The complete top 10 collector-car sales at the Kissimmee 2021 auction include:
1965 Shelby 427 Cobra Roadster (Lot F145) at $5,940,000
1967 Chevrolet Corvette L88 Roadster (Lot MG5) at $2,500,000
1956 Mercedes-Benz 300SL Gullwing (Lot S137) at $1,567,500
1967 Shelby 427 Cobra Roadster (Lot S161) at $1,375,000
1966 Ferrari 275 GTS (Lot F164) at $1,347,500
1957 Mercedes-Benz 300SL Roadster (Lot S146) at $1,210,000
1965 Iso Grifo A3/C Bizzarrini (Lot S231) at $1,182,500
2018 Ford GT '67 Heritage Edition (Lot S134) at $990,000
1971 Plymouth Cuda Convertible (Lot F161) at $962,500
1964 Shelby 289 Cobra Roadster (Lot S170) at $935,000
---
 The complete top 10 collector-car sales at the Muscle Car City Collection auction include:
1963 Chevrolet Corvette Resto Mod (Lot B40) at $368,500
1969 Chevrolet COPO Camaro (Lot A12) at $297,000
1958 Chevrolet Impala Convertible Resto Mod (Lot A54) at $253,000
1967 Chevrolet Corvette Convertible Resto Mod (Lot B26) at $231,000
1961 Chevrolet Impala Convertible (Lot A56) at $220,000
1960 Cadillac Eldorado Biarritz Convertible (Lot B61) at $214,500
1969 Chevrolet COPO Camaro (Lot A11) at $209,000
1968 Chevrolet Corvette Convertible (Lot B23) at $209,000
1965 Chevrolet C10 Pickup (Lot A77) at $198,000
1965 Chevrolet Chevelle Z16 (Lot A39) at $187,000
---
Report by goodwood.com
---