Taylor & Crawley is offering this stunning McLaren 650S GT3-01 for sale. One of two Works-affiliated cars entered in the 2014 Gulf 12 Hours at the Yas Marina circuit. Driven by Pronk/ Vannelet/ Kox to 12th place overall at Yas Marina, securing fastest race lap. Leased to Strakka Racing in 2017 for use in GT World Challenge Europe and SRO events. Rebuilt by renowned GT team Garage 59 following the 2017 race season.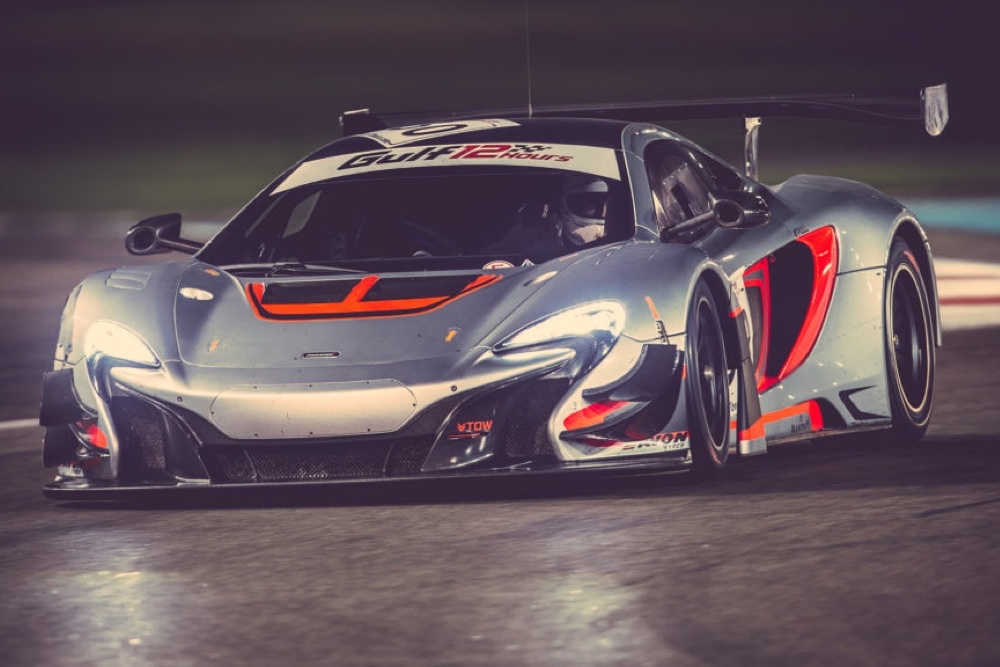 As winners of 20 Formula One World Championships – 12 Drivers' and eight Constructors' – some 183 Grands Prix and three Indianapolis 500s, it is perhaps unsurprising that McLaren are invariably associated with single-seat, Formula-type cars. However, delve a little deeper into the team's illustrious history, and their Sports Car credentials are similarly impressive: five consecutive Can-Am titles between 1967 and 1971, a debut overall victory at Le Mans in 1995 with a GT car and back-to-back Global GT Series victories in 1995 and 1996 achieved with the era-defining McLaren F1 GTR.
Whilst the scope of single-seater motor racing has always been relatively well-defined – necessarily featuring bespoke racing machines, unencumbered by any requirement to relate to everyday road cars – that of concurrent International Sports and GT racing has historically been more complex. In truth, the advent of mighty Group 5 cars such as the Porsche 917 and Ferrari 512 signalled the death knell for relatively affordable, road legal cars such as the Ford GT40 and Ferrari 250LM as long ago as the late 1960s; the ensuing quarter century being characterised by increasing speeds, increasing technology and – crucially – increasing costs. This transition to purpose-built Sports and GT Prototypes persisted throughout the 1970s, 1980s and early 1990s, with varying degrees of success, until the demise of the World Sportscar Championship in 1993.
The introduction of the cost conscious, privateer-focussed, GT-only BPR International GT Endurance Series in 1994 provided McLaren with the ideal category in which to compete with a racing version of their new F1 road car; the company subsequently championing the reintegration of production-based GT cars into Internationally recognised long distance Sports Car events. Indeed, the F1's outright victory at Le Mans in 1995 was the first for a racing variant of a bona fide road car (as opposed to a hastily homologated version of an existing Sports Prototype) at La Sarthe since the GT40's final victory in 1969 and, although not a points-scoring round of the series, served as a springboard for McLaren to secure both the 1995 and 1996 BPR titles.
After a hiatus of more than a decade, McLaren returned to front-line International GT racing in 2011 with the MP4-12C GT3; a car based upon their potent 3.8 litre, twin-turbocharged MP4-12C road car which had entered production earlier that same year. The racing variant took three outright race wins in its first season in the FIA GT1 World Championship – in effect the spiritual successor to the old BPR series – prior to finishing second in the Championship by a single point in 2012.
In 2014, McLaren announced that they would produce an evolutionary model of the MP4-12C, the 650S GT3, which – although retaining much of the fundamental design of its predecessor – boasted a new paddleshift operated six-speed sequential gearbox, revised rear suspension layout, improved aerodynamics and new McLaren-developed electronics. Keen to evaluate their new car in competition, McLaren tasked the works-affiliated Von Ryan Racing squad – the eponymous team of former McLaren Formula One Sporting Director Dave Ryan – with preparing two cars for the end of season Gulf 12 Hours race at the Yas Marina Circuit in the UAE. The lead car, driven by McLaren-contracted drivers Kevin Estre, Alvaro Parente and Rob Bell was in fact an extensively updated Works development MP4-12C GT3 – chassis number RP02 – whilst a brand new 650S, chassis number GT01, would operate in a supporting role. The latter was to be driven by its new owner Nico Pronk, versatile Gentleman Driver Gilles Vannelet and former McLaren F1 GTR pilot Peter Kox; the last-named a veteran of no less than 13 Le Mans 24 Hours races, the 1997 edition of which resulted in a third placed finish, appropriately in a BMW Motorsport-entered F1 GTR. It is chassis GT01 which Taylor & Crawley are delighted to offer for sale here.
In the race itself, although run by Von Ryan Racing, both cars were entered under the "McLaren GT" banner; the Estre/ Parente/ Bell car fittingly being allocated the same race number – 59 – as that worn by the 1995 Le Mans-winning (and similarly works blessed) F1 GTR, whilst its sister car ran number 60. Both cars acquitted themselves admirably, with the lead car finishing in a remarkable third place overall on its debut, whilst their Pro-Am team-mates finished a worthy twelfth place overall and ninth in class in GT01. Significantly, Kox recorded the fastest lap of the race; a remarkable achievement given that the field also boasted the likes of DTM legend Bernd Schneider and Ferrari GT pacesetter Davide Rigon, not to mention his own rapid team-mates.
For 2015, Pronk and Kox entered GT01 in the Paul Ricard and Barcelona rounds of the popular International GT Open series. These operated on a "Double Header" basis, with the former yielding two tenth placed finishes, whilst Barcelona saw the pair finish eleventh in the first race and twelfth in the second. Interspersed with these rounds was a one-off outing at the 40 Minute GT Sports Club race at Paul Ricard, in which the pair finished eleventh, and a solitary outing in the Dutch Supercar Challenge at Assen, in which they took a richly deserved race win.
Having remained inactive throughout 2016 – a season which significantly would see 650S GT3s emerge victorious in both the Blancpain Endurance and Pirelli World Challenge Series, as well as the gruelling Bathurst 12 Hour race – GT01 was leased by Pronk to Silverstone-based Strakka Racing for 2017, for use in both the GT World Challenge Europe Endurance Cup (nee Blancpain Series) and the shorter format SRO GT Sprint Series. In the shorter races, a tenth placed finish at Brands Hatch – courtesy of McLaren factory-contracted drivers Ben Barnicoat and Alvaro Parente – proved to be the crew's best result, although they also recorded finishes at the Zolder, Budapest and Nurburgring rounds. In long distance events, Barnicoat was joined by McLaren Development Driver Rob Bell and emerging French driver Come Ledogar, although regrettably they failed to finish on each of the three occasions they drove together: the Silverstone 3 Hours, Paul Ricard 1000 Kilometres and the blue riband Spa 24 Hours.
Interestingly, at Spa, GT01 ran a unique "Art Car" livery in which its nearside was painted Papaya Orange – the traditional colour of McLaren Formula 1 and Can-Am cars of the late 1960s and early 1970s – whilst the offside was finished in a futuristic gloss black with contrasting (and, at night, reflective) lightning bolt motifs. The striking design, by aspiring Dutch artist Jorrit van Dasselaar, was intended to reflect both McLaren's illustrious past and its exciting future, and was selected by Strakka from numerous other submissions in a competition held prior to the race. As a poignant tribute to much-missed McLaren luminaries such as Denny Hulme, Peter Revson and Bruce McLaren himself, the orange portion of the car also bore the historic and emotive "McLaren Cars" script and italicised drivers' names, as featured on earlier McLarens such as the mighty M8-series Can-Am and M7A, M14A and M19A Grand Prix cars.
At the conclusion of 2017, GT01 reverted to the custody of Nico Pronk, who promptly instructed Garage 59 – the race team operated by McLaren GT boss Andrew Kirkaldy and then-McLaren Test Driver Chris Goodwin – to carry out a complete rebuild of the car. This was completed by the end of the year, and the car issued with a comprehensive component report which listed cumulative chassis mileage at this point as being a little over 15,500 kilometres. The report also recorded remaining life of 5,799 kilometres for the engine, 5,000 kilometres for the clutch and 4,490 kilometres for its gearbox. The car has not been run competitively since the report was compiled, and remained in the private collection of its original owner until February 2020.
Offered for sale publicly for the first time, and with its evocative 2016 Spa "Art Car" livery now reinstated, GT01 represents a rare opportunity to acquire an important part of McLaren GT history, supported by a fascinating and well-travelled competition career and unparalleled provenance. GT01 is accompanied by a meaningful spares package – including five sets of wheels – which, given comparatively modest GT3 running costs, renders it a highly attractive prospective entry for all manner of events, not least the prestigious Endurance Racing Legends series in which it would be eligible to compete in the Invitation class.
Click here for further information
---
collectorscarworld is partnering with the most renowned classic car specialists and dealerships in the world. We always offer selected rare and sought-after collectors cars and supercars for sale and every day a special car is featured for one of our partners. The passion for classic cars is diverse, sometimes it concerns the beauty of forms that can be admired at a concours, sometimes it is the smell of rubber , old leather and gasoline at a racing event or trip in the sunset.
Or its a classic car you have great memories with or which your parents owned a longtime ago. Classic cars and supercars are an expression of the lifestyle that someone shares with other petrolheads, and which is immortal, enduring and always a lot of fun. If you are looking for a special car or need support in the evaluation and history of cars, please contact us at info@collectorscarworld.com
---