Lo Sereno presents a sensual and sophisticated approach to barefoot elegance. The ten-suite hotel exists in a balance of romance and adventure, including a gourmet Mexican concept kitchen, sourcing local fresh ingredients daily.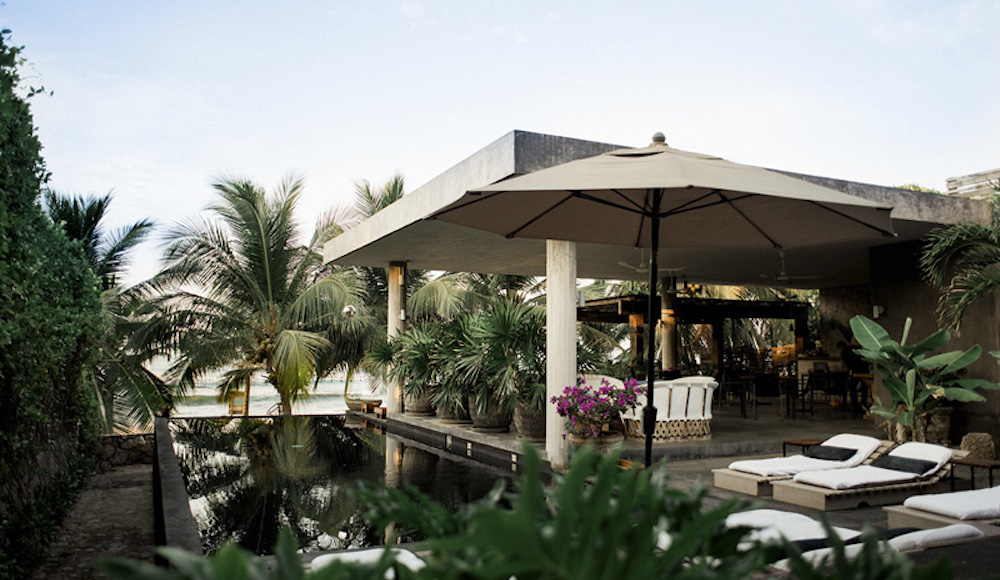 The bar and dining area are open-air and encapsulated by the hotel's glittering black infinity pool. At Lo Sereno you can enjoy cocktails and beverages either at the dining area, in the lounge, or on the beach.
Lo Sereno provides all the amenities a modern traveler may desire, curating brands worldwide for an all-sensory experience. One visit to Lo Sereno and you will always have a home to return to on the beach.
Rooms of Lo Sereno
The Terraza extends just beyond the bar and dining area, sitting under a handmade wooden pergola facing the sea. All of the details in this area have been inspired by the geography which sits in front of it , with colours complimenting the rocks on the beach.
Rustic concrete floors, exotic tropical wooden table tops, and mint blue chairs host the perfect spot for you to sit and listen to the waves. The warm ocean breeze from the Terrazza carries the sunset right to you, which is perfect every night of the week. The Terrazza is a sanctuary to the senses.
Click here for further information
more information: losereno.com
---