Ride a motorcycle! You can learn so much – about people, about machines and about life in general. Provided you know how to get the BMW R 18 started.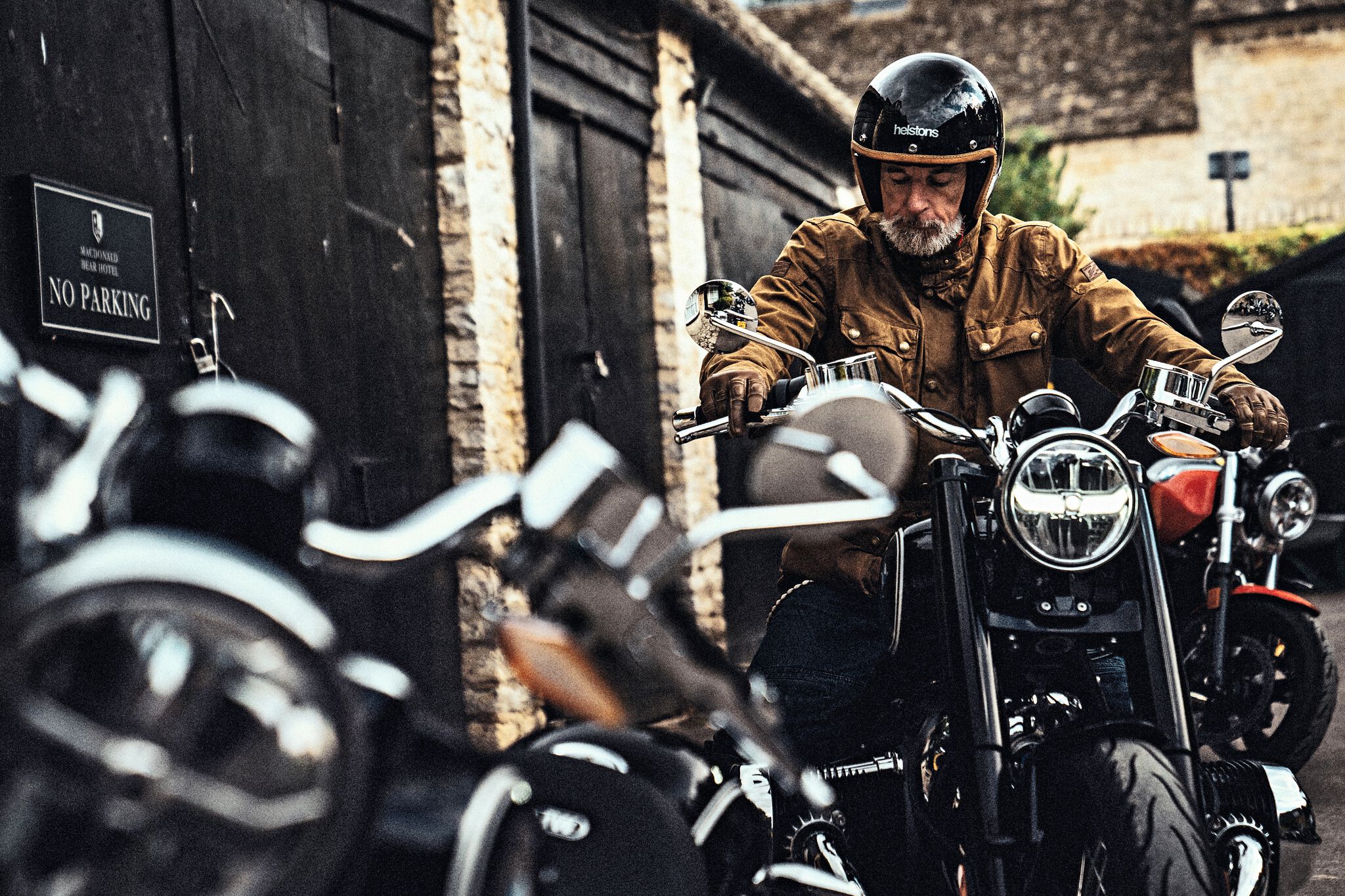 BMW R 18
Sigmund Freud never rode a motorcycle. At least we can assume he didn't, otherwise he would have thought differently about the struggle between the love and death drives that we are constantly engaged in. Perhaps he would have ­simply declared the twenty-five or so motorcycle journalists and the BMW Motorrad PR and marketing people here to be crazy. They all got together the night before for a tour through England on various BMW R nineTs and BMW R 18s. The location: the Bike Shed, 384 Old Street, Shoreditch. Besides Ace Cafe, ­perhaps the number one hotspot for bikers in London.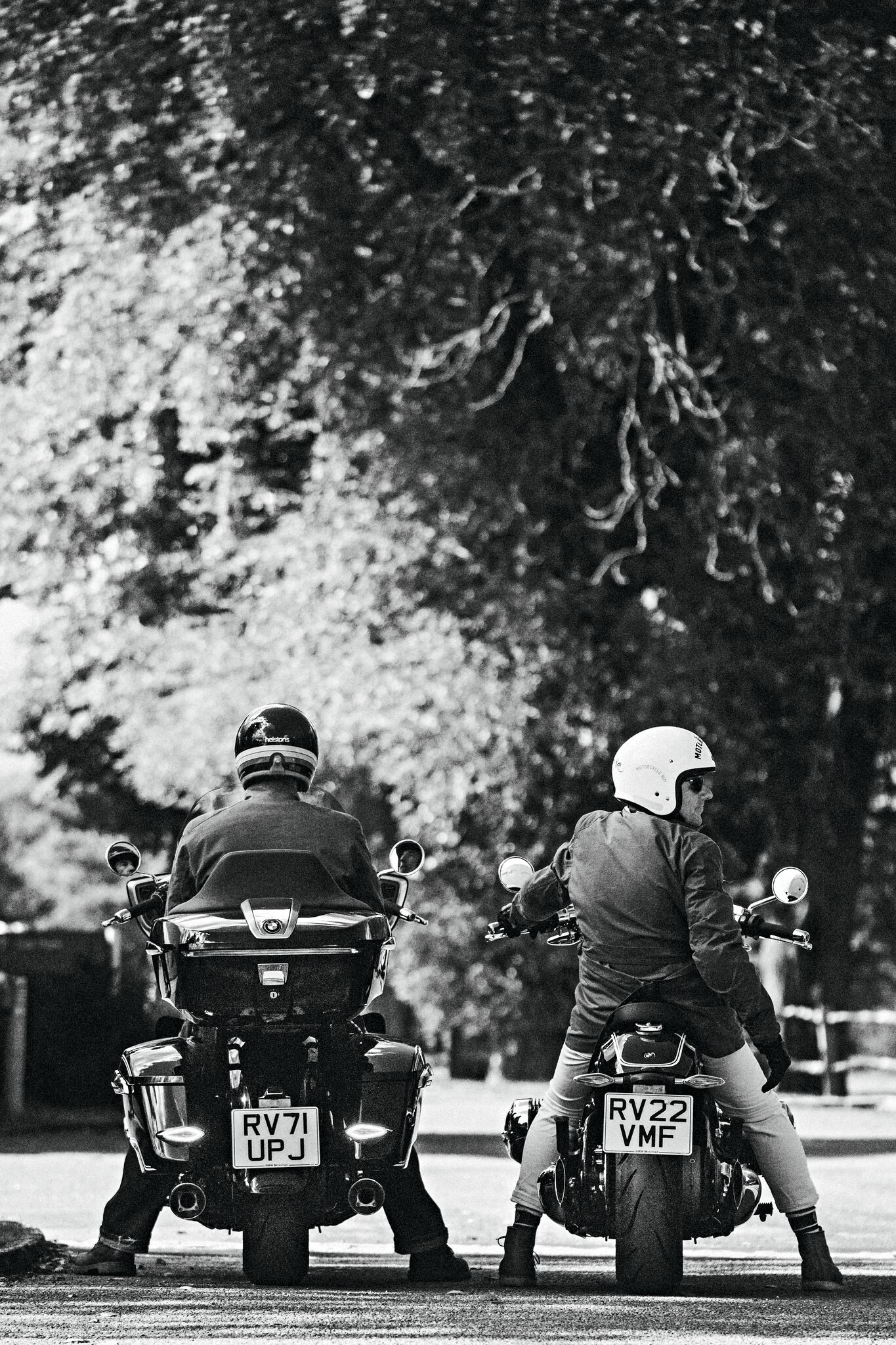 Everyone around me sees motorcycling as a natural form of transport and clocks so many miles a year on their bike that even some sales representatives can't keep up in their company cars. I'm sitting at a table with John. John is from England, in his mid-fifties, ­wearing biker gear that looks retro but that he probably really bought thirty years ago. We talk about the motorcycle lifestyle. I tell him I used to ride a lot, in my early twenties, a 1996 Ducati Monster. "Nice!" John grins. I don't mention that I got tendinitis in both wrists for several weeks at a time every spring because of the clutch and gas. I don't necessarily want to draw John's attention to my weak, pampered body as a first impression. I think he can smell the rat anyway. "No comparison to the new bikes, it was really hard work back then!" he says politely. I just nod.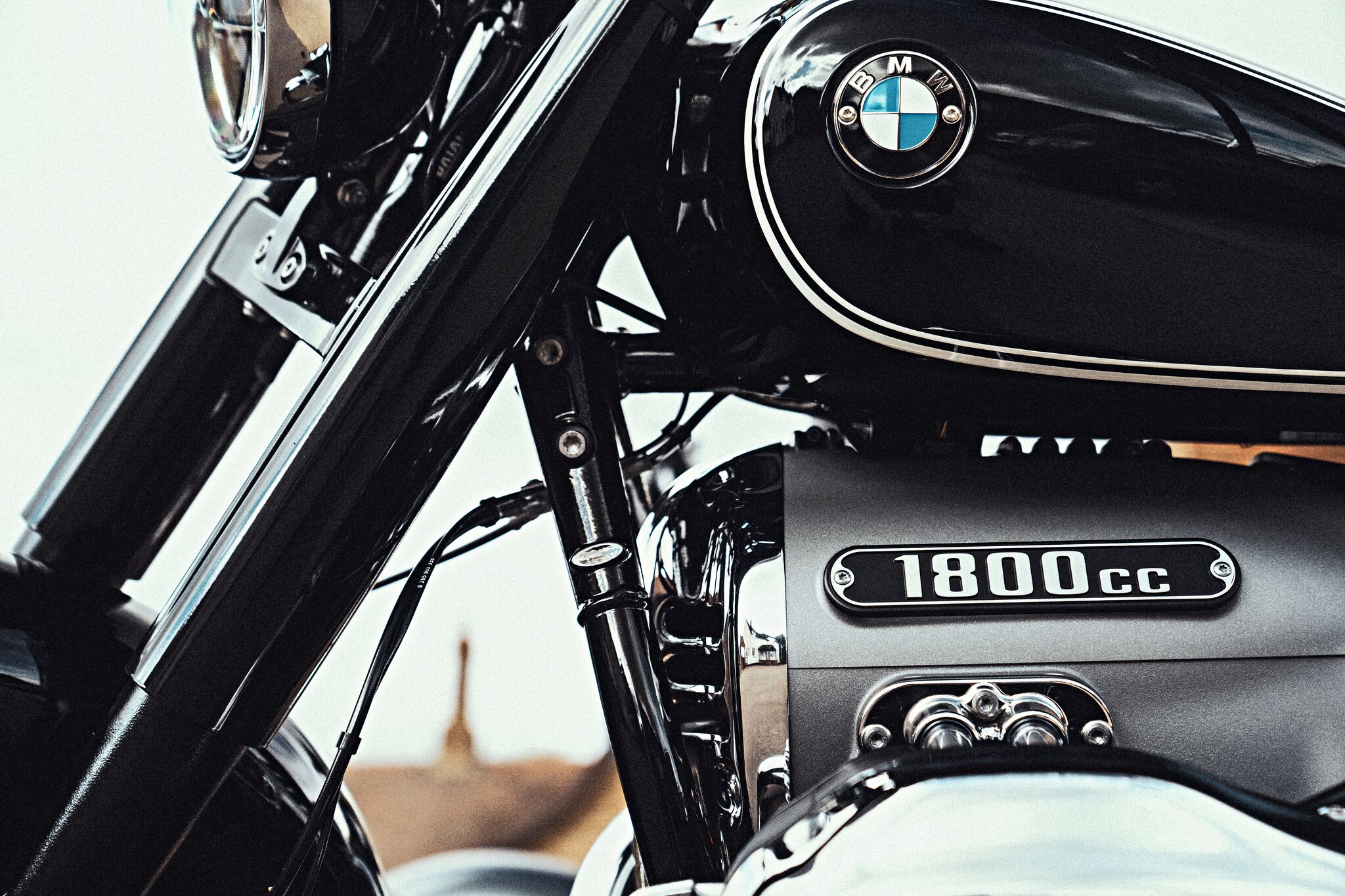 We also talk about the danger of motorcycle riding. John has lost a few friends over the years. He reaches for a potato fry and dips it in ketchup. "You know, motorcycling, like learning to walk, is a form of human locomotion that has all the same elements we use to discover the world as newborns. A baby straightens itself up, it pulls itself up on a table or a couch, it tips over and falls. And sure, it gets hurt at times. But that's how the baby learns. Then come the first wobbly steps, later as a toddler it runs, jumps, does all the things that give it what will later be its body awareness. It senses that it is human, and it understands that this is the only way it can move forward. That there's always some risk. That was essential for human evolution, and it will always be like that. Riding a motorcycle teaches us the exact same thing as adults. On every ride. I don't ride motorcycles in spite of the risk, but because of it." Later, I learn that John had studied philosophy for a while.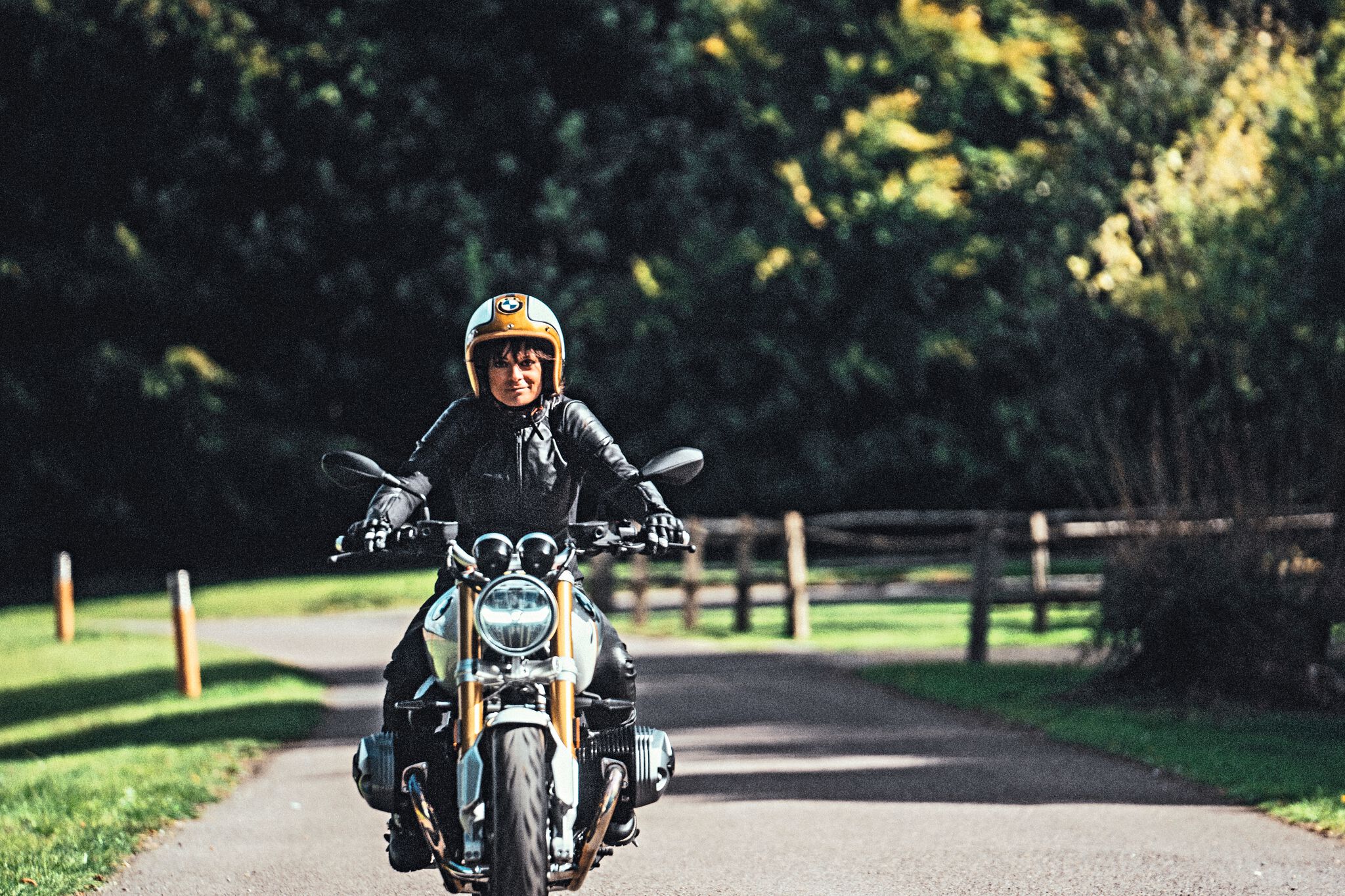 The next morning, at the Classic Car Club, the starting point for our ride. We'll be traveling via Oxford, with two brief stopovers to visit Marshall Amplification in Bletchley and the BMW MINI plant, to Goodwood for the Revival. My bike is a BMW R 18. I'm excited, wondering if I can keep up with the group. Giddy with anticipation, I try to fire up the bike. But the R 18 just doesn't want to start. Three times I switch the ignition off and on and press the red start button, but the machine doesn't make a sound. So I call for Alex. Alex is from BMW, always cheerful and in a good mood, and he explains a special feature to me: the blast that the two-cylinder, four-stroke boxer engine sends through the machine and through the rider's body when it starts up is so powerful that BMW Motorrad decided, for safety reasons, that you could only start the engine with the clutch engaged. Even with the transmission in neutral. I'm already gearing up to complain about this sheer impertinence when the engine cuts me off mid-sentence. Even with both hands on the handlebars, the R 18 jerks so hard to the left that I briefly think I've been jostled by a drunken lumberjack. I tell the joke about the lumberjack the next day at lunch. No one laughs.
We're off. Stop-and-go through the City of London. Temperature outside: fifteen degrees Celsius. The moment I feel like no one is watching, I switch on the heated grips. There are seven of us, the bikes are as wide as a horse, so we don't weave our way between the cars but jog along with the traffic. Bikers quickly get bored with this kind of thing – which leads to them coming up with the kind of silly ideas that gives me my first shot of adrenaline of the day. We're waiting in the front row at a red light. When the light turns yellow, Matt, who is next to me, grabs my handlebars and presses the kill switch. My engine cuts out. Matt rides off, and I'm left with five very experienced bikers staring at my back. I can feel their eyes on me. Riding in a group, you don't just pass the guy in front of you. For a short time, I'm very nervous. What to do? The clutch is still pulled. First gear still engaged. The start button. Now! With an energetic jolt, the boxer comes back to life. "Just don't stall the engine on the way out!" I think. I've never felt this anxious, not even before my school-leaving exams. But I pass the test. I take off and catch up with Matt, who is waiting at the next light. Sneaking up behind him, I bump his rear tire with my front wheel. The little jolt takes him by surprise. He wobbles briefly but catches himself right away before giving me a hang-loose gesture as a ­greeting. Initiation ritual complete, I suppose. We ride out of town. From here on, things get more ­serious.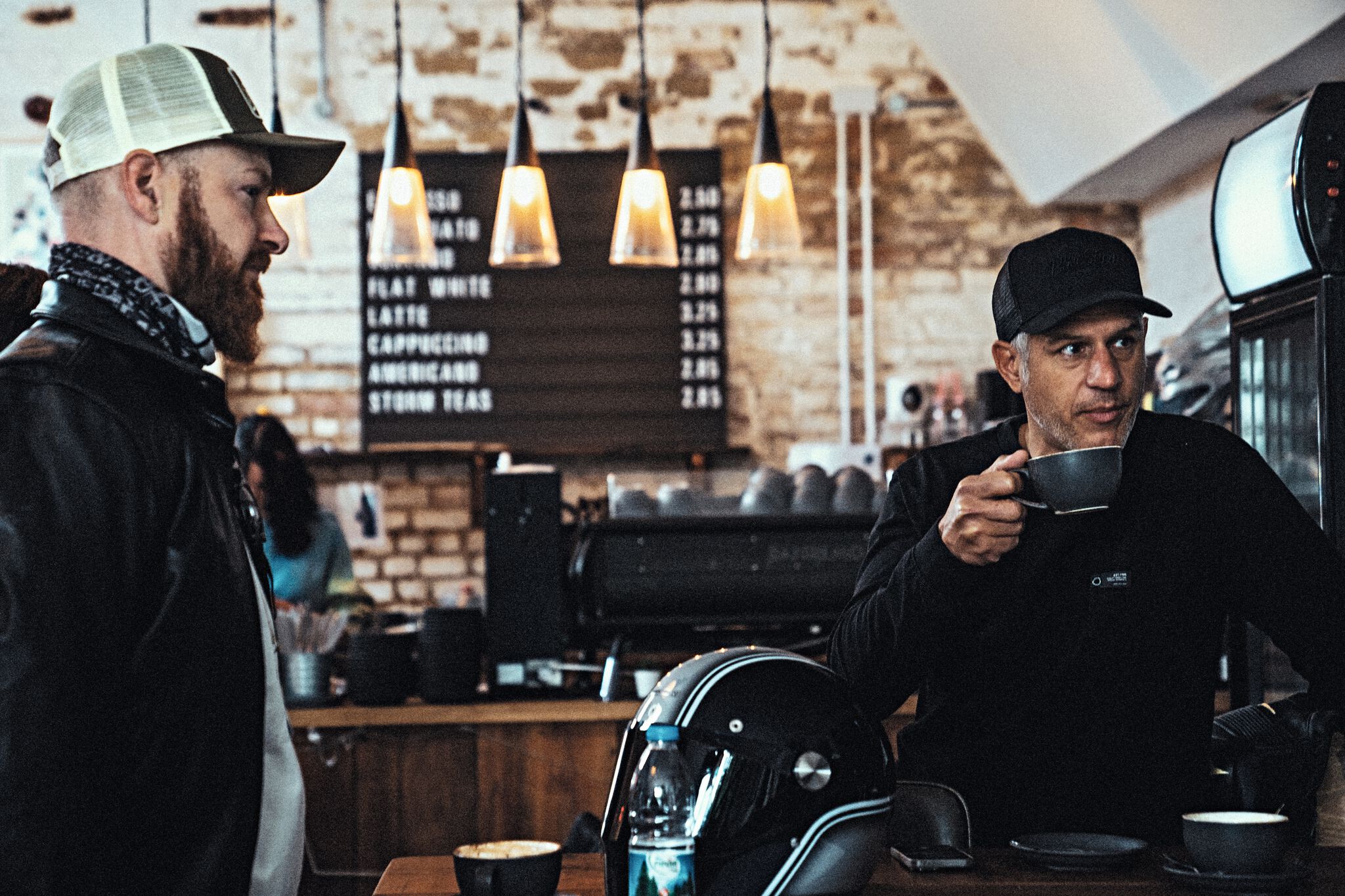 It's hardly surprising that an engine like this doesn't necessarily exude harmonious smoothness when idling. The pistons box their way through the cylinders at somewhere between 900 and 1,050 rpm. And truth be told, you hardly need a lot more revs when you're moving along. For the very lazy among us, you could just start off in third and then let it roll. Thanks to the claw-shifted six-speed transmission, the R 18 is basically an automatic bike with a permanent shift option. Outside the city, we keep a smooth, country road cruising pace. The low-slung R 18 doesn't allow for much lean angle anyway. As I accelerate out of a traffic circle, and the footrest grinds across the asphalt with an unpleasant "skrrreeek", the adrenaline shoots through my veins for the second time. "Totally normal," Alex reassures me later. It doesn't just happen to me, either, but to all the other guys riding an R 18. It's a bit like when the automotive colleagues scrape a rim against the curb when parallel parking. No one will really think any less of you. As long as it's not a Bugatti Chiron, of course.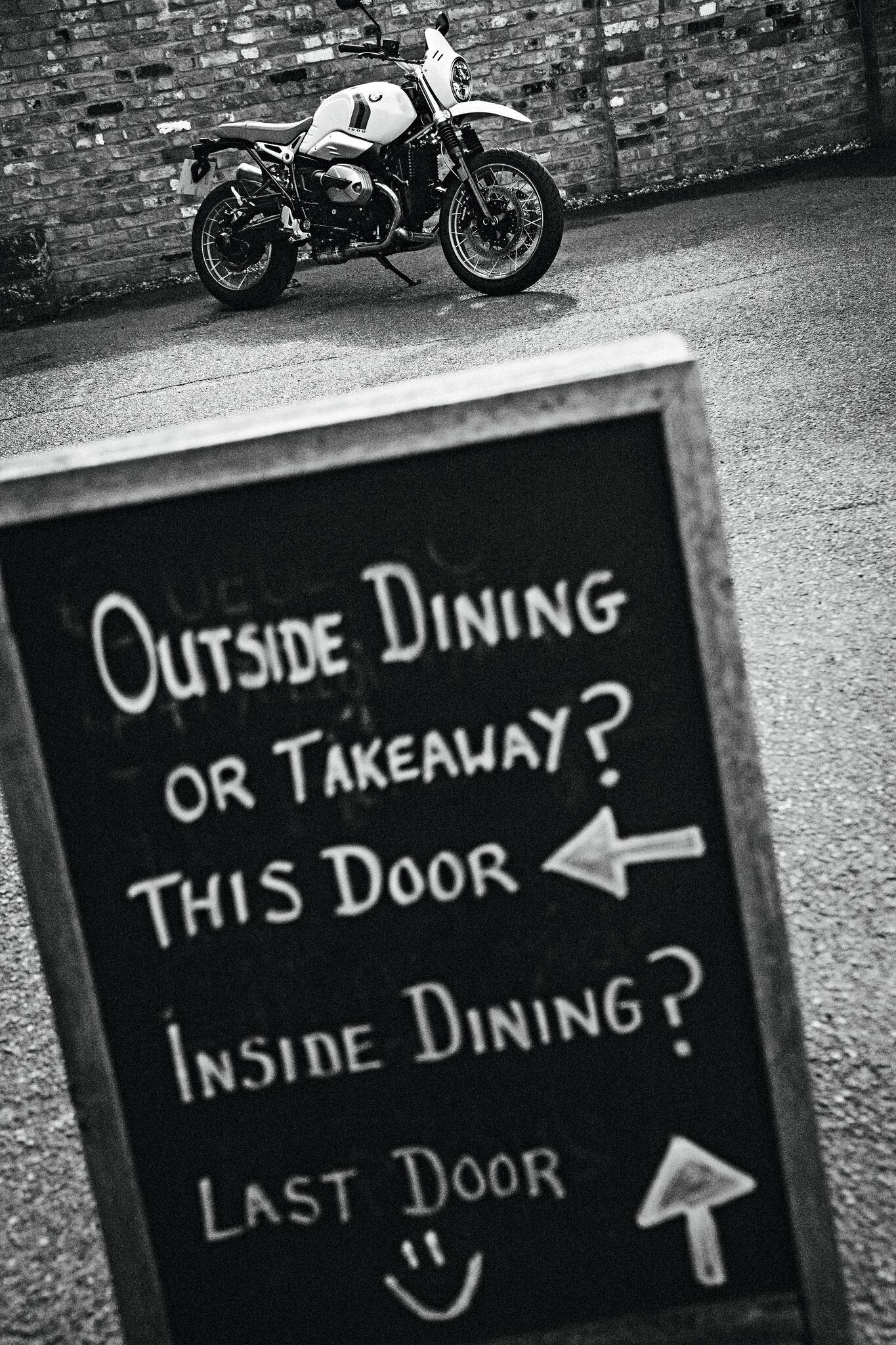 We arrive at Marshall Amplification. Since the 1960s, the go-to brand for ­outfitting concert stages and recording studios. There's a version of the R 18 with Marshall speakers. That makes the bike look a lot more like a Honda Gold Wing, and it puts a good four hundred kilograms on the scales overall, but you can listen to music while riding. Full blast in the sunshine and fifty-five miles per hour on Route 66, for example. We get a guided tour. Lots of manual craftsmanship. Life-size posters of rock legends on the walls: Slash, Iggy Pop, Angus Young and, of course, Jimi Hendrix. Our guide tells us an entertaining anecdote about him: Jim Marshall, the company's founder, was a big fan. When Hendrix came by to order some more equipment, Marshall wanted to give him a nice discount. But Hendrix graciously declined. He didn't want to be dependent on one brand – and paid the full price all his life. Which, of course, is the story they tell today whenever a ­customer asks for a discount. The question whether they have ever granted ­anyone a discount anyway, however, was left unanswered.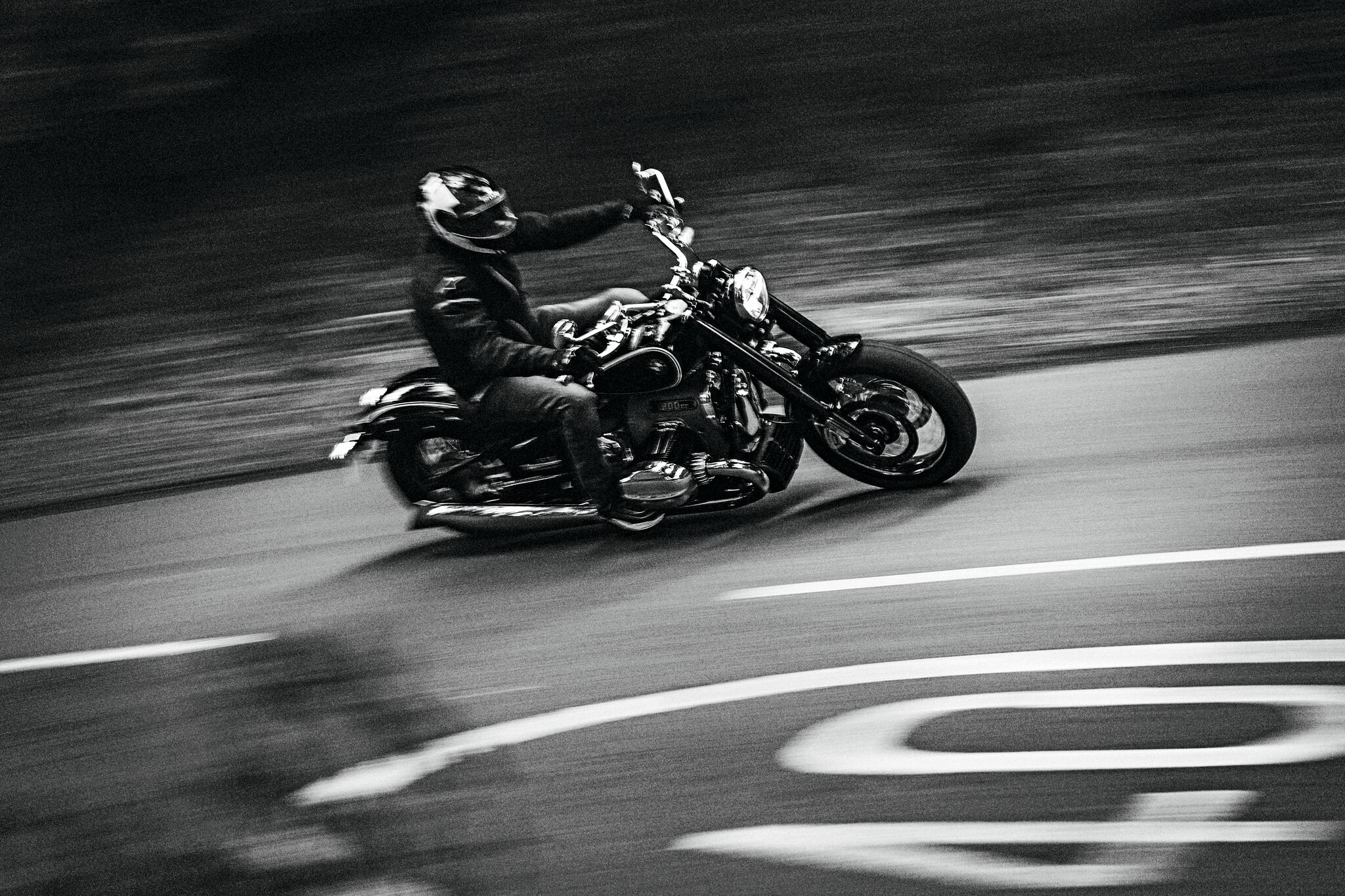 We continue on our ride. In the evening, we get to Oxford. Oxford looks a bit like one of those idyllic places from English period films that could easily serve as the backdrop for a Harry Potter movie without having to make any major changes. We go to a pub for cheeseburgers and beer. I share a table with Matt. Almost casually, he mentions that he fell off his bike twelve times in one day on an off-road tour once. But that also means he got back on every time. He didn't stay down and cry about it. The way I probably would have. Before I know it, Matt has already moved on to the next story, where he spent an entire night in jail in Johannesburg with eleven criminals because the police caught him speeding and he stupidly didn't realize that the patrolman would have settled for even a small ­monetary gift. Everyone in the cell was on drugs. Except for Matt. "You have no idea, my friend." I really didn't.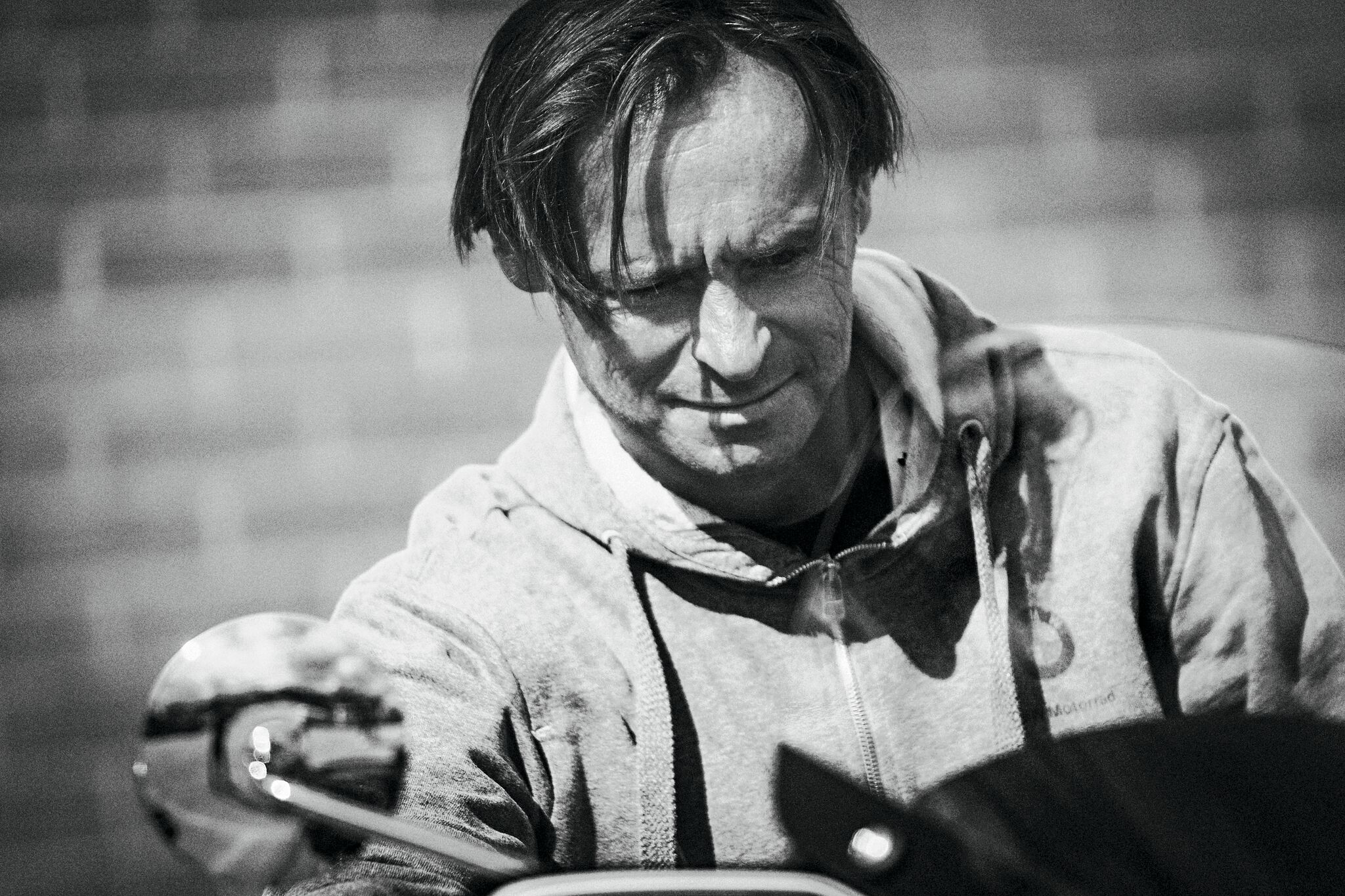 And then there's Stu. Stu has ridden in the Tourist Trophy on the Isle of Man. I look at him with wide eyes and wonder what stories could possibly interest this man. The thing is, though, that there are subtle gradations even among all these guys. Eugene Laverty is riding with us too. Superbike and ex-GP racer from Northern Ireland. Currently riding a BMW S 1000 RR in the Superbike World Championship. I observe: Whenever he's around, even the most veteran ­motorcycle journalists become much more restrained with their tales. There are ­videos on YouTube of Laverty simply walking away after his bike smashes into the track barrier in a mighty fireball. But Laverty is not the type to tell anecdotes. He has a calm demeanor when speaking and is extremely friendly. I briefly consider asking him about Sigmund Freud. But decide against it.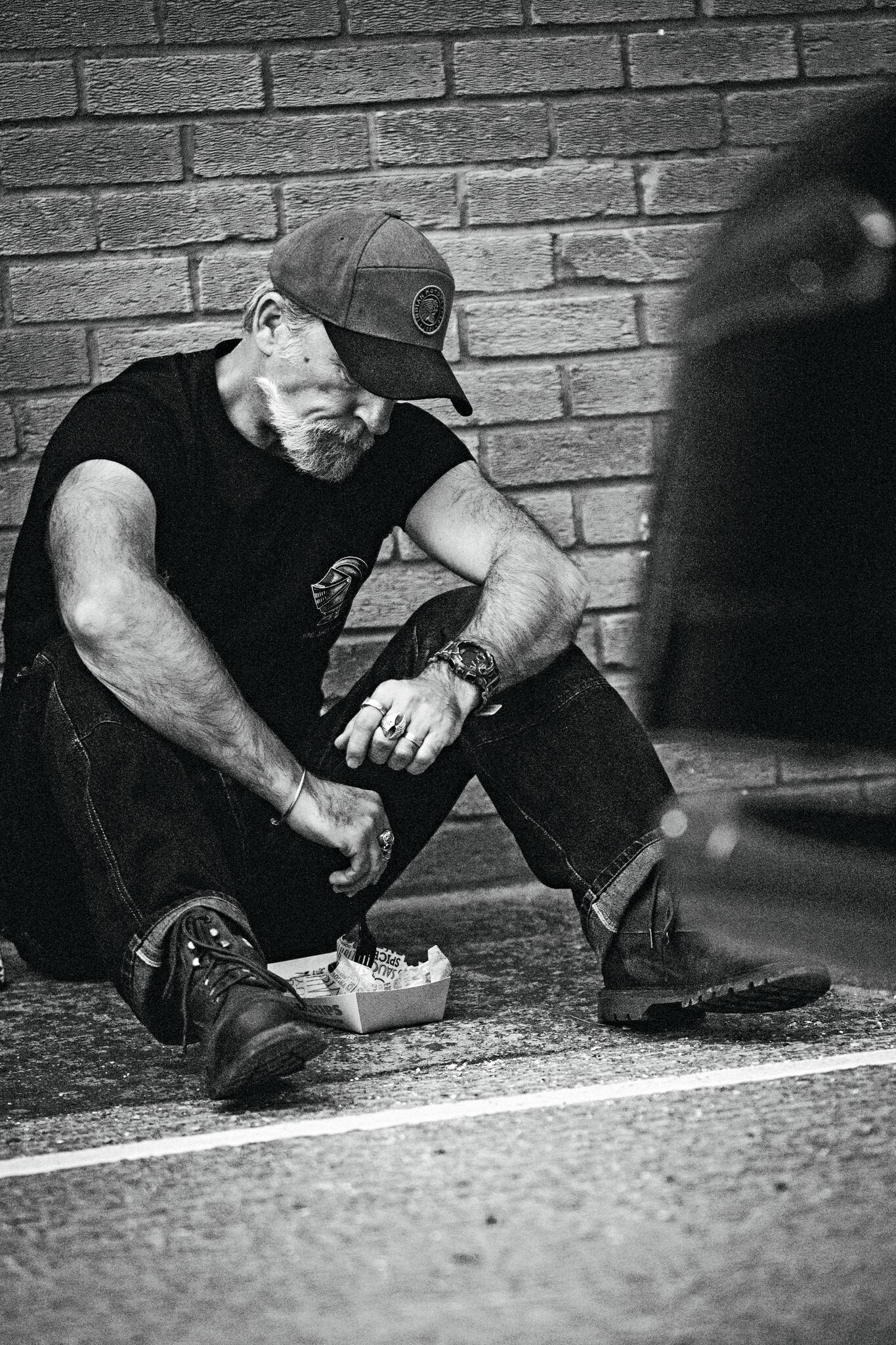 Text: Matthias Mederer /
Photos: Matthias Mederer/ ramp.pictures
ramp #58
As a high-impact multimedia brand that takes an all-encompassing, end-to-end approach to publishing, ramp is an absolutely authentic expression of quality, integrity and excellence. Its trailblazing luxury magazines, recognized with numerous awards over the past 15 years, have been celebrated for their cool and unconventional, not to mention inspiring and pioneering style, since day one.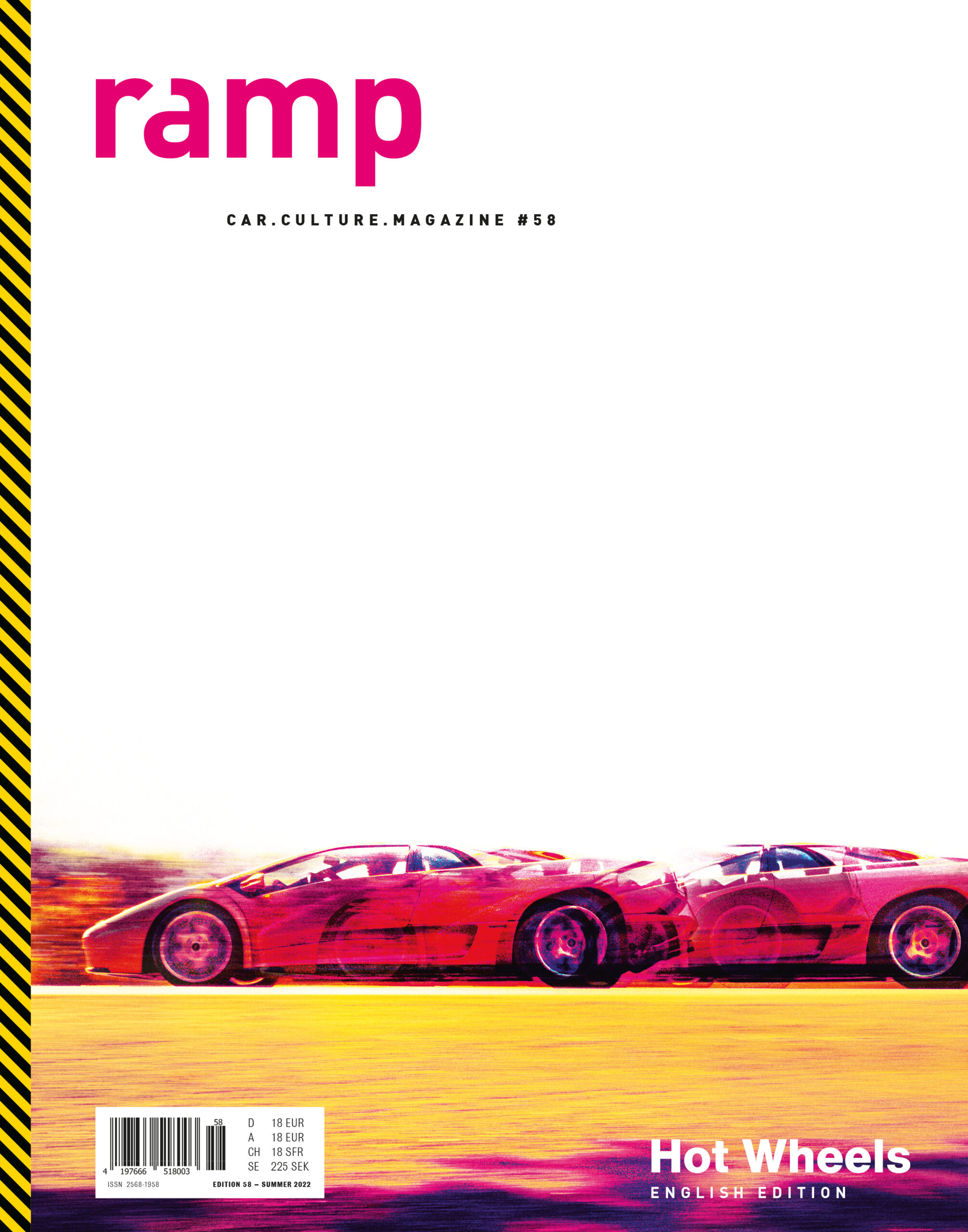 ramp, the lavish and beautifully designed coffee table magazine, celebrates the enthusiasm for cars and driving in a passionately subjective, personalized fashion.
Immediate, authentic, intense. Fresh perspectives, avant-garde imagery, with a fine feeling for nuances and the right dramaturgical mix. Always new, always stimulating. Automotive passion infused with a lust for life. The automobile in new, exciting and intense contexts, precisely tailored to the relevant target group, presented in relation to music and fashion, culture and lifestyle, design and art, science and philosophy.