Lamborghini welcomed clients and visitors at two important UK concours events at the beginning of September: Salon Privé's annual Blenheim Palace event and the Concours d'Elegance at Hampton Court Palace.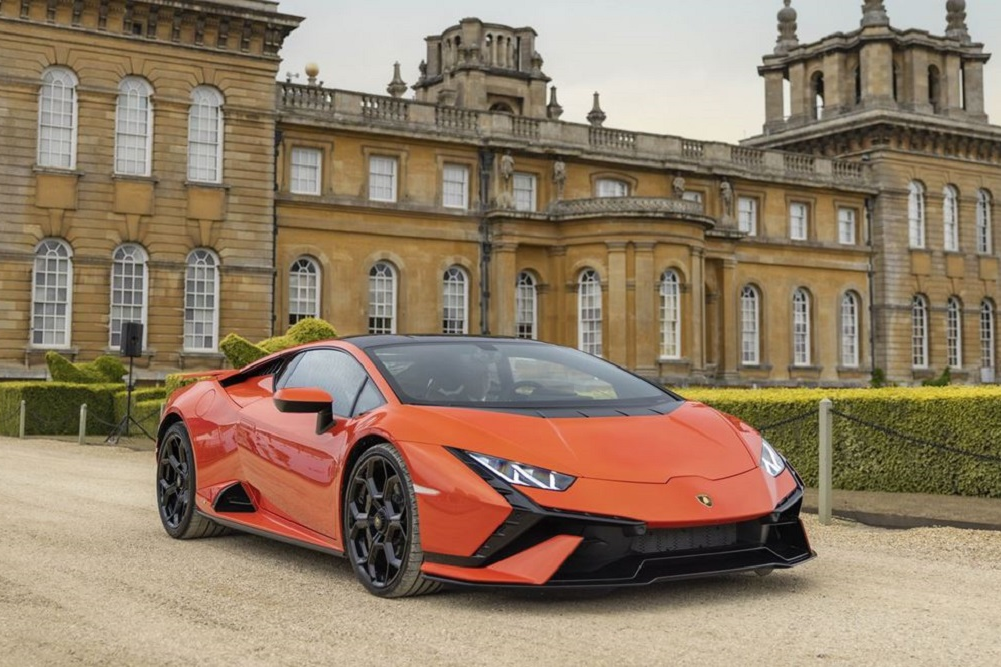 The V10 Huracán Tecnica, announced earlier this year, was displayed on the Lamborghini stand and paraded at Blenheim Palace from 31 August to 4 September: the perfect lifestyle balance between every-day and circuit driving fun, the Tecnica in Arancio Xanto was displayed alongside its track-oriented brother, the Huracán STO in Grigio Lynx.
The invited VIPs at Salon Privé also paid homage to the Aventador Ultimae on show: the last naturally-aspirated V12 Lamborghini before introduction of the Aventador successor and other new hybrid models from 2023 onwards.
Lamborghini-invited artist Paul Oz created a special painting of the Lamborghini logo to the fascination of guests. Working in thick oils on carbon fibre, the modern artist who specializes in automotive and motorsport art and sculpture, produced the vibrant piece, already sold to a Lamborghini owner.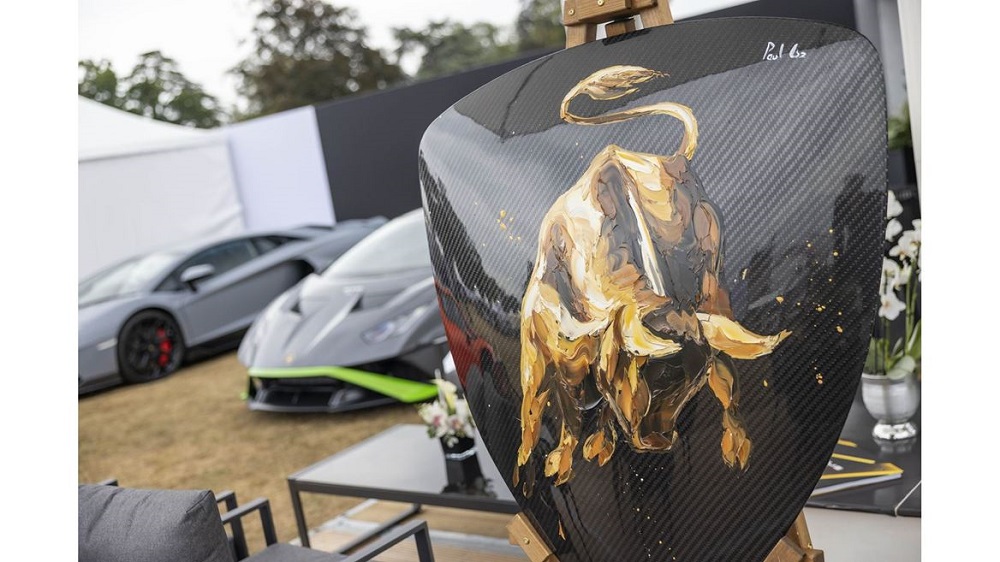 On the lawns of Salon Privé, a specially-curated Platinum Collection of cars from the last 70 years in honour of the Queen's Jubilee, featured three exceptional Lamborghini models. A 2010 Reventón Roadster took its place in the 16-car display, one of only three right-hand drive units produced out of 15 roadsters worldwide. Lamborghini announced the open-top version in 2009, following the 20-unit Reventón coupe's first reveal in 2007, which was based on the Murciélago chassis and V12 powertrain but with new exterior design inspired by fighter jets.
Joining the Reventón was a 1973 Miura P400 SVJ: chassis #4860 was the fourth and last Miura SV 'Jota' to be officially modified by Lamborghini, for Ferruccio Lamborghini's German friend and racing driver Hubert Hahne, who personally oversaw the build of his car with unique details including a larger fuel tank and stiffer suspension. Following restoration directed by Lamborghini Polo Storico and its rigorous research and certification process, it has been awarded a certificate of historical authenticity by Lamborghini, with the 'Hahne Jota' honored in 2020 when exhibited by Lamborghini Polo Storico at Paris Rétromobile.
A 30th anniversary Diablo SE, vehicle number 64 of 150 produced, was originally delivered to a customer in Austria in 1996, with the Titanium-colored Lamborghini later acquired by a UK owner.
In London, visitors to the Hampton Court Palace concours d'elegance from 2 to 4 September, saw crowds gather around the Huracán STO displayed in Arancio Xanto. Lamborghini owners parked their current Lamborghini models in a dedicated paddock, enjoying the garden party celebrations while admiring a 1971 Miura SV and 1976 Countach LP400 Periscopio in the historic concours displays.
If you are interested in more news click here.
---