Jacky Ickx, a name which personified an era of racing , of youth, glamor and respect for the dangerous profession which, what it was, but Jacky professed that, he loved it, danger and all.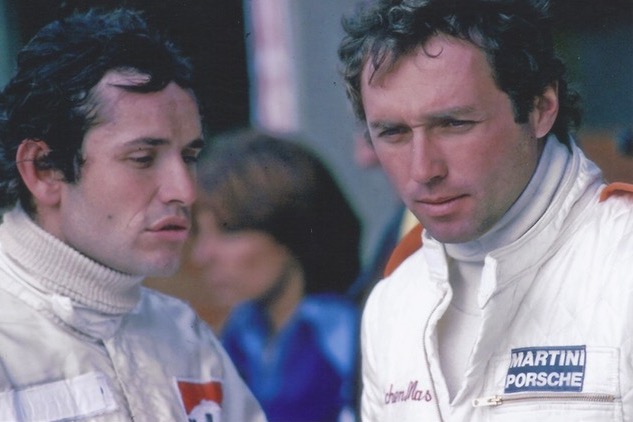 Jacky Ickx & Jochen Mass
Now that was quite a long time before my days of racing and I might have never understood his sentiments of doing something which could have killed him with the wrong type of luck and circumstances .
We are only one year apart in age, hardly, but he started with motorbike racing and made it into the big world of formula racing in a very early time of his life.
These years which saw Jacky hone his skills in F2 , competing in the F1 GPs because of insufficient numbers of F1 cars, which made us glued to the TV screen , if we had one, and admired this young Belgian who managed to run in the sometimes very bad weather conditions right amongst the leaders of the F1 field, much to the joy of the viewers.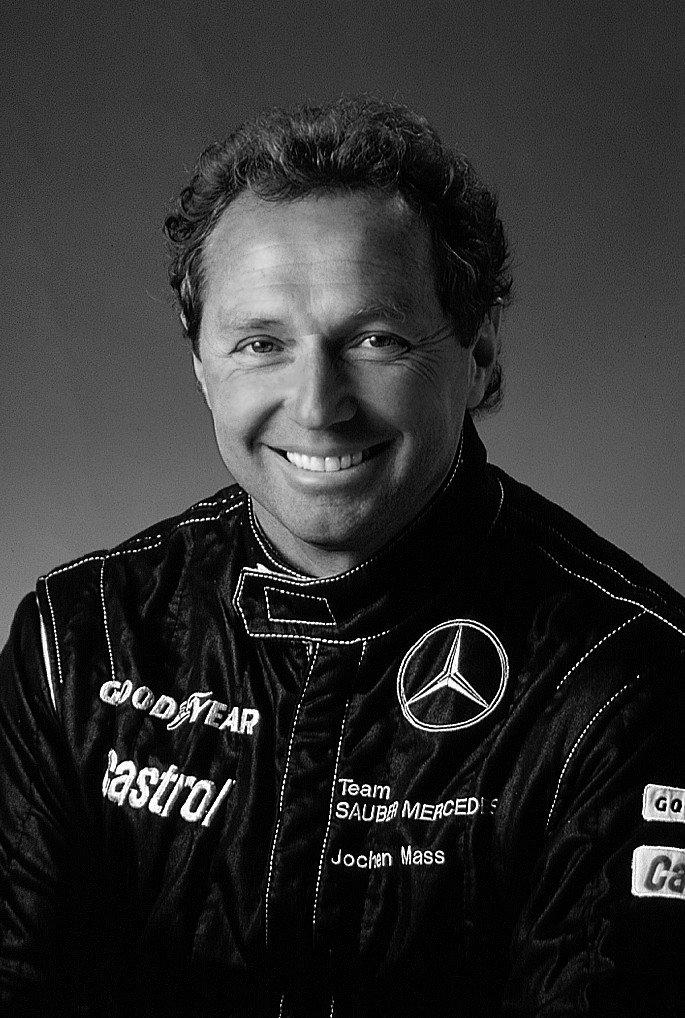 So I had a very specific image of this very talented driver. He raced in saloons as well, as did I , but a few years later, and he was amongst the very best drivers in that category , Sir John Whitmore in the Lotus Ford Cortina, Hubert Hahne in the BMW 1800 TI, and the Alfa 1600 GTA with Andrea de Adamich , Giunti, Zeccoli just to name a few, these fantastic races with the best there where in saloon car racing, what could be better ? Well, thats easy spelled out, to become one of them !
Well, it took me 8 years to finally connect with Jacky Ickx . That happened 1976 after having signed a contract with Porsche , and I was paired with a certain Jacky Ickx to share the cars we were to drive.
By that time I knew Jacky from F1 racing and I could see the changes of fate in racing .
No longer you were automatically given the very best material, being one of the greats in this elusive set of drivers, one needed the luck of the moment and the right time to be at the right spot the right time with the sponsors keen to support you !  Not so easy. But the respect for someone remained who had done so many brilliant races and was still very competitive given the right car.
Now, thats a long introduction to explain the feeling for someone who might be your partner for quite a number of years .
As it turned out , we had 11 (eleven!!) years sharing the cars.
Firstly there was no jealousy  in the way how the names were displayed on the car, Ickx- Mass on the one side , Mass -Ickx on the other. Fine with us. There was always the greater idea behind a team , that always mattered first .
Even if there might have been the occasional difference in lap-times, it didn't matter, the overall picture mattered , we wanted to win. Which we did on a regular basis. We never once had a time of misgivings about fractional differences  in lap times, thats what made us so strong as a team.
We didn't have moments of him or me that we might have done better in a race, had the other had just been that little extra faster , no way, it was never a consideration to look at it that way.
We were a team, it was truly very satisfying  to have a partner like this
But surely there must have been moments ? No let me tell you , there weren't any!
In fact, I have spent the most serene of weekends being Jackys guest at his house for a GP weekend. The tranquility and beauty of his place  and the peaceful atmosphere is something I will never forget.
Now , just imagine it today, difficult to picture .