The Monaco GP which almost happened, I had a very special race weekend in the Principality, full of optimism, Based on the year before, my one and only F3 race in the streets of Monaco.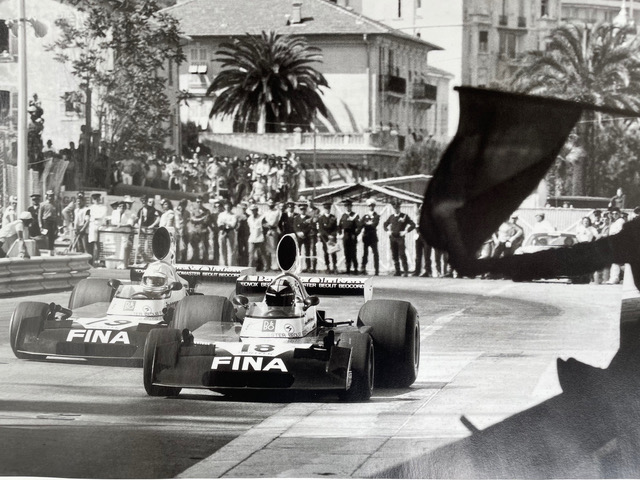 I had made it into the race, 80 cars battled for a slot in the 20 car field . That I was last on the grid didn't bother me too much, it was raining very strongly ,so last on the grid was ok.
I overtook 11 cars in the first lap and in lap three I was in forth position. Fine, but in the Mirabeau corner the 2nd and 3rd had tangled up, blocking the road, so we all came to a halt, But as those two disentangled one of them drove over my front end, breaking the wings and nose, which made a stop in the pits necessary, with lots of tape and plenty of lost time I continued and finished forth.
Jochen Mass always loved to drive the Monaco GP
So just a year later I was in the F1 GP of Monte Carlo, Glorious !! Or that's what I thought .
Unfortunately my TS car was not too happy on the track, it kept falling apart in all practise sessions, not just mine but in my teammates car, it was Carlos Pace from Brazil, similar
problems occurred so that we , despite the reasonably competitive handling of our TS14 did not shine at all. The last breakage , happened on the pit straight in the final Qualifying ,
When the right rear suspension broke and I managed to come to a halt direct in front of John Surtees, who jumped over the guardrail and with a poisonous look asked me: what did you hit. Absolutely nothing was my reply, but if you John can't explain this break of the rear uprite, you can drive it yourself tomorrow . But it was brand-new John claimed!
That's all I wanted to hear John I'm not driving, its all yours.
A real pity , since Carlos and I had been reasonably well placed on the grid. But out of principle I refused to take chances with a not- trustworthy car. Monaco is still quite a fast track at places , so a shunt didn't appeal to me. So no race for me! Quite a decision for a young F1 driver. After all I had been only three years in single seaters , so to place a no go on to the team was rather a decision. But as it turned out, none of the other teams held this stubbornness against me, even John Surtees claimed that he had another years contract for me. Which of course wasn't the case. But that's another story.
Finally, 1975 with McLaren and Emerson Fittipaldi as teammate, I came 6th, not brilliant but in the points. Only the 6 first places received points , 9,6,4,3,2,1 ! A somewhat miserly number of points compared to today. But that was precious to earn at least one point.
What happened to Carlos Pace in the 74 GP ? he retired , the next year he drove for Bernies Brabham team which gave his carrier as nice push.
Report by Jochen Mass for collectorscarworld