This Jeep began its journey as a sturdy 1977 Jeep Cherokee S, sourced from the picturesque state of Oregon.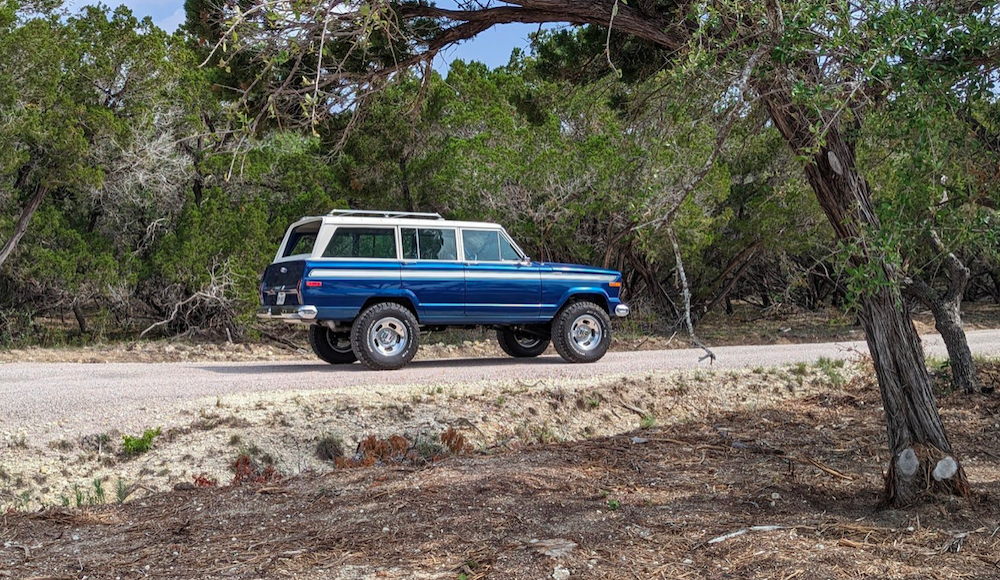 Once the decision was made to refurbish the vehicle, the entire body was meticulously stripped down to its bare metal. A striking two-tone paint job, adorned with a tribal stripe, was chosen to enhance its appearance.
In line with its vintage aesthetics, MOORE & GILES leather was intricately embossed with a 70's flower pattern in a sophisticated Slate Grey hue.
Mounted on a VIGILANTE chassis and equipped with 17-inch wheels, the Jeep boasts the mighty 6.4L 392 HEMI crate engine and a 4-speed Bowler automatic transmission. Power is effectively distributed to all four wheels through the robust Atlas-II transfer case and the impressive Dana 44/Dana 60 Currie Enterprise axles. Providing an excellent stance and a comfortable ride, the 4-link Eibach coil suspension is further enhanced with Fox Racing shocks.
Braking is confidently handled by the signature 6-piston brakes with Hydroboost power assistance. Cosmetic enhancements include the distinctive machined VIGILANTE wheels, mirrors, grille, emblems, and more, adding a touch of individuality to this magnificent Jeep.
Click here for further information
more information: vigilante4x4.com
---