Jaguar Classic has revealed two exclusive C-type Continuations to celebrate the vehicle's pioneering achievements in 1953. Each '70-Edition' features distinctive specifications and will be built at Jaguar's state of the art Classic Works facility in Coventry.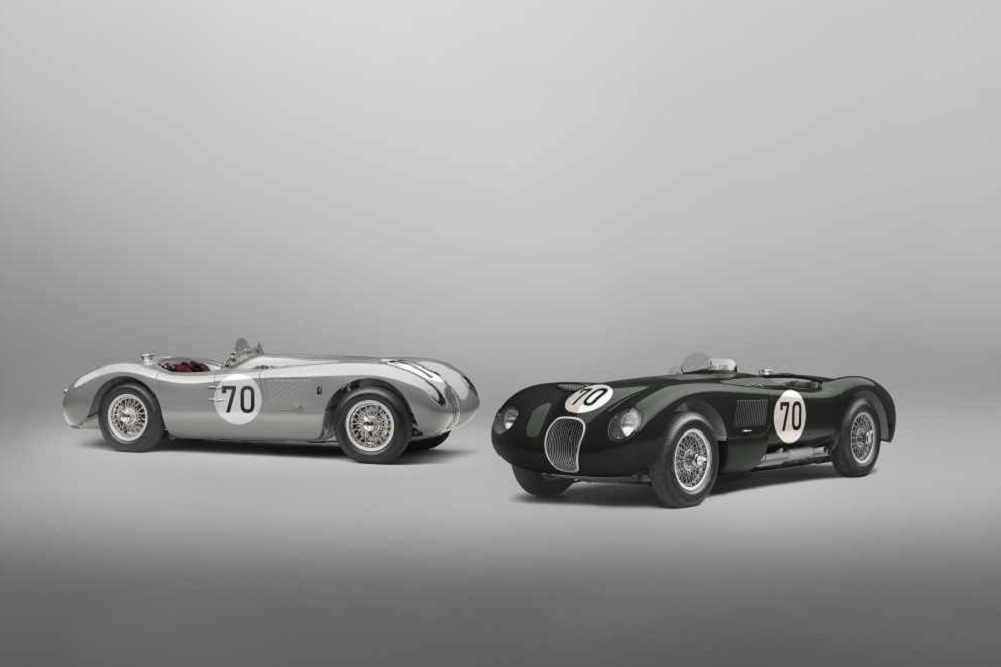 The two Jaguar C-type Continuations have been revealed seventy years after C-types, equipped with pioneering disc-brakes were at the pinnacle of sportscar racing including dominating the 1953 24 Hours of Le Mans. Four Jaguar cars were entered that year, finishing first, second, fourth and ninth. The winning driver pair of Tony Rolt and Duncan Hamilton covered over 2,500 miles at an average speed of 105.85mph breaking the previous record and in the process became the first winners to take the title with an average speed of over 100mph. A testament to these remarkable Jaguars.
Each C-type Continuation '70-Edition' has been exclusively tailored in an evocative colour and trim, with hand crafted silver enamelled badging, '70-Edition' stitching and embroidery, and painted roundels with racing number 70. The first of these editions is finished in a one-off colour of Verbier Silver with Cranberry Red leather interior. This never to be repeated colour and trim combination is inspired by the C-type's Platinum Anniversary. The second '70-Edition' is a tribute to the victorious 1953 car of Rolt and Hamilton, C-type XKC051, and is finished in the Works Team colours of British Racing Green with a Suede Green leather. The '70-Edition' logo is inspired by the visual features of the C-type, originally created by Jaguar designer Malcolm Sayer famously responsible for the shape of the D-type and E-type.
Each '70-Edition' comes with a bespoke key housing and dashboard plaque from partner jeweller Deakin & Francis. Founded in 1786, Deakin & Francis have over 230 years of heritage as England's oldest manufacturing jewellers and have crafted the dashboard plaque from a 1953 C-type fuel tank.
---
"Each C-type Continuation is a rare and special vehicle to grace any collection, but we are delighted to reveal these two exquisite editions to commemorate a landmark year for Jaguar and motorsport. In 1953, the introduction of the disc-brake combined with C-type's clever design and engineering, meant that the vehicle was dominant at the 24 Hours of Le Mans. The C-type is a historically significant car with Jaguar pioneering disc-brake technology seventy years ago, and we often take for granted the fact that the disc-brake remains the industry standard."
Matthew Bailey
Senior Manager for Strategy and Business Development, Jaguar Land Rover Classic
---
Handcrafted over 3,000 hours at Jaguar Classic Works in Coventry, all C-type Continuation models including the '70-Edition' cars will be built to the specification of the 1953 Works C-types. Underneath the aluminium body is a 3.4-litre straight-six engine, which took nine months to construct with meticulously refurbished triple Weber 40DCO3 carburettors, producing 220bhp.
Jaguar Classic's team have shown fastidious attention to detail. Photos of the brake-fluid reservoir showed that the original cars featured brackets, no doubt designed for application in another vehicle, yet in C-type served no purpose. For authenticity all Continuation C-types retain this anomaly.
The Jaguar Classic team has helped bring Jaguar's heritage to life using extensive research, engineering knowledge and modern tools available from Jaguar Land Rover including advanced CAD modelling. C-type Continuations are then crafted using the same in-period build methods and techniques to ensure the limited-run are authentic to the originals.
The first few C-type Continuations are now complete and being delivered to excited customers all over the world.
All Continuation models are FIA-approved and eligible to participate in assorted FIA Historic events, including the Jaguar Classic Challenge, which takes place at a variety of racetracks including Le Mans and Silverstone.
If you are interested in more news click here.
---