Last year in Stuttgart Retro Classics celebrated their twentieth anniversary with a unique exhibition from Roald Goethe's award winning ROFGO Collection.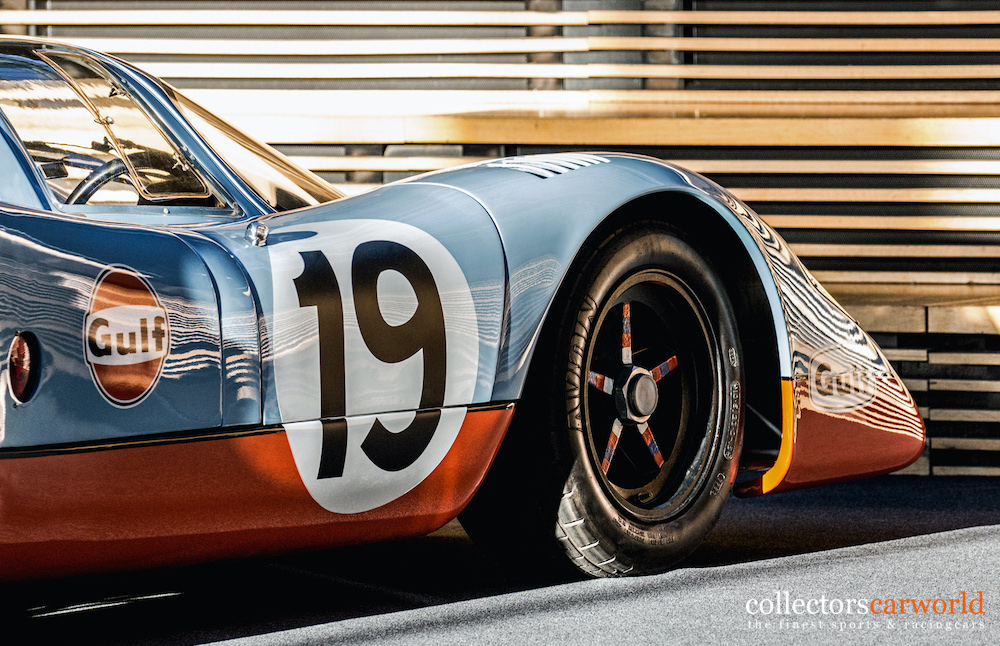 In just over 10 years, Roald Goethe has built up a collection of Gulf Oil vehicles that is world class and comprehensively documents Gulf's fascinating racing history. Therefore it was obvious for us to visit the opening of the exhibition. Our photographer Rainer Selzer documented the construction of the stand with 25 of the total 43 vehicles of the collection – so many of these rare automobiles have never been shown outside the collection in England. And it was also an honour for us to have an interview with the owner Roald Goethe along with two members of his team, technicians Stuart Gale and James Chown.
Our interview with Roald Goethe 2020
---
Kay Hafner: What was the initial spark for building this extraordinary collection?
Roald Goethe: My professional background is in the energy and mineral oil industry. I met Adrian Hamilton when I bought from him a Ferrari Dino GP race car. He planted the seed of building a collection. With his outstanding knowledge and network of contacts in world of historic racing cars he made my childhood memories of watching the Ford GT 40 win Le Mans, come true. But from the beginning it was planned as a complete collection, and not a cherry picking of single models.
Kay Hafner: Roald, is the collection already complete or are there still some cars missing from the Gulf racing history?
Roald Goethe: From the over 80 year old Gulf racing history I only miss the Ford GT Mirage M3, because the M4 does not exist. And maybe, if one would look at the full Gulf history , still the one or other Gulf-Miller pre-war racing car, but they are not part of the collection and my youth.
Kay Hafner: And what about the wonderful, typical orange McLaren racing cars here next to us or the two Brabham cars? What is the connection there?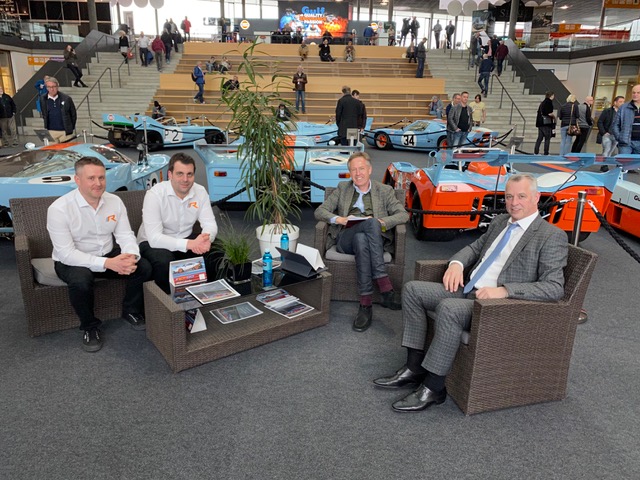 Roald Goethe: All of these non blue & orange branded cars were also supported by Gulf Oil, but some kept their own identity and color and insisted explicitly not to wear the Gulf house colours. So Bruce McLaren painted his cars orange from the start because there were more visible in the race and he wanted to stay that way.
Kay Hafner: But if you can't collect so many Gulf Racers now, what's next?
Roald Goethe: 50 Shades Of Grey – no, it's not what you think – we are currently building up a collection of 50 rare and special silver classics. It's still a bit secret, so we don't get bored and if there is something to tell about it, we'll be happy to give you more information. (Laughs!)
Kay Hafner: When it comes to Gulf Racing I only know the book Blue & Orange of Michael Cotton – don't you want to publish a book about this unique collection?
Roald Goethe: Yes, that would be a nice project and we are even thinking about documenting the exhibition here in Stuttgart in a special brochure or publishing a really nice book with emotional and fascinating pictures of my cars – but then of course with only little text and history, because that would be a repetition. I am always fascinated by the incredibly beautiful shapes and details of these racing cars. Look at this long rear end of the M6 Coupe here beside you – a streamlined work of art. Or the Tyrrell 007, the only ever completely Gulf-colored GP race car that we have rebuilt and which I have driven with great pleasure.
Kay Hafner: Speaking of driving, the whole Goethe family is enthusiastic about racing ?
Roald Goethe: Yes, my two sons are very committed to racing and actively compete in modern classes. The nice thing about the collection is that my technicians and racing drivers really keep the cars ready for racing, so they are not static museum pieces. I also enjoy participating in some of the events throughout the season as well.
Kay Hafner: Is there anything really special we can do with all your racing cars when we visit you in England?
Roald Goethe: I would like to start the Howmet with its turbine here today, because that is a very special experience and noise. There are only two examples of this car. But then the Stuttgart fire brigade or of course the trade fair would immediately declare a state of emergency and we don't need that with all the topics that are currently moving people outside. But a car like this, which has constant propulsion which you have to hold back and control practically all the time with the brakes, is quite unusual. This already caused a lot of sensation in 1968 at the 24 hours of Daytona debut.
Kay Hafner: Roald, we could go on raving for hours about these wonderful cars in your collection, but you have a lot of other appointments today. We hope that many enthusiasts still admire these pieces of motoring art here and we are looking forward to a follow up in England, where we can see the whole collection and maybe even drive some of them. Many thanks for the conversation.
Roald Goethe: Thank you for the great pictures and nice interview, Kay.
Report by Kay Hafner for collectorscarworld.com
Photos by Rainer Selzer / rs65photos.com
---