In 1953, Frank Kurtis expanded his line-up of racing cars with the cycle-fender 500S sports racer. It was effectively a two-seat version of the successful Indy cars and could be fitted with a choice of engines. The following year, Kurtis also offered a kit-car version of the 500S chassis for his customers to fit with a body of their own choice. Known as the 500KK, it was a well timed machine as many specialist fibreglass body builders were setting up shot during the first half of the 1950s.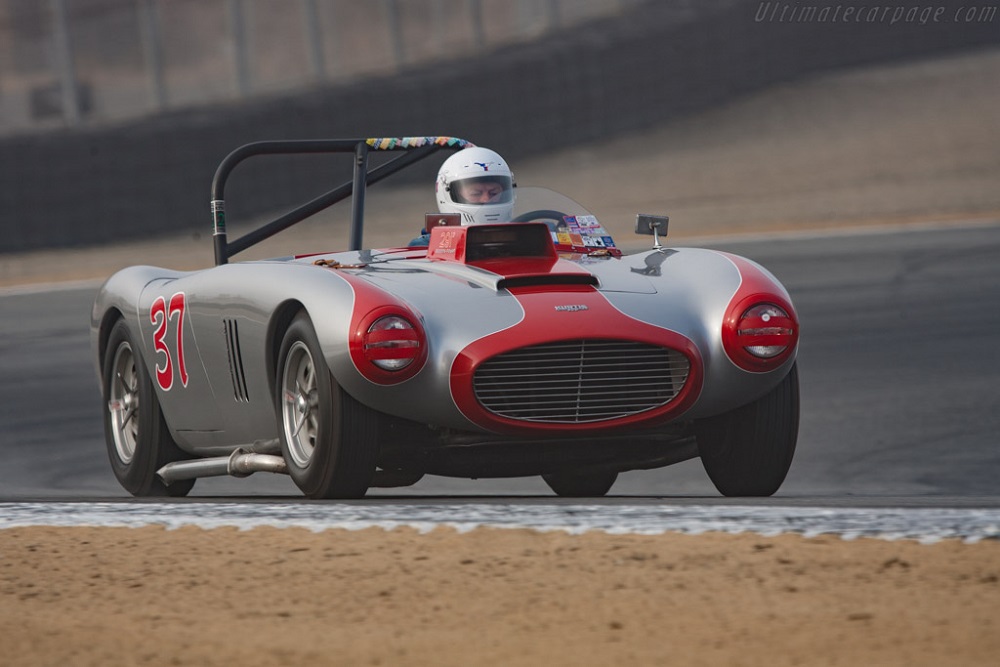 The 500KK kit chassis was nearly identical to that of the 500S with modifications made only to allow a wider variety of bodies to be fitted. These changes included a lower frame height. To make up for the loss in rigidity solid instead of drilled X-bracings were installed. Like the 500S, a Ford live axle was fitted, which allowed for a Halibrand quick-change rear-end to be used. Kurtis offered the 500KK as standard with a 100-inch wheelbase but Kurtis would built the chassis with a wheelbase from anything between 88 to 100 inches.
Kurtis 500KK SR-100
It is believed that a total of around 60 chassis were built to the 500KK design, with around 20 retained by Kurtis for the company's own 500M. The remaining 40 cars were fitted with a wide variety of engines and bodywork by each of their private customers. Popular engine choices included small-block V8s from Ford and Chevrolet and also Chrysler's mighty HEMI. Most chassis were clothed with fibreglass bodies from the likes of Byers, Glasspar and Allied, while some were also fitted with more expensive and intricate aluminium bodies.
With the wide choice of engines and bodies, the Kurtis 500KK added a lot of variety to the American racing grids both in period and also more recently in historic events. Some were even shown on the lawn at Pebble Beach.
---
Report by ultimatecarpage.com
---