Hotel Gloria De Sant Jaume invite you to stay in one of Mallorca's grandest manor houses. Located in the heart of Palma, you'll find Hotel Gloria de Sant Jaume on a quiet cobbled street between the bustling Avenida Jaime III and the romantic Rambla.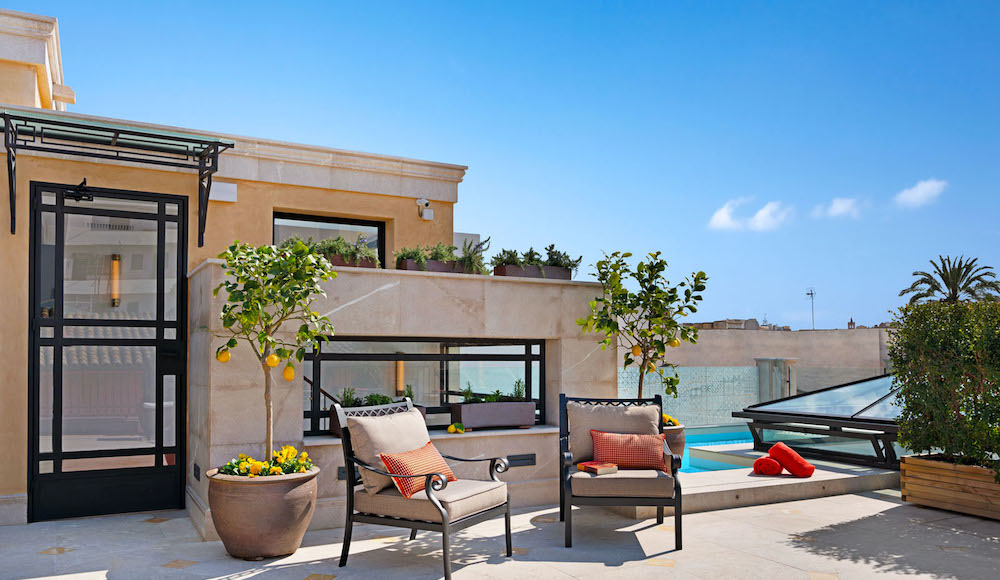 The boutique five star hotel is old in heritage but contemporary in its beautifully restored interiors. Gloria De Sant Jaume enjoys welcoming each of the guests with a warm and personal service, as they would one of their family.
The Luxury Rooms
Modern authentic luxury is what is offered to the guests in the fourteen rooms of Hotel Gloria. The 16th century listed building provides typically large manor house rooms all of which have been lovingly restored and interior designed in a colonial style decor using bold but muted textiles and fabrics to offset traditional, colourfully tiled floors.
Each one of rooms & suites are light and bright, offering either lofty ceilings or cosy wooden beams. Large french style windows in every room, open up onto the courtyard or the quiet lane of Carrer Sant Jaume.
Hotel Gloria De Sant Jaume want your room to feel relaxed and disconnected from the hustle and bustle of real life and so provide extra large and comfortable beds with toppers and natural fibre fillings. The Tv's are cleverly disguised as mirrors allowing you to completely switch off from technology when you choose and the roll top baths are the perfect antidote to a long day wandering around the old streets of Palma.
Wellness
The Spa is an underground oasis in which you can completely escape, rest and rejuvenate. A beautiful and very long indoor swimming pool is set amidst a natural environment of sandstone walls and wood with one end of the pool sitting beneath the original reservoir's vaulted ceiling. The pool is perfect for laps or simply soothing away any aches and pains under the hydromassage.
During your time in the spa, you can enjoy all the dedicated wellbeing facilities including the dry sauna or steam bath, the treatment room where you can choose any one of the relaxing treatments and the relaxation room where you can sip on a selection of teas.
The Rooftop is a outdoor relaxation area where you can basque in the sun on one of the loungers, relax in the outdoor plunge pool or rehydrate with a healthy juice ordered from the restaurant.
Click here for further information
more information: gloriasantjaume.com
---