The Hagemann-Sutton Scarab is a fascinating one-off in 1950s sports racing cars and a wonderful example of the american road racing era. Its genesis was due to a man named Wally Taylor, who had successfully raced Austin-Healeys in Northern California and sought to move up to something faster. He visited Lance Reventlow's Scarab facility in Southern California in 1958, but by that time, the organization had transitioned its focus to its Formula 1 effort and was not available to build complete customer cars anymore. So he only got original Scarab parts for his dreamcar. This is the story.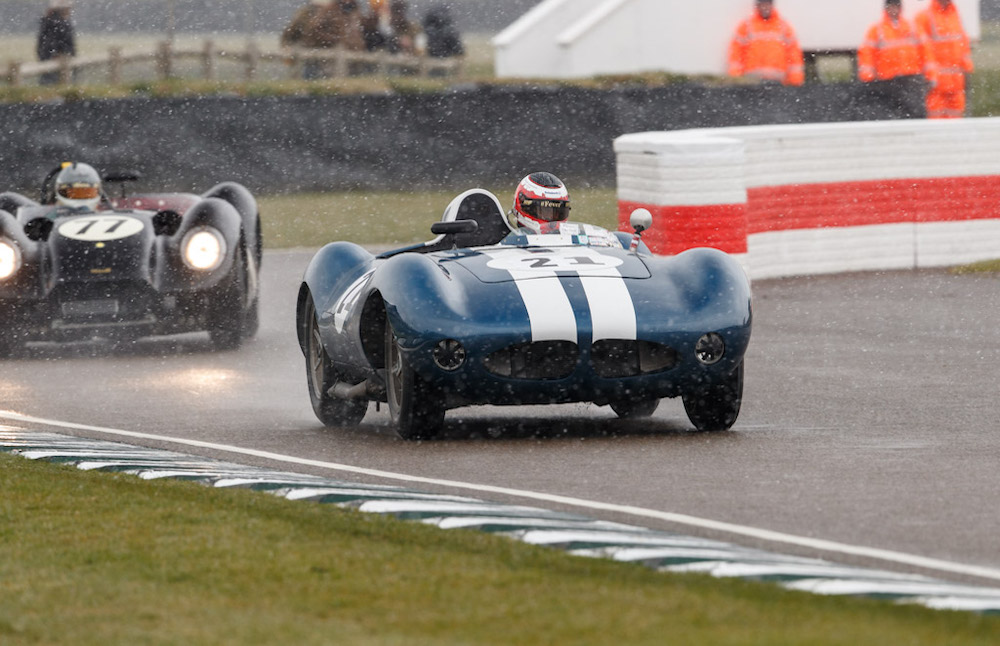 Taylor turned to his friend Jack Hagemann, who was a well-known California body designer and car builder whose metal working skills were self-taught. He built bodies for midgets and sprint cars initially, and eventually worked on Indy cars, Bonneville streamliners, hot rods, sports racing cars, and even the occasional P51 Mustang.
1959 Hagemann-Sutton Scarab
His constructions were known for their beautiful styling and excellent craftsmanship, and made bodies fitted to MGs, the Tatum Special, a Chrysler, and a Jaguar XK-120. Taylor, not being able to get a Scarab, asked Hagemann to build an exact Scarab-type car , even with support and parts from Lance Reventlow's team and workshop. The chassis employed the same space frame construction, deDion rear suspension with Watts linkage, Halibrand quick change differential with Troutman and Barnes side covers, Jaguar XK150 brake rotors with Girling calipers on the front, and specially made Devin-supplied inboard rear disc brakes, also with Girling calipers. Halibrand magnesium knock-off wheels were also fitted, along with a Chevy 283 cid V8 with Hilborn fuel injection and Corvette 4-speed transmission. Some period photos are documenting the chassis construction. However Taylor suffered a financial setback that prevented the car's completion in 1959.
The body was also built at the end of the 1950s by the famous californian bodybuilder Jack Sutton, who built bodies for a variety of important cars including Sir Malcom Campbell's Bluebird land speed car. The body was originally fitted to a Talbot-Lago T26 Grand Prix car chassis (serial number 110054) that was reconfigured to run as a sports racing car(!) This car was known as the Orgeron Special and was raced in Southern California from 1958 to 1962. The car was sold to Peter Giddings , who opted to return it to its original Grand Prix configuration, and so the beautiful aluminium shape came to Wally Taylor, because it was exactly the type of Scarab like body, which he would have ordered to complete the Hagemann constructed chassis. Taylor sold the chassis and body to Butch Gilbert, who completed the car many years later. Butch Gilbert was a well-known Northern California vintage racer and he was the one to finish the dream of Wally Taylor.
Throughout the completion , the decisions were made to finish the car exactly in a way that was as consistent as possible with how it would have originally been made in 1959. The engine is a 283 cid block (bored and stroked to 333 cid) with Bryant billet crankshaft, Eagle rods, and domed JE pistons (providing a 10.5:1 compression ratio). A Lehman front cross drive and timing cover drive the fuel pump, magneto, and water pump.
It has been consistently enjoyed since the completion in Southern Californian racing, and even placed second at the 2013 Monterey Historics. In 2018 it was raced at the Goodwood Members Meeting and Goodwood Revival by Max Werner. The car has Scarab cosmetics, with attractive paint, as well as a clean and well-prepared chassis. There paint is showing beautiful patina and some wear from being on the track. The interior is purposeful with Hurst shifter, vintage style black bucket seats, and Stewart Warner instrumentation. Like the remainder of the car, the interior is much the way it was in the Scarabs. The story is the same in the engine compartment, where the Chevrolet small block is topped by Hilborn mechanical fuel injection.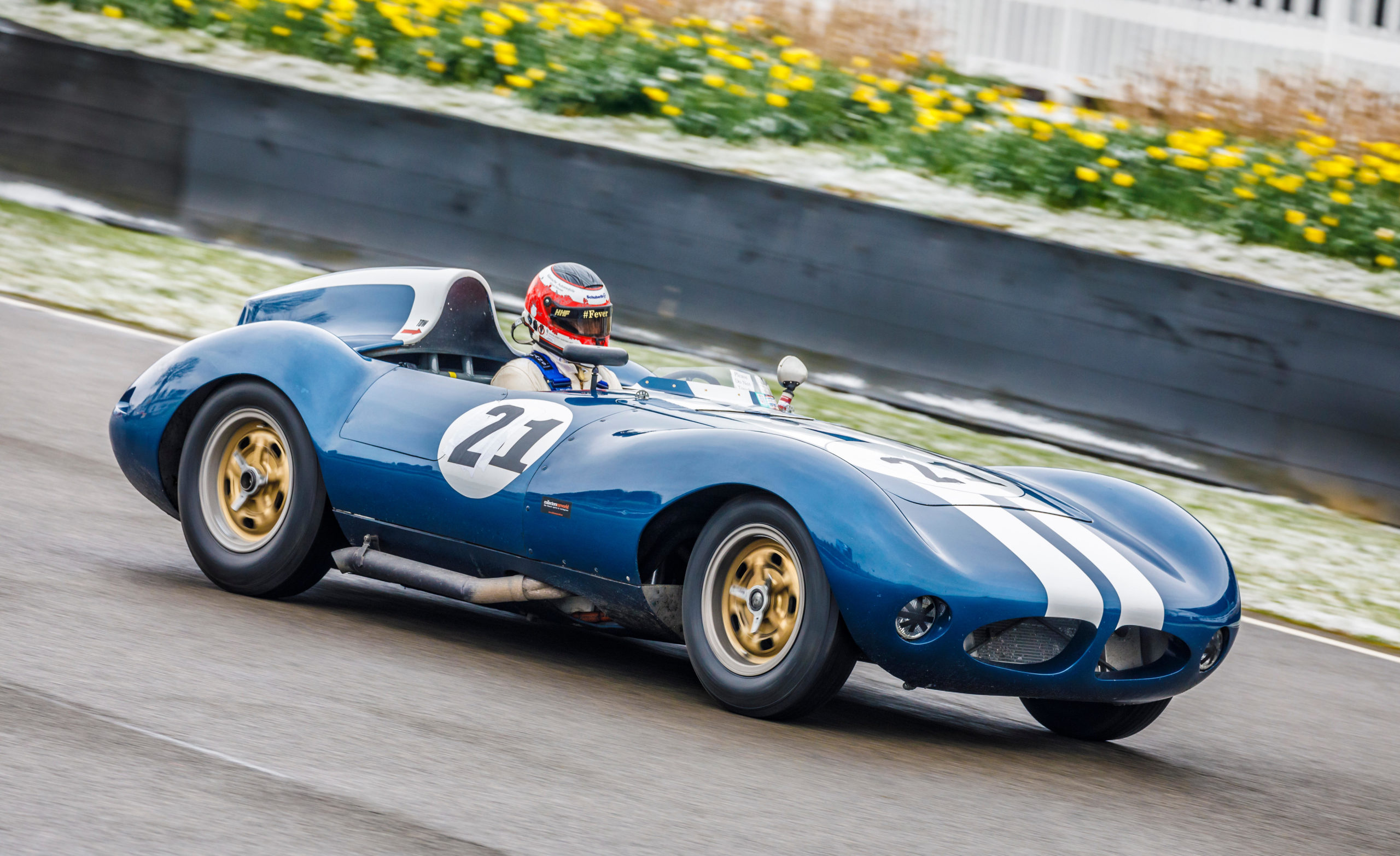 The dyno-tested 420 HP car has proven to be a successful and competitive vintage racer, winning against an illustrious run group that often includes automotive legends like the Ferrari 250TR, Maserati 450S, Birdcage, Jaguar D-Type, and Aston Martin DBR-1/2. The car was actively campaigned for the last 10 years and has an extensive documentation of the car's period history and restoration, preparation and set up and vintage racing exploits.
This Scarab is unique. Technically sophisticated and exotic, the car has a fascinating history that involves an impressive number of distinguished personalities from the golden age of sports car racing.
Photos by ultimatecarpage.com