Perfectly-orchestrated strategies matched by consistently inspired driving and mechanical reliability in gruelling conditions empowered ex-works Austin-Healey 3000 owners Mark Holme and Doug Muirhead to land a resounding 1-2 in the GTSCC's 90-minute climax to Castle Combe's season on Saturday, October 2. Both were backed-up by peripatetic master wheel-twirler Jeremy Welch in another moist Autumn Classic.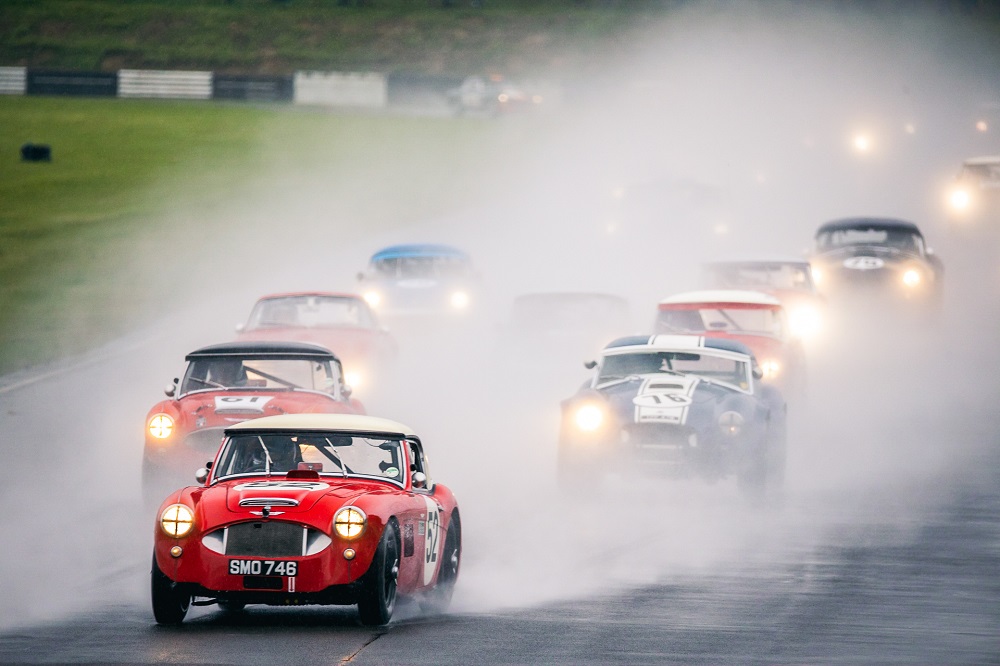 Watched by marque maestro John Chatham, the big six-cylinder Healeys were in their element and finished 33 seconds apart. "We had a bit of luck with the safety car, but it was brutal just to get to the end" smiled Mark, who drove his ex-John Gott SMO 746 for all bar six laps in the middle, Welch's stint being shaped by the caution. Doug was "astounded and so happy" to finish second in TON 792 on his venue debut. "I focused on my own race but Jeremy and his team are the most amazing support crew."
Bristolian Mark Williams, longing for a dry Combe upon which to unleash his ferocious RAF blue AC Cobra's potential close to home, finished on the podium for the third time, despite having to remain stationary for an extra 30 seconds per stop as a soloist. He also had to contend with a misfire which blunted its V8 power but, perversely, provided an element of primitive traction control when grip was so scarce. "It's good to be back in one piece, but I had no idea where I was," he said.
Entries for our penultimate race of 2021 were hit by the date clash with the Spa Six Hours, which took cars, drivers and support teams to Francorchamps in Belgium after a year's absence from the calendar – something we will strive to avoid going forward. Nonetheless, the quality and spirit of Pre-1966 GT competitor turnout at Wiltshire's Formula 1 venue – where Franco-American Harry Schell (Vanwall) won the Avon Trophy race in October 1955 and beat Ron Flockhart's BRM V16 in the subsequent Formule Libre encounter – was excellent as ever.

Qualifying
Treacherously wet conditions favoured the bold in morning qualifying, but just 82 thousandths of a second separated the top two teams, whose times were set at opposite ends of the session. With hundreds of laps under his belt at the venue, local preparation ace and multiple Historic champion Dan Cox shot out on a clear track and laid down the best time on his first flyer in equine vet John Watson's Willment-liveried Lotus Elan '26R,' also shared by recent Oulton Park Gold Cup F2 victor Matthew Watts.
Cox's 1m35.881s (69.46mph) marker on the 1.85-mile circuit was almost matched by Jeremy Welch's 1:35.963 (69.40mph), recorded on his penultimate lap in Mark Holme's GT3 leading Healey. To prove how little there was between the 3000s his family business Denis Welch Racing prepares Welch's opening lap shot in Doug Muirhead's car was but 0.753s adrift, good enough for P3, with former Historic F1 Spirit racer Mark Williams' thuggish Cobra (second and third in previous years) alongside.
An outstanding fifth, courtesy of Scot Calum Lockie, was the GT2 pacesetting Morgan SLR of Simon Orebi Gann on 1:38.132 (67.86mph). Following its original driver Gordon Spice's recent passing, the duo was doubly determined to outrun strong two-litre class opposition in the slinky red fastback. Two more 'Squealeys' were under 1:40, Crispin Harris/James Wilmoth's and James Haxton/Jack Rawles' split by Mark Martin's Lotus Elan 26R, originally supplied to the USA. The Elan Shapecraft coupé of Robin Ellis and tree surgeon Clive Richards sat ninth.
The top 10 was completed by the Cobra of Gregoire Audi – one of two Lebanese competitors in the field – and preparer Mike Dowd, which shaded the similarly 289ci (4.7-litre) Shelby Mustang GT350s of Jeremy Cooke and former Combe Saloon champ Russell Humphrey and Bill Wykeham/Stuart Lawson. A scant 0.379s divided the burly American coupés, Wykeham's blue example wearing Mark Donohue tribute livery per the example fielded in period by Dockery Ford in New Jersey.
Leading the Family Award contenders – which totalled a magnificent seven, five in GT2 – were Tim and Laurence Jacobsen in their MGB. The Scots had broken their long journey south at Silverstone on Friday, to put some wet mileage on the car. They gridded 13th, with Tony Worthington/Martyn Corfield (Healey 3000) and Marc Gordon/Nick Finburgh (GT3 Jaguar E-type roadster) on their tail. Steve Jones's Elan, rebuilt since its Silverstone Classic whoopsie, and the hulking GT4 E-type hardtop of previous Lola Mk1 standout Ben Adams and dad Peter were next in the 1:44s.
The BMC 'B'-series engined GT2 TVR Granturas of Guy Grant and mentor Mark Hales and Joe and Piers Ward paired up, a second apart, in the company of Allan and Dan Ross-Jones' pretty GT3 Triumph TR4. The field was rounded out by the Porsche 911 of UK-based Tarek Mahmoud and Karsten le Blanc (in a change from the fabled Healey DD300) and the MGBs of the evergreen Brian and Barbara Lambert, Beverley, Chris and Ollie Phillips and dad and lass Richard and Alice Locke.
Race
Rain continued to focus drivers as they came under starter's orders at 16.14, earlier than programmed. Cox controlled the order as the 24-car crocodile stretched out along Westway then filed through the quick right-handed Camp corner prior to getting the green signal. The red and white Elan accelerated briskly towards Folly as Dan's pursuers jockeyed for position in the spray. At the end of the opening lap Cox led Holme by 3.7 seconds, with Welch (opening in "The Chairman's Car" for Muirhead), Williams, Harris and Martin in pursuit, then a gap to Orebi Gann, Ellis, Audi, Wykeham, Tim Jacobsen and Cooke.
Ellis and Audi quickly deposed Orebi Gann, exposing the Triumph-powered Morgan to Wykeham's gruff Mustang and Jacobsen, who assumed the GT2 lead on lap three. Ben Adams was on the rise too, guiding his Jag from 17th to 11th inside seven circuits. 'Giuseppe' Ward was also making strong progress, dropping the sister TVR of Grant and traversing Camp side-by-side with Allan Ross-Jones' TR4, another lap chart climber.
Out front Cox had extended a six second lead before Welch usurped Holme from second to become the chaser, immediately laying down a fastest lap. Williams grunted his Cobra past Mark a couple of tours later.
With visibility at a premium in steamed-up cockpits, and traffic playing its part – particularly at the Esses and Bobbies 'deviations' (the circuit owners don't like the chicane word, although they were installed to control speeds in 1999) – Welch suddenly ate into Cox's advantage. The battle was on!
Jeremy scrabbled ahead at Tower on lap 12, with Williams, Holme, Harris and Martin splashing round in their wake. Behind early spinner Haxton and Audi, Ellis was first to make his initial stop, 12 laps in from ninth place, promoting Wykeham, Adams and Jacobsen Jr, in command of the GT2 contest and on the lead lap at that point.
Heavier rain sent Williams, Harris and Audi scurrying for the pits after 15 laps. Manna to Welch, the intensified precipitation enabled him to increase his advantage over Cox to 10 seconds when they made their scheduled first stops after 20 laps. Six people descended on the Elan, tightening its centre-lock wheels with copper mallets before despatching owner Watson into the fray. Martin pitted next time round from second, but new leader Holme went 23, knowing Welch was waiting to switch horses.
Lockie was well into his Morgan stint and had brought the SLR back past the Jacobsen MGB, now with Laurence at its helm. Humphrey was in Cooke's Shelby Mustang by then, and closing on its Wykeham/Lawson stablemate. The race's complexion changed dramatically when Alice Locke, double-stinting in the family MGB, spun amid a gaggle of cars at Camp. Four laps after his opening stop, Martin was unable to miss the green and orange machine, which ended up broadside across the track, its nose pointing towards the outside. Both drivers were unhurt, but the Elan – which arced right onto the infield opposite the pit exit – sustained extensive damage, which will be rectified over the winter.
The safety car was rallied and circulated for nine laps having picked up the Jones/Barrie Elan, which had stopped for the first time a couple of laps before the full-course caution. Welch, reeling in new leader Muirhead, relinquished Holme's car 29 laps in, one before Doug arrived and stayed on board, both under yellows. When they returned to the race they effectively had a lap's advantage over closest rival Williams, but the Clerks sanctioned the safety car observer to wave the field through before the race resumed with 23 TSL minutes to run. Haxton/Rawles and Watson, whose crew had been imploring him to install Watts for several three minute laps, both stopped late before clearance was given for the sprint to the chequer.
Muirhead was four seconds behind Holme after the green lap, but Mark was in control, despite blisters on his hands from fighting his Healey's excitable tail. Doug finished 33.970s behind, comfortably clear of GT4 victor Williams' Cobra, its engine fluffing through water ingress. A lap down, Harris/Wilmoth, Audi/Dowd – whose Cobra tried a spot of autocrossing – Cox/Watson/Watts and Haxton/Rawles earned the minor placings, each car separated by five seconds, before Ellis and Caterham ace Richards arrived.
Ross-Jones were the top family team in ninth, although Allan was kicking himself for holding son Dan in the pits for 90 seconds rather than the mandated 60! Tenth overall, the Jacobsens notched a fine GT2 win, 25 seconds clear of Orebi Gann/Lockie who finished ahead of the Gordon/Finburgh E-type. The Mustangs enjoyed a merry dice for 13th, Cooke confessing to "being asleep" when Wykeham rumbled past on the penultimate lap.
The Wards – third in GT2 – and Adams family were next back, 10 seconds apart, but a lap up on Jones/Barrie, Worthington/Corfield and Mahmoud/Le Blanc. Brian and Barbara Lambert were second of the MGB crews, having covered three laps more than the Phillips triumvirate and the Grant/Hales Grantura which survived a spin at the Esses.
Dan Cox's best lap of 1:32.868s on lap 10 was expunged within seconds by pursuer Jeremy Welch's 1:32 .746 (71.89mph) incidentally. Calum Lockie was quickest in GT2 having cut 1:36.817s mid-race.
Excellent driving standards, for which the GTSCC contingent is renowned, was again commented upon after another race in inclement conditions. Our thanks to the marshals who did their usual sterling job to keep us safe. Four visits to the Autumn Classic in five years have each resulted in a different winner. Fingers-crossed Portimao's finale on October 30-31 will end the year on a warmer note.
---
GTSCC WINNERS
Mark Holme & Jeremy Welch – Austin Healey 3000

GTSCC CLASS WINNERS
GT2 – Tim & Laurence Jacobsen – MG B
GT3 – Mark Holme & Jeremy Welch – Austin Healey 3000
GT4 – Mark Williams – AC Cobra

'Family Award' – Allan & Daniel Ross-Jones – Triumph TR4
'Driver of the Day' – John Watson, Dan Cox, Matthew Watts – Lotus Elan 26R
'Terry Sanger Trophy' – Fastest Lap Race Time – Doug Muirhead & Jeremy Welch – Austin Healey 3000
---
Photos made by Charlieb.photography.
If you are interested in more news click here.
---