The Ford GT40 is revered worldwide as one of the greatest-ever sports racing cars, taking Ford to the most coveted prize in endurance racing – overall victory at the Le Mans 24 Hours – for four consecutive years, from 1966 to 1969.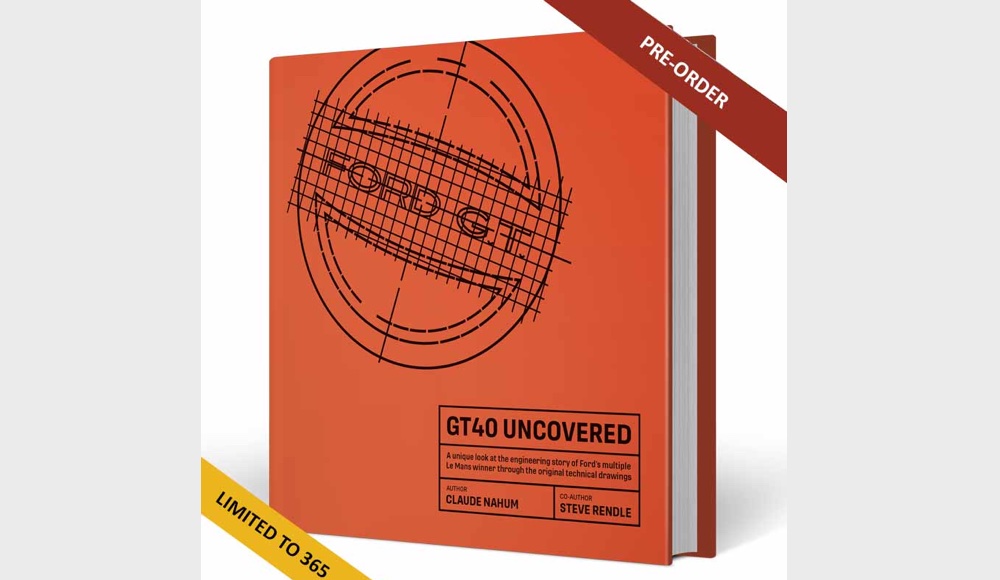 The GT40 was born out of Ford's Total Performance programme, aimed at winning in worldwide motorsport in order to promote the Blue Oval brand and its products, although the GT40 itself evolved from what began as a somewhat naïve effort to a highly professional operation which took on, and beat, the established endurance-racing manufacturers, not least Ferrari.
During the GT40 programme, many companies and personalities were involved in developing the car and its components, including Lola Ford Advanced Vehicles (FAV), Shelby American and Gurney Weslake, among others. Names such as Roy Lunn, Eric Broadley, Carroll Shelby, Dan Gurney and Phil Remington have all become synonymous with the story.
This unique, large-format book tells the engineering story of the GT40 by showcasing a collection of the original technical drawings for the car, providing a visual feast for GT40 and motorsport enthusiasts, engineering aficionados and those who appreciate technical drawing as an artform.
The many different styles of drawing presented reflect the companies and draughtsmen involved in their origination and provide fascinating, previously unpublished insight into the story behind a car that has become a motorsport legend.
The author
Claude Nahum's association with Ford began through his father, Bernar Nahum, known as 'the father of the automotive industry in Turkey', who worked with, and for, Ford for much of his life. Claude's passion for the GT40 began as an engineering student when he read about the 1966 Le Mans victory. His career path took him to Ford's Dunton plant in the UK as a research and development engineer, before he returned to Turkey to found an automotive research and development centre.
Having rallied and raced extensively in his student days, in 2000 Claude bought his first GT40, and began competing in historic racing. Since then, he has owned a second GT40 and has commissioned two superb recreations, including the remarkable recreation of the Ford GT prototype GT40/101. In 2013, after several years of negotiation, Claude acquired a cabinet of original GT40 drawings that had belonged to John Wyer, and vowed to share the treasure trove within with a wider audience of fellow enthusiasts. This book is the result of that commitment to share these historic drawings.
The co-author
Steve Rendle is a lifelong motorsport enthusiast and has spent much of his career as a technical writer, editor and publishing project manager. He has a passion for finding out how things work and has written a number of books on motoring and motorsport subjects.
To request a review copy of this book, for high-res images or an exclusive extract, please contact: Rebecca Leppard, Eventageous PR Ltd.
Tel: +44 (0)1452 260063 Email: rebecca@eventspr.co.uk
About Porter Press
Porter Press International is publisher of some of the world's finest motorsport and motoring books. Established in 2005 by leading automotive author Philip Porter, the company's authors and co-authors include such highly regarded experts as Doug Nye, Ian Wagstaff, Chas Parker and Ray Hutton, and famous motorsport personalities Murray Walker, Martin Brundle and Stirling Moss. Many Porter Press titles have been selected by leading magazines as Book of the Month and a number have been nominated for, and won, Book of the Year awards.
Click here for further information
more information: porterpress.co.uk
---