Of the 50 long-wheelbase California Spyders built, at least ten examples were finished with competition specifications. While fitted with a steel body, chassis 1235GT was one of these ten and it was sold new to Dottore Ottavio Randaccio.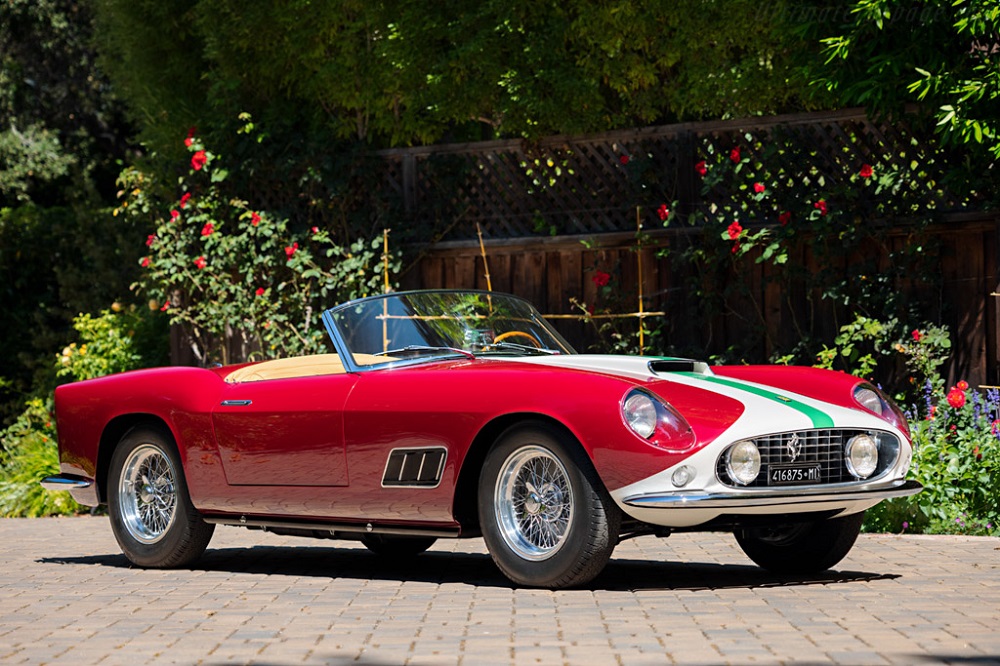 Built to his specific order, it was fitted with the high performance tipo 128D version of the Colombo V12 engine. This featured a more aggressive camshaft, higher compression, Borgo pistons and 36 DCL3 Weber carburettors. On the Ferrari dyno, it produced 253 hp at 7,200 and was complemented by a competition specification gearbox, limited slip differential, an Abarth exhaust system and an endurance specification 136-litre fuel tank. It also boasted a quick-release fuel cap and was finished in a striking livery of red with red, white and green central stripe.
Upon taking delivery, Randaccio extensively campaigned the car with considerable success during the summer of 1959. Such were his results, that Ferrari included a picture of chassis 1235GT in the company yearbook. The California Spyder was sold on already in October of 1959 and during the subsequent 35 years passed through a succession of Italian hands. In 1995, American dealer Mark Ketcham brought the car to North America where it eventually joined the stable of noted collectors Charles Betz and Fred Peters in 1999.
They showed the competition specification Ferrari at a variety event before it changed hands again in 2004. In the following years, it was regularly campaigned at events like the Colorado Grand. In 2017, it was entrusted to Moal Coachbuilders where it received a cosmetic restoration to its very striking, original colour scheme.
After a seventeen-year ownership, the longterm custodian decided to consign chassis 1235GT to the 2021 Gooding & Co. Pebble Beach Auctions as one of the headlining lots.
Find out more on ultimatecarpage.com
If you are interested in more news click here.
---