Amalgam Collection has enjoyed a close cooperation with Ferrari since 1998. Now that partnership has been taken to a new level of engagement, with the launch of a program offering bespoke Amalgam models at either 1:8 or 1:12 scale as an option for customers ordering a new Ferrari.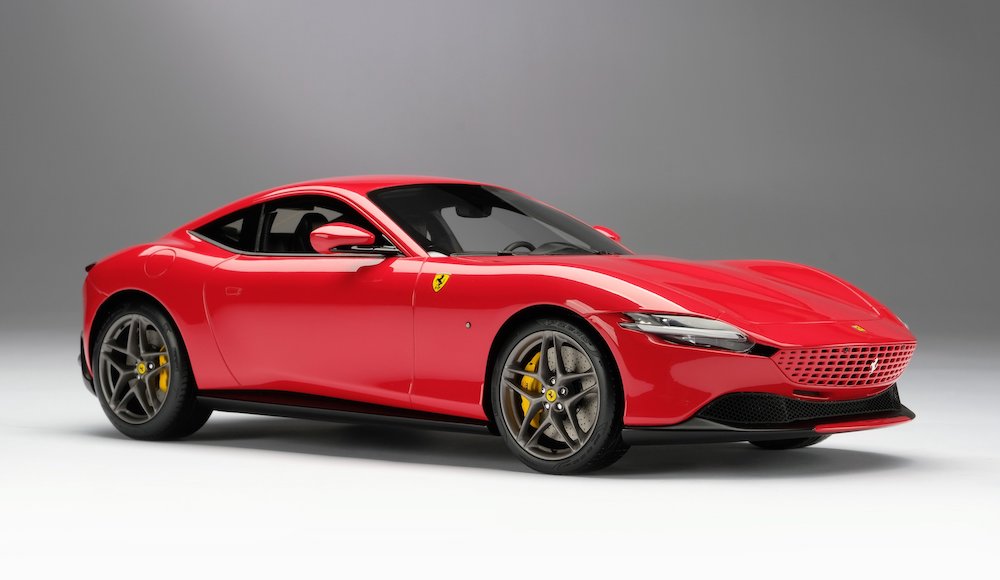 As an extension of this new cooperation, Amalgam Collection is now offering 1:12 scale limited edition model of the current Ferrari range of sports cars. As new Ferrari cars continue to launch over the coming years, the range of 1:12 models will expand similarly. Bespoke models at 1:12 scale are exclusively available from Ferrari Dealerships.
Capturing the timeless elegance and distinctive flair and style of 1950s and 60s Rome, the new Roma is Ferrari's contemporary representation of that period's carefree and pleasurable way of life. The Prancing Horse's new mid-front-engined 2+ coupé features refined proportions and a timeless design.
From the four-time 'International Engine of the Year' award-winning V8 turbo family, comes the Ferrari Roma's 620 CV engine. Innovative features include new cam profiles, and a speed sensor that measures turbine revolutions, allowing an impressive 5,000 increase in maximum rpm. Focus was placed on delivering superior driving pleasure and comfort when dynamically developing the Ferrari Roma.
Specifications Of The Ferrari Roma
This was achieved through the extraordinary reduction in mass, the Roma possesses the best weight/power ratio in its segment (2.37 kg/cv), combined with the introduction of the most recent evolution of the Side Slip Control, which includes the F1-Traction Control, Electronic-Differential 3, and Ferrari Dynamic Enhancer systems, among others.
Ferrari's engineers developed a pioneering mobile rear spoiler that has been integrated into the Roma's rear screen, designed to retain the car's pure, graceful design when retracted whilst guaranteeing the downforce vital for the Roma's phenomenal performance by automatically deploying at high speeds. This has been done to guarantee best-in-class performance while still preserving the stylistic purity of its bloodline.
Contrasting typical Ferrari sports cars, which tend to build around the figure of the driver, the Ferrari Roma's cockpit takes on an almost symmetrical structure, with the creation of the Dual Cockpit concept. This has created an organic distribution of space and the car's functions within the cockpit allowing the passenger to feel integral to the driving. A dedicated interactive display has been added to the passenger side of the car, allowing the passenger to transform into the co-driver.
The Roma's exterior focuses on a clean design, ensuring a smooth flow between its various elements with balanced proportions and elegant dimensions. To further highlight the car's minimalistic design, all unnecessary detailing has been removed, allowing the illusion that the car was sculpted from a single block of metal.
Click here for further information
more information: amalgamcollection.com
---